MESSI BARCELONA HOME: WHAT YOU DIDN'T KNOW
Messi's Residence Barcelona Home: The meaning behind this architectural design
Messi Barcelona home
is an architectural beauty. Sure it looks incredible at first glance but there is more to this home that meets the eye. Architect Luis Garrido and Messi designed this house and of course it's all about football. It is also one of the best celebrity homes ever built and is named the One-Zero Eco House; estimated to be worth 7 million euros. You can also check out the Messi Museum or just check our blog
New in Barcelona: The Lionel Messi Museum
.
A football is round, so why not make a round house? Already this breaks the norm of all traditional houses and I quite like it as it is already unique. This round house is located just outside Barcelona overlooking the Catalan mountains.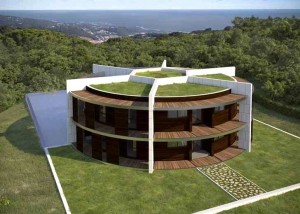 So what are all the hidden meanings behind the design of the One-Zero Eco house besides it being shaped like a football. The name one-zero is Messi's famous t-shirt number 10 which he has played in for FC Barcelona and his home country Argentina. From a birds eye you can see how the roof of the garages is in the shape of the number one and the pathway to the house provides the space needed to create the imagery of the number 10. I personally didn't realise it because I was too focused on what it would be like to live in a round house..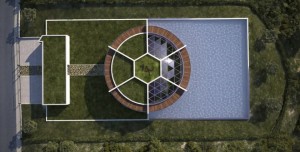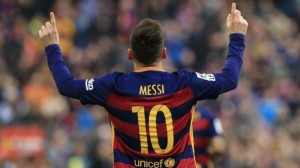 The roof of the house is half mirrored glass and half green grass. The glass allows natural light to come through, after all this is an eco-friendly home. It is also divided into a hexagonal shape to reinforce the imagery of a football. What is a house without a swimming pool? Just behind the house, Messi would just have to take a step off his wooden deck and he is in his marble floored pool. You must be wondering why it's so big, that's because Garrido wanted to also replicate a football pitch, the one half of the 'pitch' is the swimming pool and the other part of the 'pitch' is the grass.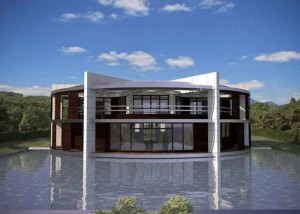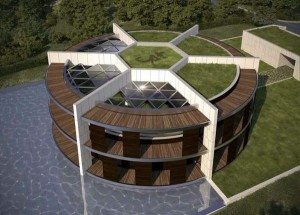 I'm sure you must be dying to know the interior design of this beautiful house is, so do I! Unfortunately, there is no pictures published of the inside of his house, however Garrido's house blueprints are available to give us an idea of what the inside of this football house would be like.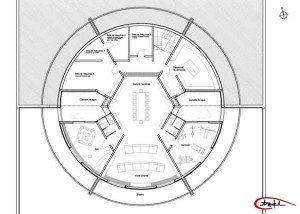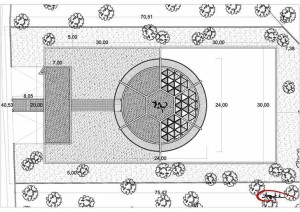 Personally, this is one of my favourite designs of a house and love the meaning behind it, I'm sure not only football fanatics would appreciate such a stunning structure. Let me know what you think of the One-Zero Eco house.