Going Architecturally Green in Barcelona Real Estate
Eco-friendly houses in Barcelona
 are becoming more and more trendy and some of them will definitely leave you speechless! If you want to get a sneak peak, see what actually makes them eco-friendly, figure out how to find one, and also how to turn your own home into a more eco-friendly place then stick with us. We have found some of the best looking eco-friendly houses in Barcelona. This blog will take you on an eco-friendly journey through Barcelona and its surroundings. Eco-friendly homes are trendy, even Leo Messi has gone green. Check out his home in our blog
Messi Barcelona Home: What You Didn't Know
 or look at another gorgeous example of an eco-friendly home in the form of a tree house in our blog called 
Barcelona Real Estate Porn: Eco-friendly in Sant Cugat.
Green-Roofed home
This eco-friendly house in Barcelona is totally integrated in its natural environment, having a roof of grass and a structure of wood. Barcelona can get cold in the winter but this Green-Roofed home helps to retain the heat inside. Not only is it built energy-efficiently, but it's also surrounded by the beautiful nature of Parc Collserola right on the outskirts of Barcelona. The house has a living/dining area, two bedrooms, and a bathroom. The interior design is beautiful clean, white and consists of pale wood. Then there is the unmissable view. It is absolutely magical, a feast for the eyes! Already convinced to move to an eco-friendly house? Not yet? Then let us show you some pictures and see with your own eyes the beauty of an eco-friendly home
www.alventosamorell.com
Arquitectes@alventosamorell.com +34 931 820 780 C/ Rocafort 67-69, Local C-9, 08015, Barcelona, Spain
The Million Dollar home
We are moving up north in Catalonia where we have found an unique eco-friendly property worth $1.8. million. This place is basically heaven on earth. It used to be a farmhouse but the Spanish Architect Óskar Vélez Carrasco saw the opportunity to update the place and add a modern villa with swimming pool. The result is without doubt stunning. Now let's take a closer look to the eco-friendly features of this house. Both parts, the farmhouse and the villa, are built in eco-friendly style including solar panels and a rainwater-purification system. The walls on the outside are covered with stones and highlight the historical roots of the house. This is perfectly combined with the modern contemporary luxury interior. To be honest, we could talk forever about this eco-friendly home but the pictures probably say enough! (don't forget to look at the breath-taking view from the pool and the outdoor dining area.. you won't be disappointed).
www.velezcarrascoarquitecto.com
Info@velezcarrascoarquitecto.com +34 872 006 208, +34 628 948 552 C/Pals 1, 17200 Palafrugell, Spain
Wooden Rectangle
Houses made of wood are always good (as are great rhymes), especially this rectangular house in Vacarisses, just outside Barcelona. Besides the picturesque view it's a very eco-friendly home, and the impact on the surrounding environment is minimal. During the building they did as little land movement as possible and they tried to make good use of the existing land shelves. Inside the house there is enough space to sit down, relax and enjoy the beautiful view or sit down and enjoy a good book, because there is an impressive bookcase. You can see the bookcase in the photos, it's the centerpiece of the house. A nice eco-friendly fact about this house is that the wood is removable, recyclable and reusable! All the wood gives the house a very rustic feel. Trust us... living in this wooden rectangle would absolutely soothe you.
www.harquitectes.com
Harquitectes@harquitectes.com +34 93 725 00 48
Carrer de Montserrat, 22, 2n 2a 08201 Sabadell, Spain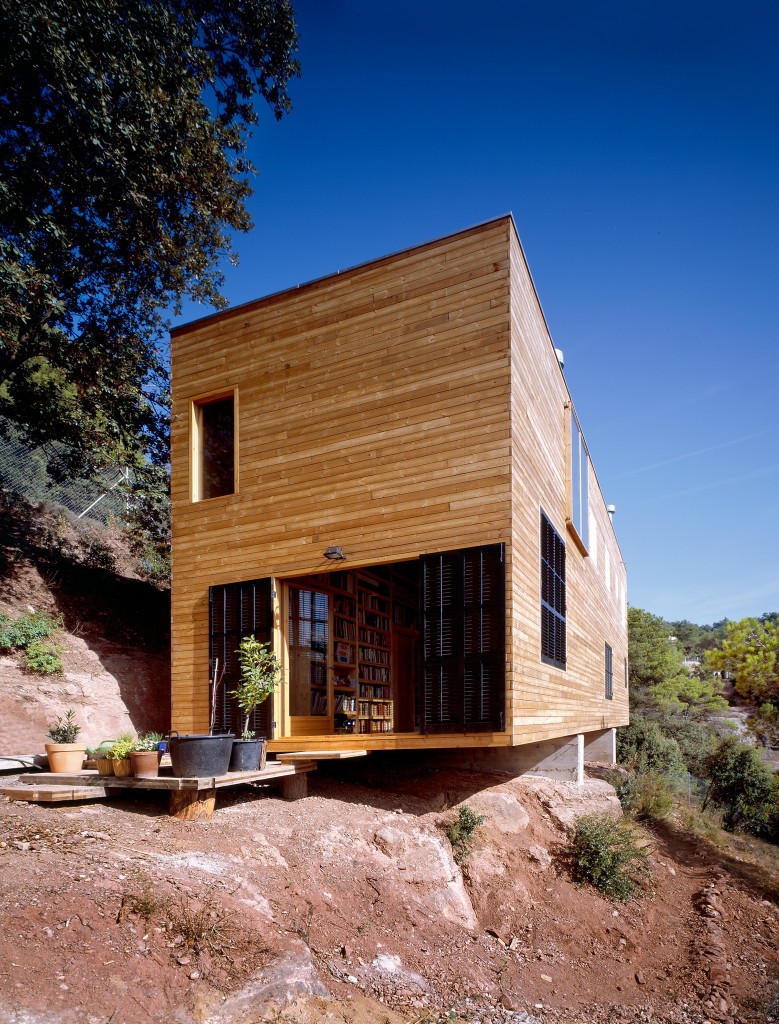 Catalan Hotel
This former office space has been transformed into a gorgeous hotel centrally located in Barcelona. Luckily they kept the Catalan features like the Catalan vault, mosaic tiles and wooden balcony doors. Besides its unique design, it also offers eco-friendly accommodations. During the transformation they focused on re-using old material, restoring original features, durability and VOC-free paints (VOC are chemicals given off by paints that have been linked to respiratory illnesses). Even on daily basis they think about the environment by saving water and reducing energy consumption. The cool thing is that they really care about sustainability and they know how to perfectly combine it with design. Besides the Catalan design, it also serves as a social hub where you can meet the locals and other visitors. Sounds like the perfect place to stay in Barcelona!
www.helloyok.com
+34 640 625 313
book@helloyok.com
c/Trafalgar 39, 8º2º Barcelona 08010, Spain
How to make your own  home a more eco-friendly place
Not ready yet to build or move to an eco-friendly home? Don't worry, there are less radical ways to become more eco-friendly. We will show you some easy ways to reduce the negative impact of your home on the planet, (we are sure that you're probably already doing some of the things):
Save electricity by unplugging your TV when it's not in use
Move your refrigerator into the shadow, in the sunlight it has to work harder to keep cool
Feeling creative? Reuse or re-purpose old furniture instead of buying new things. Check out some DIY projects from our blog on how to decorate your home for cheap. Not that creative? No worries, we show you were you can buy the best second hand stuff: Flea Market Barcelona: Antique and Second Hand Paradise
Hang dry your clothes instead of using a dryer
Turn off the lights when you leave a room
Don't turn on the lights for as long as you can... enjoy natural light!
Use CFL light bulbs, CFL is energy-saving light
Replace your paper napkins for cloth napkins
Turn off the tap when you are brushing your teeth
---
As you can see, it's perfectly possible to combine interior & exterior design with being environmentally friendly. We really hope you enjoyed the gorgeous eco-friendly places we showed you and helped you a little bit with making your own place more eco-friendly. How is your house contributing to a more environmentally friendly earth? Please let us know in the comments!