Banning cars from Barcelona's streets
The city of Barcelona is planning to make some changes in the infrastructure and they are really cool and necessary. One of the reasons behind this project is that the city of Barcelona can't keep up with air quality standards of the EU. The cause of this as you can probably imagine are cars, taxi's and more cars. To fight this problem the city counsel of Barcelona has collaborated with the "Urban Ecology Agency" to design a solution for the city. The result of this are SuperBlocks which will eliminate the use of many roads throughout the city to create a healthier and more pleasant living environment for the inhabitants of Barcelona. The official starting date of The SuperBlock project is not known yet. But what we do know is that it will be somewhere in 2017. At first the city will begin by creating one SuperBlock in the district of Example. Other SuperBlocks have been sketched out in Les Corts, Hostafrancs, Poblenou and in the area around Glòries.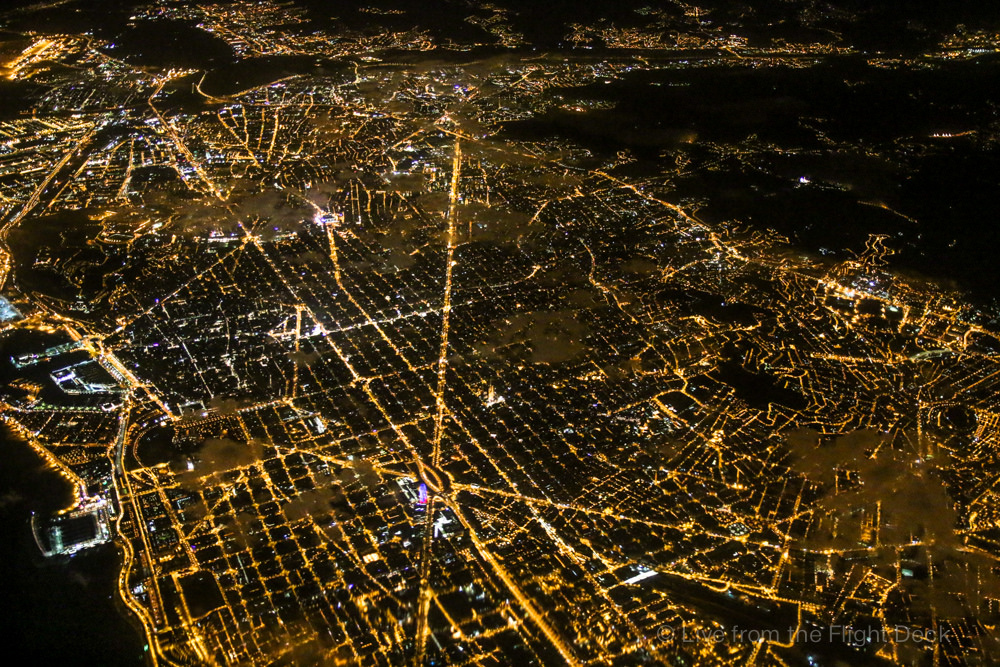 What are SuperBlocks?
The concept of
SuperBlocks
is actually quite simple and low cost.  Where a street block normally exists out of one building block (about 600 inhabitants) a
SuperBlock
will exists out of nine blocks of houses where roads within the SuperBlocks will be transformed and will only be used by pedestrians, bikes and destination traffic. Each
SuperBlock
will cover an area of about 400x400 meters with around 5000 - 6000 inhabitants per
SuperBlock
. The only motorized traffic that will still be allowed within the SuperBlock is destination traffic such as inhabitants of the
SuperBlock
, taxi's and delivery trucks at a maximum speed of 10 km per hour. This way there will barely be any traffic inside the
SuperBlocks
which will make the streets a lot more accessible for pedestrians.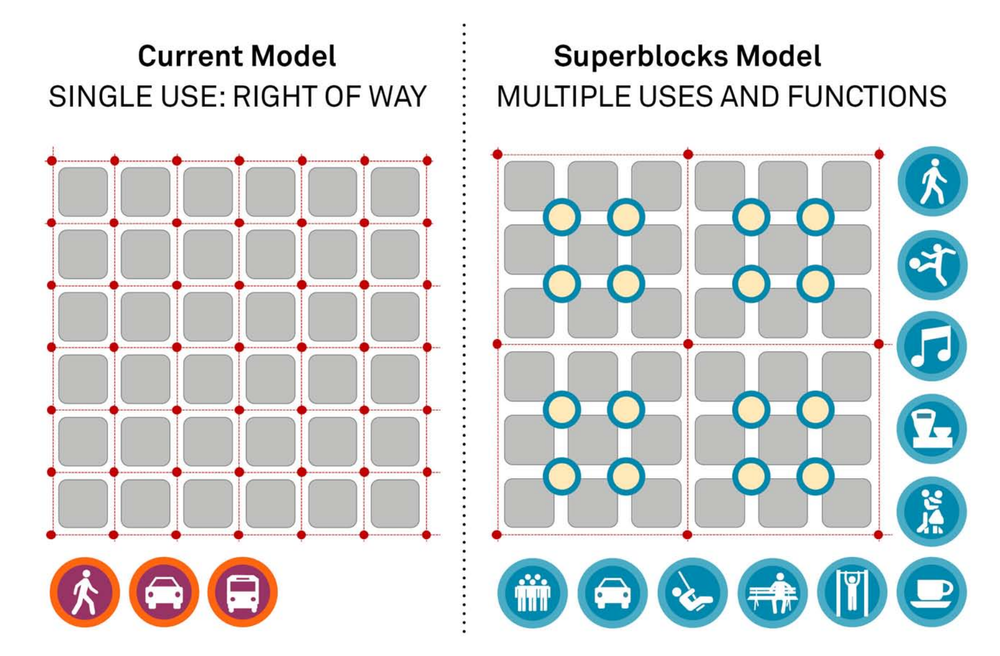 What impact will this transformation have on the quality of life in Barcelona?
This transformation will have many positive effects on the city. One of the most obvious ones is that in the future there will be less traffic throughout the city due to the fact that by constructing these
SuperBlocks
up to 60% of existing roads will be closed to normal traffic. According to the new mobility plan of the city the amount of traffic can be reduced by 21% after the
SuperBlocks
will be finished. Besides that the amount of traffic will be reduced dramatically, the health of the city will also have a strong increase. By closing down a good amount of public roads to normal traffic there will also be 160 new squares in the city which will all have to be given a new function. Many of these squares will be transformed into green parks to increase the air quality of Barcelona. The increase of green within the city's urban areas in combination with the reduced amount of cars will have a huge impact on the air quality of Barcelona. But this is not the only option for these newly created squares will turn into. Other examples are: playgrounds, places to get together or to play sports. Also restaurants will be able to expand their exterior seating area were the roads used to be. One of the benefits of creating new functions for the squares is that it will stimulate
social cohesion
within the
SuperBlocks
which will make Barcelona a better city to live in. In my opinion one of the biggest benefits of this plan is the reduction of noise since this is a major problem for Barcelona. this is due to its many cars and narrow streets Barcelona is an incredibly loud city. According to a report of The Guardian 61% of the population of Barcelona lives in an environment that does not meet the requirements set by the health legislation. Besides this the amount of of square meters per inhabitant will also have a strong increase. Currently, in neighbourhoods like Eixample each inhabitant has as little as 1.85 square meters of green space which doesn't even get close to cities like Amsterdam which has up t0 87.5 Square meters per inhabitant.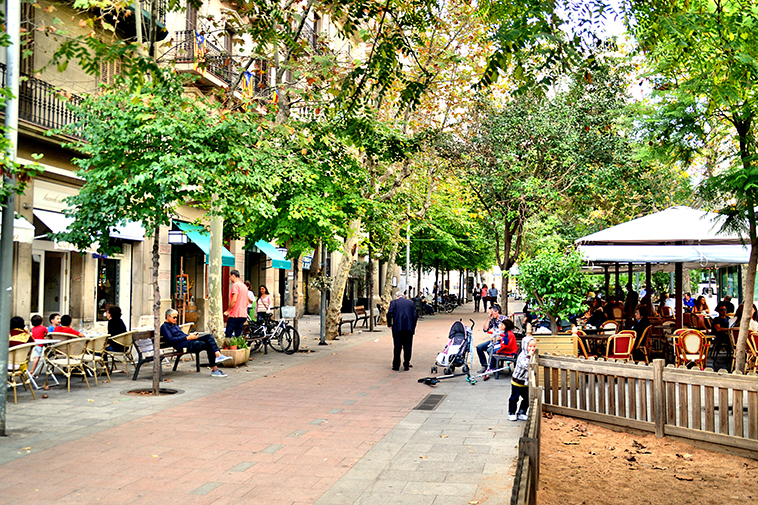 What impact will this have on the way of traveling in Barcelona?
By reducing the amount of cars in streets there will be more space for pedestrians but also for other ways or transport such as bikes, scooters and other modern personal electric ways of transport, such as Hoover Boards or Segways. To be able to create space for these ways of transport the the current amount of bike lanes will be tripled, this will add up to approximately 300 kilometers  throughout the city which will make traveling by bike or other means through Barcelona a lot more pleasant. Besides the changes in personal transport Public transport will also become a more effective way of traveling through the city. The Orthogonal bus network which has already been implemented throughout the city in combination with these SuperBlocks will ensure that waiting times for buses will go down from 14 minutes to an average of 5 minutes and no matter where you are in the city a bus stop will always be within 300 meters of your location. All of this will make it more attractive to use public transport over using your own car. For pedestrians walking through the city will also become a lot faster due to the fact that there will be a lot less traffic lights you would otherwise be waiting for.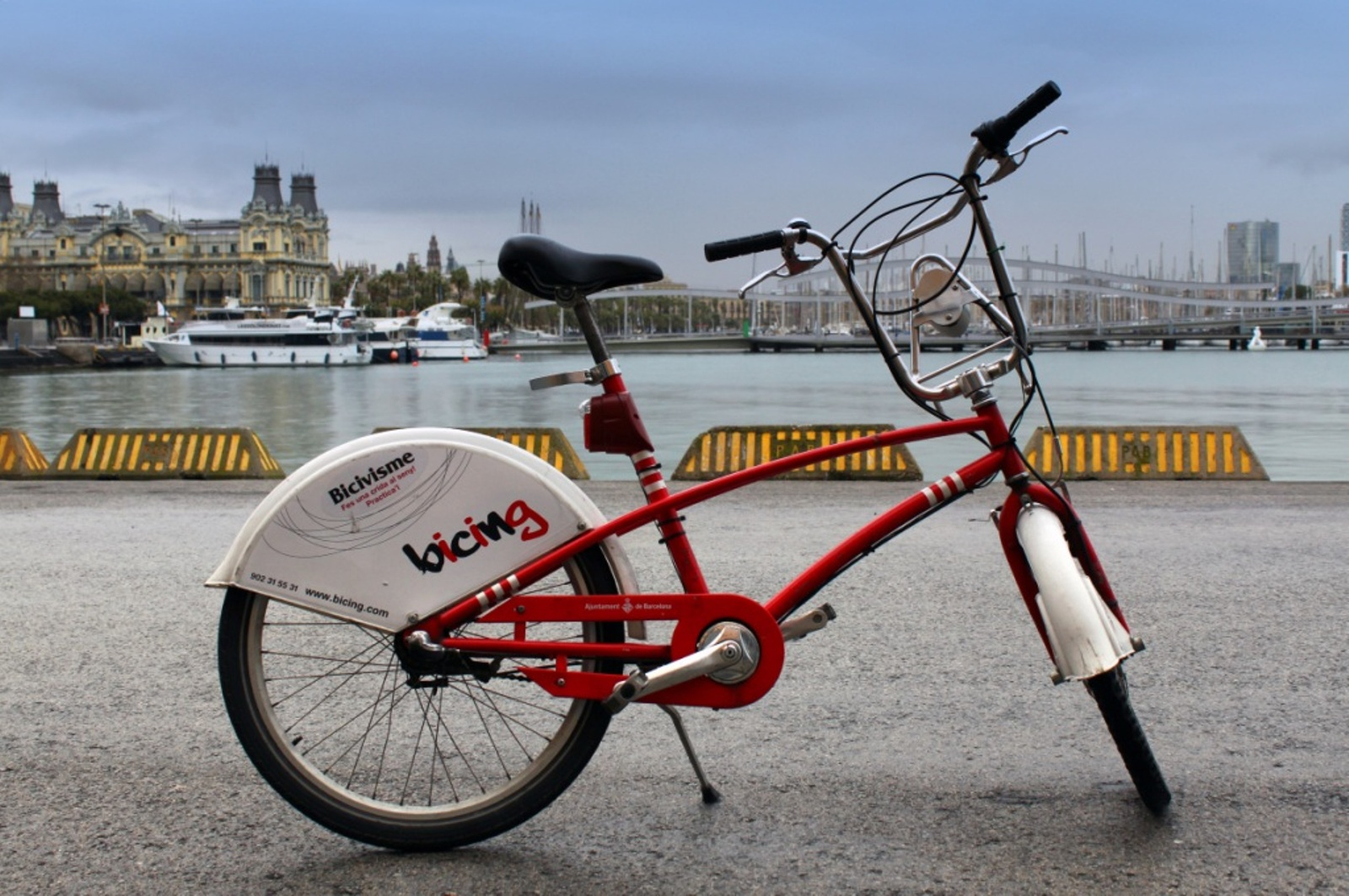 The effect SuperBlocks will have on real estate.
Making changes in the infrastructure doesn't only effect the way we move through the city but I also has an effect on the prices of Property. By creating
SuperBlocks
and taking away traffic from the streets and filling these with green spaces the streets will transform to be a lot calmer and less noisy. These changes will tremendously effect the value of houses and apartments which are located within these new
SuperBlocks
. Quality green spaces increase commercial rents and property prices too. A report of the "GLA" in 2003 suggested that a 1% increase in green space in a typical London ward led to 0.3 – 0.5% rise in average house price  Properties will become more attractive for young families due to the newly created spaces where their children will be able to play without the danger of fast traffic.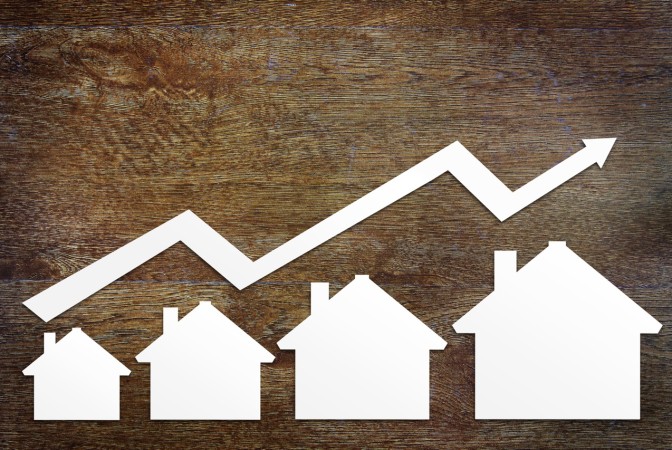 Similar projects from around the World!
Barcelona of course is not the first city in the world that has started doing a project as this. There are many cities around the globe where they are reducing traffic and creating pedestrian spaces. Most of these projects have started between 2000 and 2010 as more and more cities started to realize motorized traffic would slowly disappear in the near future as public transport is becoming a more useful way to get around the city. Besides the fact that the quality of living increased in these places, the economy also had a boost. This is due to that pedestrian areas are more attractive for stores and restaurants. Take 
New York
city for example, after implementing better cross-sections, increasing pedestrian comfort and improving cycle facilities some areas have had and a increase in sales from 30% up-to 105% in some areas of the city.
Looking at all the changes the
SuperBlocks
will make I think the city council of Barcelona is well on its way to making Barcelona a better city to live in. With a big decrease in motorized transport and a strong increase in green spaces throughout the entire city the city will become a healthier and more pleasant place to live. The expected rise in house prices and possible economic boost also make it more interesting to start investing in this amazing city.
Did you find this blog interesting and want to read more about similar projects around the world where cities are planning to go car free then be sure to check out the following cities:
Oslo
, 
Madrid
, 
Brussels
and other
pedestrian friendly
cities in Europe. Or do you just want to read more of the blogs on our page then read on and explore Barcelona by Blogs Samuel-