GETTING AROUND OR GETTING LOST IN BARCELONA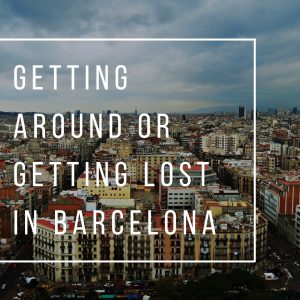 Have you ever gotten lost in Barcelona? It can be somewhat difficult sometimes to orientate in the city Barcelona. The majority of the city is made up of grid-like blocks except the old city (Ciutat Vella, Barrio Gótico, Raval, Borne).  The old city can be a mind-boggling maze of little curving streets.  Cerdá is the guy responsible for the city planning. He is the founding father of modern urban city planning and designed a grid system that is used in metropolis around the world like New York and Los Angeles and Buenos Aires, just to name a few.
Barcelona is built on several mountain slopes, which the barcelonians refer to as: "la cuenca", or "the bowl".  At the base of "la cuenca" you find the port and the beaches. To orientate in Barcelona people refer to the sea side or the mountain side, going up or going down. Because of the extensive streets that cross the whole city, people refer to a certain part of the street not by just the number on the street but aswell with the name of the streets that cross it. For instance the street Provenca with the street Pau claris. When you get in a cab you mention the cab driver the street where you have to be and the streetit crosses with and the side of the square where you need to be.
So in short, when you look around in a street you should be able to notice whether you are going up the mountain side or going down to the sea side, and remember the name of the street that crosses with the street where you have to be. For instance when I arrived at the airport I asked to cab driver if he could drop me off at provenca con Pau claris because I needed to be at Pau Claris 173.  When we got to one of the streets in this case Pau Claris it became obvious if it is the right or left side of the street dropping me of at the mountain side of Provenca(the horizontal street)