LA MERCè BARCELONA 2018
What is La Mercè?
La Mercè is a festival which happens every year in Barcelona, Spain. It involves all kinds of different displays, music, theatre and more which are spread out across the city. There is something to do all day every day!
When does it happen?
The festival takes place during September in the couple of days either side of the 24th which is the official religious feast day. For example in 2017, there were events and activities going on all the time between the 22nd and the 25th September.
Where does it take place?
All across the city! From the beach all the way up to Tibidabo mountain there are things going on. Parc de la Ciutadella is often a focal point as well as Montjuic, the beach and in the Gothic Quarter near Plaza Jaume I. The metro runs all day and all night so you'll have no trouble getting around to see everything.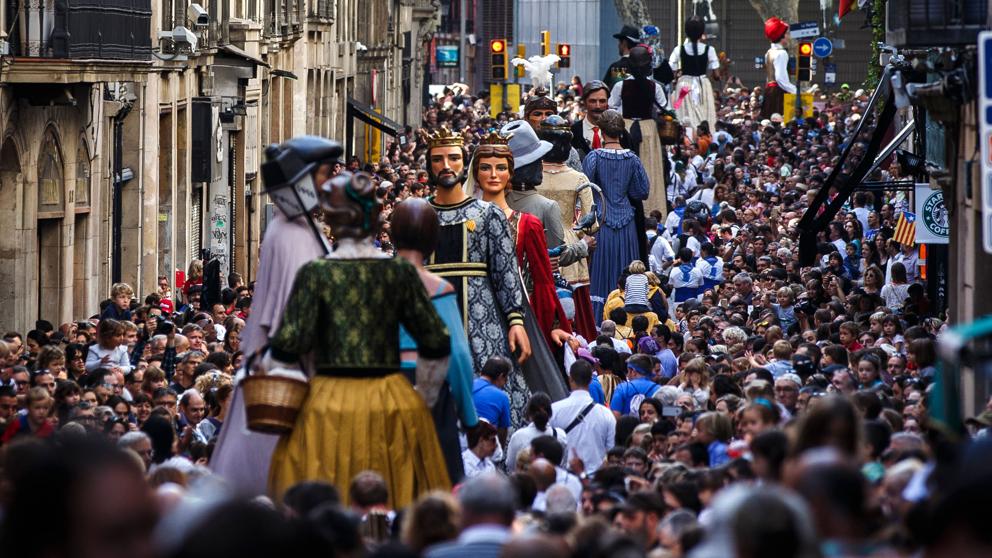 What to do?
There's soooo much to do you could be busy from dawn till...dawn! Small theatre companies host productions, dance troupes perform in the streets, there are beautiful projections on the buildings and you can hear musicians performing all over the city. Every year another city is invited as the 'Guest City' to the festival. They put on displays showing what they can do so the festival has become a real international affair! There are also the very traditional aspects to this festival such as the Castellers (groups of people who've been training all year to build human towers - normally the kid on top is only 8/9 years old!), the Gigantes (huge puppets which dance through the streets - with a very dedicated human inside of course - and do a full parade on one of the days), the Sardana dancers (a traditional Catalan dance) and the best part of all (in my opinion)...the Correfoc! The Correfoc is an incredible spectacle that takes place during La Mercè. In Catalan it means 'Fire Run' and it's exactly what it says on the tin. Local people, dressed up as devils from head to toe (and wearing a lot of protective clothing), run through the streets with firework sparklers strapped to long sticks which they twirl over their heads, spraying sparks all over the crowds. There are also people in massive dragon costumes which have the same sparklers attached and they parade along with the devils all the way down through the city charging at the crowd. Sounds terrifying? That's because it is. But it's also loads of fun! Just make sure you are wearing something to cover yourself up! There is also a massive firework display on the last day by the Font Magic de Montjuic as well as a beautiful light show at the fountain itself. Don't miss it!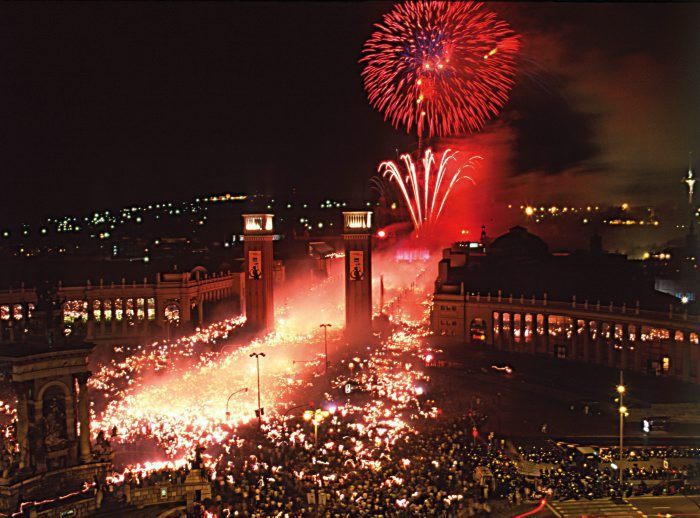 History
The tradition originates from 1871 when city officials organised celebrations on and around the 24th September to celebrate the Roman Catholic religious feast day honouring Our Lady of Mercy. She also just happens to be the patron saint of the archdiocese of Barcelona as well as the co-patron saint of the city, along with Saint Eulalia, and has been celebrated every year in Barcelona since 1607 when the Consell de Cent, the then governor of the city, asked her to help deliver the city from a plague of locusts. Apparently it worked as Our Lady of Mercy now has a whole week of festival in her honour...not bad for clearing up a plague! Here is the official programme of the City :
La Mercè 2018
Thanks for reading! Hope you make it to the festival this year - let us know what you get up to! Here's a couple of my own pictures of the Correfoc to get you excited... - Erin