Ultimate Guide to Off-Sónar Barcelona 2018
If you're in Barcelona later this month, more specifically between June 14th and June 16th, you are in town for one of the most exciting weeks in Barcelona: Off-Week and Sonar Festival 2018.
Sonar is the International Festival of Advanced Music and Congress of Technology and Creativity, celebrated annually in Barcelona over a period of three days in June. Every year the biggest DJ's in electronic music take to various stages spread throughout the city, both indoor and outdoor, offering deeply engaging experiences paired with the best musical and audiovisual productions.

Priding itself of bridging the gap between digital culture and the electronic music scene, the festival takes a unique format experimenting with creativity and technology to create elaborate events for over 120,000 people. Whilst Sónar itself is most definitely a must-see (buy a one day/night pass to either Sonar by Day/Night), it could be argued that Sónar's 'Off-Parties' are like the cooler, younger sibling of the original festival. 
Image below: All Day I Dream party at Off-Week Barcelona
[caption id="attachment_7394" align="alignnone" width="1080"]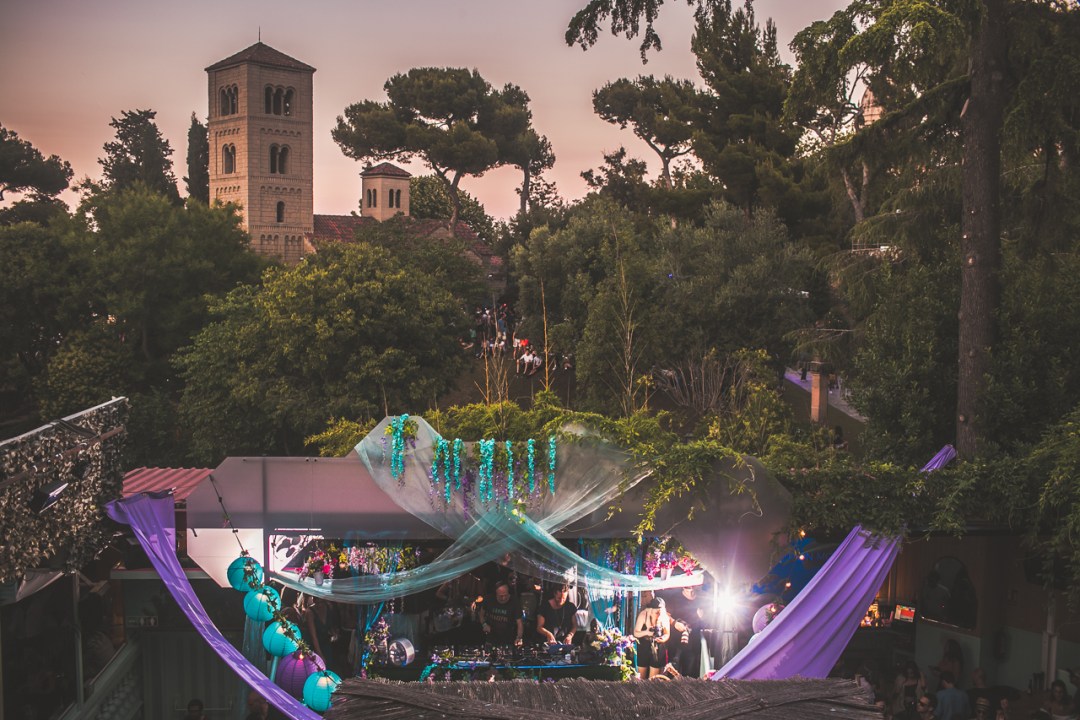 © Photography by Khris Cowley for Here & Now (www.fb.com/wearehereandnow)[/caption]
Expect to see as many technology geeks, businessmen, backpackers and groups of holiday-makers as you will electronic music lovers. With many DJ-sets incorporating more rebellious, experimental elements in their shows during Sónar than any other festival as they seek to bring their open-minded audience a full sensory musical experience.
Sónar is celebrated as a place in which these DJ's are able to take risks and present
new projects to the event's receptive crowd.
The festivals sees an approximate 50/50 participation between Spanish nationals and foreigners that attend Sónar and Off-Sónar events - there's definitely a huge mix of nationalities, personalities and party-goers.
The picture below is the crowd at Sonar By Day in one of the many spaces at Fira Montjuïc venue.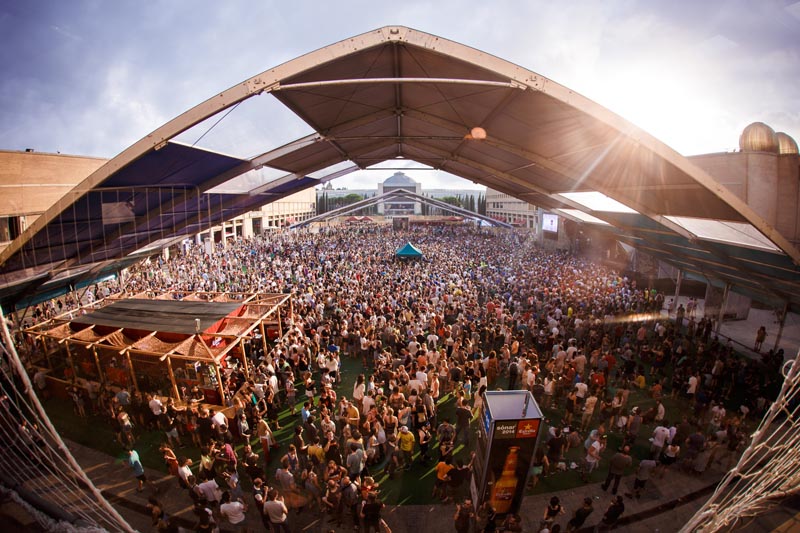 So What is Off-Week?
Following its 1994 inception, Sónar's 3-day festival also gave way to 'Off-Week' - or Anti-Sónar as it was formerly known - which was first founded by Barcelona's Spanish residents as a protest to the rising price of tickets for actual Sónar.
Barcelona's 'Off-Week' or 'Off-Sónar' parties attract just as many people to the city as the festival itself. In comparison with Sónar, which takes place in two main locations, Sónar by Day, at Fira Montjuïc, and Sónar By Night at Fira Gran Via de L'Hospitalet, 'Off-parties' take place in a variety of different locations including hotel rooftops, terraces, bars, nightclubs, and most famously in the open-air architectural museum, The Poble Espanyol.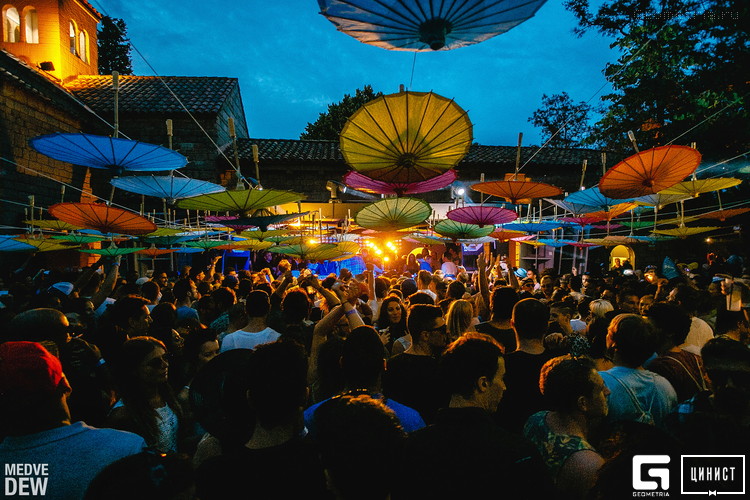 In recent years, the Off-Parties have rocketed in popularity which could be down to the tendency for these parties to be much more intimate shows in the Catalan sunshine rather than in one of Sónar's large venues. This shift towards Off-Week events after attending the Sónar festival is obvious.
Unlike the festival stages, off-sonar events tend to be in smaller venues that provide a new experience with every different event you attend throughout the 3 day period. One event might be a 200 persons capacity overlooking the city skyline dancing on a hotel rooftop, and later that day another in a monastery on the city's Montjuïc Mountain with 5000 people.
Whilst the original festival definitely still has its merits including technology talks and different musical options that Off-Parties do not offer their attendees, it's difficult to escape the feeling that the Off-Sonar events give their guests in captivating, smaller venues across the city.
Below is a photo taken from one of Off-Week's events at el Monasterio on Montjuïc.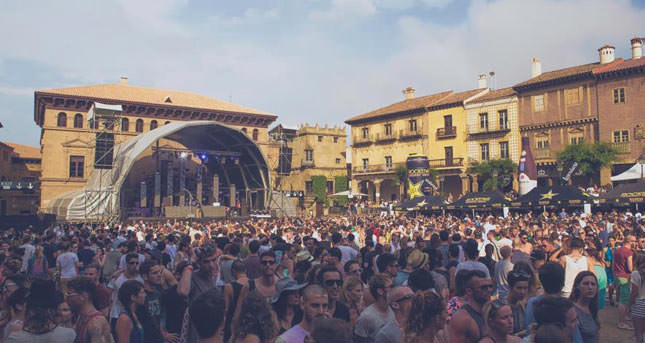 How can I find out about events/buy tickets?
In order to find out more about the Off-Week events for this year, check out Resident Advisor for information and tickets. The company also has a resale system which means that should you not be able to attend any event you've purchased tickets for, you can still sell your ticket and be reimbursed for the money spent.
SuiteLife's top choice in this years' Off events is the Elrow Offsónar Special in the Plaza Mayor of Poble Espanyol. Barcelona is the home of Elrow, and is the longest-running dance music party here! Whenever you go to their parties, you know you're going to have fun and leave with a smile on your face. Be sure to check Elrow's event out on Friday June 15th from 16.00 to 00.00 - it's sure to be one of Off-Week 2018's best parties.
Below image: Poble Espanyol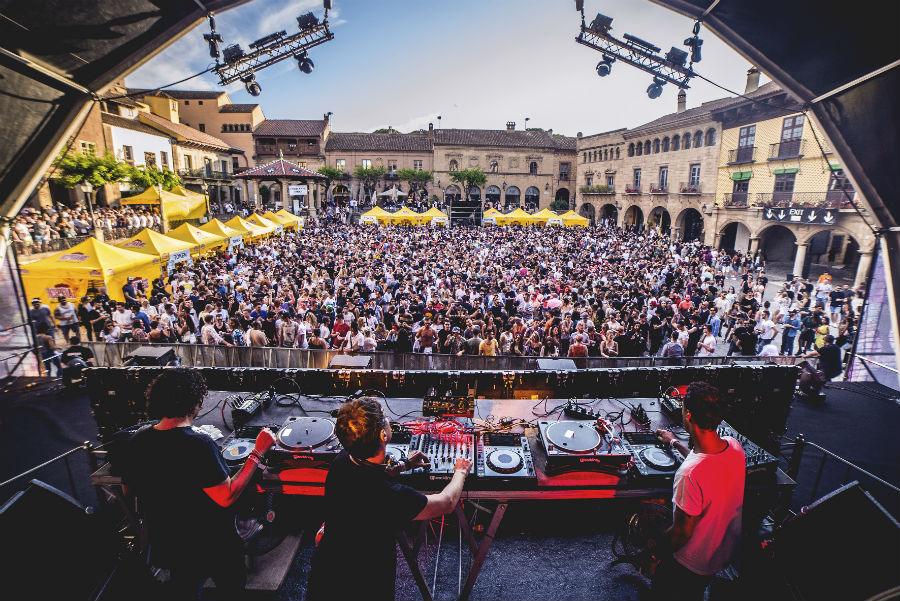 On a more serious note, be sure to avoid sites when buying resale tickets like Viagogo that a synonymous with scamming. Stick with Resident Advisors resale site and whilst scams on TicketSwap cannot be ruled out, the chances are definitely much lower.
Below is a picture from Mobilee Event @ The Gates Diagonal Barcelona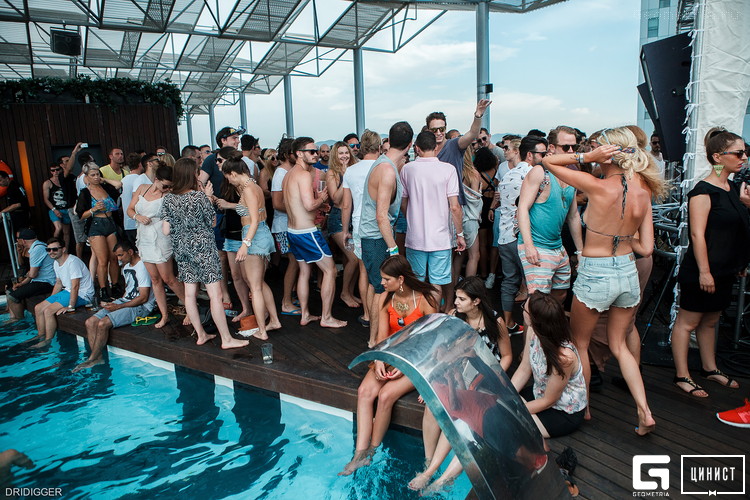 I hope we've managed to inform you on the who, what, where, when and why of Off-Sónar and that you have an incredible time at Sónar Barcelona 2018.
Let us know if you have any Off-Week tips you think we have missed!
- Rhiannon