Where is the best burger in Barcelona ?
In this blog, we are going to review the greatest restaurants to enjoy the best Burger in Barcelona! To all the burgers lovers, this one is for you!
Benny's Burgers: Best burger in Barcelona - KIOSKO
OK, on to the first one ! It is one of my favorites and it is... Kiosko ! If you like burgers as much as I do, then keep reading! After posting my first blog of the series on Federal Cafe Barcelona, I received lots of helpful suggestions from SuiteLife facebook fans, telling me about all the other great
Barcelona burger
places they knew of.  Many I've already visited but there was one that really peaked my interest and that was Kiosko.
The Atmosphere:
What I love so much about Kiosko is that it doesn't pretend to be something it's not.  While certainly being upscale, Kiosko is in its heart a 100% hardcore foodie meat-craving gourmet burger joint.
The Verdict: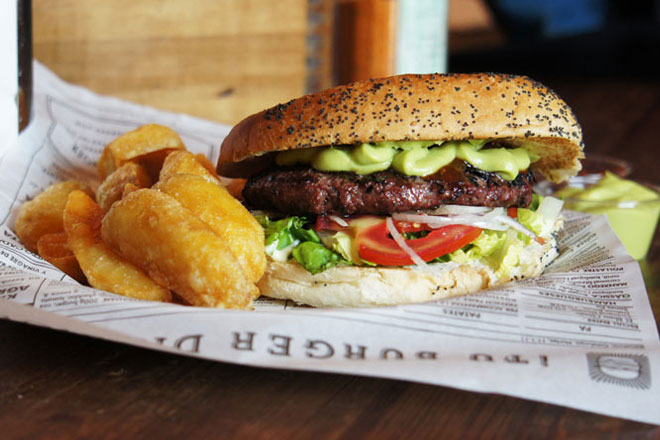 Kiosko gets 5 out of 5 "Benny burgers".  It's hands down the
best Barcelona burger
place!  I can't recommend it highly enough.  If you are into burgers, and having trouble finding a not only decent, but an outstanding one, look no further.  Is this the best burger in Barcelona?  It's too early to say, but all other places we'll visit have their work cut out for them! Now, onto the next one!
Benny's Burgers: Best burger in Barcelona - PIM PAM
Is Pim Pam Barcelona Hamburger the Best, or the most hyped?
Pim Pam Burgers Barcelona
has been the place most recommended to me by friends and SuiteLife fans.  So it had a lot of hype to live up to.  I must say, as far as
hamburgers in Barcelona
go,
Pim Pam
is in the upper echelon.
The Burgers: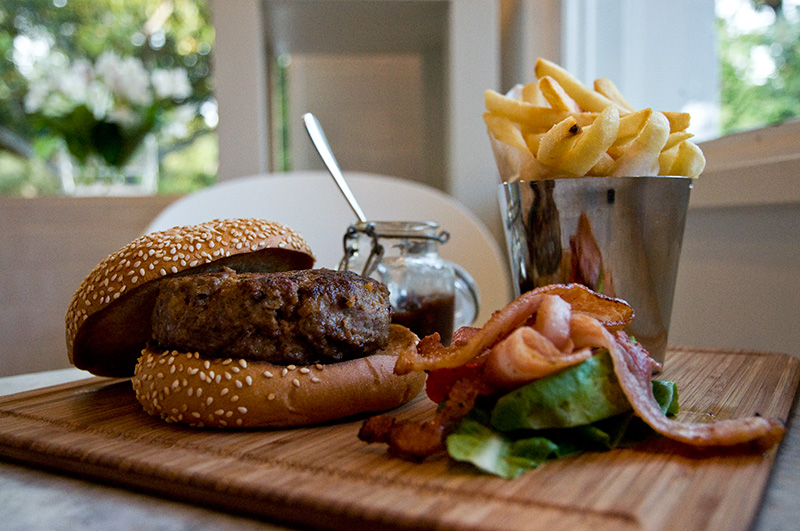 The
Pim Pam burgers
are excellent.  These are not 'gourmet' burgers like other places offer.  They are homemade-style burgers, like your grandfather might make you: big juicy delicious patties, fresh ingredients, and a nice soft bun. Aesthetically, they're not much to look at (as you can see from the photo I took on my phone), but what they lack in surface beauty, they more than make up for in taste. They have about 8 burgers to choose from (in either a small 150g version or the larger 200g monstrosity).  I tried the large Barbeque burger and it was mouthwatering and tender.  The fries were excellent (not as great as some of the artisanal fries the gourmet places serve, but there were definitely no complaints going around our picnic table).
The Atmosphere:
The vibe you get when walking into
Pim Pam
is, in my humble opinion, nothing special.  There's really not enough space, and as it's so popular, it's usually packed with people huddled around the small tables and eating counters.  Not super pleasant.  Given it's excellent location in the Borne though, we opted to take our food to go, and we walked a couple of minutes to Parc Cuitadela, found a picnic bench, and were ready to dig in.  So the atmosphere is nothing to write home about, but this place is all about the food anyways.
The Verdict:
Pim Pam Burger
is certainly one of the
best hamburgers in Barcelona
, but... it's not the best.  As excellent as it is, for us here at SuiteLife, it didn't live up to its hype.  I'm giving it 4.5 out of 5 Benny Burgers, and will highly recommend that all our friends and fans head down to the Borne to check it out. So the hunt for Barcelona's best hamburger continues...
Benny's Burgers: Best burger in Barcelona - HEART BURGER
Heart Burger
is one of the newest kids on the block in the
Barcelona hamburger
scene.  The idea is that they are healthy for you, hence the 'heart' branding.  The burgers and buns are also made in the shape of a heart.  To be honest I hesitated on visiting as I found the concept quite gimmicky and cheesy.  I admit, though, that it did surpass my expectations.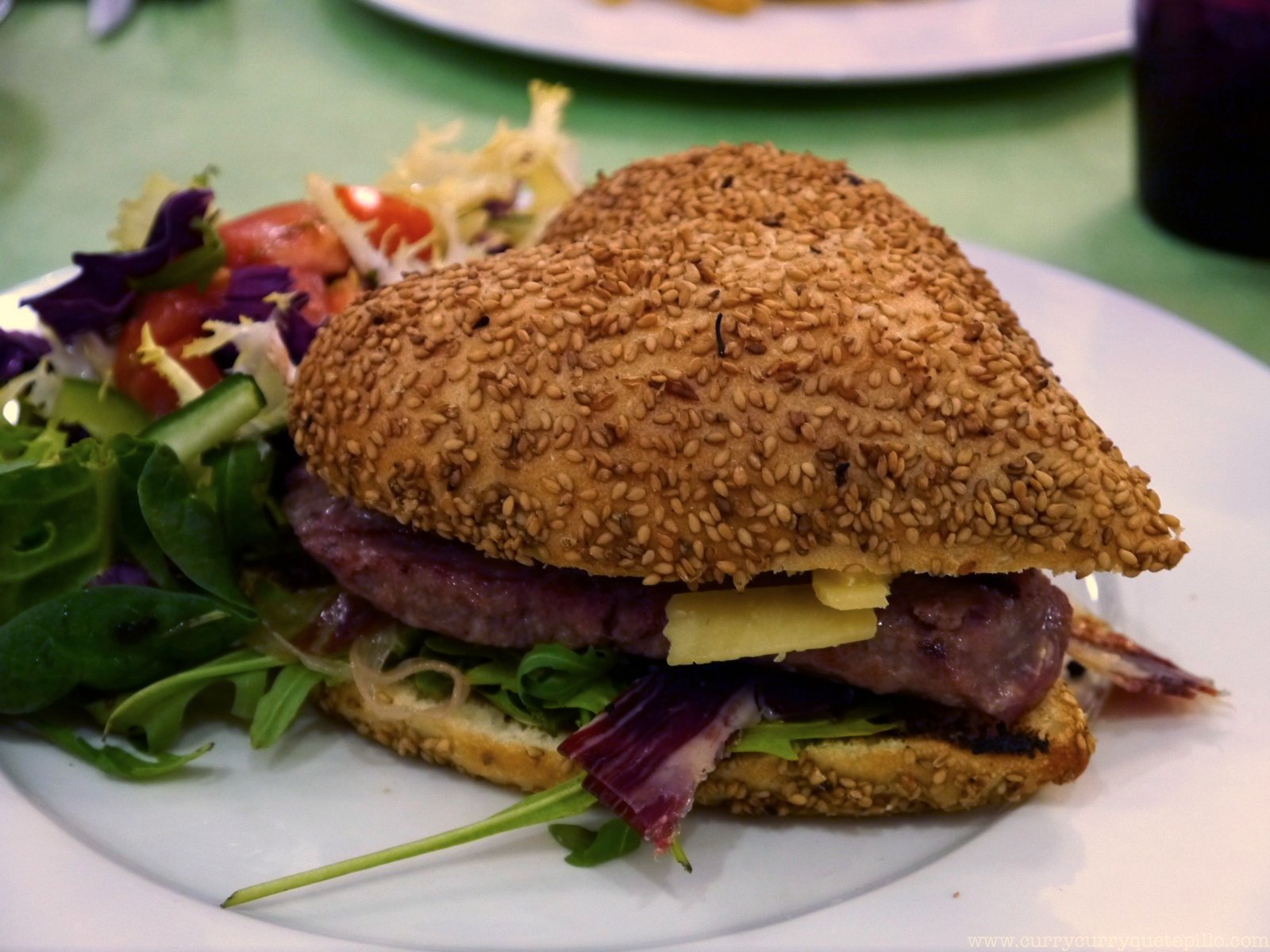 The Burgers:
The burgers are HEALTHY.  They're 100% organic and free of pesticides, antibiotics, synthetic fertilizers, additives, preservatives, and all the crap we usually don't even realize we're eating.  I had the New York Burger (10.75 €), which was 150 gr of organic veal, emmental cheese, fried egg, crispy bacon, and tomato.  All the burgers come with fries.  It was very tasty.  The burgers here are a little more expensive.  On average they are about 11-12 €, however, as my vegetarian friend and colleague Ranald says, it's more than reasonable to pay the premium for such quality and ecological product. They also have an extensive menu of starters, salads, desserts, etc...  The only negative is that we tried the nachos and they were deplorable.  I make better nachos myself at home.  I mean, really, using cream cheese instead of sour cream?  That must be against the law...  So stay away from the nachos but the burgers are super solid.
The Atmosphere:
The atmosphere is very pleasant.  The restaurant is spacious, newly renovated and seating is at tables.  The location is also very convenient.  It's located at 602 Gran Via, just a block or two up from Plaza Catalunya and crossing with Balmes.  The best part of the atmosphere was the very friendly, knowledgeable, and prompt service, which as we all know is somewhat of a rarity in this city.
Barcelona Heart Burger
receives a very respectable score of 4 out of 5 Benny Burgers.  Have you checked it out yet?  What do you think? Next one?
Benny's Burgers: Best burger in Barcelona - PEGGY SUE'S
Now, we look at Peggy Sue's, which conveniently opened it's doors exactly a block and a half from my apartment! They've been open about a month and I've been 6 times so, yep, this is a good one! What's important to note about Peggy Sue's is that it's not trying to compete with the new wave gourmet burger joints in Barcelona.  It's actually the newest location in a large family of chains.  If you're looking for a down-home hamburger cooked with love and a great 50's throwback Americana atmosphere, you have to come checkout the place I now refer to as just "Peggy's".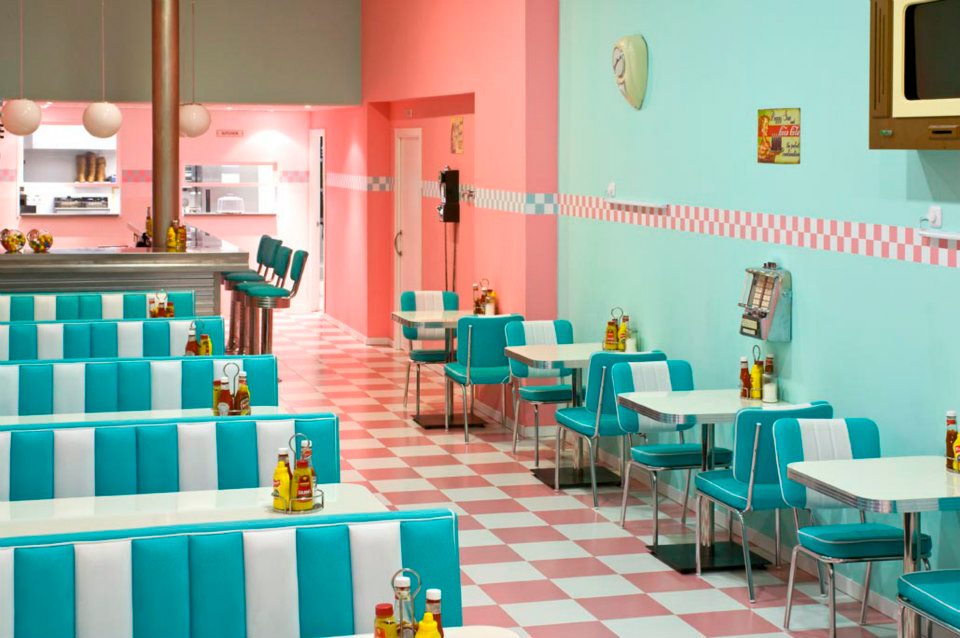 The Atmosphere:
Walk into
Peggy Sue's
too quickly and you might think you've been suddenly teleported back to 1958 NYC.  From the bright teal-colored walls, to the throwback decor, jukeboxes, and milkshake machines, just sitting in the restaurant is a treat.  The staff are extremely friendly and table service is quite fast.  I've been mostly doing takeout, which is very fast and you can even call in your order and come by 20 minutes later to pick it up and save the wait).
The Burgers: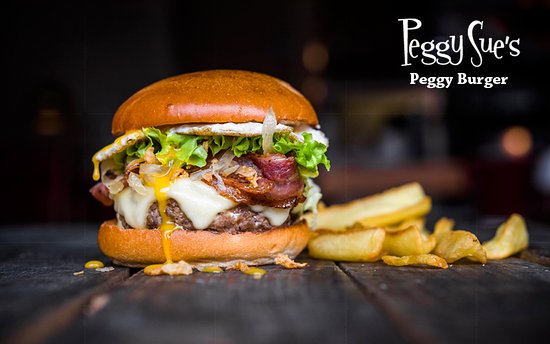 So, the food… is… awesome… Again, this is not a gourmet burger, it's a comfort food burger, pure homemade goodness just like your mom used to make you when you were a kid (no additives, no preservatives, and their special Guiness buns are very light and tasty).  There are 4 burgers to choose from: The Peggy Sue, the Mary Lou, the Aretha Franklin, and the monstrous James Brown.  The burgers are very reasonably priced ranging from 6.35 € - 6.75 €.  I haven't tried the whole menu yet, but I can also highly recommend the onion rings, and the chicken fingers are the best I've tasted in the city, and don't forget the house pink lemonade!
The Verdict:
4 very solid Benny Burgers (out of 5) for Peggy Sue's whose done a bang up job at creating a  while backing it up with lip-smacking authentic American comfort food.  Have you been yet? We'd love to hear your thoughts!
Benny's Burgers: Best burger in Barcelona - BACOA
Today's
Barcelona burger
review is on Bacoa, which is the older brother (although smaller in size) of Kiosko (the only
Barcelona hamburger
joint yet to get 5 out of 5 Benny Burgers). Does it live up to Kiosko? Let's see!
The Atmosphere:
The atmosphere at Bacoa is very pleasant.  The staff are overly friendly.  One down side though is that the place is too small. It fills up fast and if you're not a bit aggressive, you can easily be left with no place to sit! I went around 2pm on a weekday and it was quite crowded. A small negative, but something to take into consideration.
The Burgers: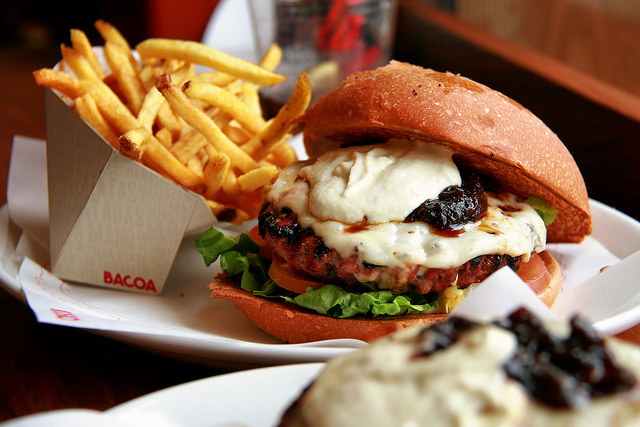 The burgers at
Bacoa Barcelona
are simply succulent. The only burger that you won't also find on the Kiosko menu is their special Bacoa burger, which I of course had to try.  The Bacoa burger comes with a whopping 300g of beef, bacon, manchego cheese, caramelized onions, tomato, lettuce and special house sauce, and all for the rather reasonable price of 6.50 €. The home made fries (same ones at Kiosko) are the best in the city.  While the burger selection is decent here, the Kiosko menu is about double the size.
The Verdict:
Bacoa is certainly one of the very best burgers in Barcelona, but it loses points because of it's diminutive size and the fact that it's new brother restaurant (Kiosko) just beats it to a pulp.  Hence, Bacoa gets a solid 4 & 1/4 Benny Burgers out of a possible 5.  Highly, highly recommended but make sure you try and go on off-lunch hours to avoid the wait.  Enjoy! Always looking for new recommendations to add to my list.  Any burger joints I can't live without visiting? Let me know! Cheers and have a great weekend SuiteLifers! Benny