Probably one of the more unique
vegan cafés in Barcelona
, the
Blue Project Café
is part of the
Blue Project Foundation
which is a contemporary art foundation situated in the beautiful el Borne. The idea behind it, is that the art carries through to the gastronomy. The café is the reflective art, but in this case chef Karlos is the artist with the way he delicately picks and assembles his art pieces – his dishes.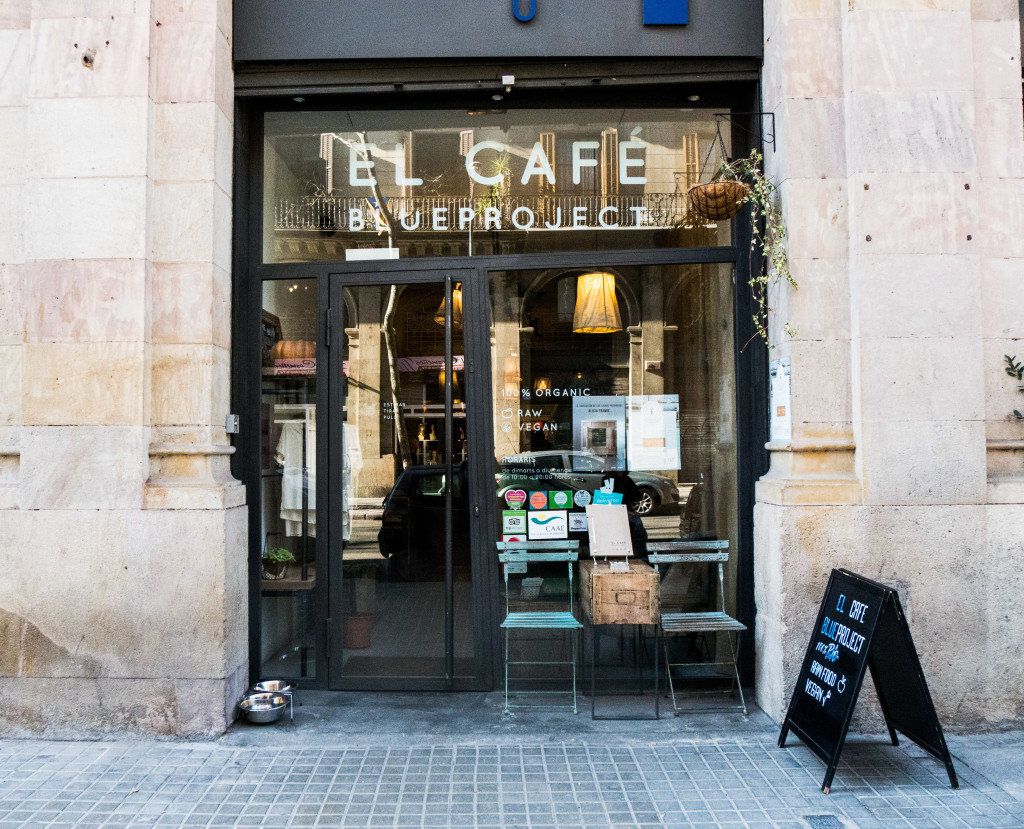 Blue Project Café is a vegetarian, vegan and raw food haven which is different from others, in the sense that it takes food to that another level. Priding themselves on the theory of slow food, we paid a visit to the café to find out more and taste some of the creations.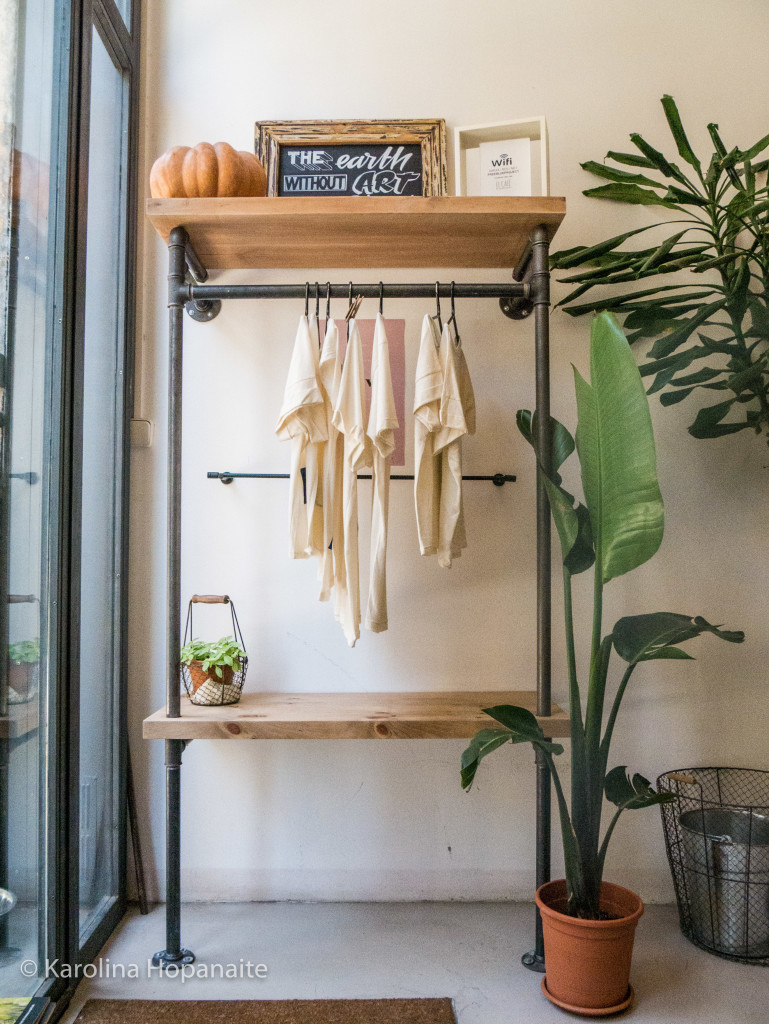 When we arrived to the vegan café, the very first thing that stood out was the cosy environment. The café has beautiful wooden touches, filled with cookbooks. The waiter – Jonathan welcomed us with a smile.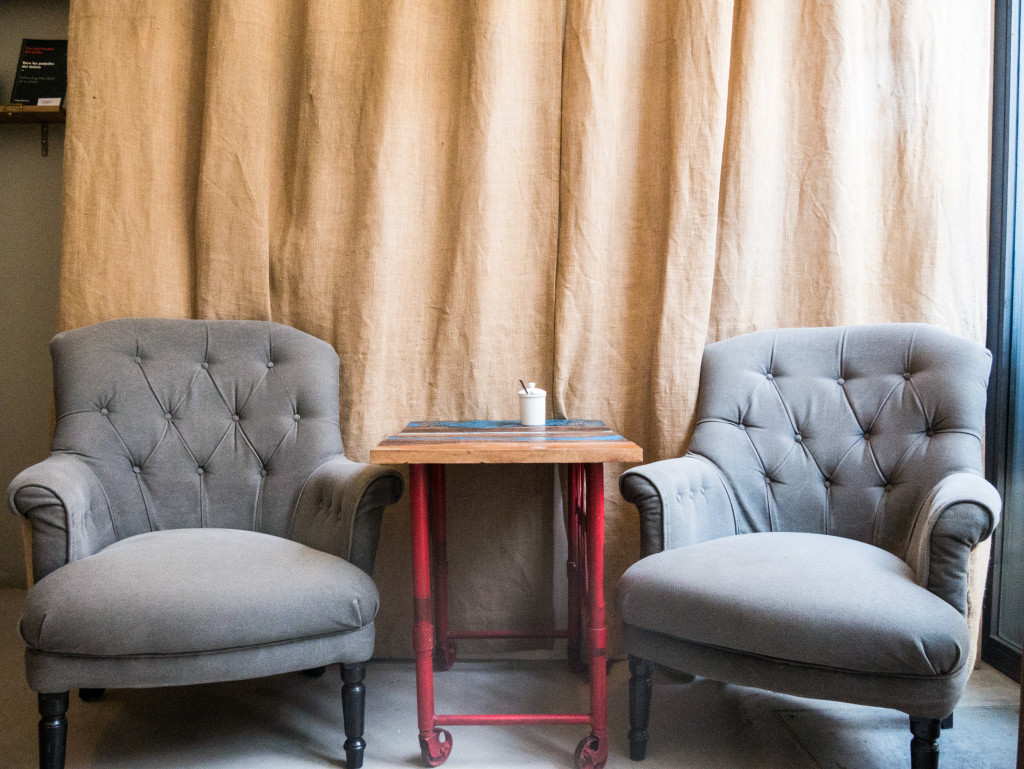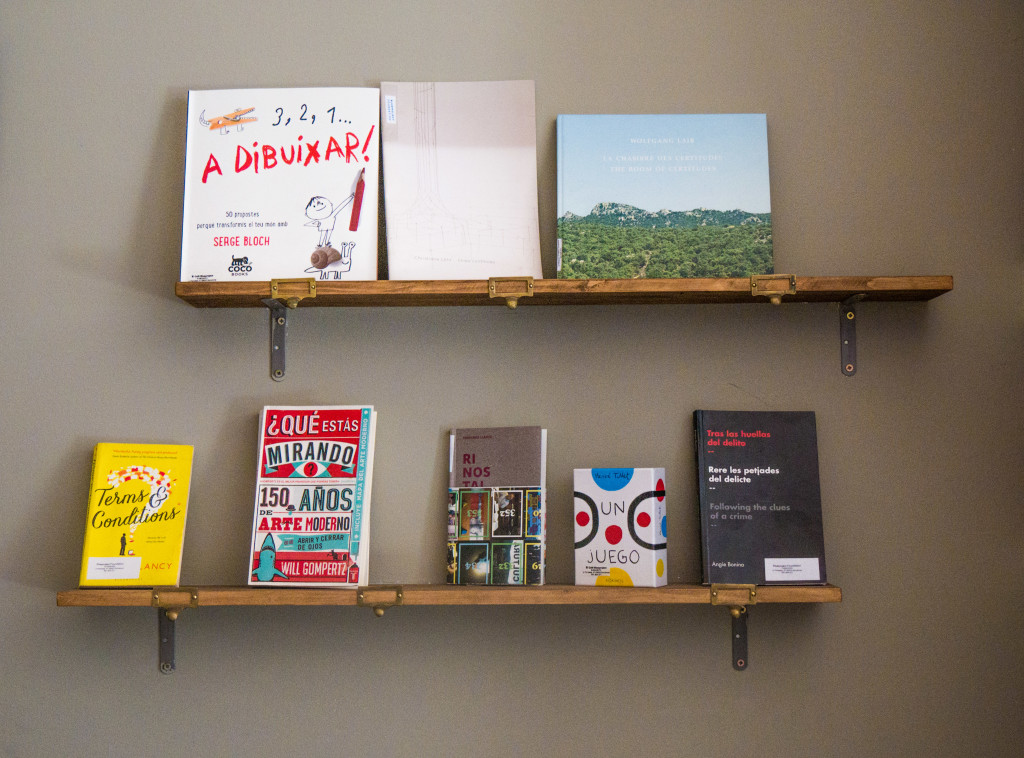 ---
Starter
---
To start, Jonathan recommended that we try their smoothie and fresh juice. You can make your own smoothie, so we went ahead and had a banana, almond milk, acai & cinnamon smoothie which was absolutely delicious and a beetroot, apple, carrot, ginger and lemon freshly squeezed juice. For starters, we had a little taster of their hummus, Essene bread, enzymatic crackers and their cashew cheese.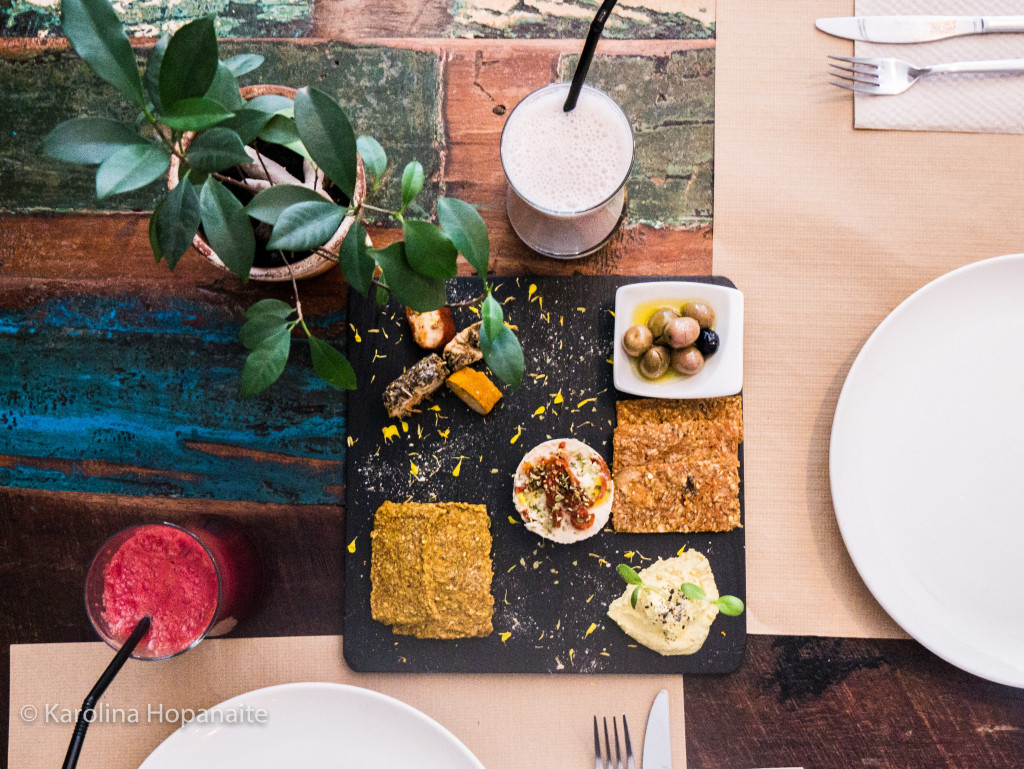 Quick note, I love cheese. Like, love it. To my surprise, the cashew cheese was actually fairly close to the usual taste of cheese and it was really well seasoned with different herbs. The hummus was deliciously smooth, but my favourites were the bread and the crackers (they're both completely gluten free). Typically, crackers tend to be fairly bland and dull, but the dehydrated bread and crackers were absolutely mouthwatering and packed with flavor, I could eat them all day every day.
---
Main Course
---
The idea behind the next dish was slow food. Slow food is a philosophy that honors the appreciation of the producers and users whilst being good for the planet at the same time. Therefore, this dish was assembled with ingredients that grow nearby to Barcelona, meaning that less food is imported and because it's so close, it doesn't need to be frozen and it's still full of nutrients. What came next, was truly a piece of art.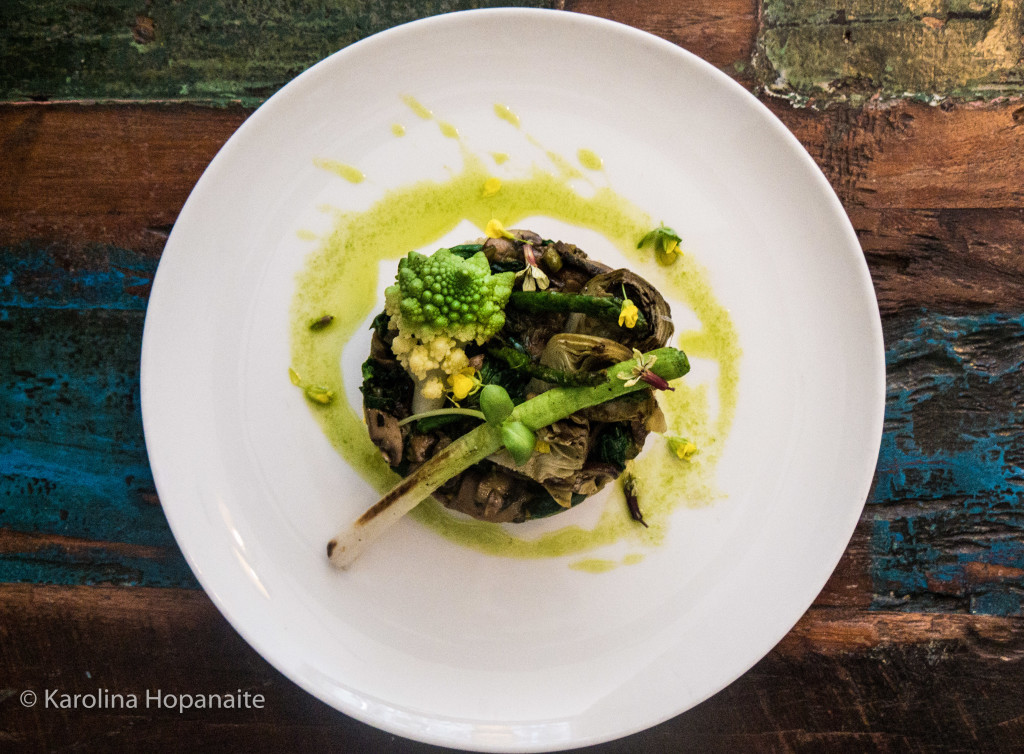 The dish was made with fluffy quinoa, broccoli, grilled asparagus, artichoke, mushrooms and decorated by some edible flowers, which added a colour pop. This was not only well seasoned and really well cooked, but it was made fun with much thought put behind it and this is why we loved this dish that was made with a local produce of seasonal vegetables.
---
Desert
---
So after this marathon of food, we had one last dish to try – desert. For desert, Karlos brought us a little mix of bits and bobs to try, with a signature strawberry cheesecake.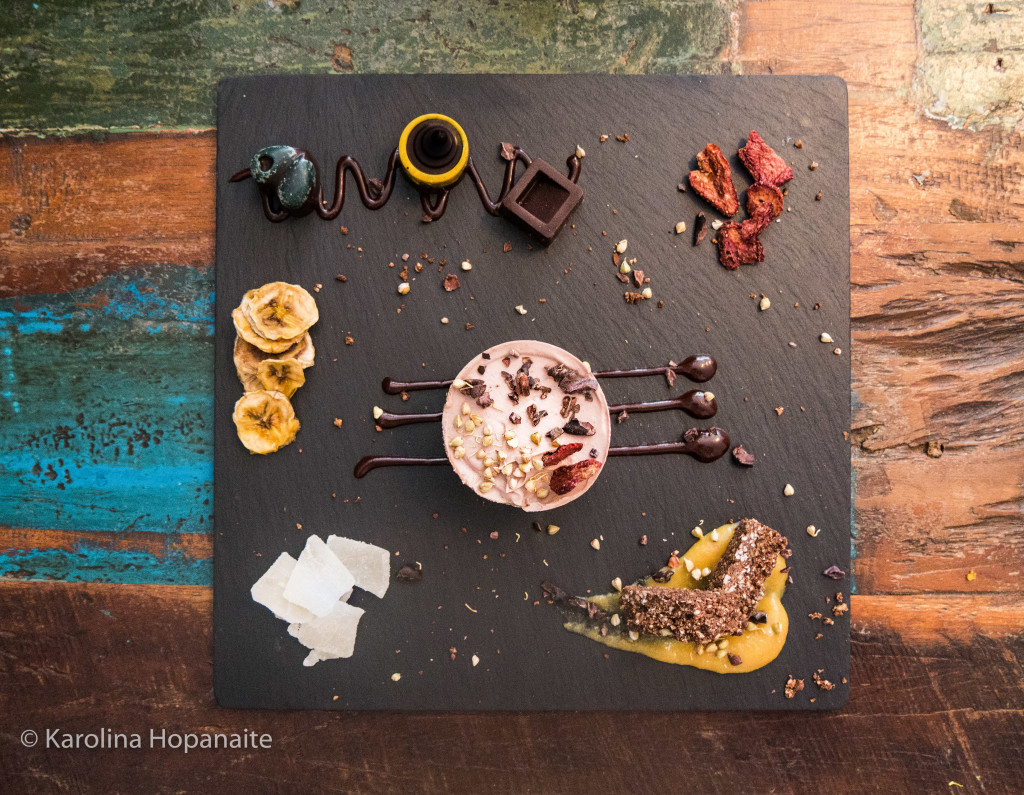 Along with the strawberry cheesecake, we had the joy of trying some handmade chocolate delight with a mango puree, some sweet banana chips, dried strawberries and handmade chocolate. Karlos revealed that he tempers with chocolate himself, which is one of the hardest technical skills in desert – tempering chocolate to the point where it glistens. Normally in restaurants I refrain from deserts, because you leave feeling heavy and feel like you have (once again) over eaten. However, because the food here is so light, the desert really hit the spot and safe to say, we did not regret having it at all. So after all this food tasting, we felt super good. The food was delicious, the service was amazing, the aura and the vibe in the café was refreshing. If you're looking for a place that even your non-vegan or vegetarians friends would enjoy eating in, this definitely is the place to go. The café also sells some raw snacks, bites and different various foods which you can buy to take away. If you loved the dishes and feel inspired, chef Karlos also runs cooking classes on Saturday's, but be aware, they sell out VERY quickly.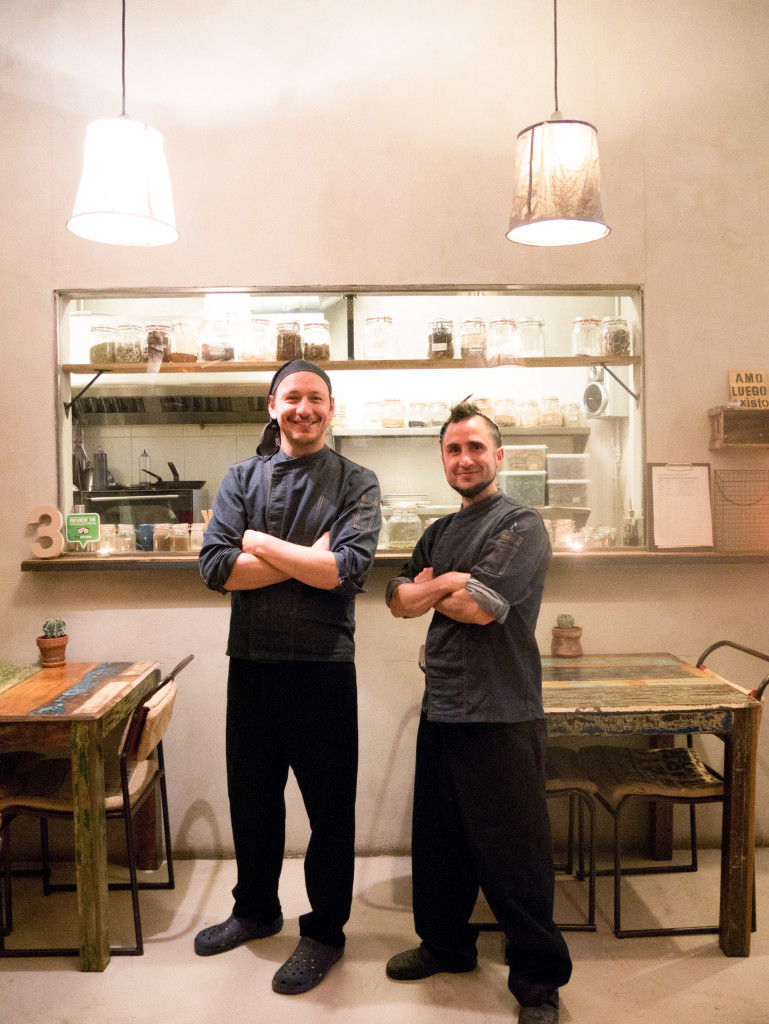 More information about
El Café
For more information on
 Slow Food
Tell us your opinion in the comments below!