La Dolça Herminia: Another Barcelona Restaurant for you to fall in love with. 
Barcelona Restaurant
 fanatics are always looking for 
the best restaurants in Barcelona
, and this week we have a doozy for you! I have been super excited about writing this article on my favourite 
Barcelona restaurant
. 
La Dolça Herminia restaurant in Barcelona
 is a fairly large, upmarket restaurant with a reputation to match. It's a far cry from my other favourite 
tapas restaurant, Los Torreros,
 which I wrote about in my last 
Barcelona restaurant
 blog. 
La
Dolça Herminia 
is one of those 
restaurants in Barcelona
, that attracts a wealthy clientèle, yet some how doesn't seem snobbish or up it's own a**, if you know what I mean?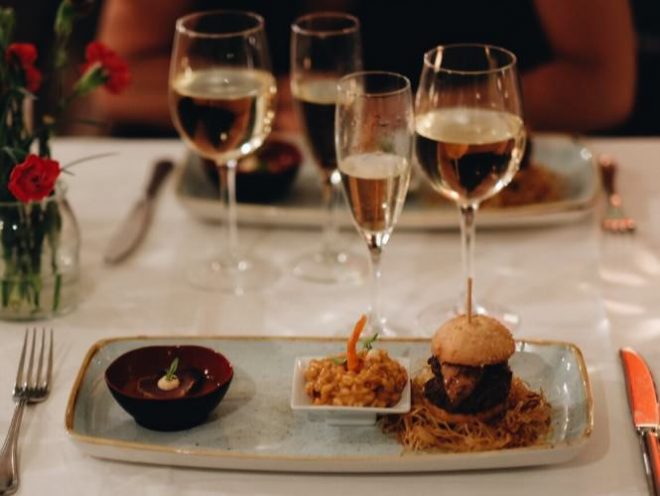 BARCELONA RESTAURANTS - ELEGANT YET UNPRETENTIOUS My ex-girlfriend told me about "
this great Catalan restaurant in Barcelona that everybody talks about between the Cathedral and Via Laietana
". We met after work and went to check it out. We stood in the cue, with our rucksacks and that slightly dishevelled look you get from a long days work, feeling slightly underdressed next to the well-to-do Barcelona tourists, who must have just come from 
The Liceu Theatre
 or somewhere similar. To be honest, I wasn't even sure they would let us into this 
beautiful Barcelona restaurant
 without being suited and booted and my girlfriend was even more concerned. The building is big, bold and classical in design. Truly one of the most beautiful 
restaurants in Barcelona
. I thought we should chance it and after a short cue, we were met by the door woman. She paid no attention to what we were wearing whatsoever and seated us quickly on a romantic little table next to the wine rack (bad idea). As you do, we scoped-out the other diners and were surprised to see a mix of different people, young, old, smartly dressed, casually dressed, barely dressed. It was comfortable and had a relaxed atmosphere, I was immediately in love with the place. Elegant yet unpretentious. The best Barcelona restaurant for a romantic meal for two....or three This 
famous Barcelona restaurant
 felt like it should be inside an opera house and reminded me of being in the restaurants on board cruise liners with my family when I was young. High ceilings and lots of crisp-white table clothes, flowing elegantly down to the floor. Highly polished cutlery adorns your table along with a selection of wine glasses that makes you wonder "
what time do I have to get up in the morning?
". The waitresses (mostly Asian, which I thought was strange for a 
Catalan restaurant in Barcelona
) Waltz in and out of the tables and are fairly happy to help with whatever you ask for (usually "Mas vino por favor"). I would like to point out though, that "the boss" woman was incredibly miserable and I did my best to avoid eye contact with her. Saying that, the waitresses and waiters under her command did a great job so if that's what it takes, so be it. As with so many of the 
restaurants in Barcelona
, 
La Dolça Herminia
 offers a "menu", pronounced "men-ooooo", which is what we call a "set menu". At about €20 per person, including a drink, you won't find much better value in any other 
Barcelona restaurant
.
A Sample
DOLÇA HERMINIA'S MENÚ
Leek soup with mild cheese and sesame, perfumed with black olives
Green beans salad with pine nuts and cured ham
Scorpion fish pie with cocktail sauce and crispy bread
Pappardelle with fresh tomato, basil, black olives and parmesan
*****
Old style veal fricandeau
Fillet of pork with wild mushrooms
Cod brochette with grilled pumpkin and honey
Grilled chicken breast with sautéed vegetables
*****
Catalan custard brulée
Sacher cake with home-made custard
Pineapple carpaccio with coconut ice-cream and red fruits
*****
Includes bread and one drink (Water or softdrink or beer or 1/4 of wine)
19,95 € V.A.T. included
When one of my best friends from home came to visit Barcelona, we knew exactly which 
Barcelona restaurant
 to take her to and my girlfriend and I were happy to have an excuse to return to our favourite restaurant. Recently, I also discovered that this 
Barcelona restaurant
 is owned by a small group which also owns the 
famous Placa Reial
 hotspot, called "Les Quinze Nits", another favourite of mine. Stay cool! Ben H.