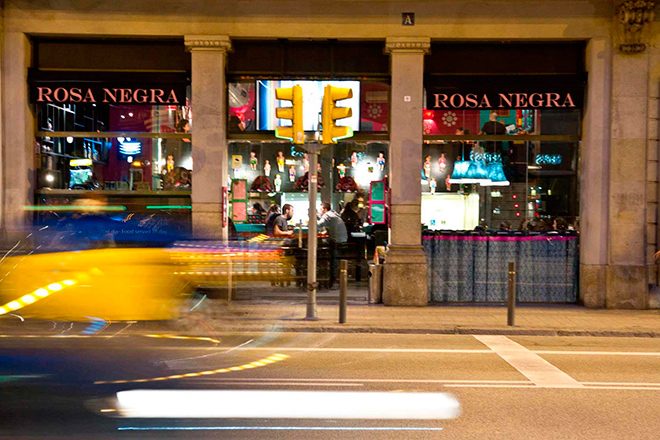 If you want to go to a very charming Barcelona Mexican restaurant, you'd not miss Rosa Negra's delicious Mexican foods in Barcelona.
I know that it is a very important thing to try every special Spanish/Catalán food and 
Tapas
 while you are in 
Barcelona
, but if you want something different, you should try one of the best places for 
Mexican foods in Barcelona
.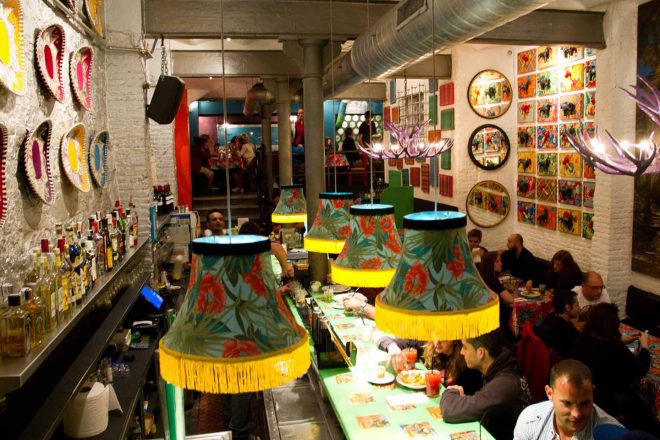 There are two of this 
restaurant in Barcelona
, one called the 
Rosa Negra
 and the other called 
Rosa del Raval
. Both places' design are very special, very 
kitsch -
 in the 
Mexican style 
created by the 
Mexican designer
Lorena Zertuche
! The restaurants are so colorful from the tablecloths to the little details - for example flip-flops or plastic dolls on the walls and huge lilac antlers on chandeliers.  The whole atmosphere is so unique and lovable even with it's weird spots as well. We have been there twice - once in 
Rosa Negra
 and once in the 
Rosa del Raval
 one - and I really can say that the food is worth the price. Especially if you go to have lunch on weekdays, because they have a diverse 2 or 3 course lunch offer for only 9 €, including a drink too (from 13.00 to 16.00). I can highly recommend you to go to this 
Mexican restaurant in Barcelona
, because they have really tasty 
Mexican foods
 for a very reasonable price. You should try many things from their menu, consisting of 
typical Mexican courses
 like: 
burritos, fajitas, tacos, quesadillas
 and much more. But don't miss out the starters either, because their 
guacamole 
is amazing, maybe the finest of the 
Mexican restaurants in Barcelona
! It is fresh and really tasty, with a lot of tomato in it, making that more juicy - delicious with nachos! I think next time I'll try the 
jalapeño rellenos with cheese
, they looked so tempting.
Last time we ate some 
Flautas
 (fried tortilla rolls filled with chicken, served with lettuce, tomato, onion and cream on the top) and a mushroom soup which was also delightful. For second plate we had 
Huevos a la Mexicana
 and 
Tacos de pollo en salsa verde
. The portions were ideal and I also liked the presentation of the dishes at this 
Barcelona Mexican restaurant - 
they seem to pay quite a lot of attention to detail.
Finally came the desert and - as I really like sweeties - I was very curious about them! I had a really nice 
White Chocolate Mousse. 
Normally I don't like white chocolate, but it was amazing, creamy and crispy at the same time - because of the crunchy base with pistacchios and also with apricot sauce.
As you see 
Rosa Negra
and
 Rosa del Raval
 has a pretty good selection of 
Mexican foods in Barcelona,
 so if you are hungry for some 
Mexican cuisine 
go to visit one of the Rosa-s!! (for more info click on the names!) Oh and don't miss their happy hour  on weekdays from 18.00-20.00, the yummy 
mojitos
 and 
margaritas
 are just for 3,5 €!  You should absolutely try some! Tell us which was your favourite plate or cocktail of this 
Barcelona Mexican restaurant
 on 
our Facebook page
!