If you're looking for the best
Barcelona Instagram accounts
then this is the perfect blog for you!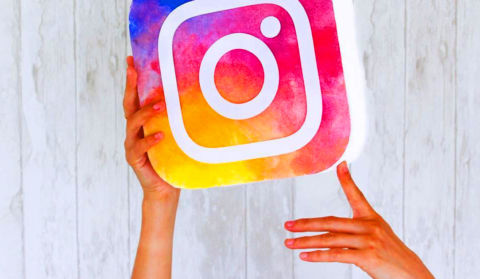 Instagram has gained more and more popularity over the years. Somehow we all fell in love with the concept of a platform with only pictures, but we mostly fell in love with editing pictures to make them look as perfect as possible. There are many successful Instagrammers who make use of this platform to share their photography skills and in Barcelona there are some super cool accounts!
#Barcelonagram Top 70 Barcelona Based Instagram Accounts
Barcelona Instagrammers love to capture the beauty of the city, because let's face it.. Barcelona is very photogenic! As there are countless Instagrammers posting pictures about Barcelona, it's hard to find the real gems, however, that didn't hold us back. We found for you
70
Barcelona Based Instagram Accounts
 that post the most amazing and unique pictures of the Catalan capital city, we've categorized them by different types of Instagram accounts: Architecture, Landscapes, Interior Design, Food, Bloggers/Influencers, Urban and Art & Culture. Enjoy looking at our lovely city from different perspectives, it'll make you fall in love with Barcelona & its surroundings all over again!
Architecture
The Instagram profile of Barcelonafacades is quite satisfying for the eyes, all pictures are taken from the same angle and they're all showing the facades of buildings located in Barcelona. If you're a fan of architecture and of tight lines, then check out 
@Barcelonafacades.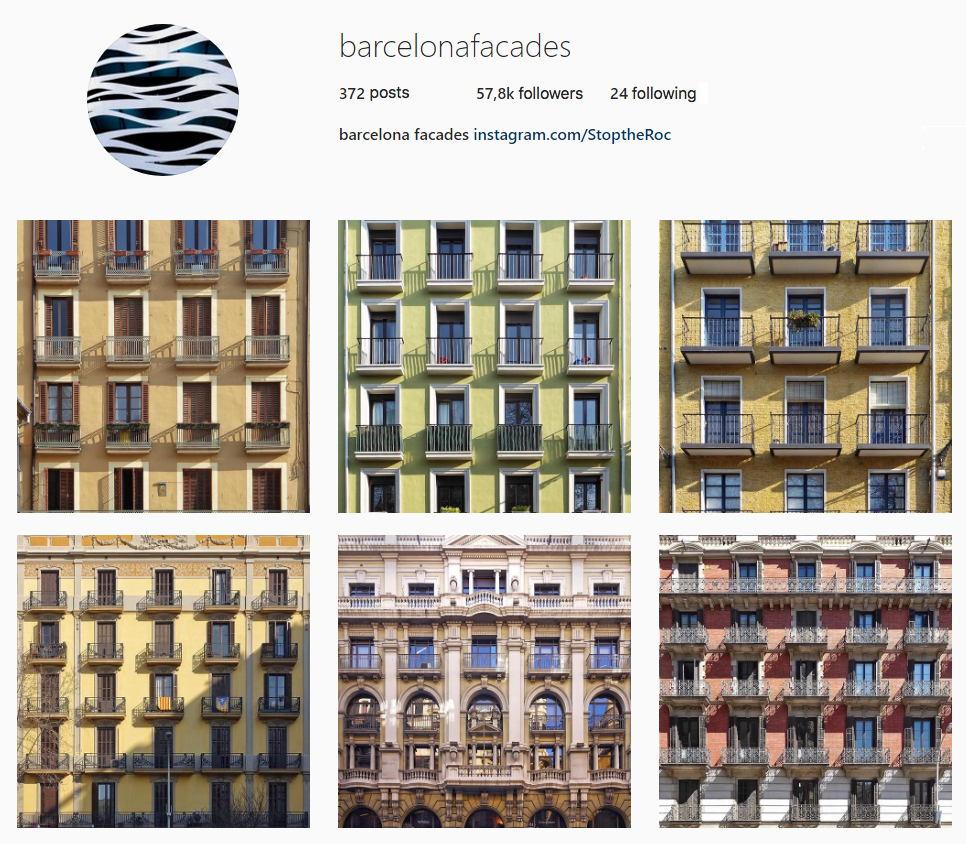 @Stoptheroc
 is linked to Barcelonafacades, but this profile shows more than just Barcelona's beautiful facades. They capture everything that is interesting to look at for every architect lover, from modern buildings to the more typical characteristic Barcelona buildings.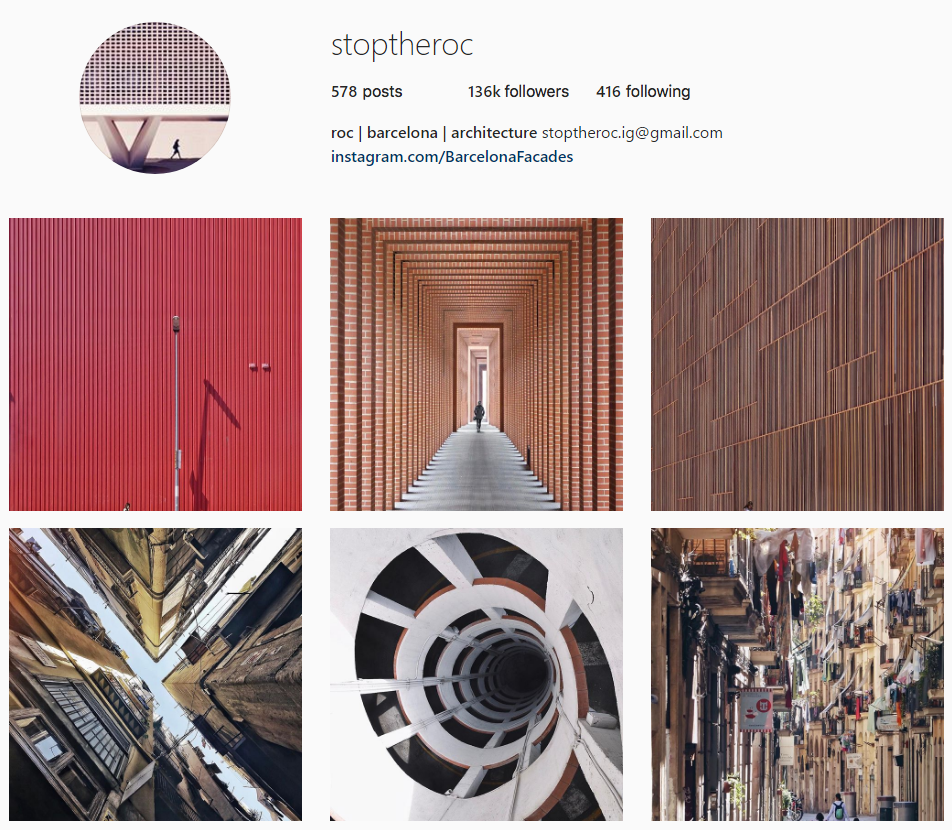 @nicanorgarcia
 posts pictures of modern and traditional architecture. He travels around the world and captures everything he loves, all related to architecture.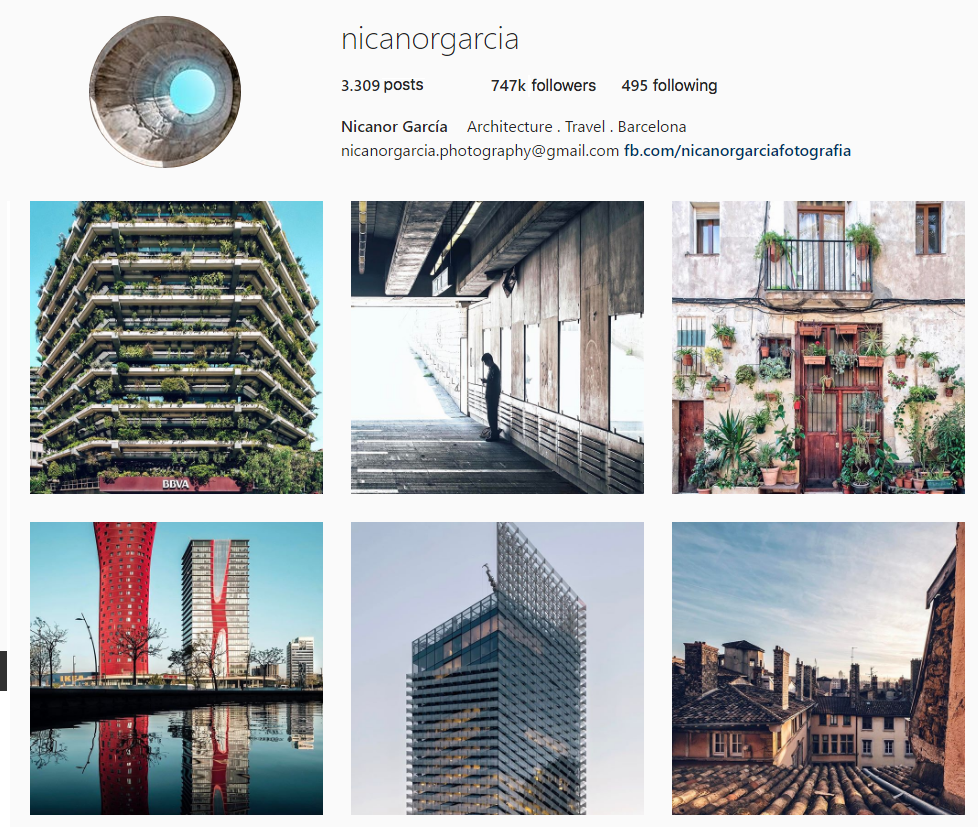 @barrut
 is an Instagram profile of a photographer and dad (as his description says). His pictures vary in style, and they are not only architecture, but also landscapes. If you're an architecture lover you'll definitely love his profile, since he captures many great looking constructions.
@Joelopez
 's profile is very fresh and quite clean. His posts are artificial. He captures beautiful spots in Barcelona including many architectural gems.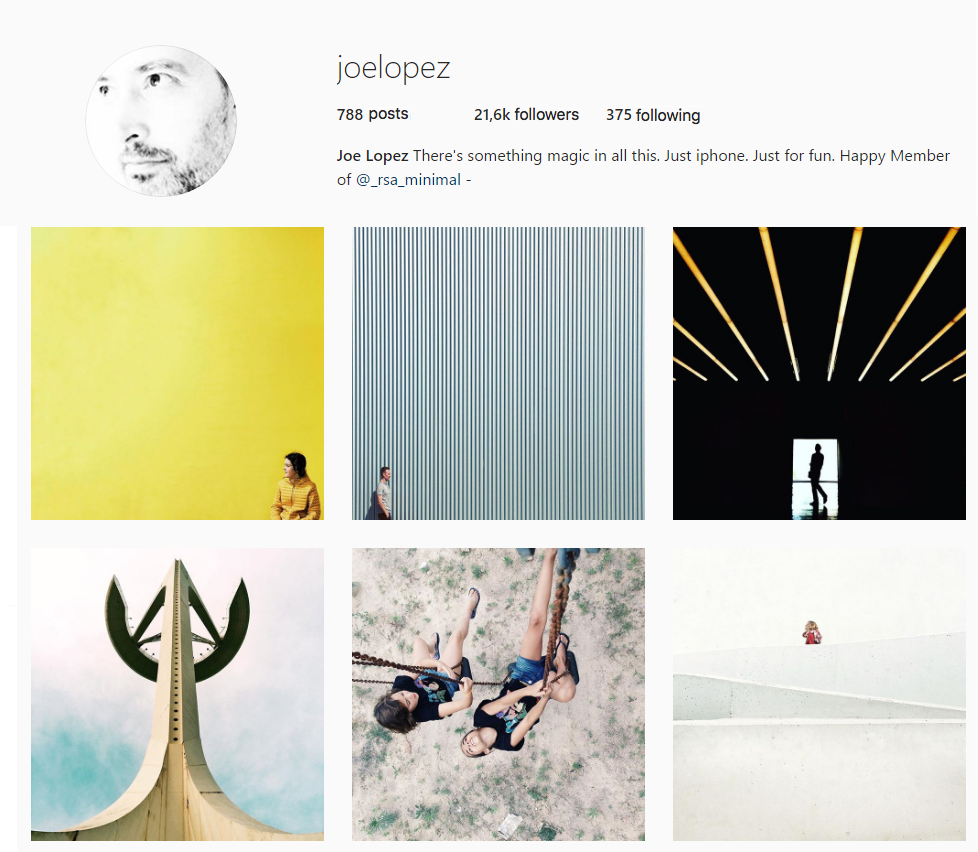 @oriolvm
 this Instagram profile mainly consists of modern architecture in Barcelona and some other places. He even converts ugly buildings into photogenic buildings.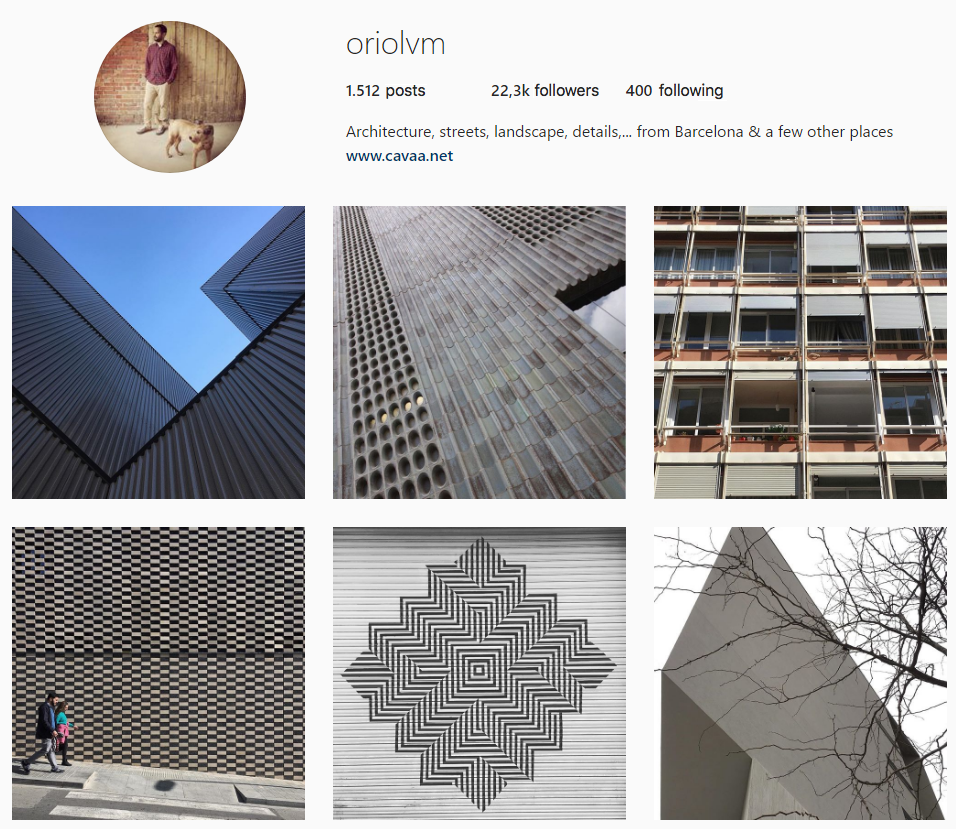 @Catalunya_arquitecta
 this Instagram profile captures all architectural beauties of the Catalonian region, including the gorgeous gems in Barcelona.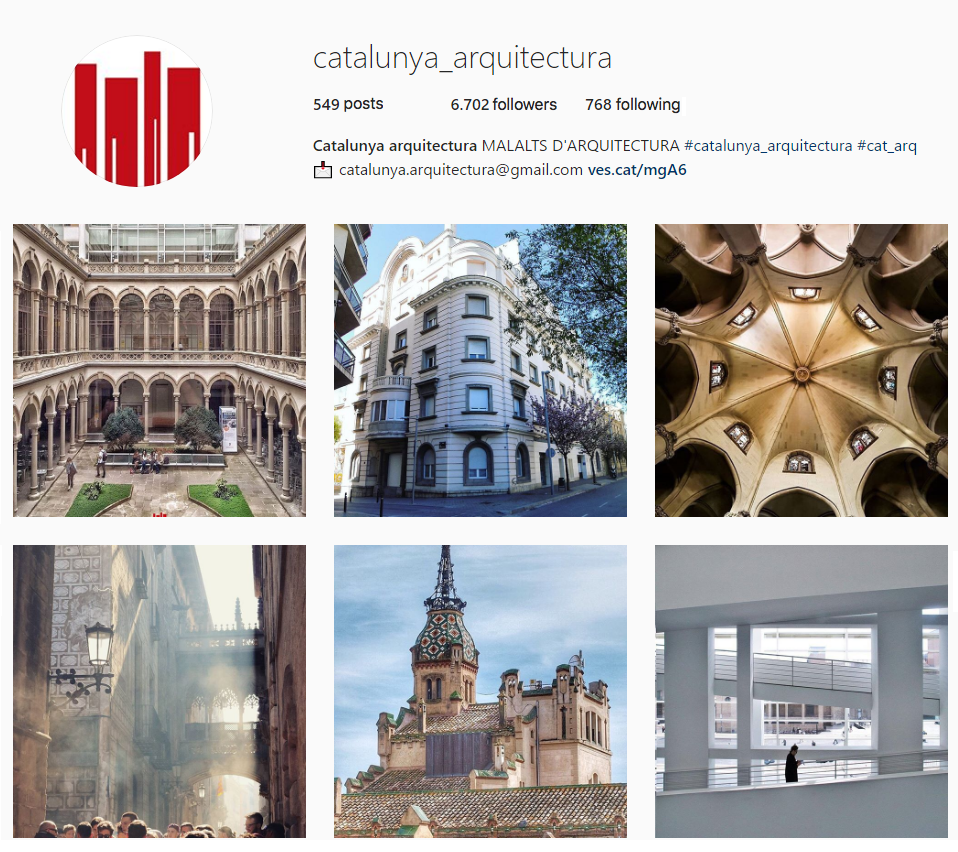 ---
Landscapes
@msubirats
 mainly posts pictures of places in Catalunya. He captures the most beautiful landscapes of the Catalonian region.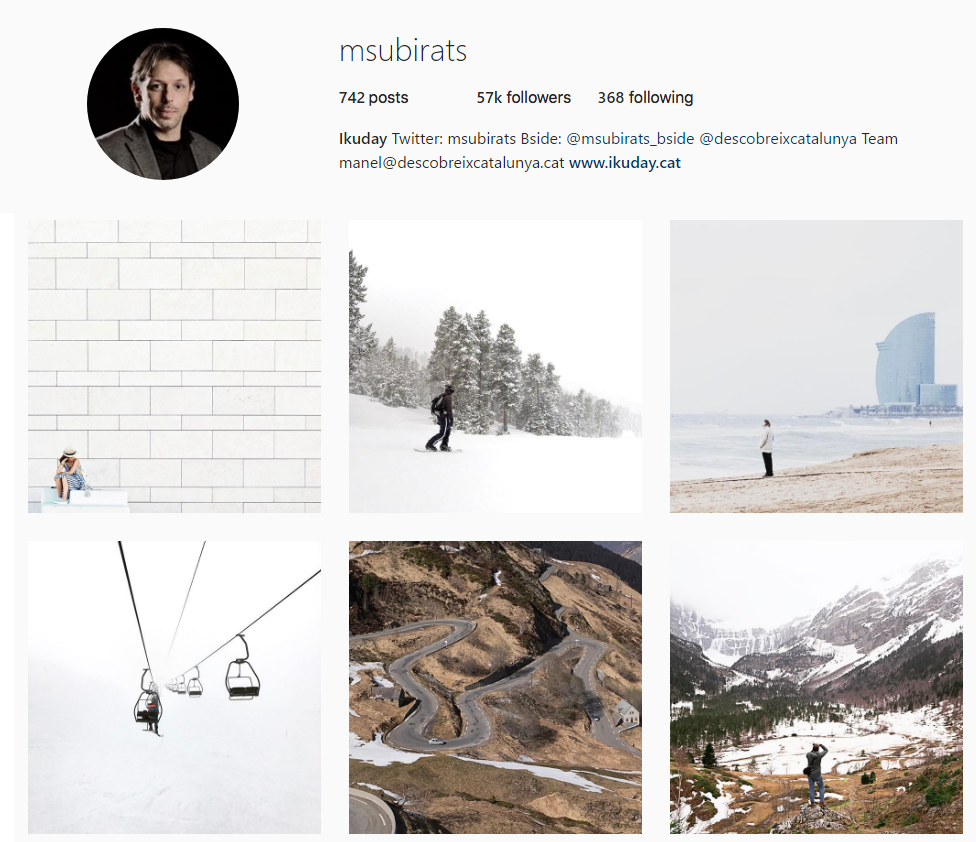 @Jmvidalvia
's Instagram profile is a mixture of different kind of posts like landscapes and urban photos. It's impressive how he captures a kind of tranquil vibe in every picture, even in his urban posts.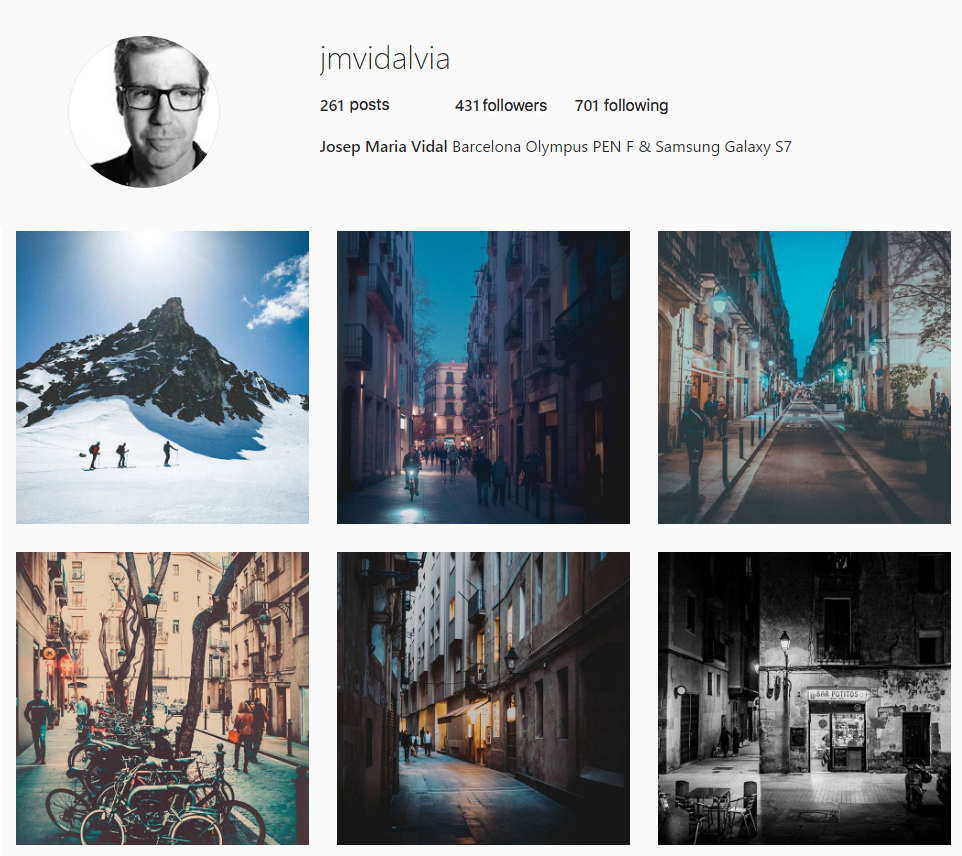 @Sanfigjo
 captures all the beauty of Barcelona in mostly black and white pictures. They're beyond impressive!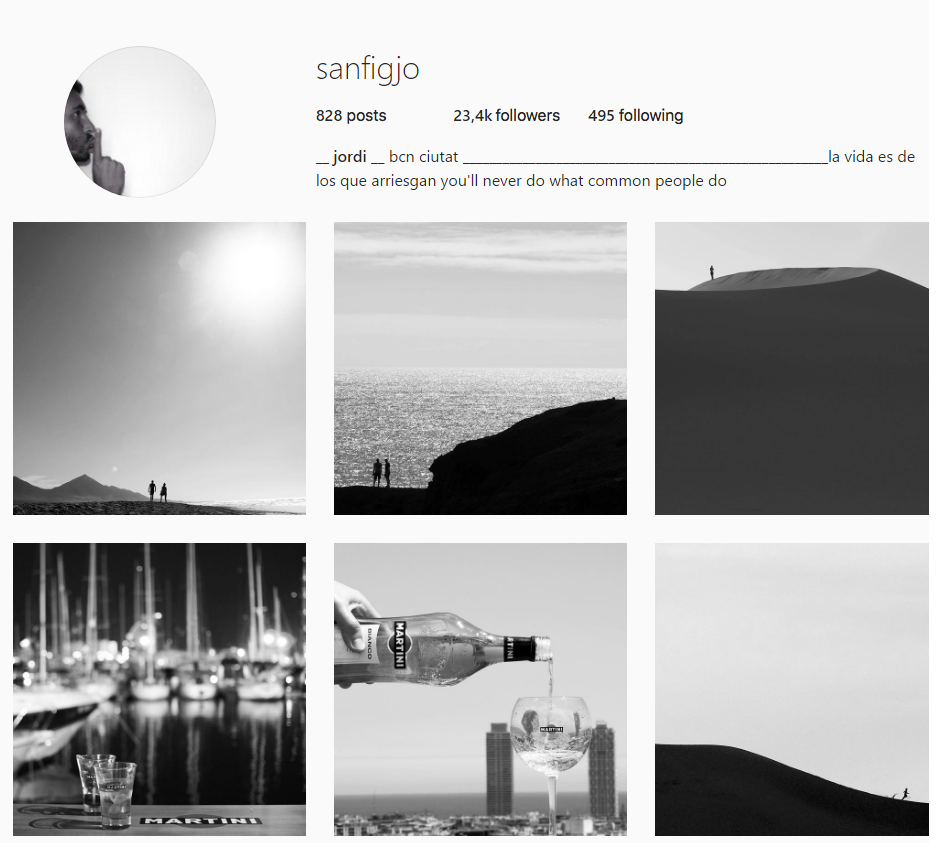 @thehangingplants
 's Instagram profile is very fresh and light with all the floral pics and pastel colors. When you're on @thehangingplants 's profile it always feels like it's spring!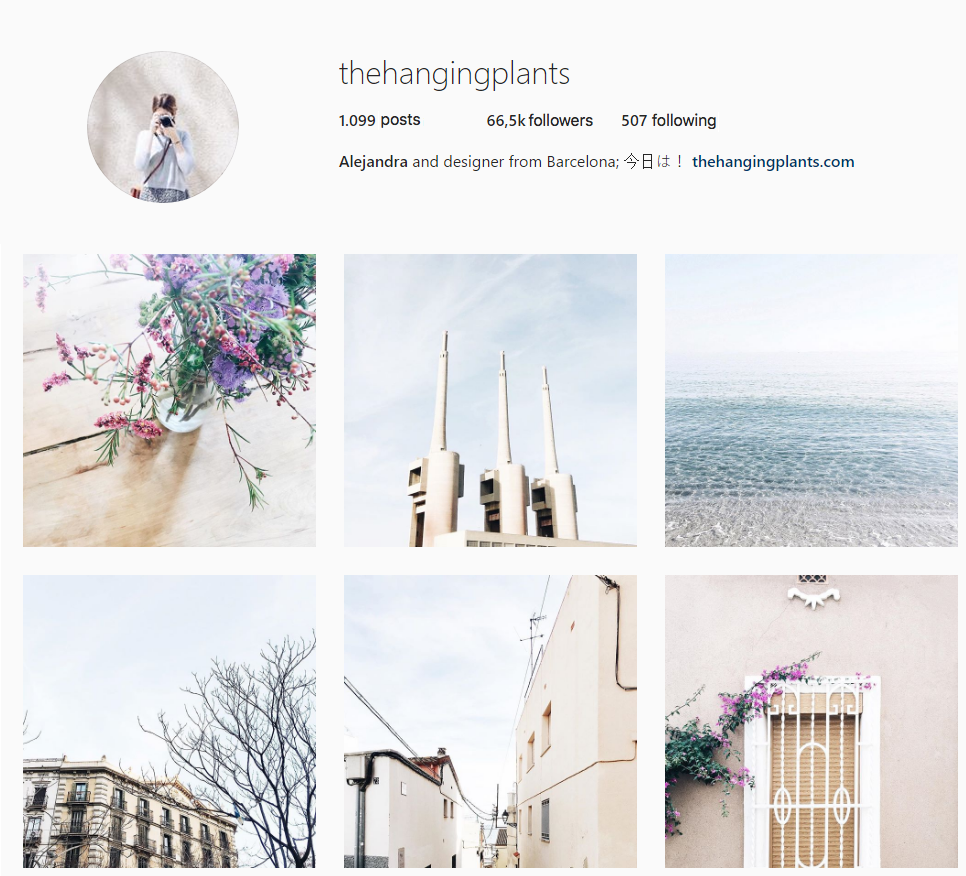 If you didn't know already about the many gorgeous places Catalonia has, then you'll definitely know after looking at 
@Barcelonacatalonia
 's Instagram profile.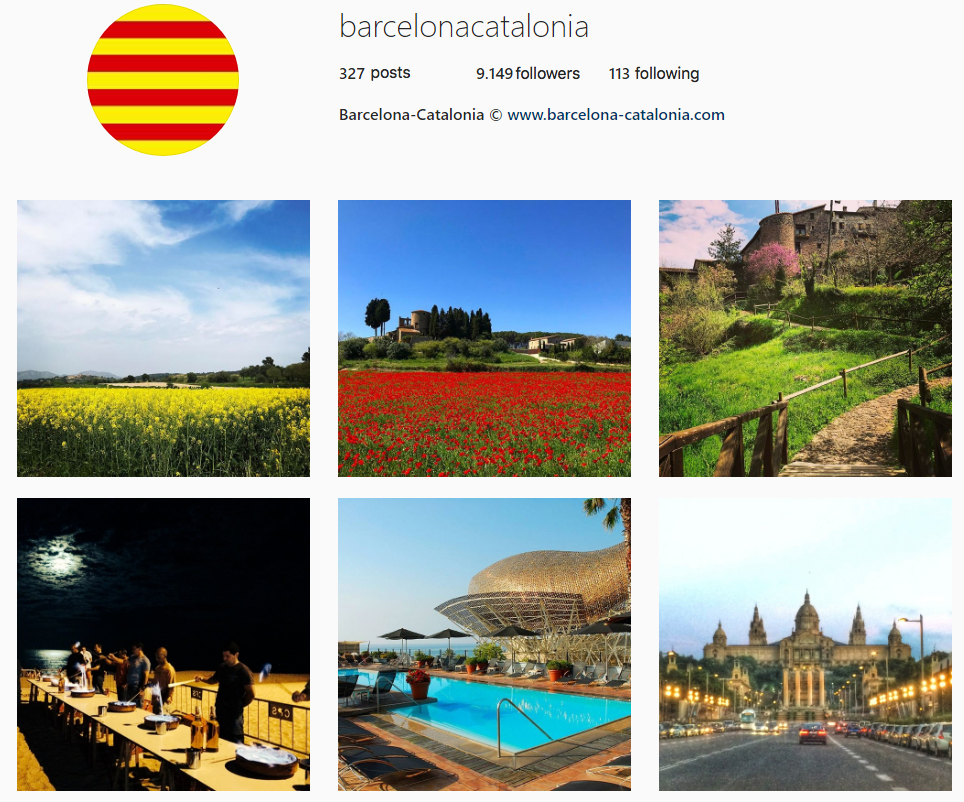 @jblancafort
 actually is a Catalan architect, but he also posts pictures of landscapes, and art & culture. He is very good at capturing the moment and discovering photogenic places that many don't see.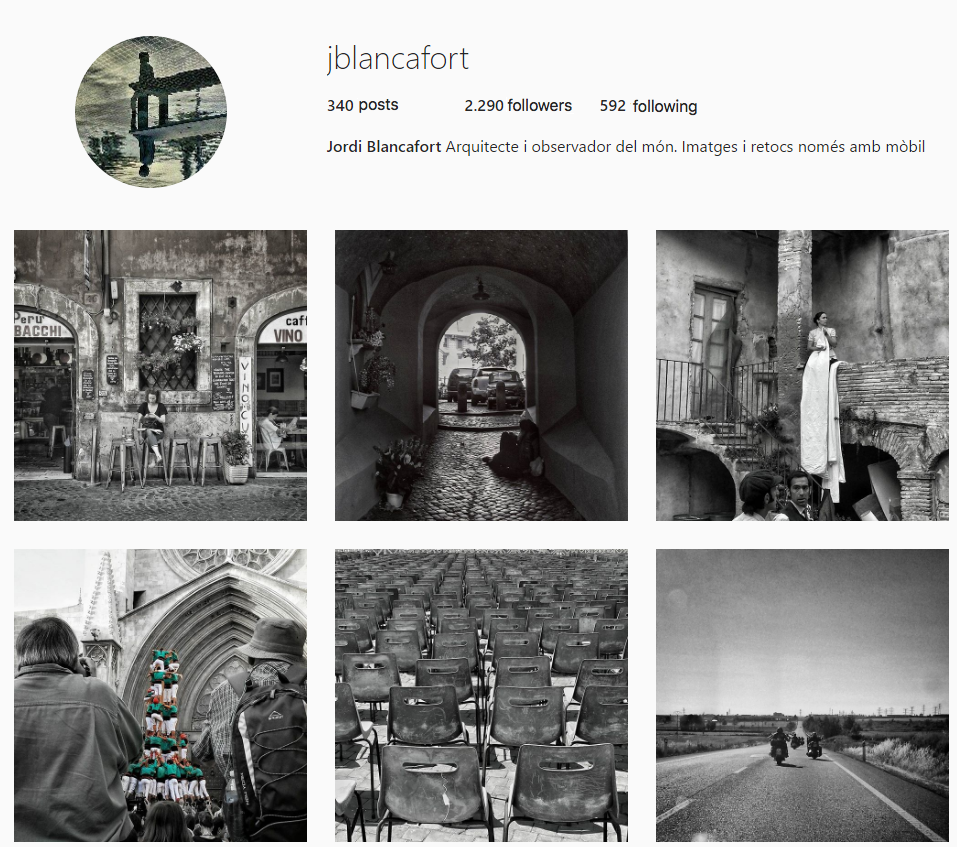 ---
Interior Design
When we talk about the Best
Barcelona Based Instagram Accounts 
we of course cannot forget about our own awesome Instagram account 
@suitelifebcn
. As we're a real estate agency we love to post photos of interior designs in the city and of our listings that inspire us. So if you want to enjoy the prettiest interiors,  the most luxurious Barcelona apartments and other amazing pictures then check out 
@suitelifebcn
!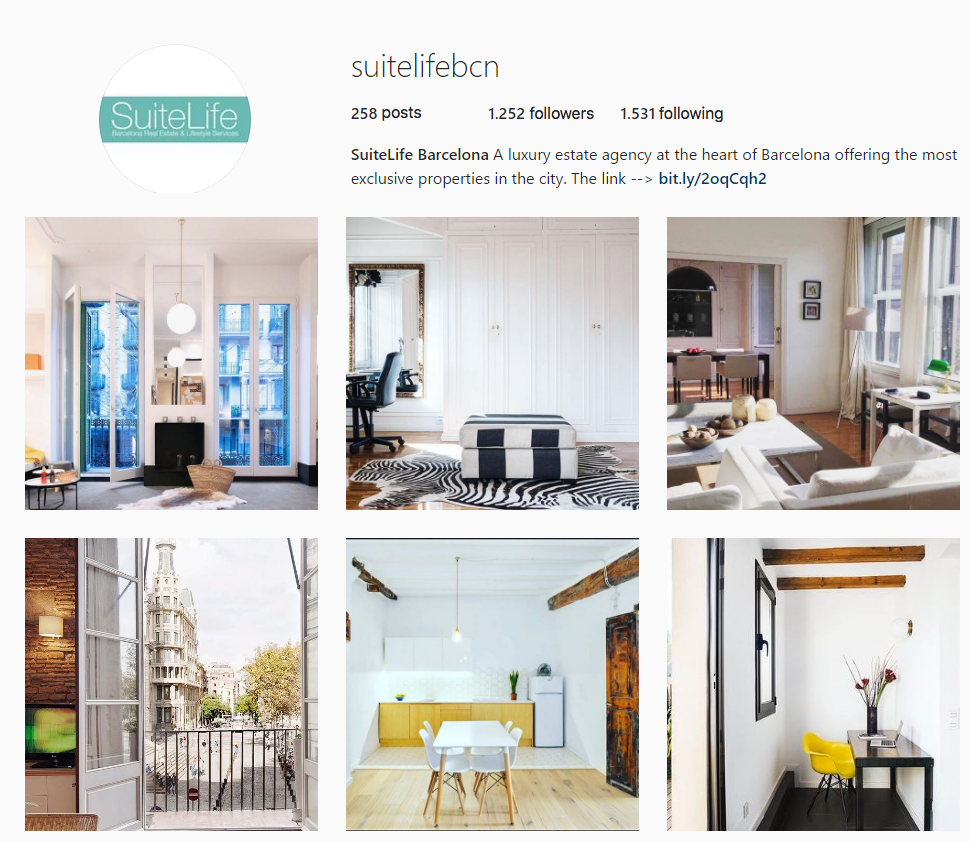 @nobohome
 posts the most gorgeous luxurious apartments based in Barcelona and surroundings, each of them are beauties!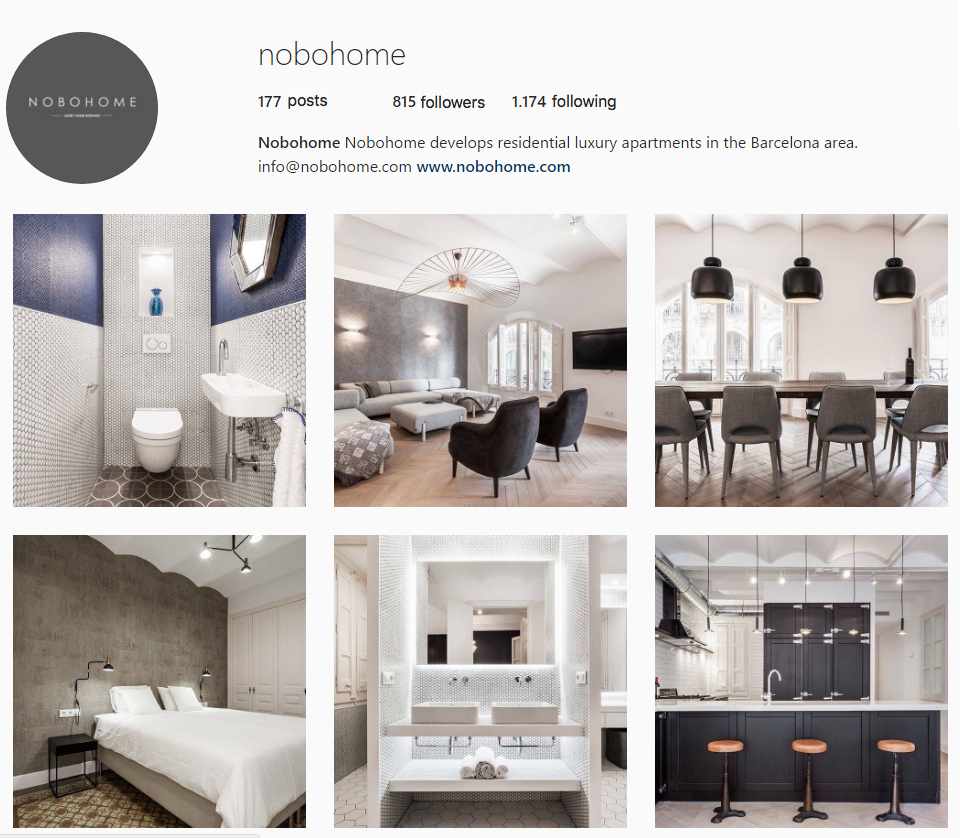 @Yaninamazzei
 posts very unique self made pictures on her profile. You'll find many gorgeous interiors with typical Catalan features in many of her posts.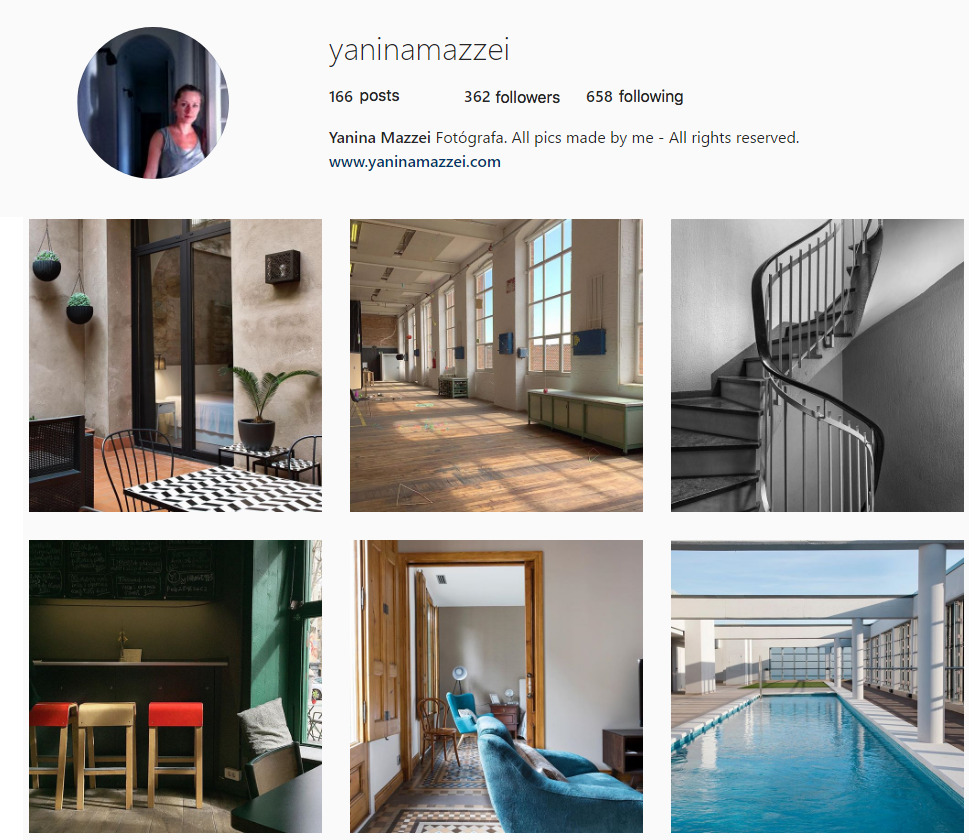 We are a big fan of 
@Jaimeberiestain
 's work as interior designer. If you want to see an example of his impressive work you can check out 
The Onsider Apartment
, which he designed. Without doubt we had to add this world famous interior designer in this list of 
Barcelona Based Instagram Accounts, 
since he is based in Barcelona.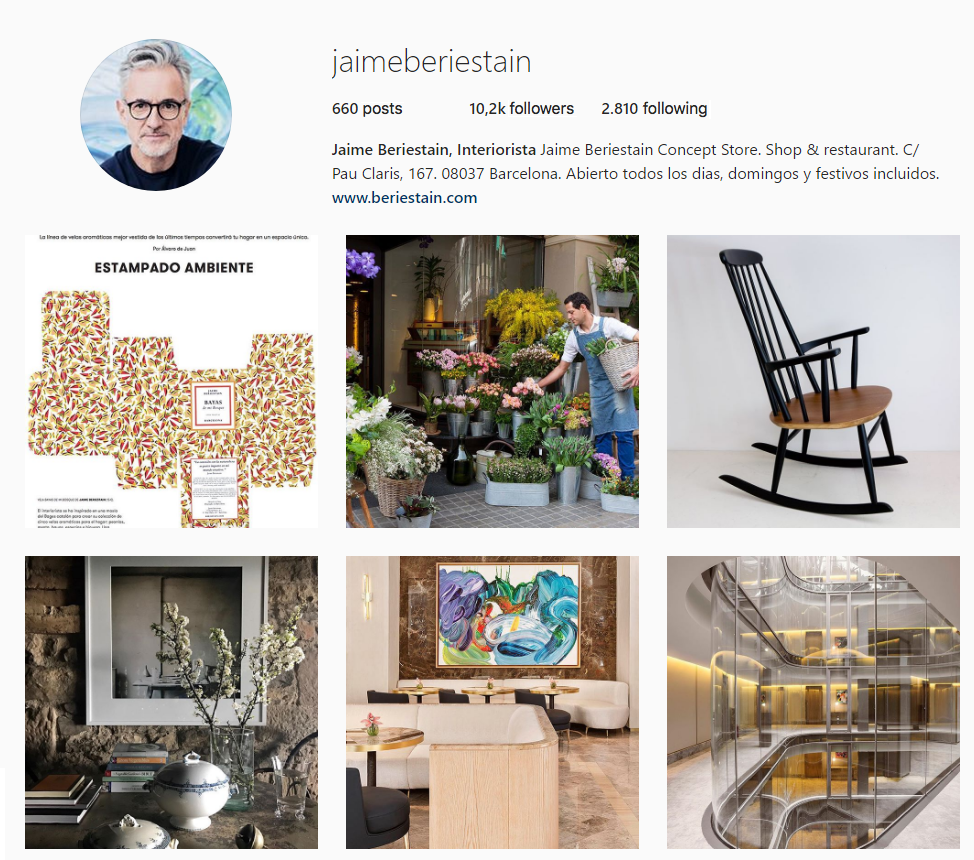 @Sohohousebarcelona
 posts pictures of stunning interiors. They also have really nice lifestyle pictures and now and then you'll see some delicious food pictures.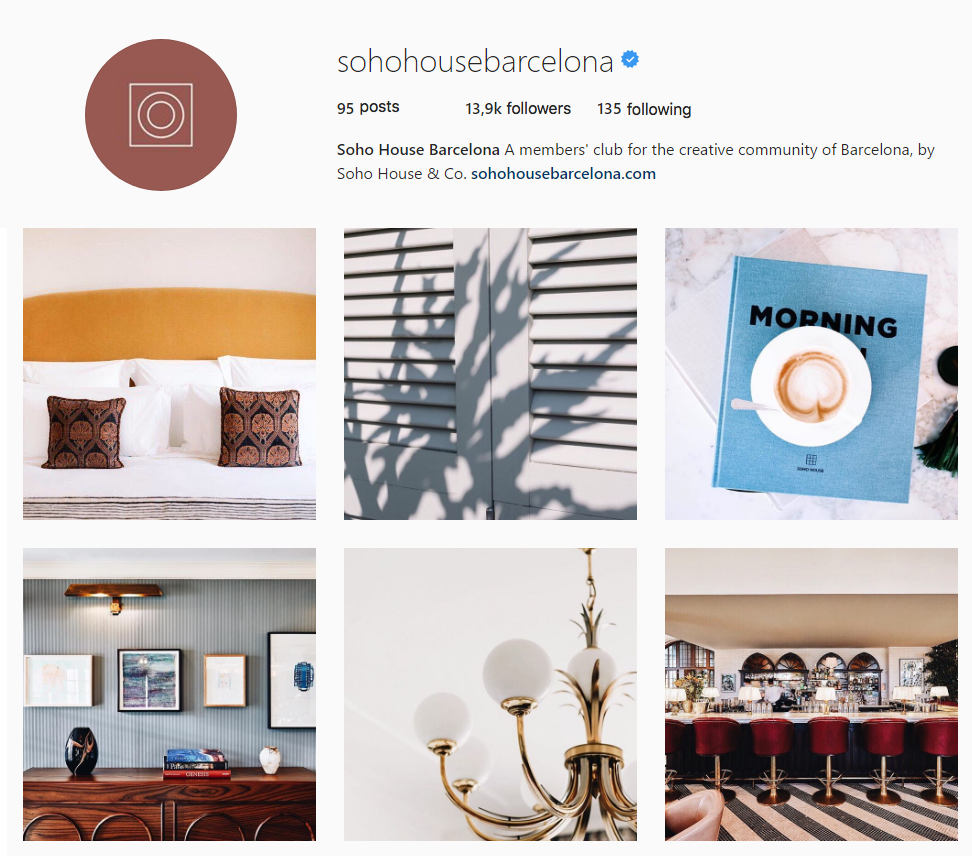 @Nasualua
 is run by Lorena Fernández, her Instagram profile has a bohemian style. When you look at her profile you automatically feel the relaxing vibe.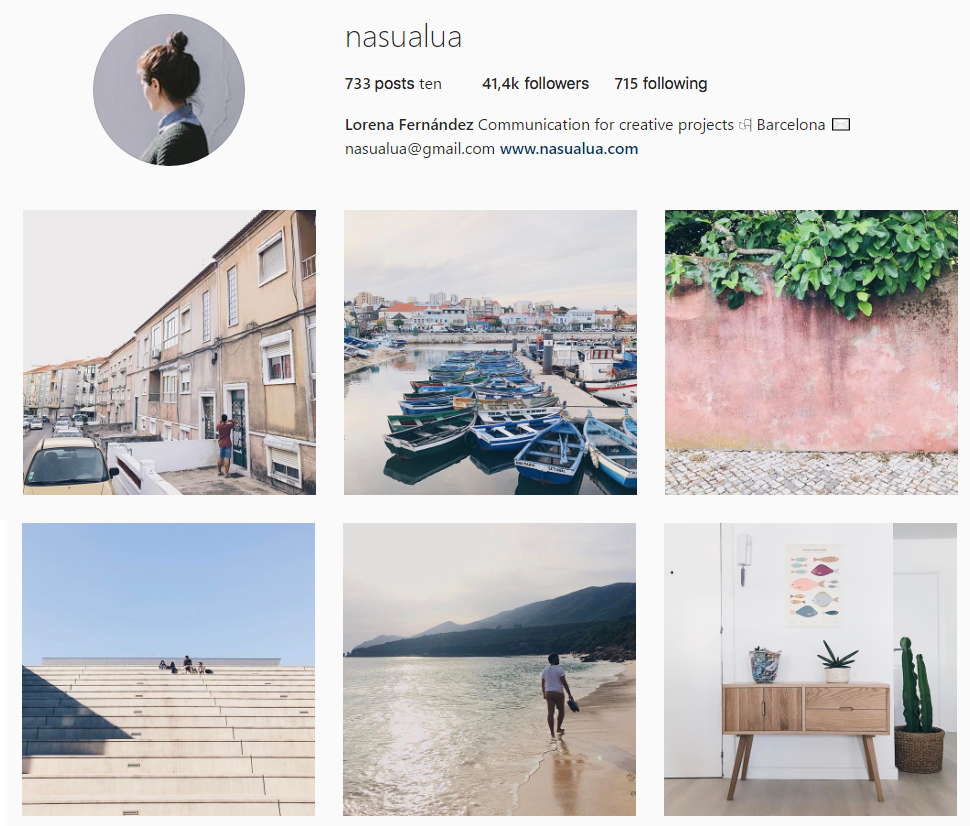 ---
Food
Big fan of the famous Patatas Bravas? Then you absolutely cannot miss out 
@Bravasbarcelona
 's Instagram account. He hunts the best places in Barcelona for Patatas Braves. Such a fun account!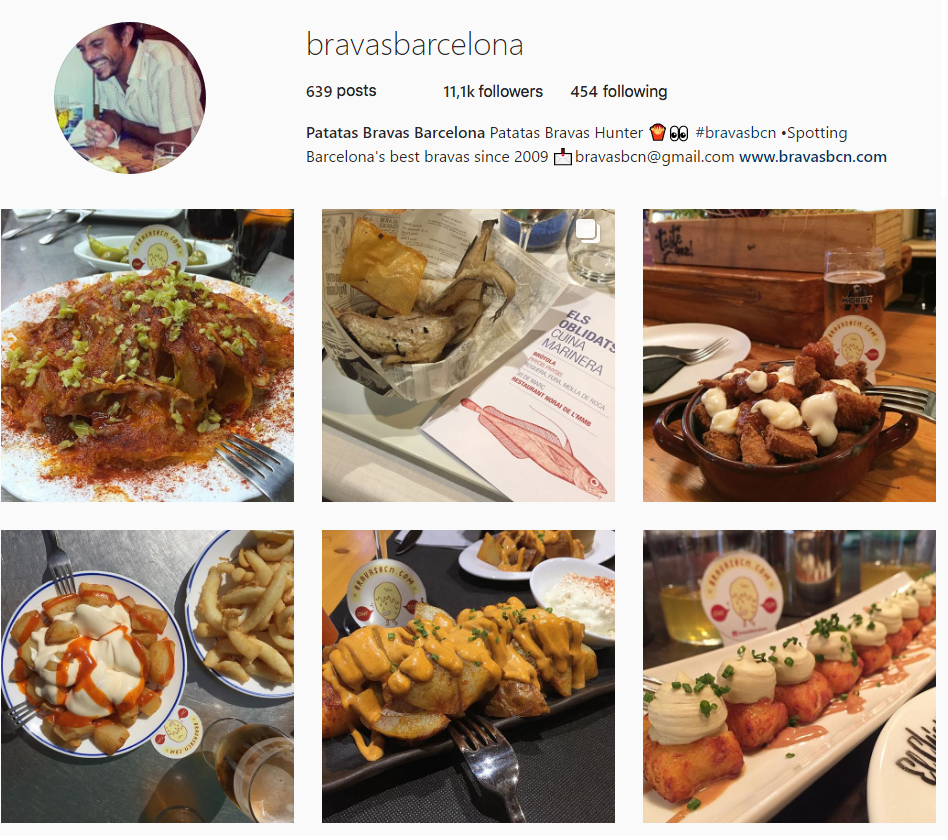 Want to experience the best food of Barcelona? 
@barcelonafoodexperience
 posts pictures of the most delicious food to be find in Barcelona. We'll warn you about the sneak peek, it'll make you hungry!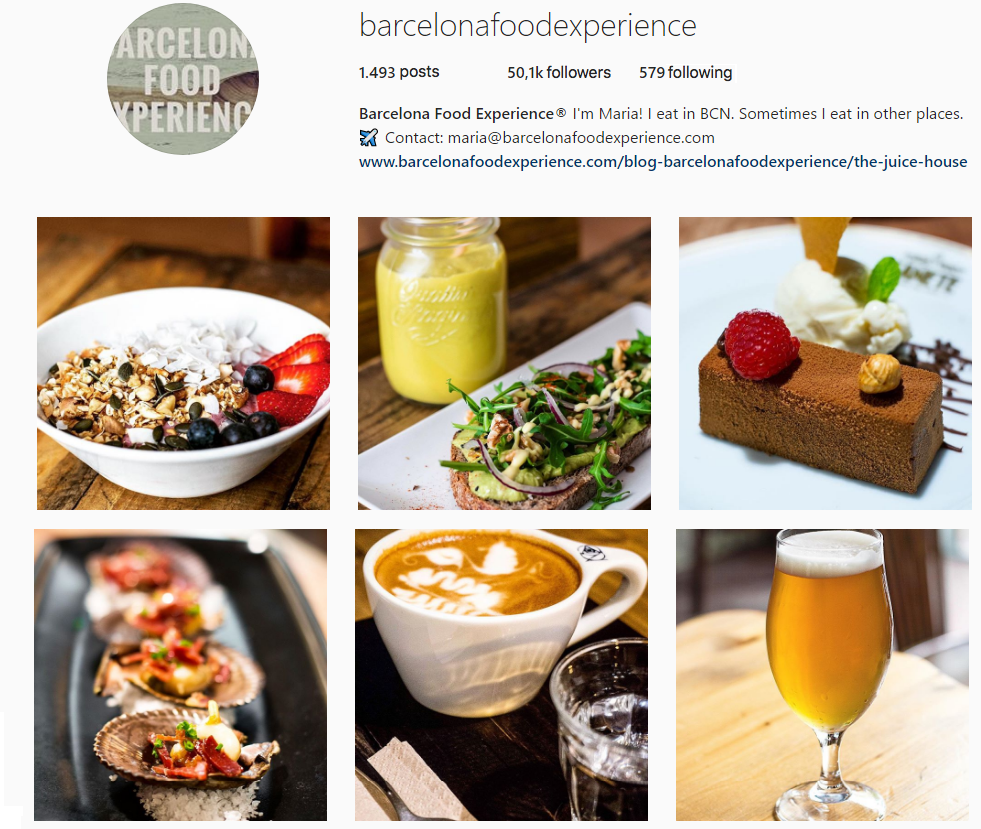 @barcelonamordiscos
 is one of these mouthwatering food Instagram accounts. Just looking at all the delicious food pictures makes you wanna eat immediately!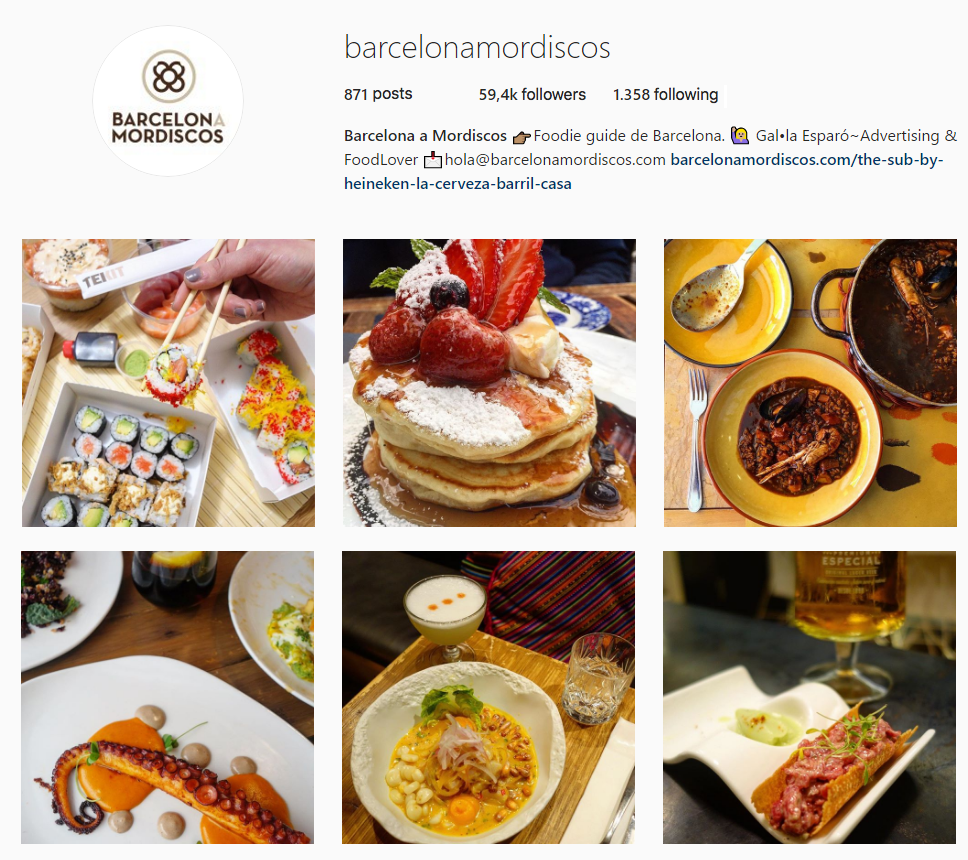 If you haven't heard yet about Eureka Street Food then you should absolutely check out 
@EurekaBarcelona
. You'll love it, especially if you like food trucks. And boy do we love food trucks!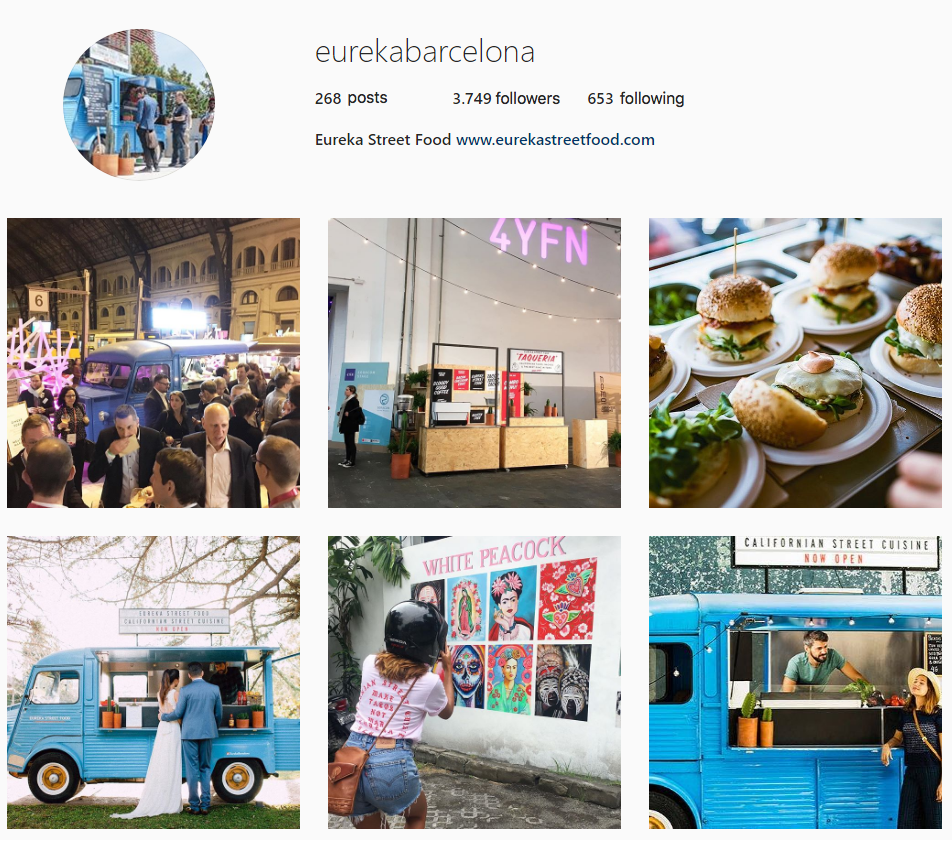 @soydemorrofino
 is an Instagrammer who just decided to try out as many restaurants in Barcelona as possible. All the nice meals are shared by @soydemorrofino, they look finger-licking delicious!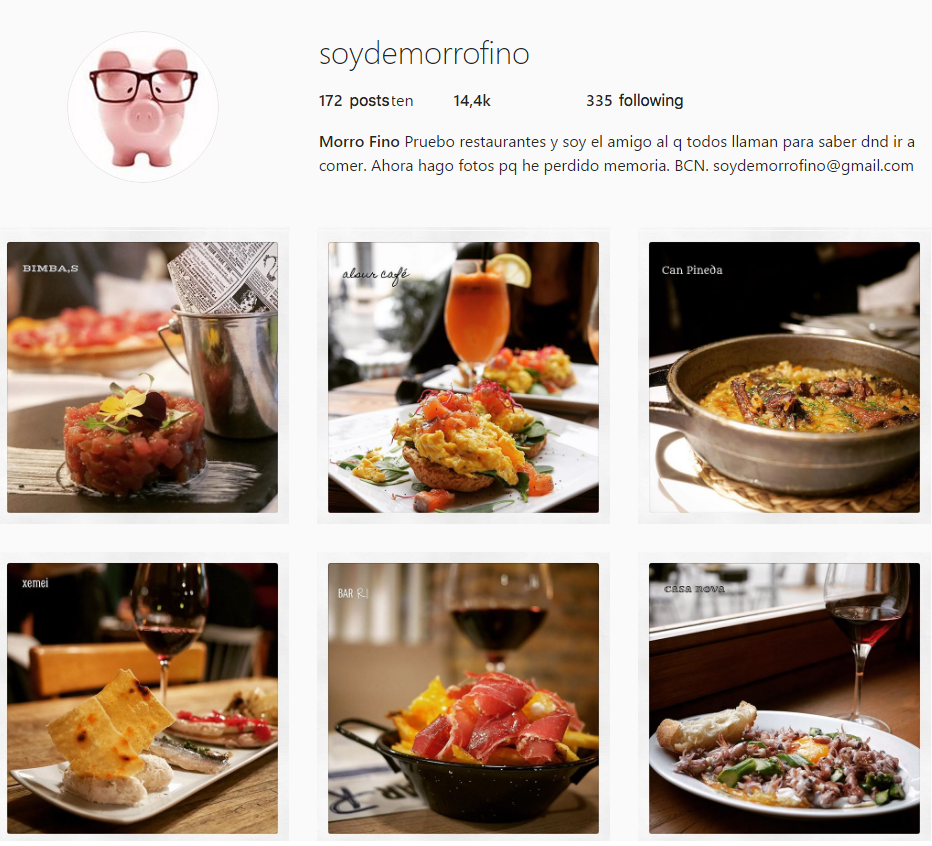 At 
@bcnfecstime
 you can expect a lot of really nice food pictures and the coolest urban pictures, all captured in Barcelona & its surroundings.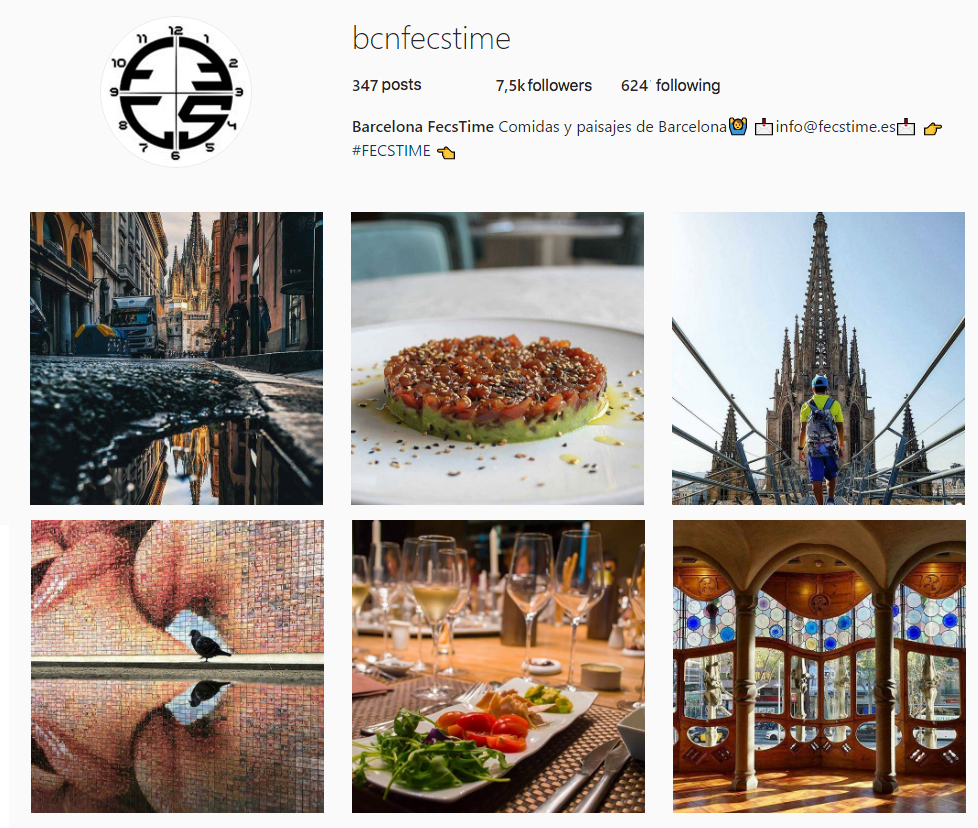 ---
Bloggers & Influencers
With 1.7 million followers, 
@dulceida
 is one of the most popular Instagrammers of Barcelona. She mainly posts about her life, very intriguing!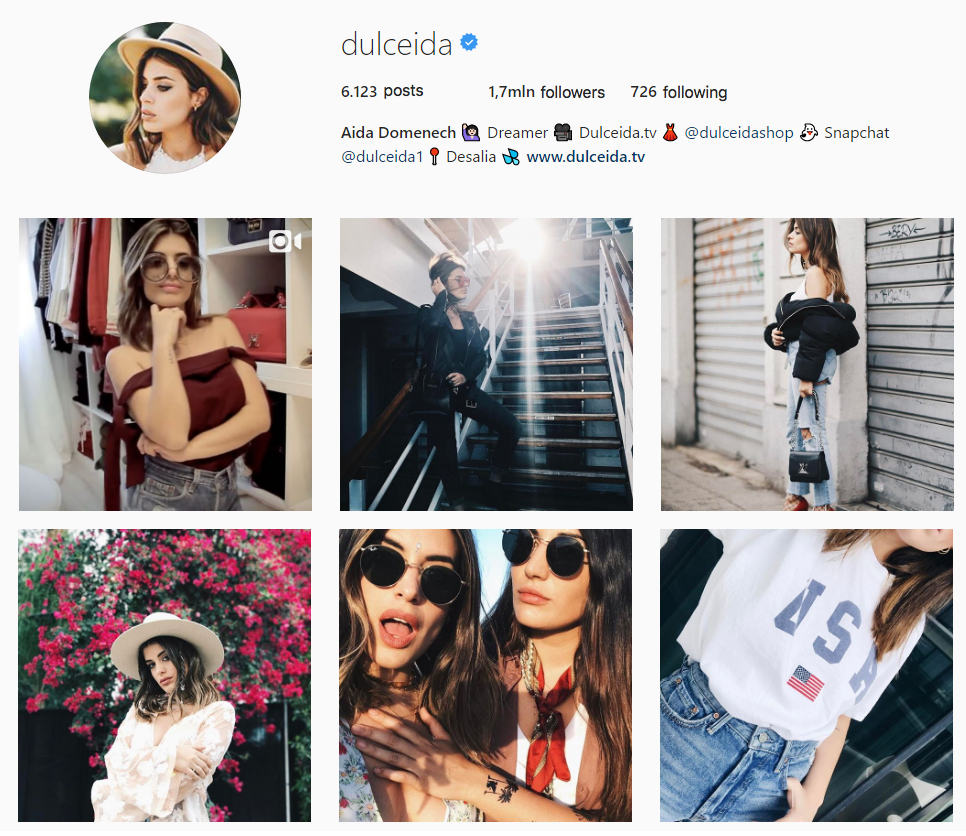 @instanaimabarcelona
 is a digital influencer. She is committed to fashion, beauty and lifestyle. She lives a very interesting life, check it out on her account.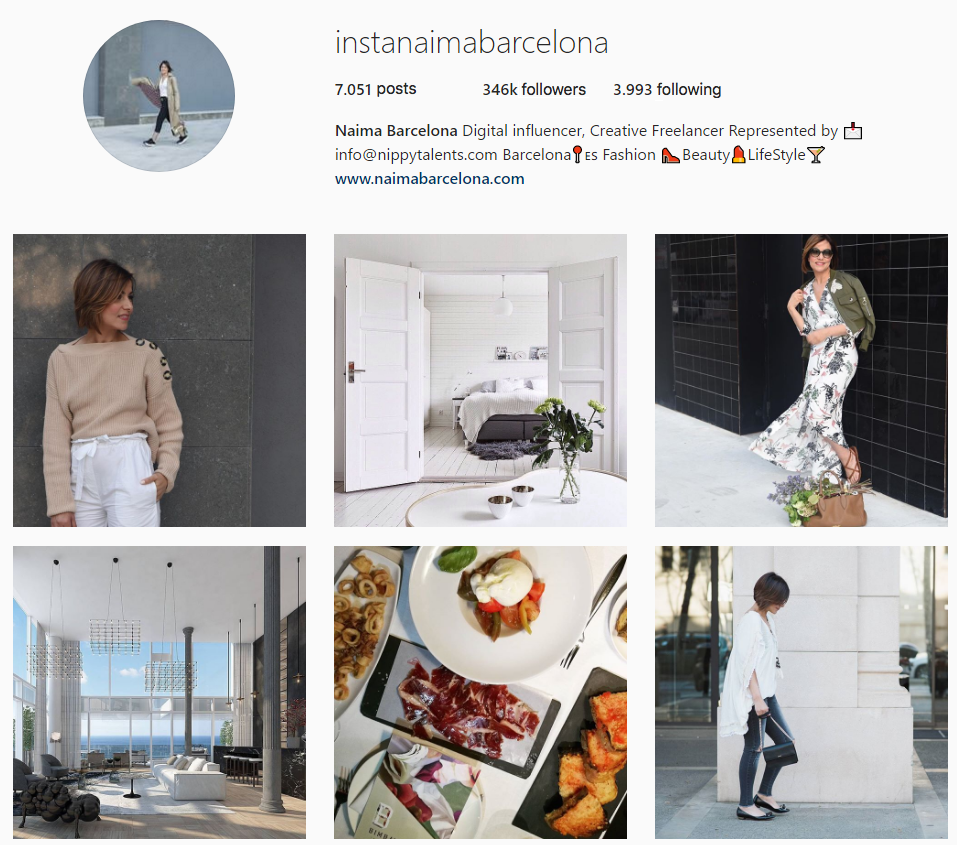 @driftwood_journals_barcelona
 is run by Ben Holbrook, a travel blogger based in Barcelona. His Instagram profile is all about food, culture & good living as he mentions himself. Highly recommended and a SuiteLife favourite!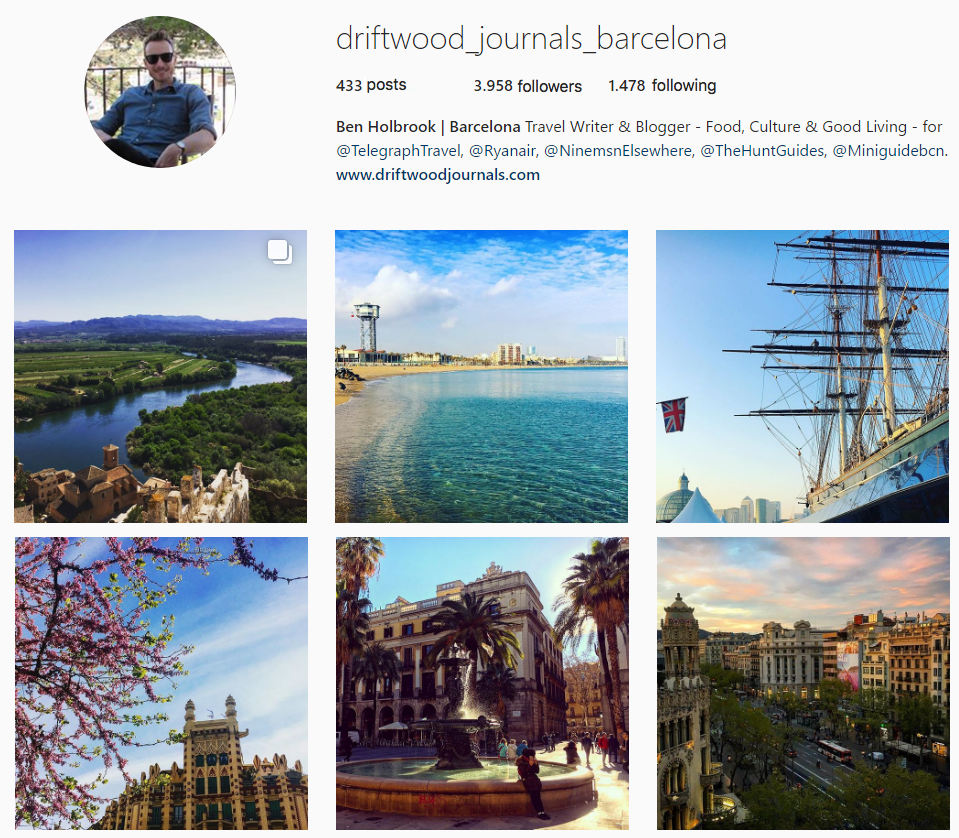 ---
Urban
@Davidarmengou
 is one of these Instagram accounts on which you can enjoy the beautiful face of Barcelona. His photography and edit skills are impressive.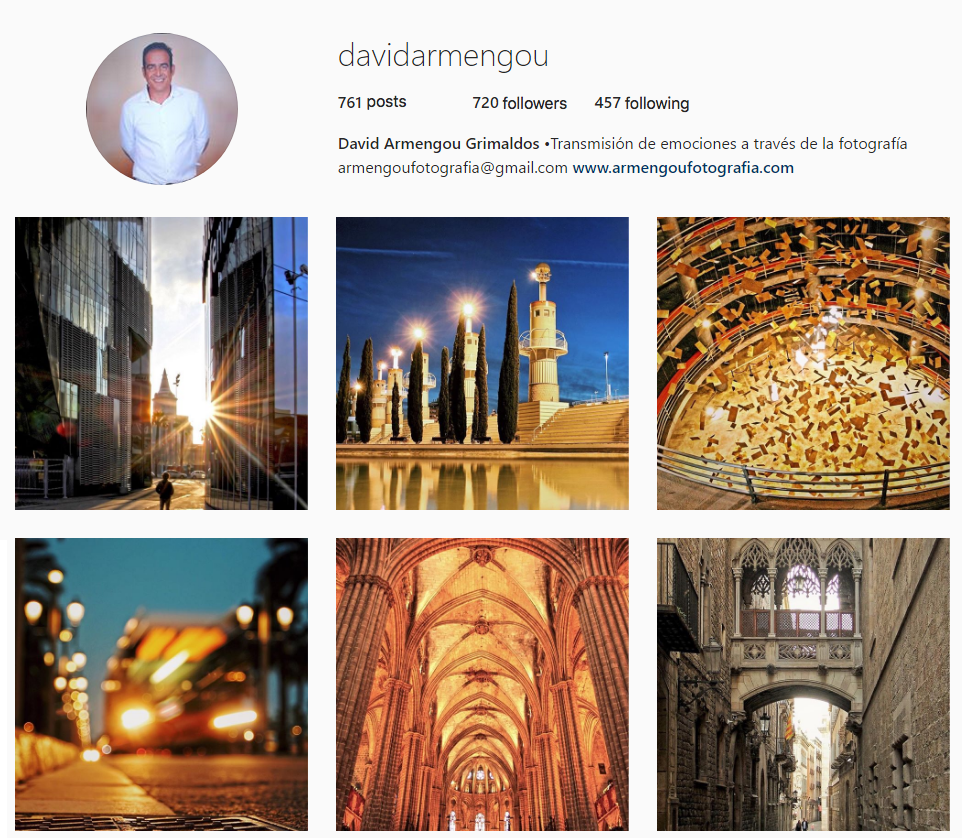 @barcelona_barcelona
 is posting all about the good life of Barcelona, if you didn't love Barcelona yet, then you'll love it now!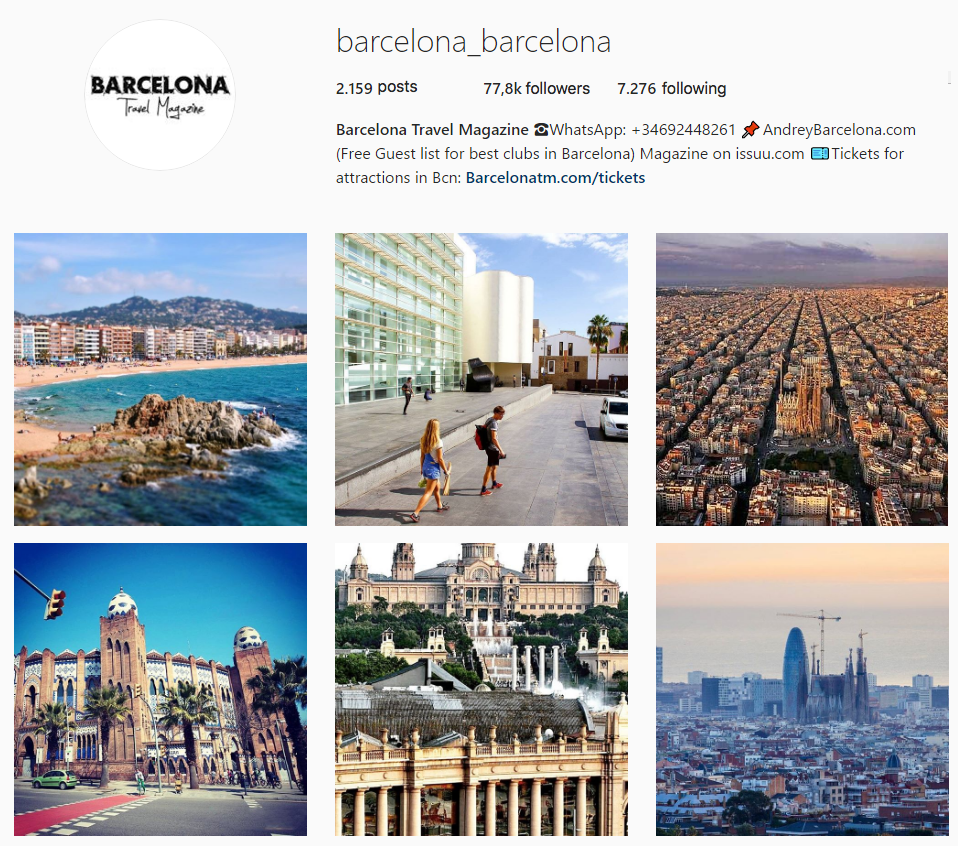 @hiamoros
 's Instagram profile is very urban, he captures the city from a whole different point of view, a more rough kind of view. You'll like it!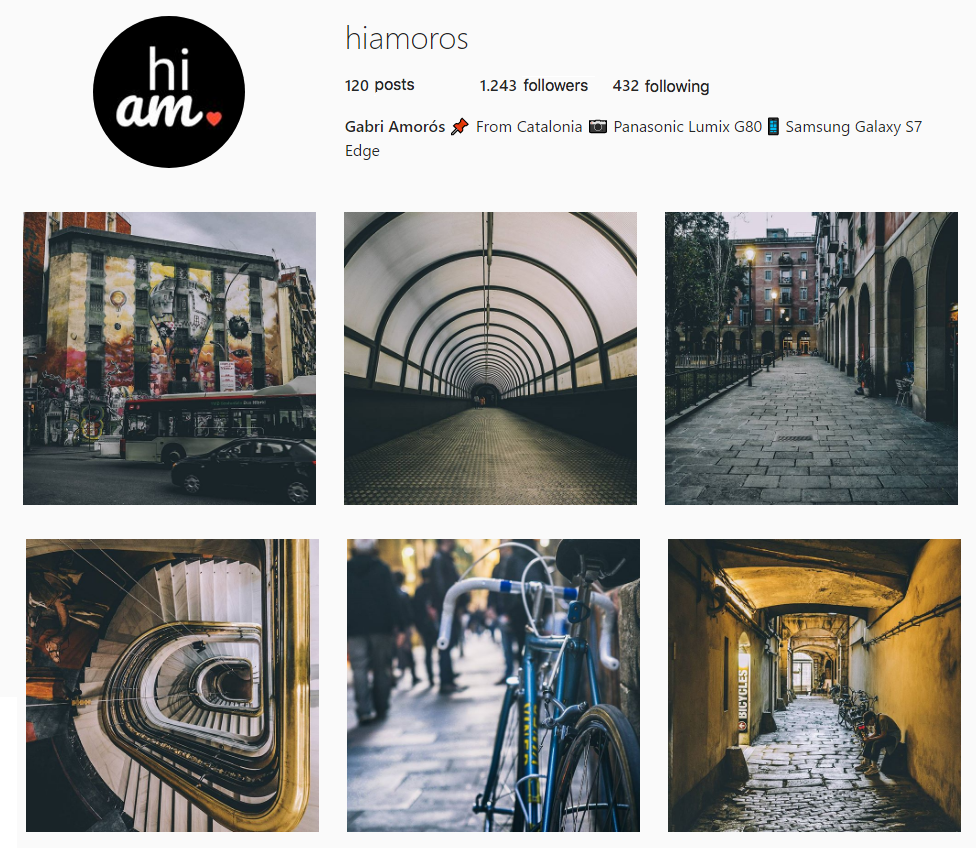 @postcardsfrombarcelona
 captures all hidden gems and moments that happen in the corners of Barcelona. This account is definitely unique and different from the touristic
Barcelona Based Instagram Accounts.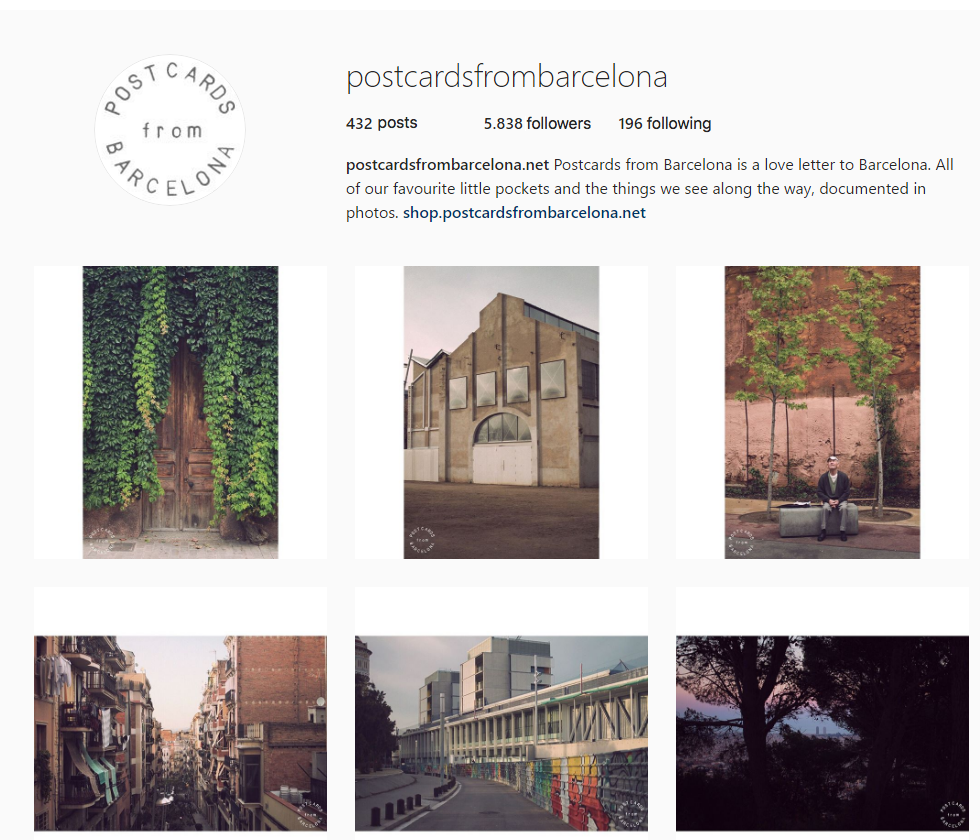 @thebarcelonist
 is one of the most well known Instagram accounts about Barcelona. They take you on a trip through Barcelona via their Instagram pictures and let you explore the city with them.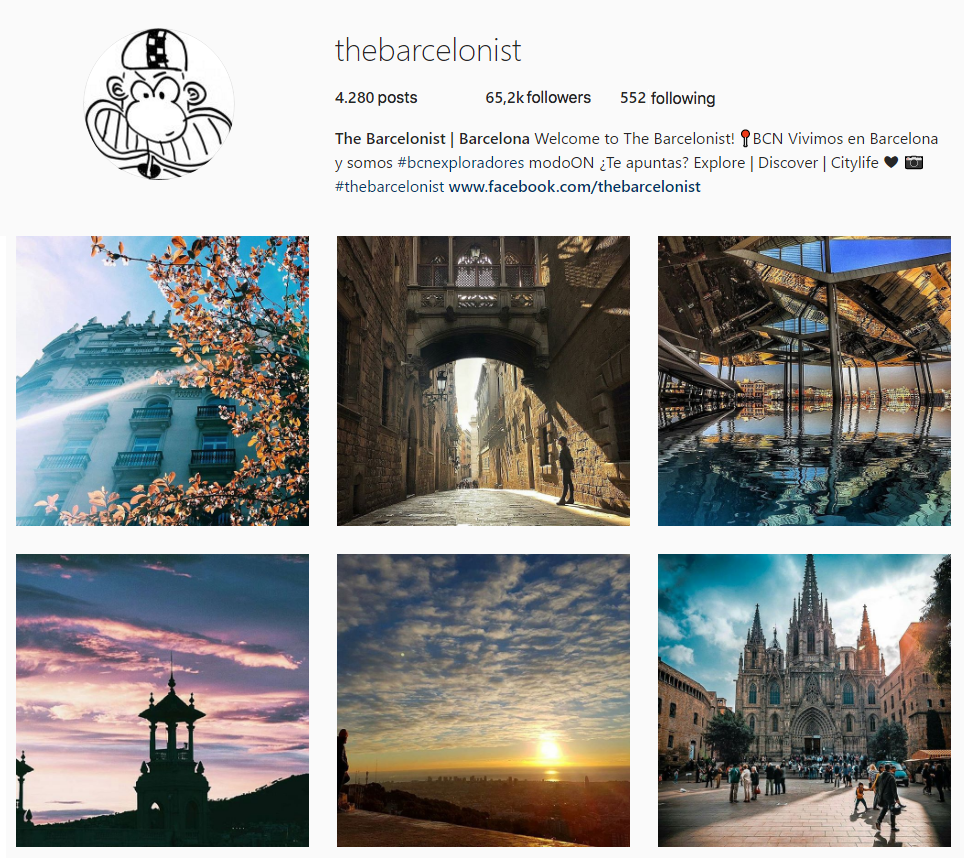 Just like @thebarcelonist, 
@Barcelonacitizen
 is also a very well known 
Barcelona Based Instagram Account.
They mainly capture the famous parts of the city and make them look even more beautiful than they are in real life.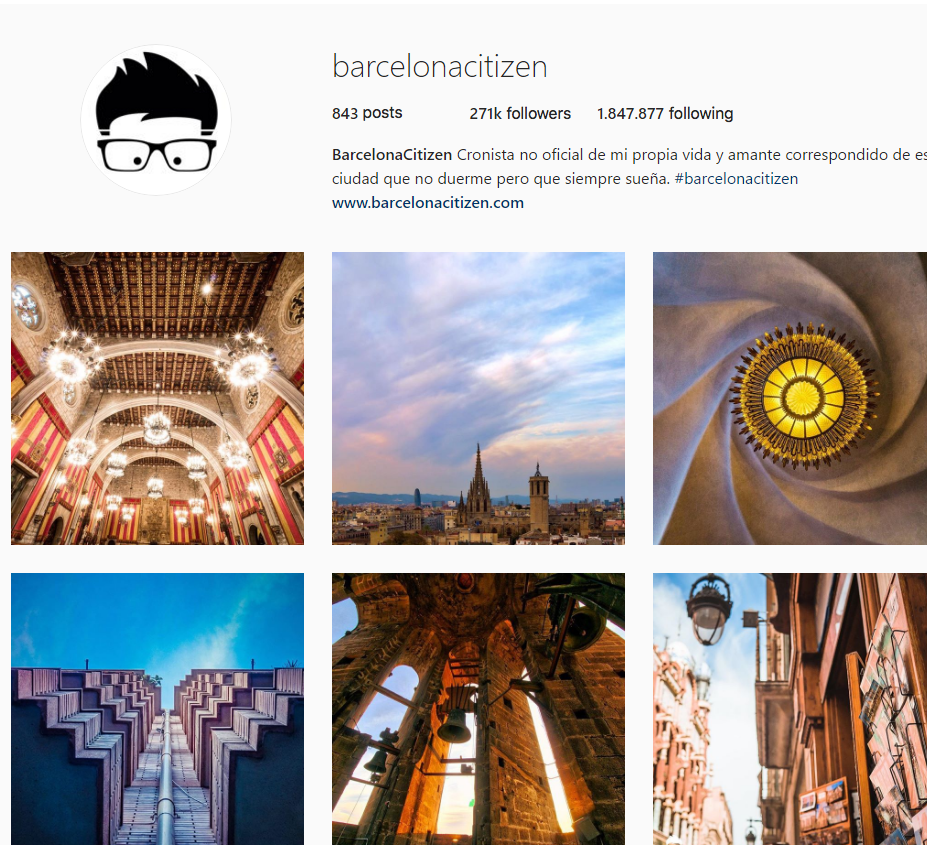 As 
@Oscar_bcn
being a photographer and Graphic designer, you can expect a lot of his posts. He mainly captures the city and the moments happening inside the city.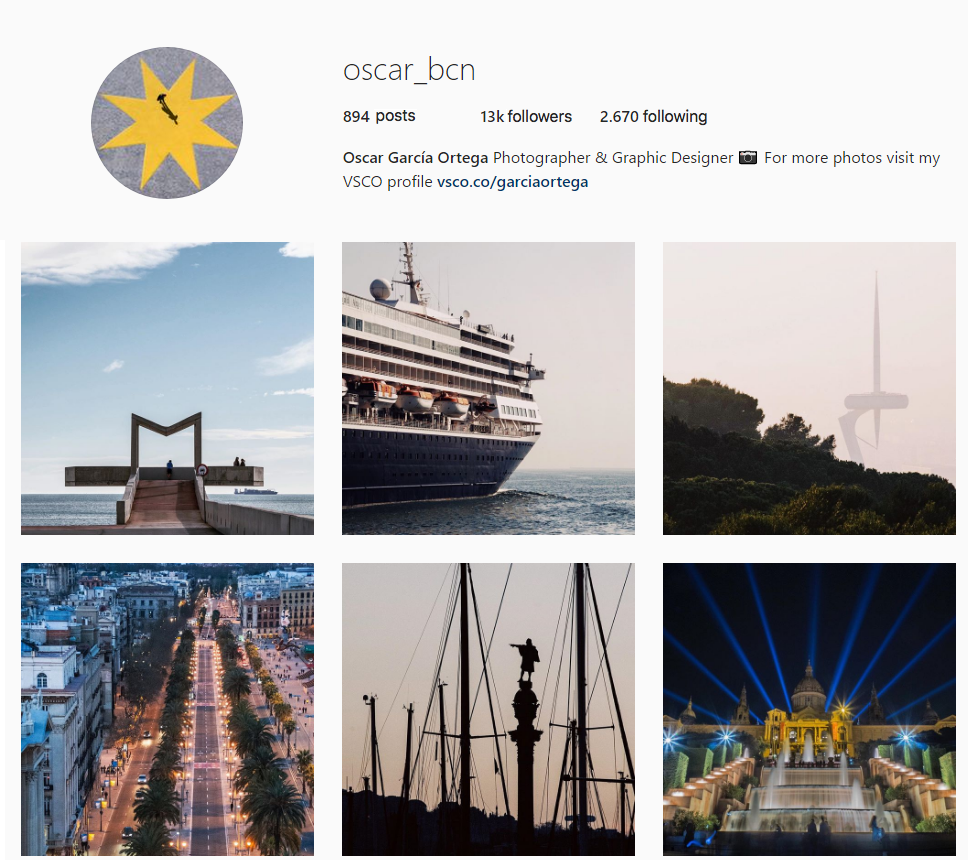 @Gobarsa
 is a more touristic Instagram account that organizes tours and events in Barcelona. They show you the daily life in the Catalan city.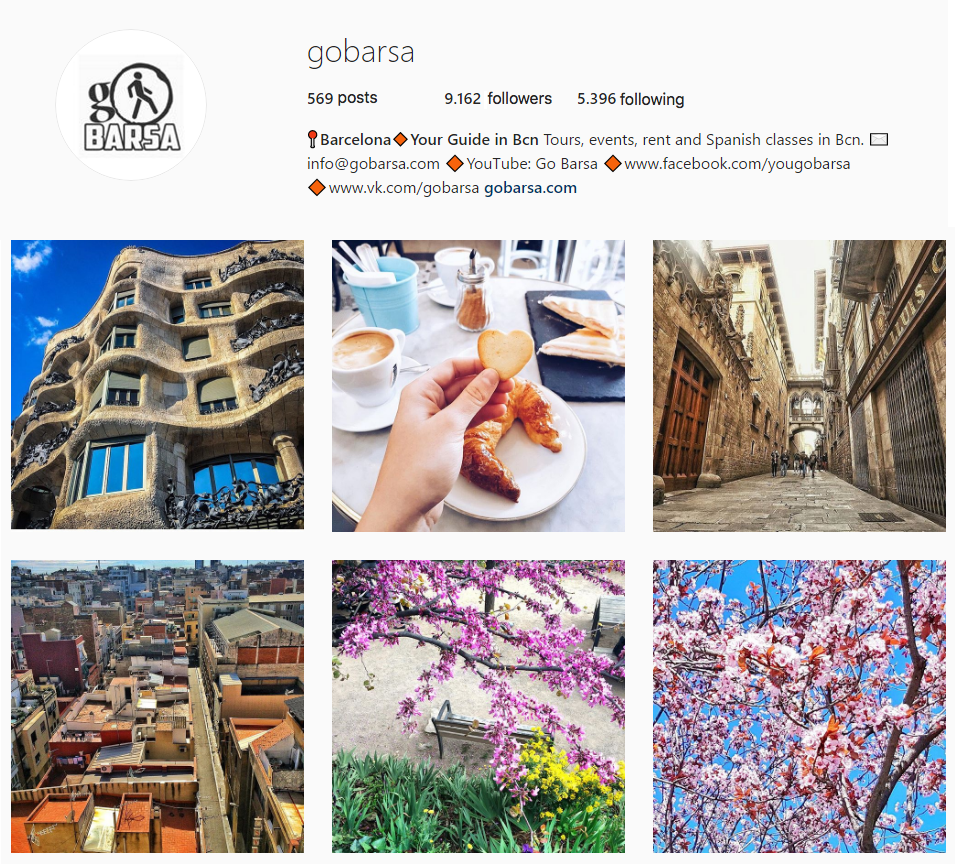 @Zuckerandspice
 is run by Sam Zucker, definitely somewhat of a Rennesance man who currently works as a social media professional, culinary tour operator, wine educator, social media influencer, private chef, photographer, videographer, and freelance food and travel writer for several outlets. He's busy! And his Instagram feed is awesome!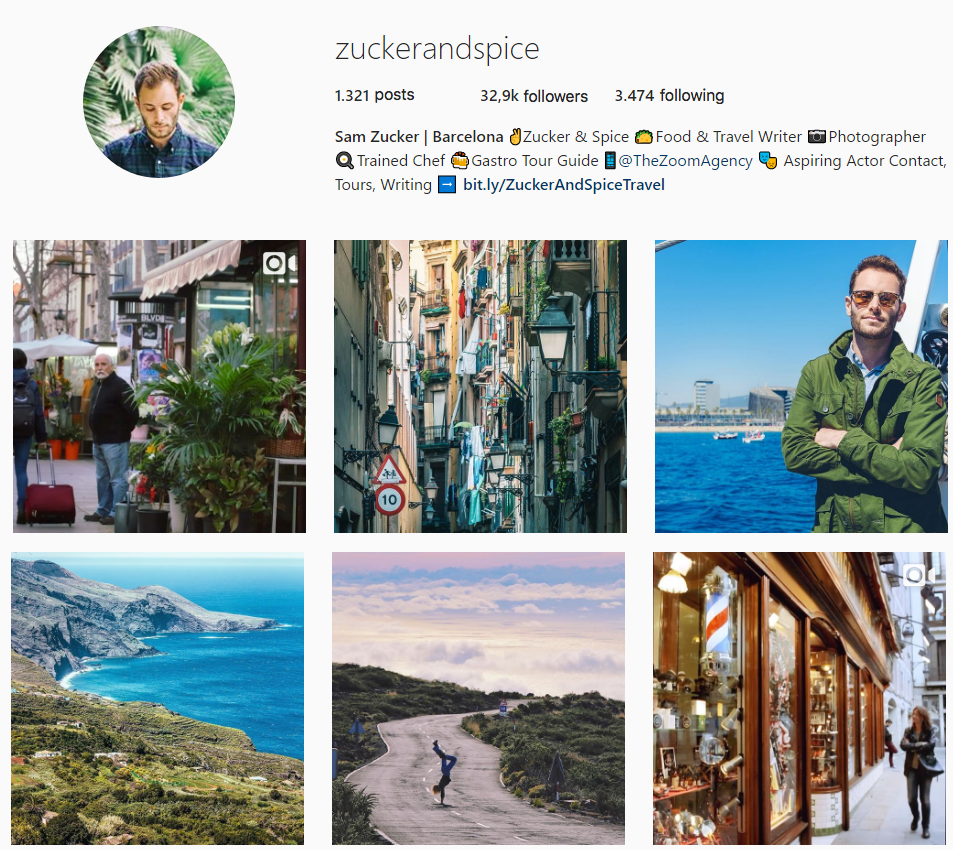 On 
@monicatorne
 's profile you'll find a little bit of everything, mostly urban pictures, but also architecture, art, landscapes and culture.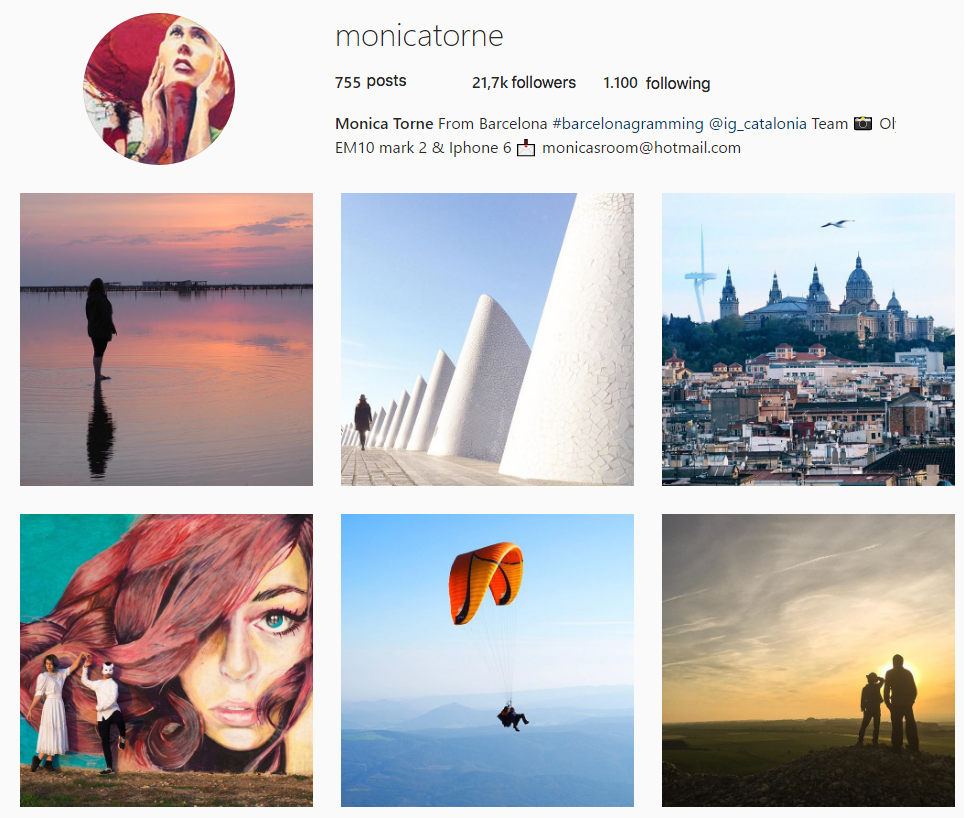 @barcelona.street
 captures life in the streets of Barcelona. This profile is more focused on the people who live in Barcelona and their lives outside the door.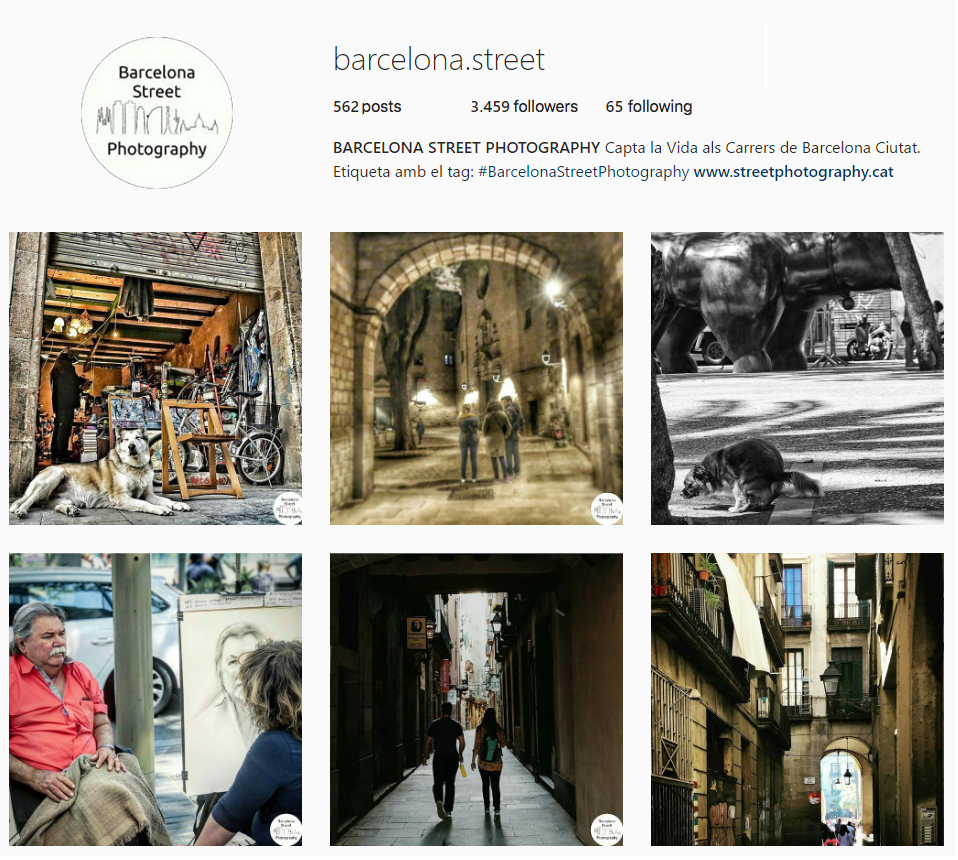 @ehovu
 is the Instagram profile of Jonathan Rodrigo. His pictures show all the beautiful sides of Barcelona. He also travels around a lot, so you can even enjoy stunning pics from other world cities.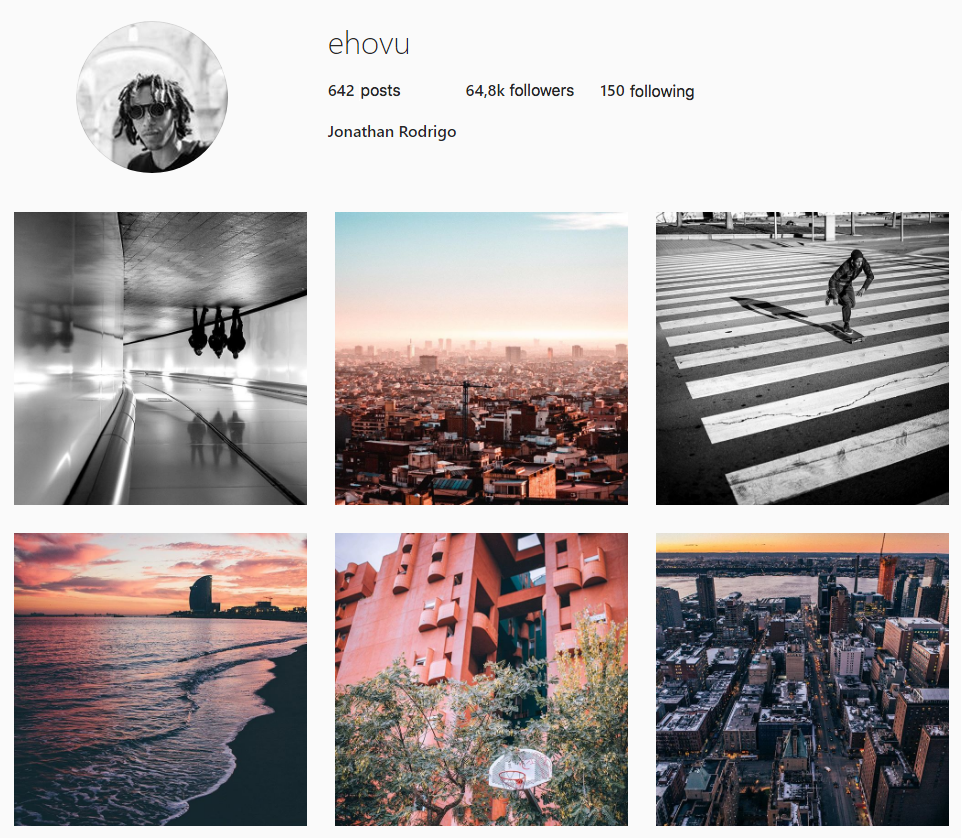 @bensroom
 is run by Ben Walker. Most of the times he stays in either Barcelona, London,  New York or Los Angeles. When you follow @bensroom , it's like your traveling with him around the world. He mainly posts pictures of his own busy life. Definitely worth a follow!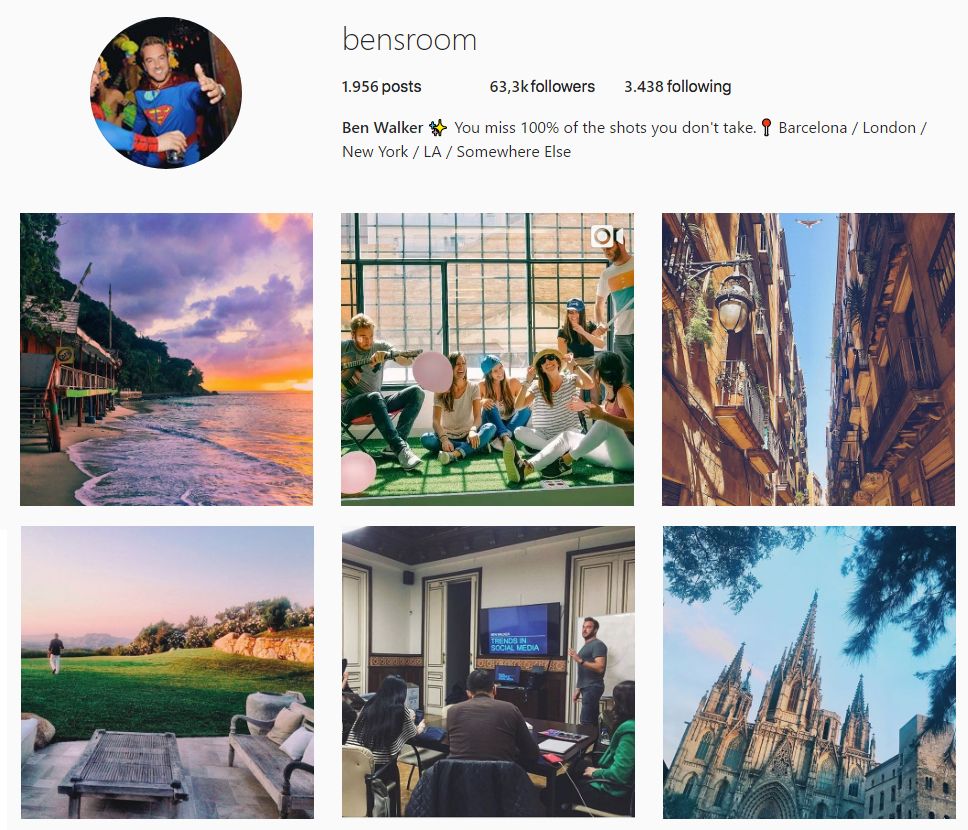 Ben walker a.k.a. @bensroom is the founder of 
@thezoomagency
, a very interesting company based in Barcelona. They are, as they say themselves,: "A dynamic team of creatives who design digital journeys for your future consumers". Their Instagram shows everything happening in the company.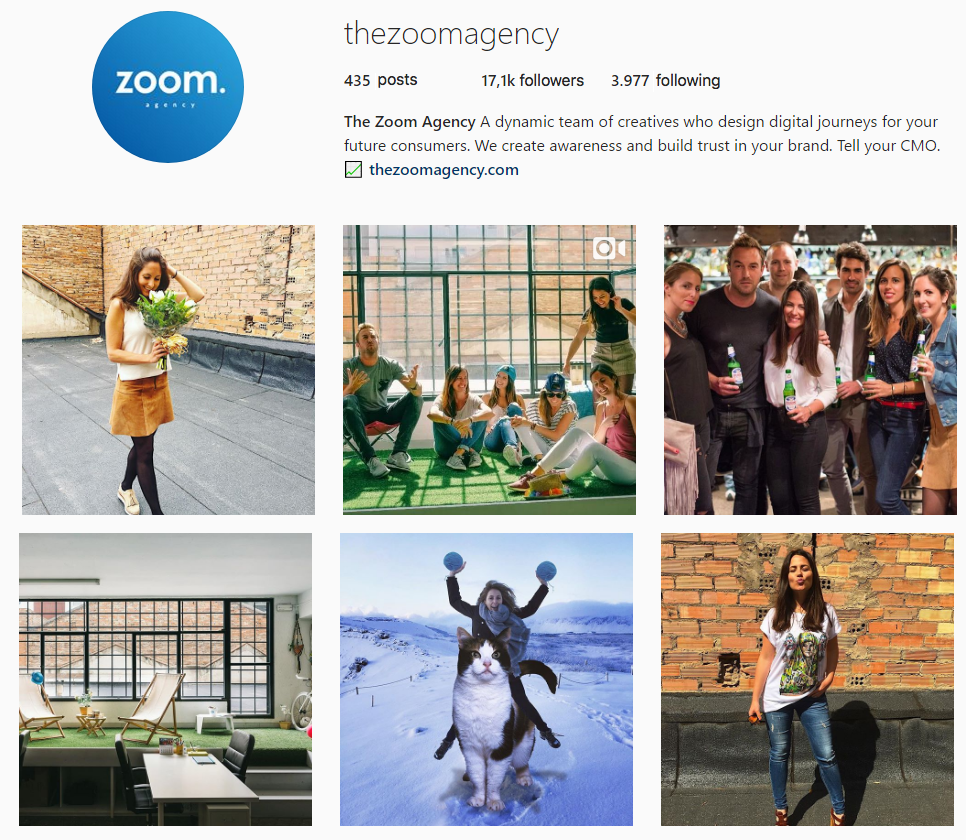 @jacbcn
 's Instagram profile is full of insane urban pictures of the city. He shows Barcelona in a way you probably haven't seen before.
@ernest85bcn
 escapes the huzzle and the buzzle of Barcelona and mainly captures the city from the side or from above. If you're not yet in the city, then this account definitely makes you wanna go to Barcelona.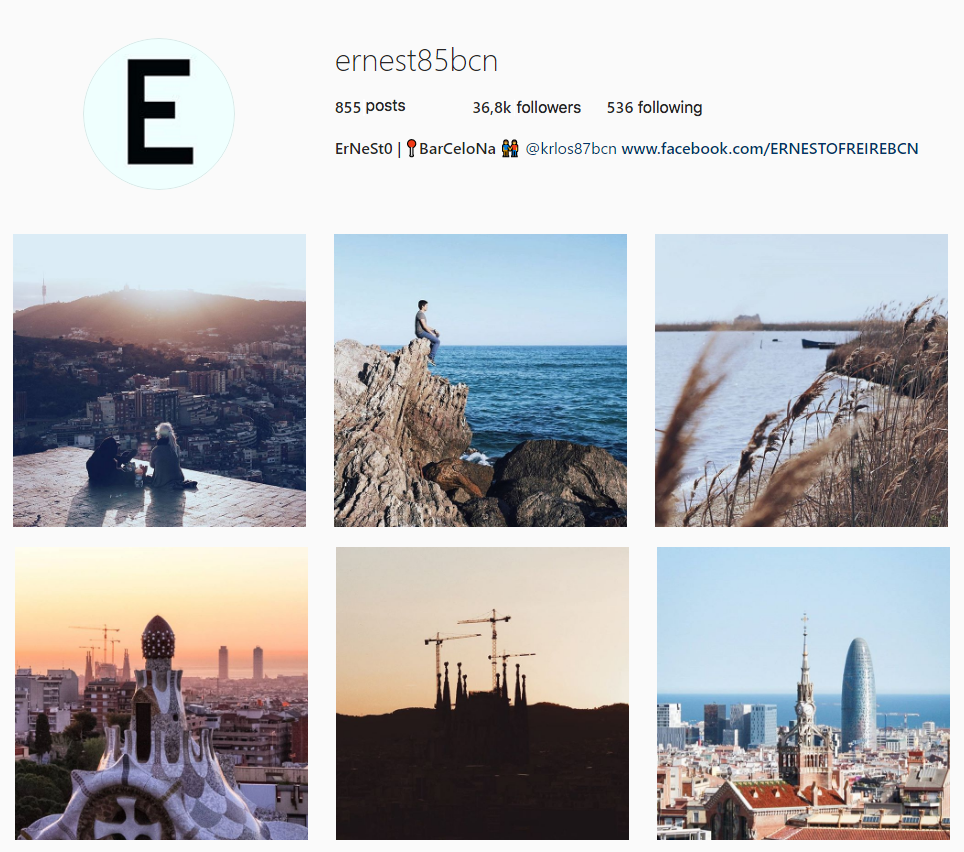 With 
@dani_hm_bcn
 you jump into the city life of Barcelona. His edit skills are very impressive, the posts make you feel like you arrived in a dream, the Barcelona dream!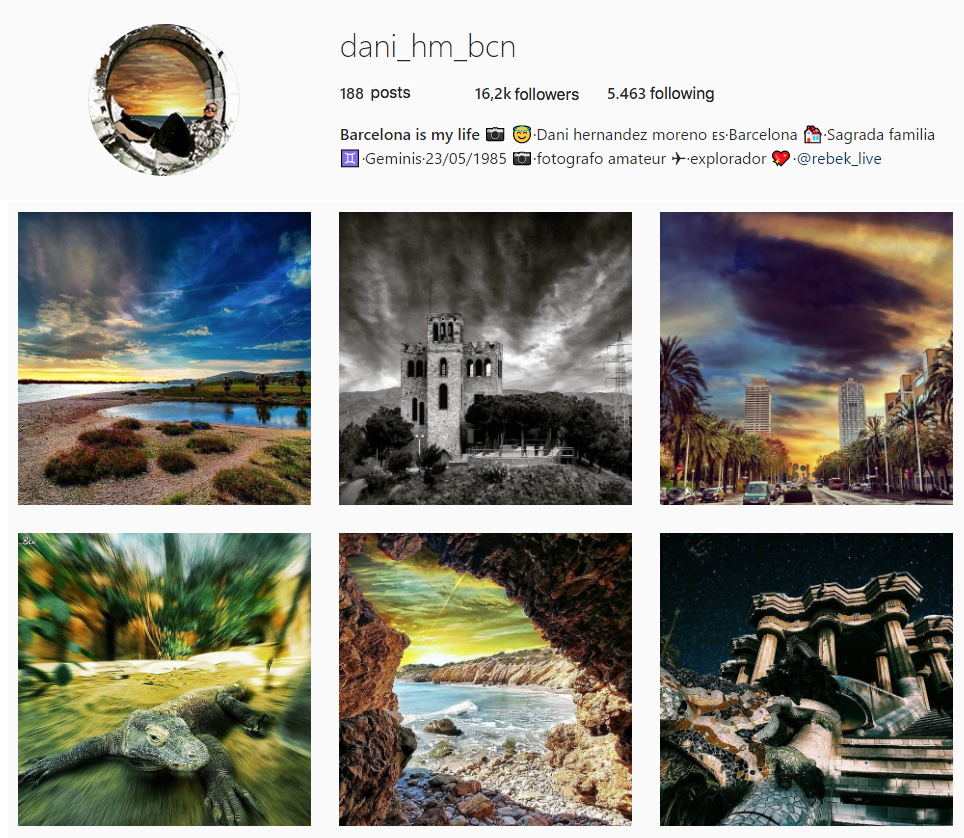 @flordefum
 has some serious awesome photography skills. She captures everything that comes on her way and inspires her. The pictures are very urban, they'll blow your mind!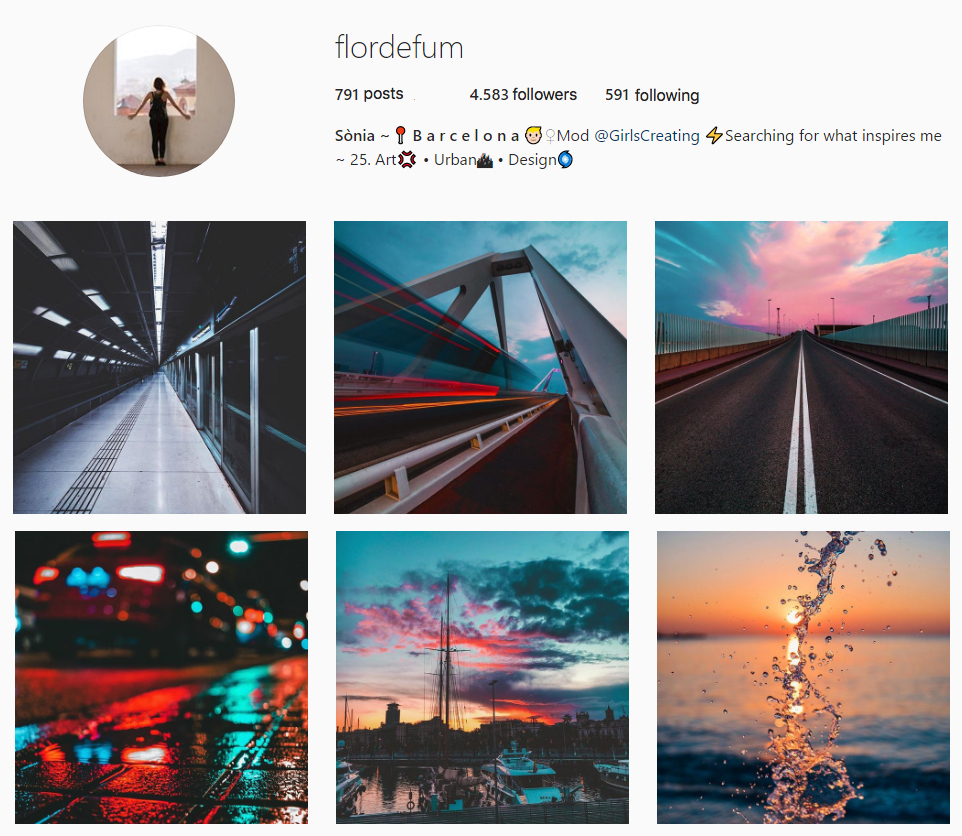 @gismethmehdiyev
 's Instagram profile is full of artificial urban pictures, but also landscapes. He mainly captures the city from the side, giving unique perspectives on Barcelona.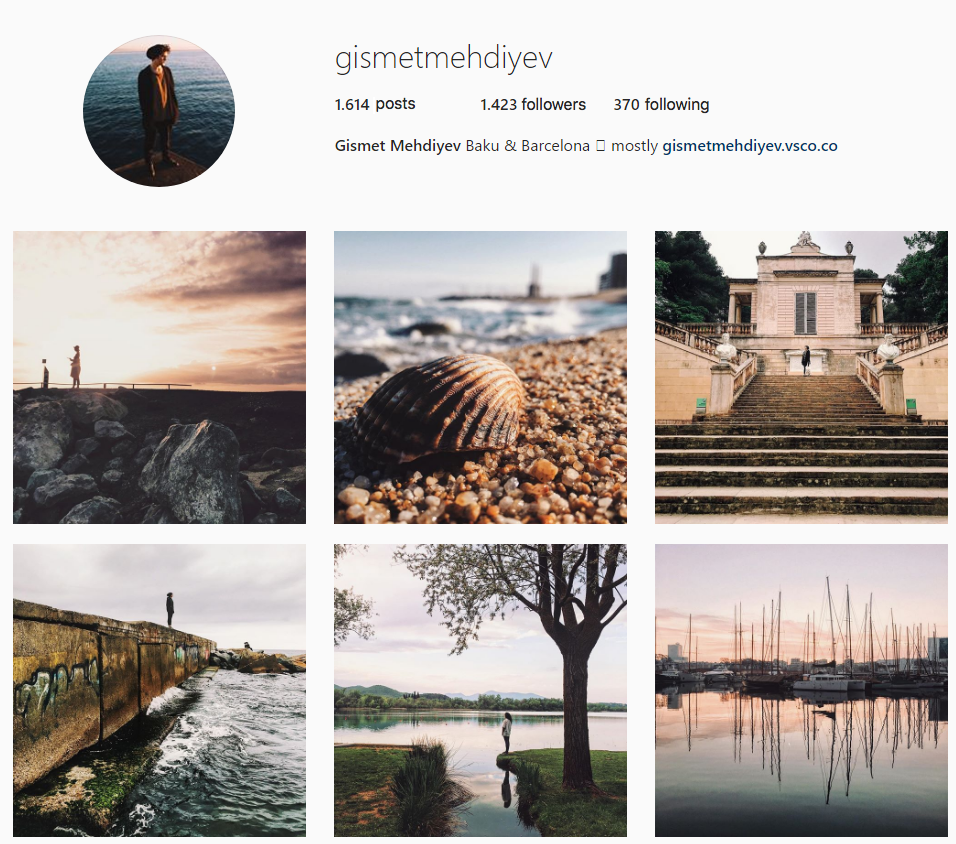 If you want to know about everything that's going on in the biggest neighborhood of Barcelona, Eixample, then you should definitely follow 
@bcn_eixample
. They capture the life and the gems of Eixample.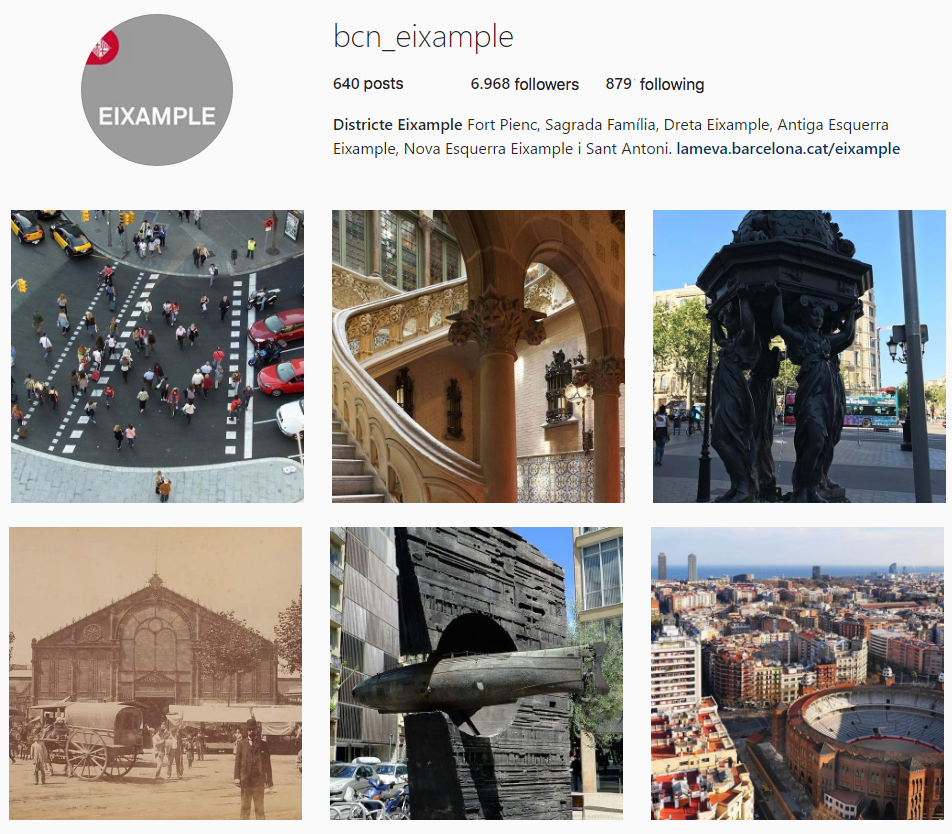 @galarino
 gives you a very romantic perspective of the city, with stunning posts of beautiful sunsets and gems of the city. It'll make you fall in love with the city right away.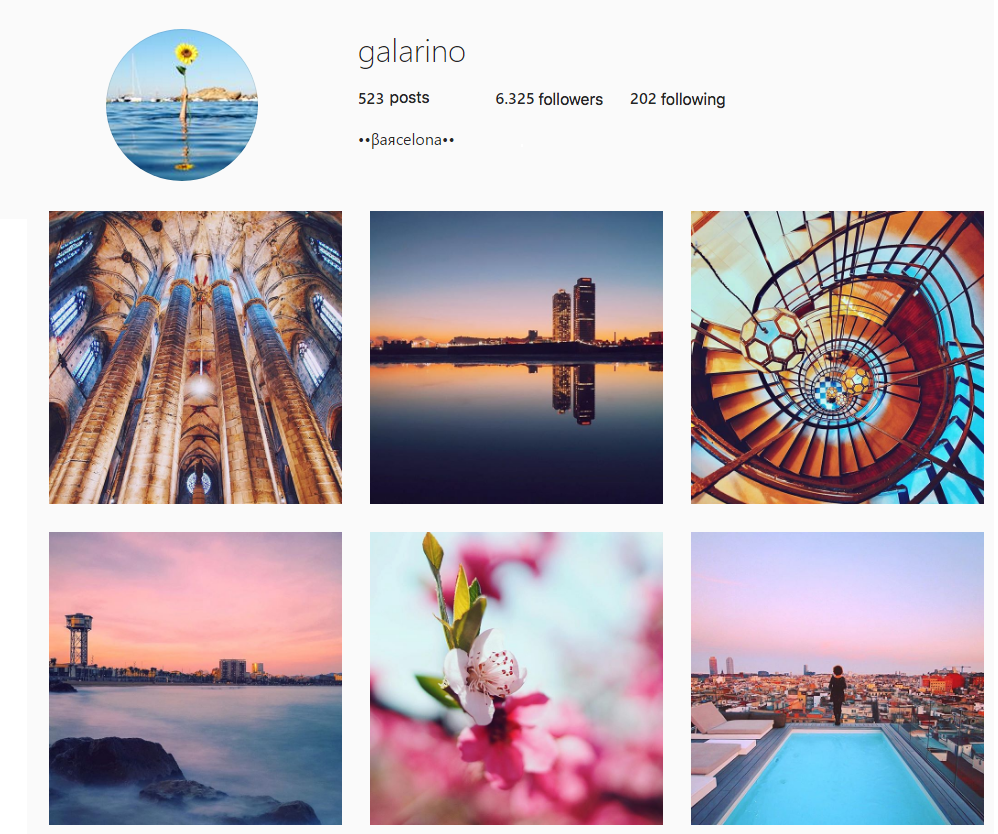 @martallorbcn
 mainly captures profile portraits of people just outside Barcelona with really nice background views of the city.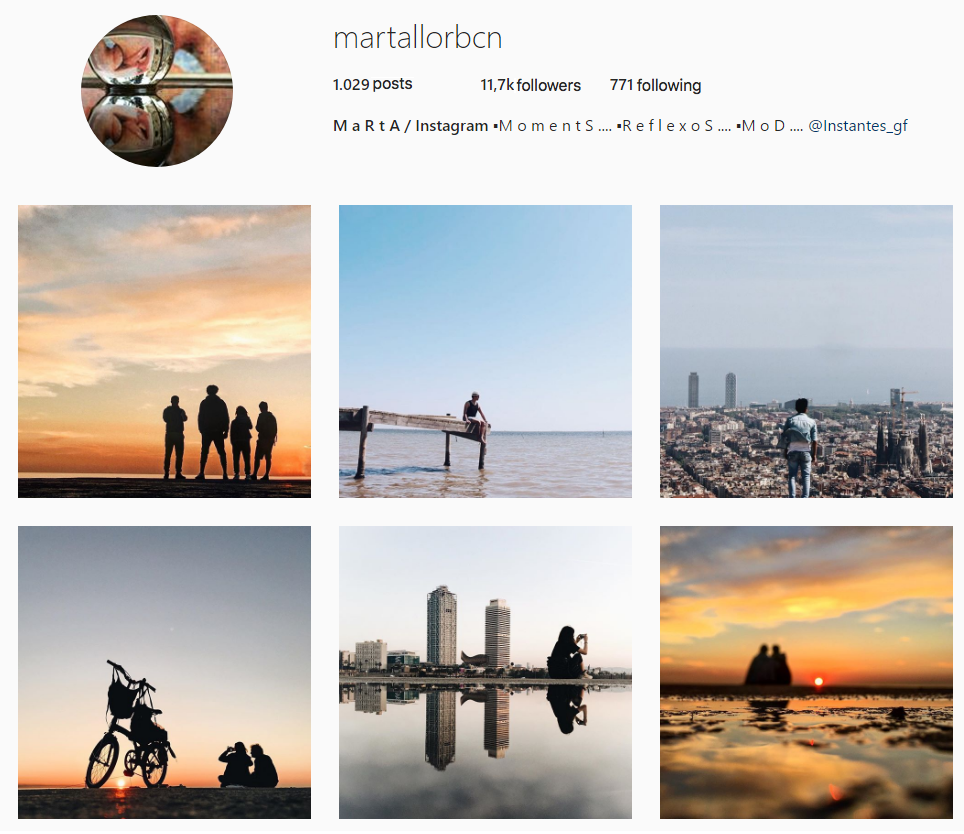 @thecatalanist
 's Instagram profile is a very nice welcome to Catalonia, showing the beauties of the region.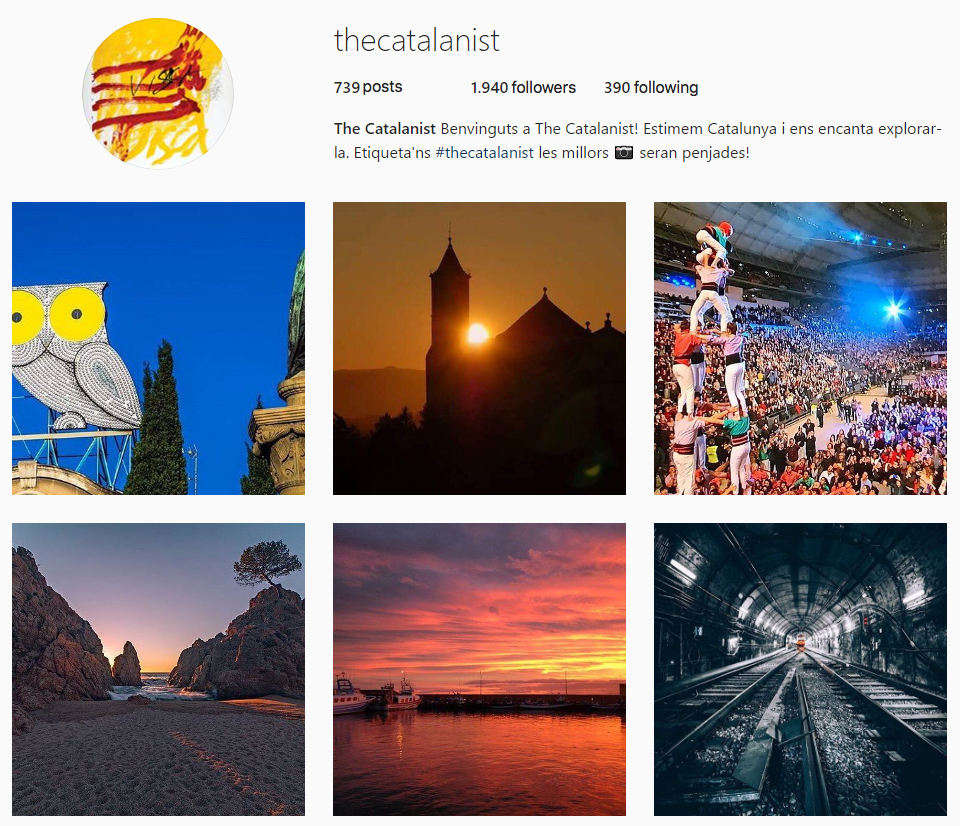 @topbarcelonaphoto
 is an Instagram profile that tries to give the best representation of the city by capturing the famous attractions and best parts of Barcelona.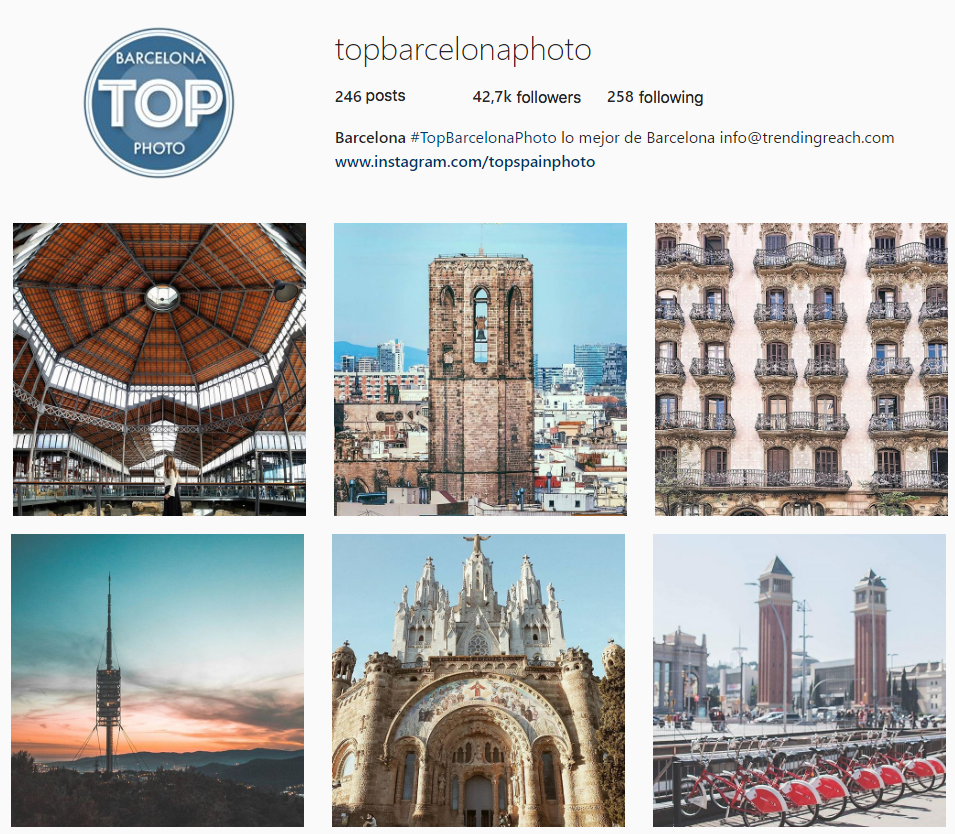 @amobarcelona
 show's the good life of Barcelona. You can even send in your own photo with #amobarcelona and they might post it.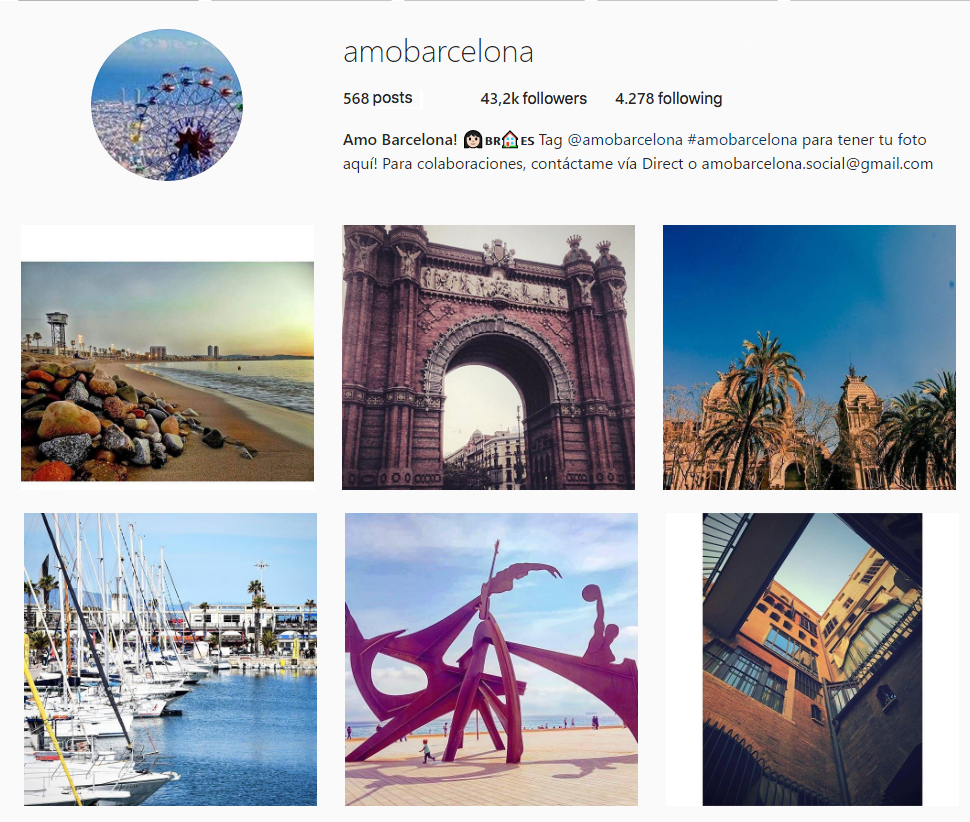 The elegance, the fun and the culture of Barcelona captured in pictures by 
@total_barcelona
. From the little streets to the large modern buildings of the city.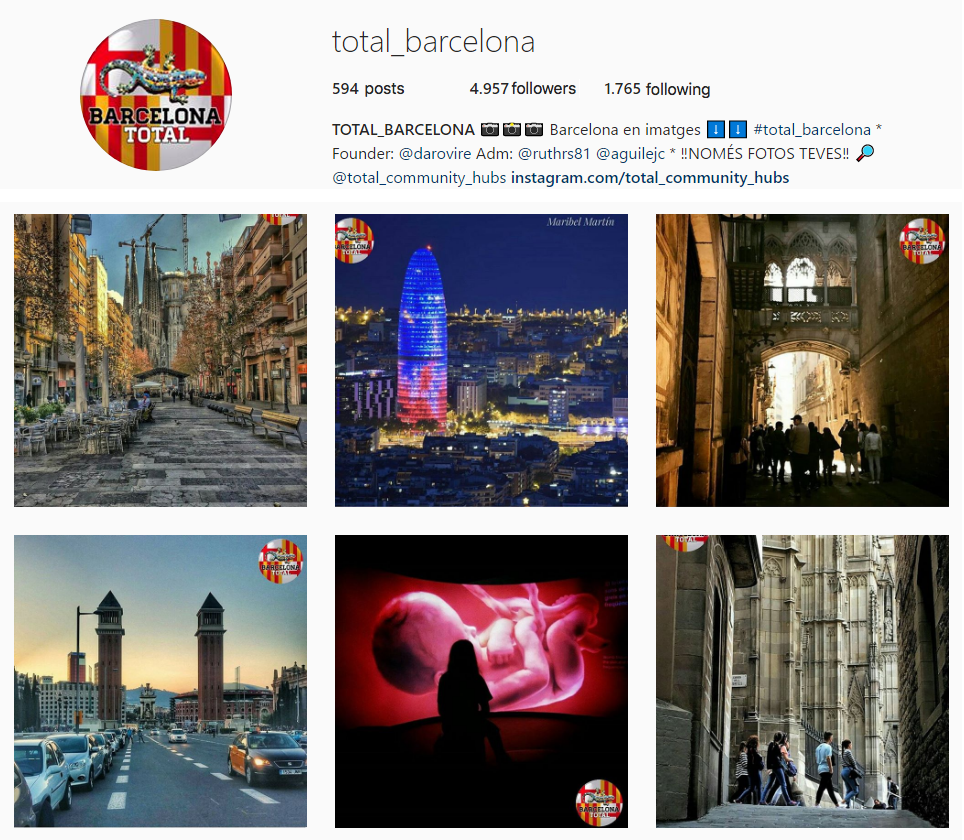 If you use the hasthtage #unlimitedbarcelona your picture might end up on 
@unlimitedbarcelona
 's Instagram account. However, they only select the most impressive pictures, as you can see on their feed.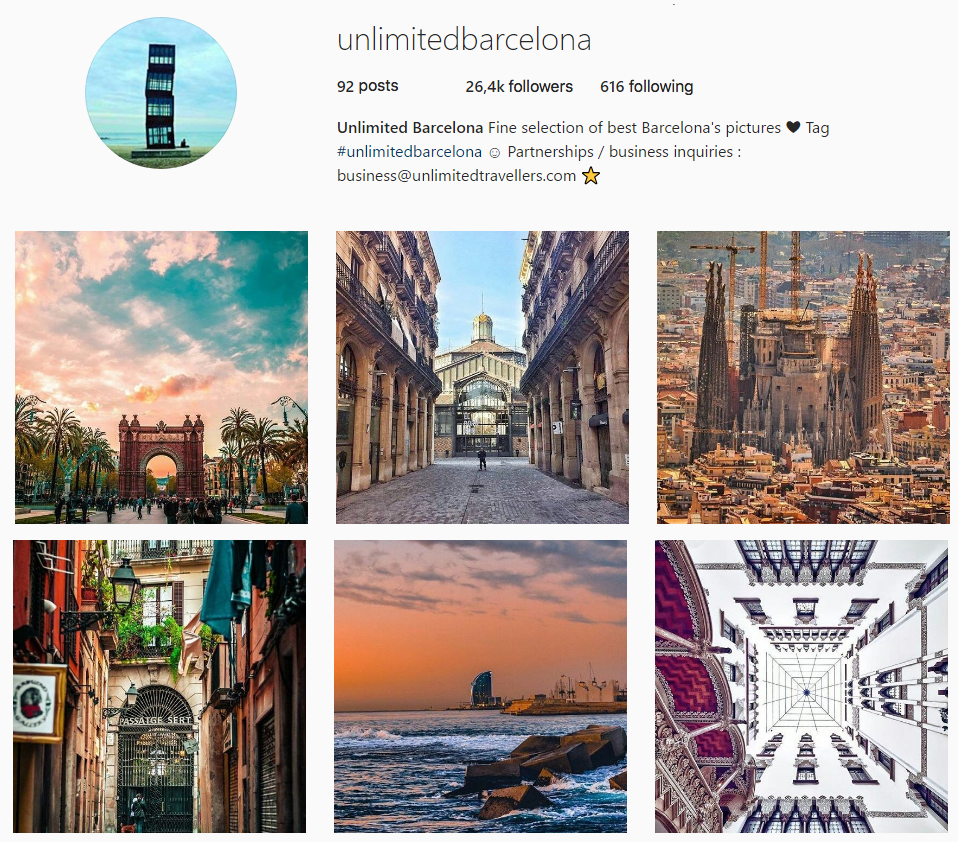 All architectural secrets, the most beautiful and famous buildings and the nicest corners of the city is what to expect when you follow 
@pepgonella2.
 Check the little sneak peek below.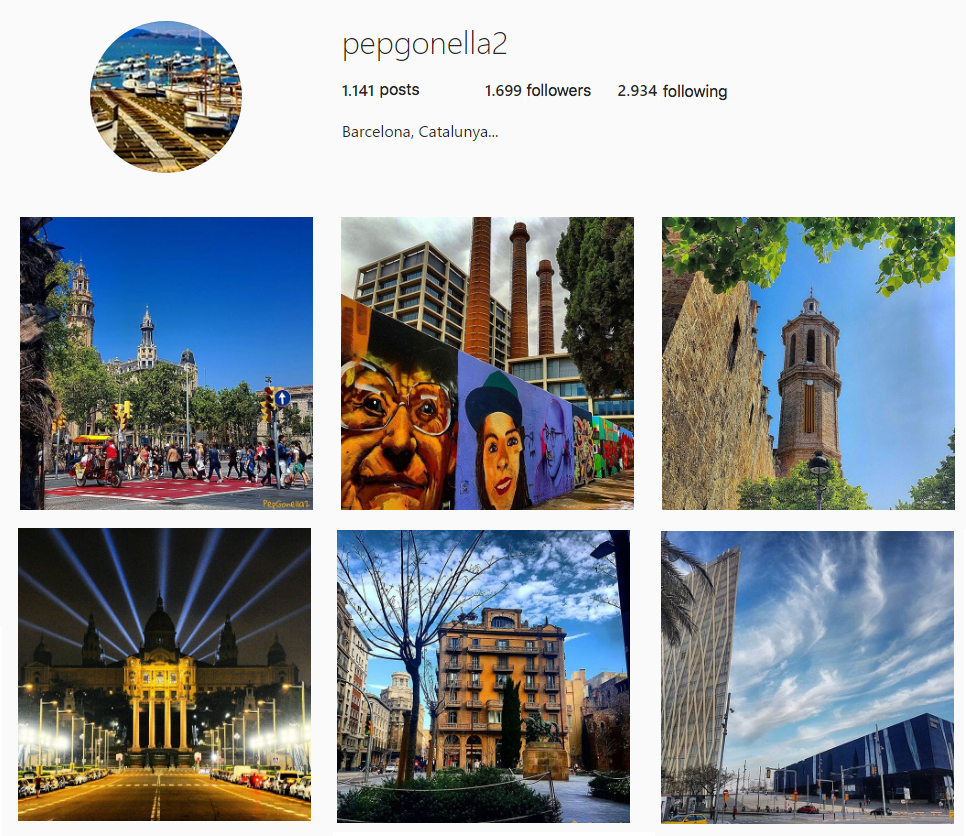 For all our wanderers among us it's a need to follow 
@wonderlust.barcelona
. They capture the city from its most fun side! It makes you wanna travel to Barcelona right now!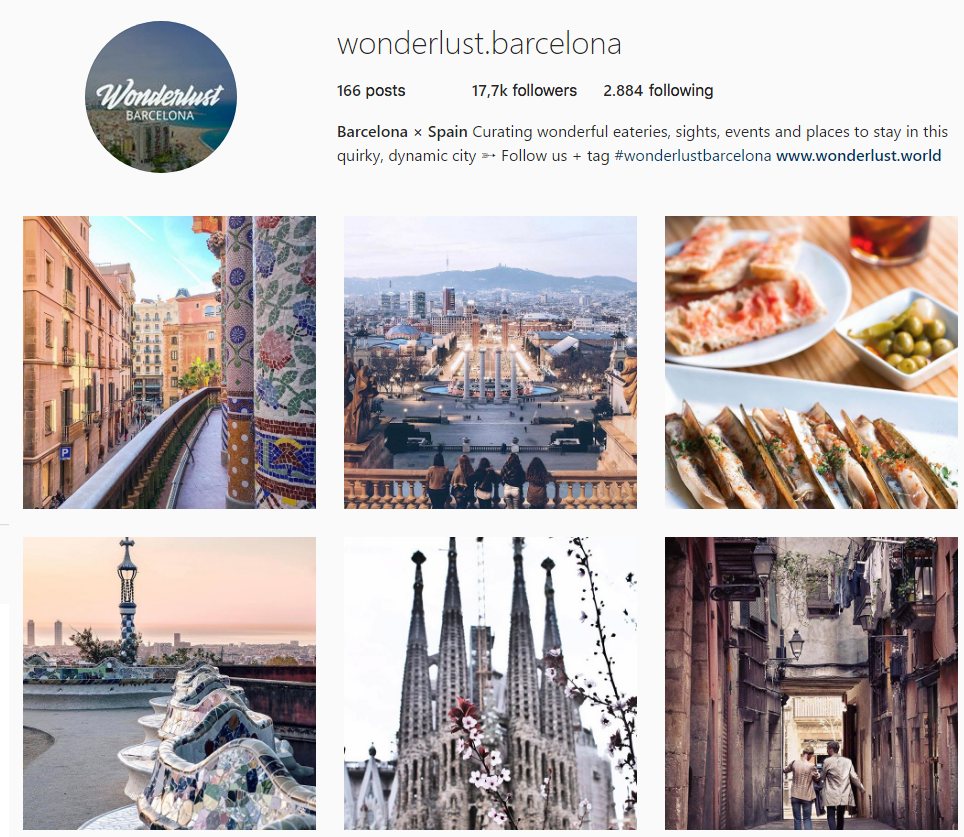 @lamunicipalbcn
 posts all photogenic spots of Barcelona. If you need inspiration as a Barcelona based photographer or Instagrammer, you should definitely think about following 
@lamunicipalbcn
.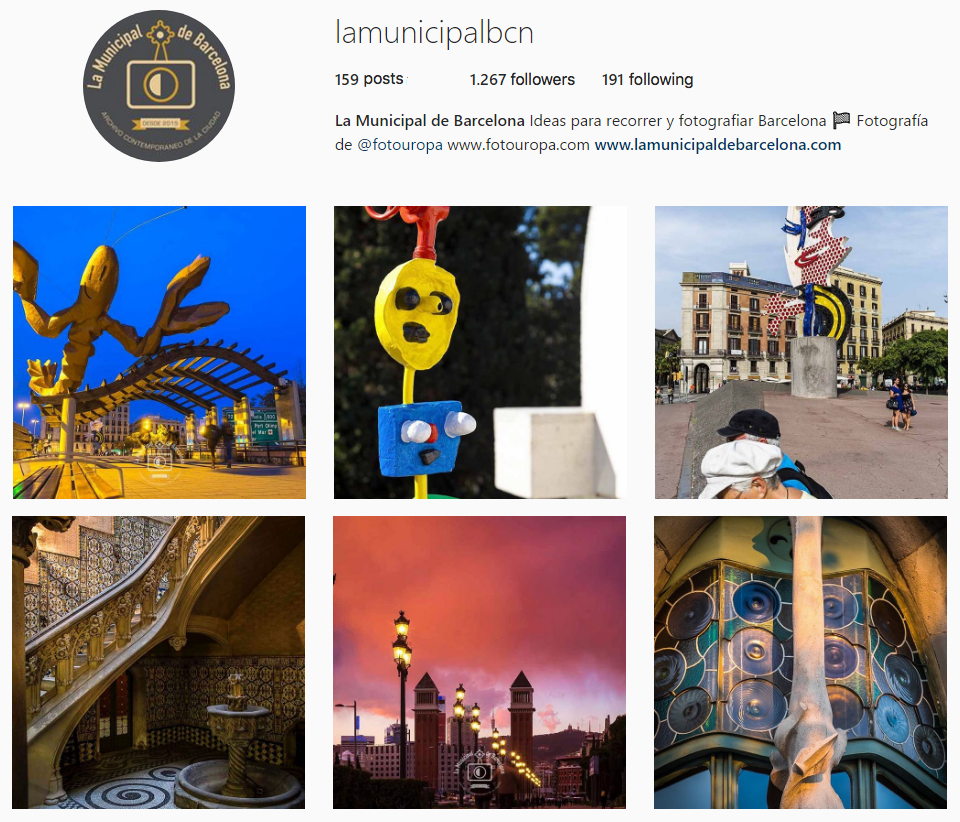 All well known and gorgeous spots of the Catalan capital are captured by 
@cityofbarcelona
. This account is a must-follow if you currently live in Barcelona.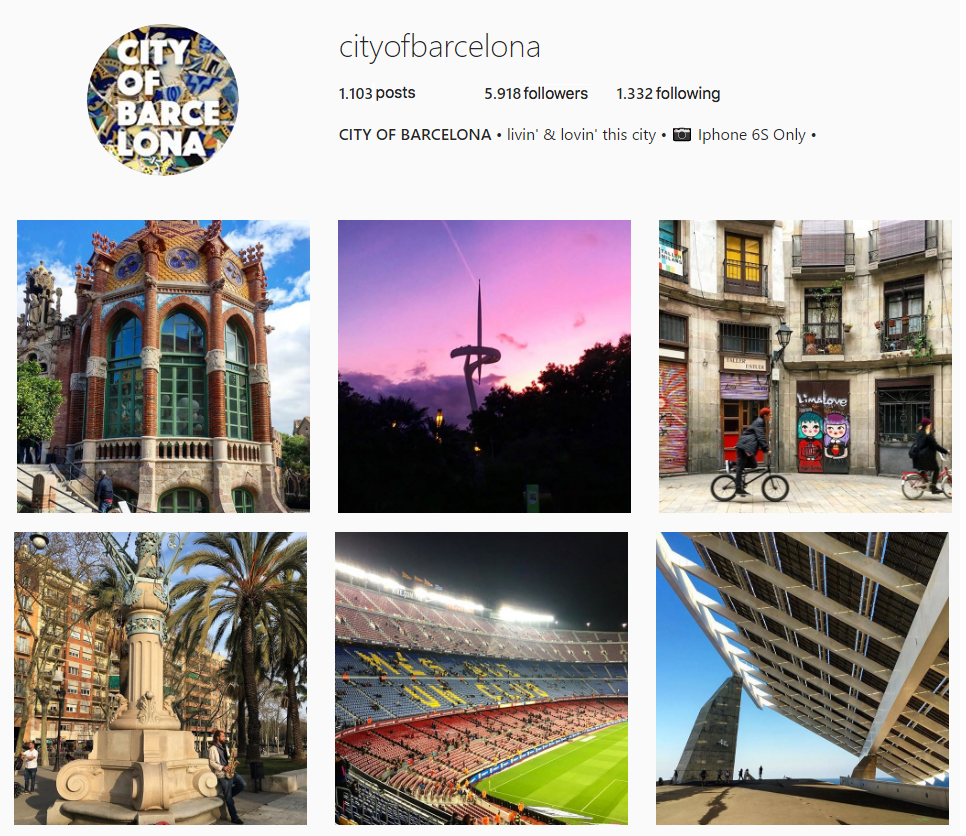 ---
Art & Culture
@philmusical
 is one of the funkiest 
Barcelona Based Instagram Accounts.
This Instagram profile is full of fun art & culture. You'll enjoy it!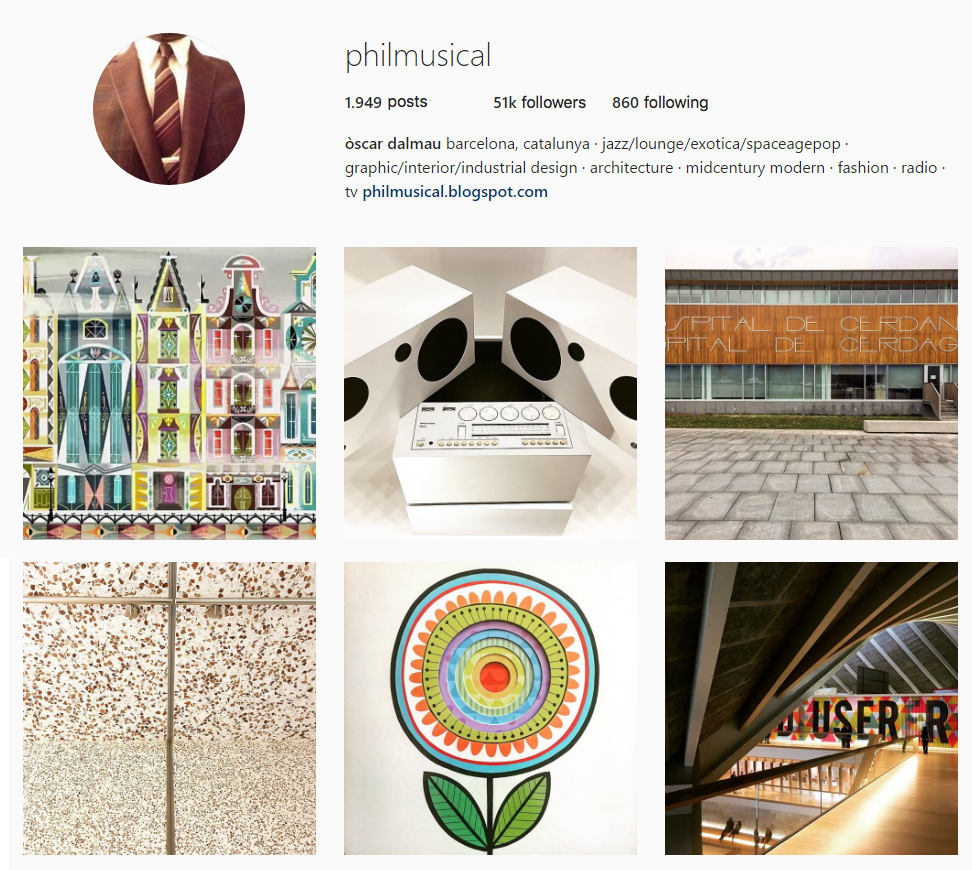 A big fan of street art? Then 
@borinot_acuatic
 is the perfect Instagram account for you to follow, showing the most unique kinds of street art.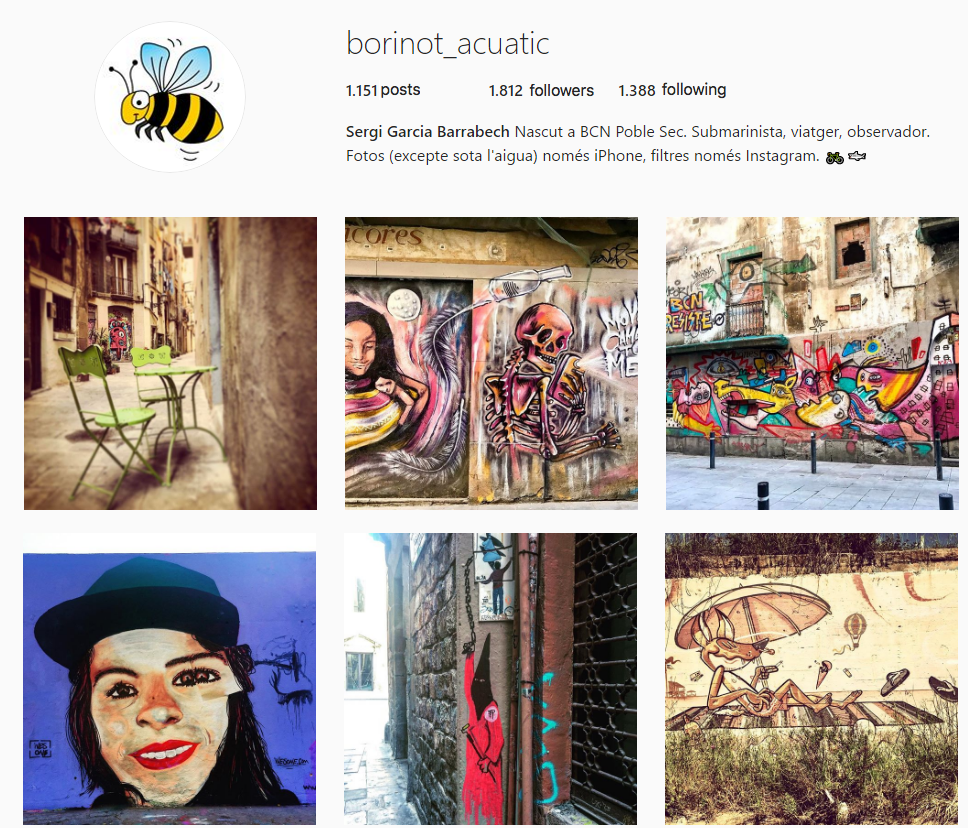 @barcelonastreetart
 is also committed to finding the most unique art pieces in the streets of Barcelona. You'll be surprised of all the talented artists this city has!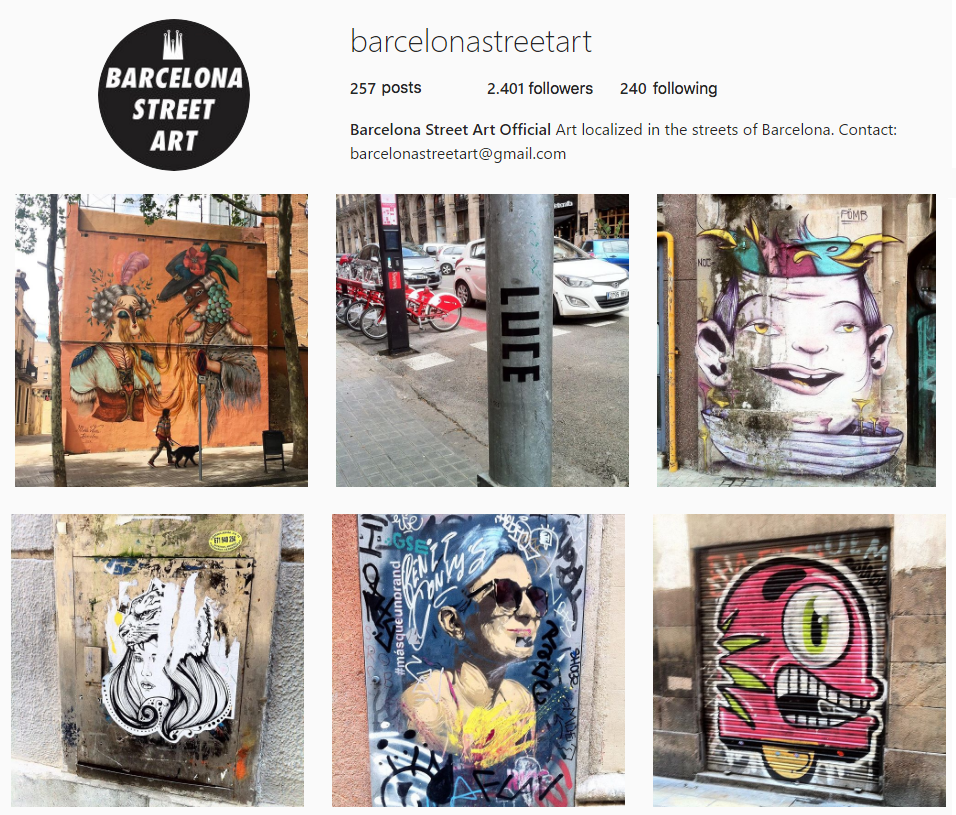 Everything related to culture in Barcelona is being posted by 
@bcncultura
. They also keep you up to date on every cultural happening in the city.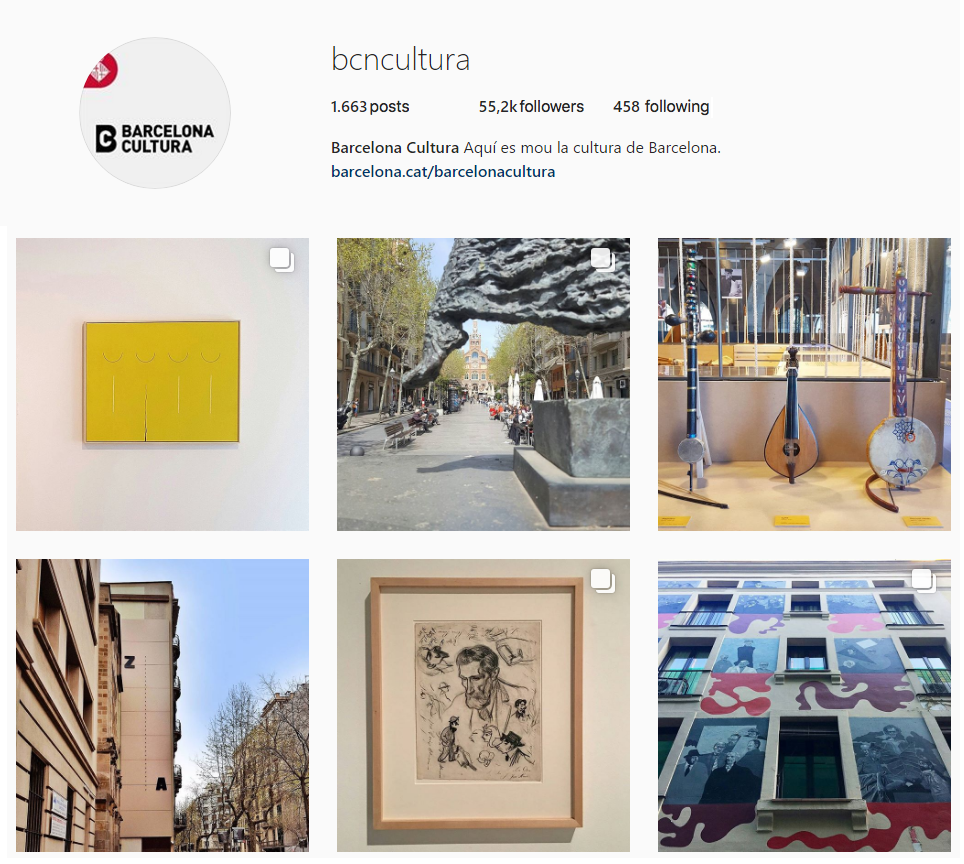 @pezbarcelona
 a.k.a. the one and only El Pez has his own Instagram account where he shares all his art works. If you're a fan of El Pez, you can't miss out his account!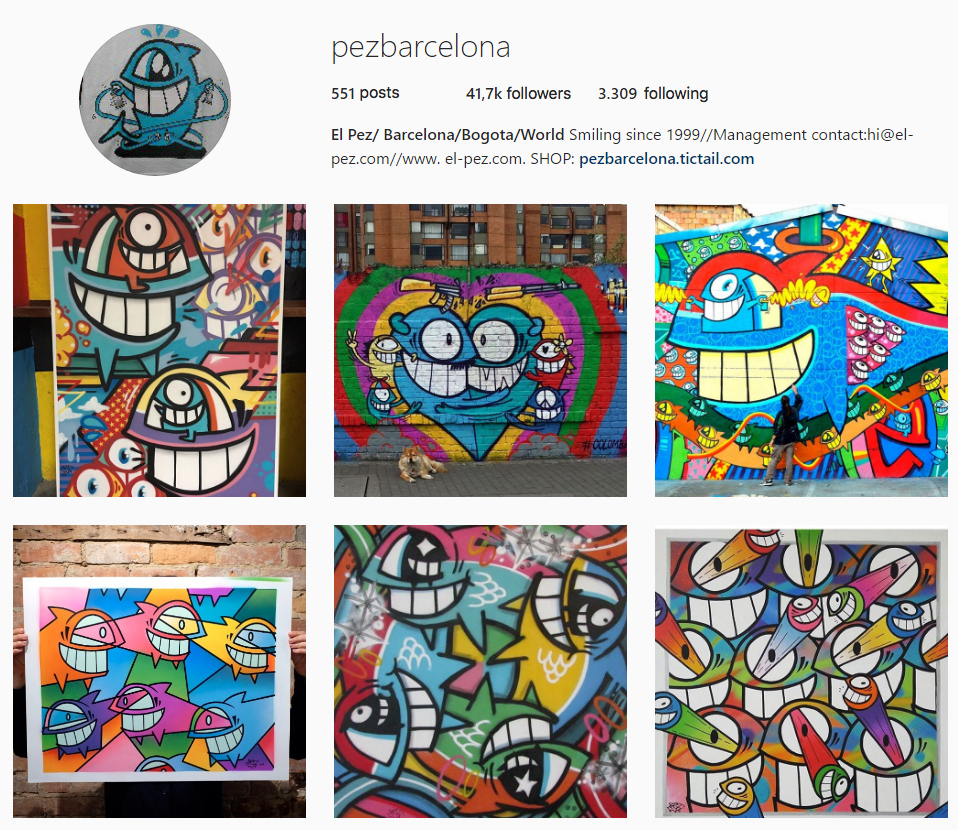 @Macbalife
 is a very original Instagram account that posts short videos of people skating in front of the famous MACBA museum in the neighborhood El Raval. Perfect account if you're a big fan of skating!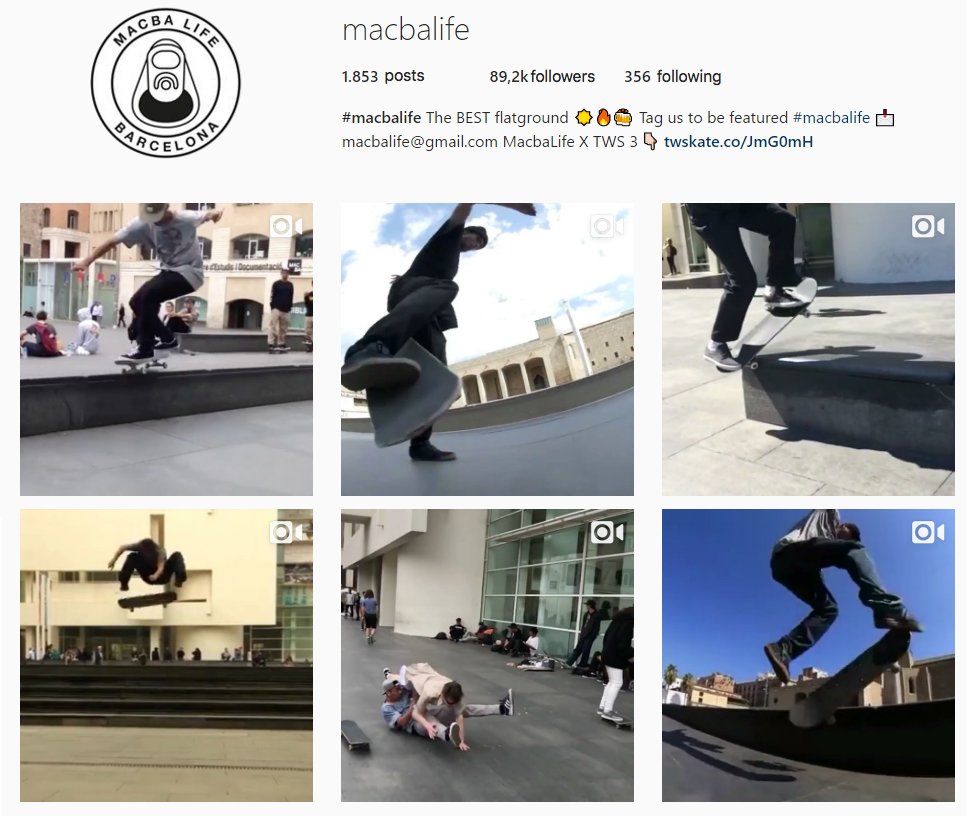 @fotosdebarcelona
 is not so well known yet among the Barcelona lovers, it's a real gem! On this Instagram account you will mostly find collages of old and new pictures of places in Barcelona.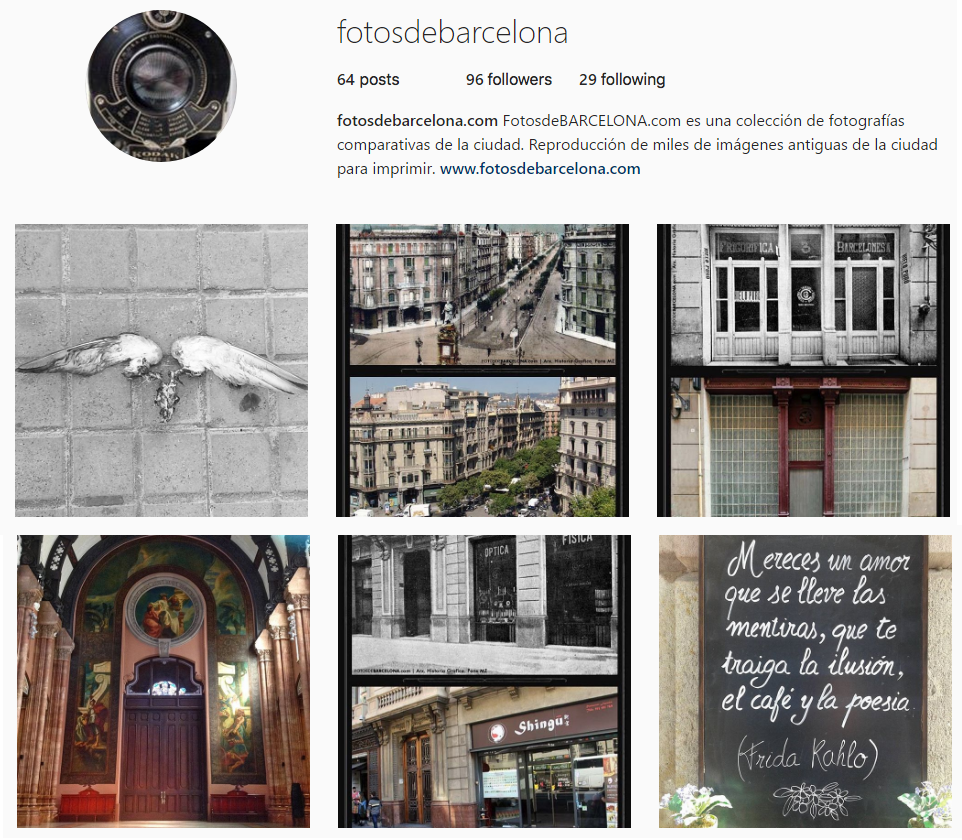 If you really want to get to know the people of Barcelona, then follow 
@humans.of.barcelona
. This Instagram account basically captures the soul of the humans of Barcelona with short inspiring stories.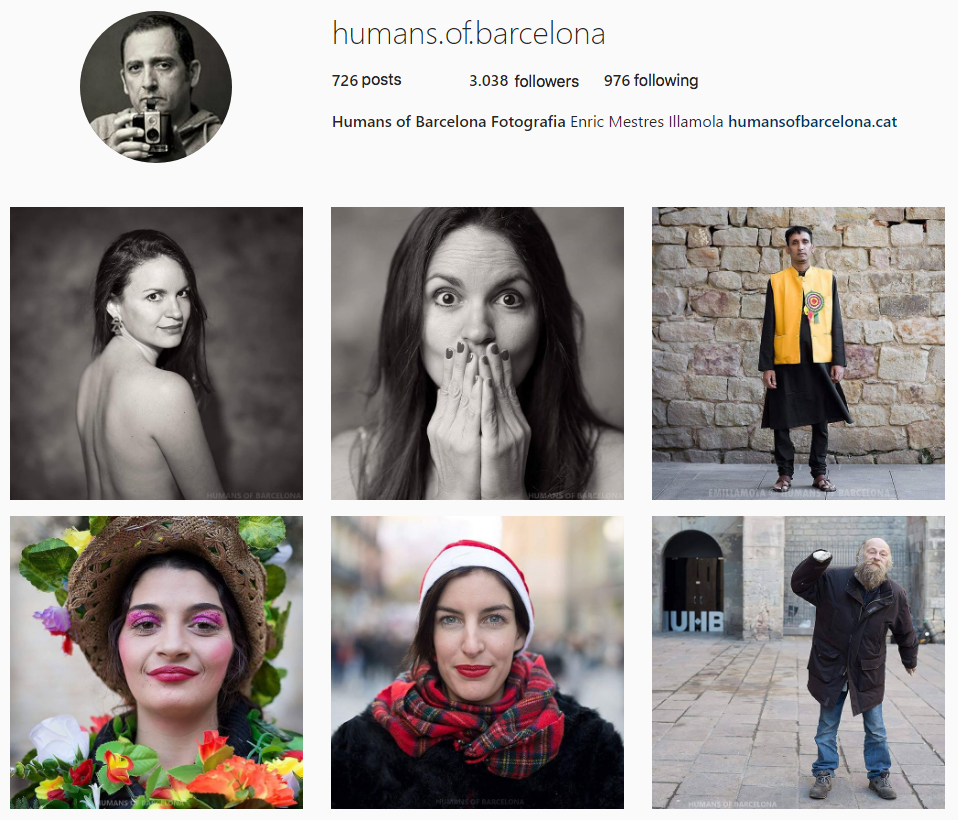 @lidpop
 is a mixture of different kind of posts, most of them are very artificial and cultural. They are very fun and interesting to look at!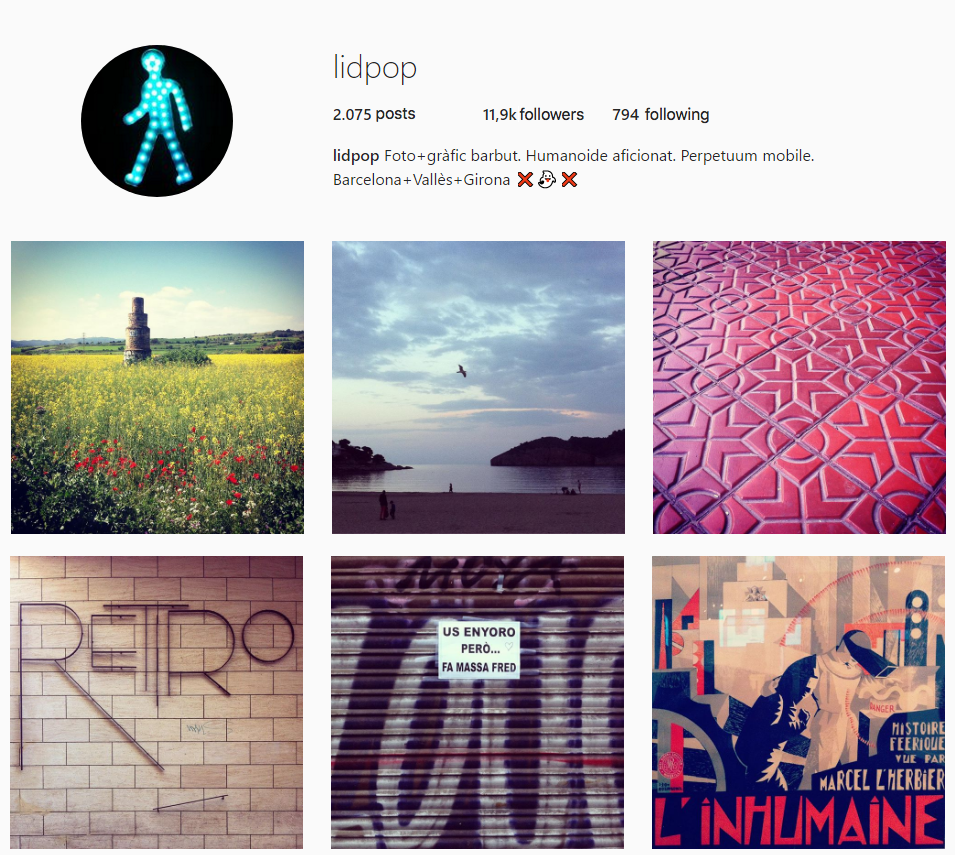 Following 
@articketbcn
 on Instagram is a perfect way to discover all the cultural events and art museums in Barcelona.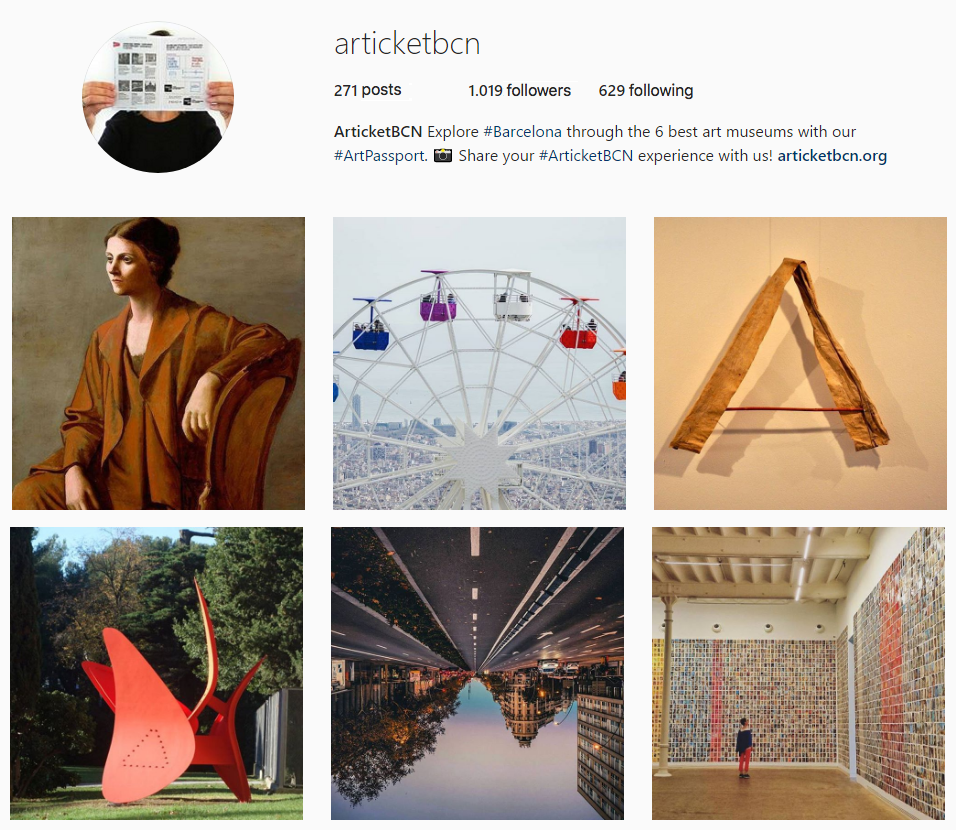 @rescued_tile
 is one of these very unique Instagram accounts. They literally rescue tiles of old centenary buildings in Barcelona, the tiles were about to be thrown away, although they're very original and beautiful.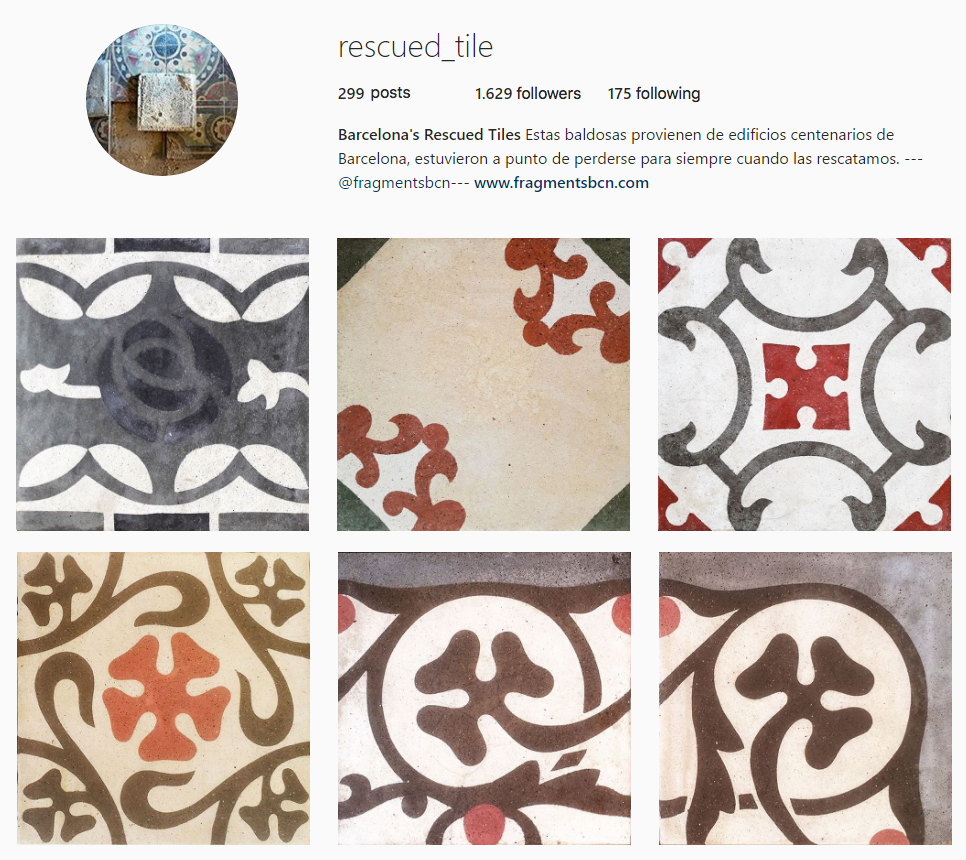 ---
We hope you enjoyed each 70 of these 
Barcelona Based Instagram Accounts,
they are all very unique and a real lust for the eyes! Let us know if you know more unique 
Barcelona based Instagram accounts 
that are worth checking out.