Most Famous Catalan Musicians - cantem en català!
Hey SuiteLifers! We've already introduced you to some
famous Catalán artists
- painters, and architects – now it is time to continue the series with the
most famous Catalan musicians
!. Music life in Barcelona is very entertaining and you can find a lot of scenes to listen to
live music
in
Barcelona
:  jazz bars, restaurants,
clubs
. There are already articles on our site about
Macacó
and
Ojos de Brujo
who are also
some of the
 most famous Catalan musicians
from Barcelona. In this particular post we want to show you how many other talented professional musicians are from Catalunya. Maybe you will be very surprised that these
most famous Catalan musicians
are originally from Barcelona! So here are our
most famous Catalan musicians
:
1. Montserrat Caballé (1933 - )
She was
born in Barcelona 
in 1933, and completed her music studies here at the Conservatori Superior de Música del Liceu (Liceu Conservatory) – which was the part of the Gran Teatre del Liceu.  Caballé is a very famous operatic soprano, sang in several roles in operas of Rossini, Verdi, Puccini, Mozart, Wagner, Strauss and much more.  She is best known for her "bel canto" (it is an Italian word for "beautiful singing") repertoire, which is a very popular singing technique among sopranos. In the past few years she has become a
UNESCO Goodwill Ambassador
and in 2003, Caballé starred in her own documentary film, called "Caballé Beyond Music".
2. José Carreras (1946 - )
[caption id="attachment_1771" align="aligncenter" width="300"]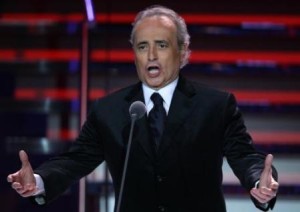 Opera singer Jose Carreras entertains during the draw[/caption] He was born in Barcelona, 1946. He is also one of the
most famous Catalán musicians
,
being a tenor. Carreras made his debut at age 11, unbelievable! Mainly known for his roles in Puccini's and Verdi's works he became very famous for being one of The Three Tenors alongside Luciano Pavarotti and Plácido Domingo. Carreras is also a UNESCO Goodwill Ambassador and he was the musical director of the 1992 Olympic Games in Barcelona.
3. Pau (Pablo) Casals (1876 - 1973)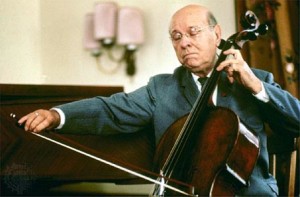 Pablo Casals was born in 1876, in a small Catalán village called Vendrell. Even though he was proficient at the violin, piano, organ and flute, he finally became one of the
most famous Catalán musicians
, being a
cellist! He was the first cellist of the Barcelona Opera Orchestra. In the early 20' he launched his own orchestra and he was also a conductor – as he truly loved the music itself, not just playing cello. He was famous for recording the Bach Cello Suites in the 1930's. Casals also had a great impact on Puerto Rican music, where the Casals Festival still takes places annually.
4. Tete Montoliu (1933 - 1997)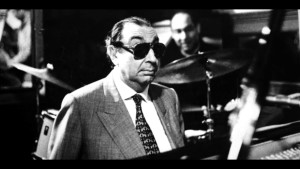 Montoliu also born in Barcelona, in the same year as Montserrat Caballé. He was totally blind but became a very famous jazz pianist. He studied classical piano at the Conservatori Superior de Música de Barcelona (Barcelona Conservatory) and by the age of 17 he was leading jam sessions at one of the Barcelona theaters. He is said to be an atypical jazz pianist, since he not only expressed his own musical heritage but also an individual interpretation of American jazz as well, exhibiting warmth, deep feelings and humor in his playing.
5. Xavier Cugat (1900 - 1990)
He was born in Girona, Catalunya but soon moved to Havana, Cuba. There he trained as classical violinist and played with the Orchestra of the Teatro Nacional. This famous Catalán musician's work really did a lot to help the infusion of Latin music into the American popular scene. He took his band to New York, and became the Waldorf Astoria Hotel's resident muscians. Interestingly, he was also a cartoonist – working for the Los Angeles Times– while also finding time to be an actor and womanizer (5 wives all together :)). Cugi (as he is often called) had a very funny trademark - to hold a Chihuahua while waving his baton with the other hand.
So these are our favourite 5, but there are more and more of the
most famous Catalan musicians
! If you spot some, let us know your favourites here or on
our Facebook page
!