Which tourist attractions in Barcelona are worth the hype?
Barcelona is the
tourist
capital of Spain and as such a lot of the popular
attractions
will be on your to-do list when you come to visit. But which of those places actually live up to the hype? We've done a bit of investigating so you don't have to. The best attractions in Barcelona are listed below, each with its own hype rating so you know which ones are worth visiting. 10/10 means out it in the diary right now. 0/10...well, best to not bother. Sit back, relax, and get ready to tweak your itinerary.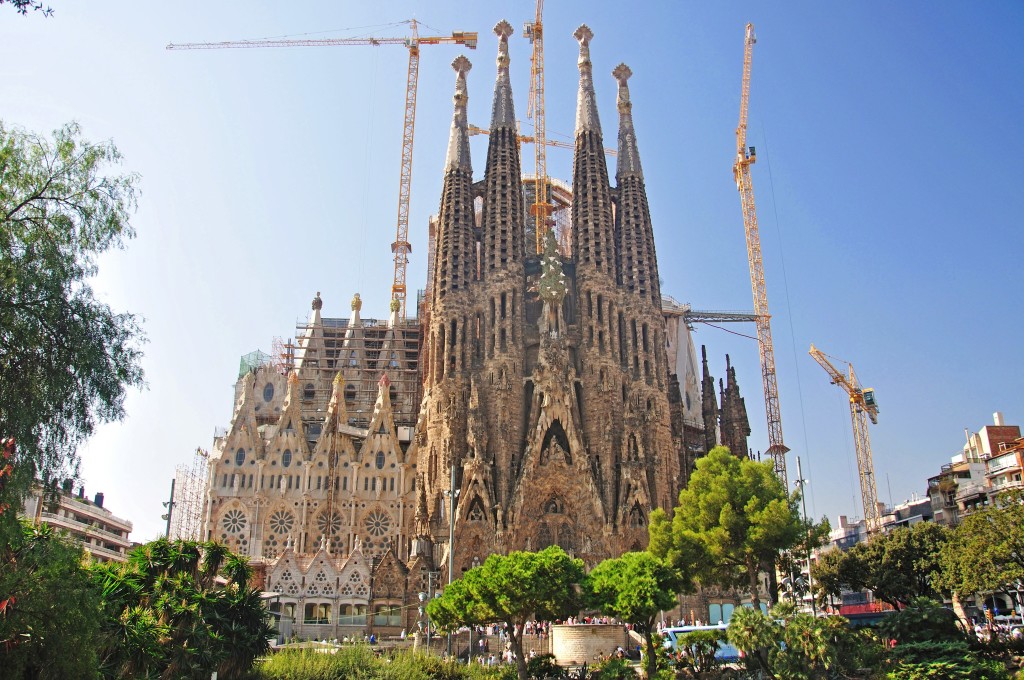 1. La Sagrada Familia
We're starting off with the big one. Not visiting La Sagrada Familia when in Barcelona is like not taking a gondola ride in Venice. Sure, its a little pricey to get in (€20 minimum) but this is one of those things that just HAS to be done. Its absolutely gorgeous inside and if you have any interest in architecture at all prepare to have your mind blown by the stunning stained glass windows, the impressive construction and the level of detail crammed into this cathedral. And if you can spare the cost we'd recommend getting the audio guide for an extra four euros because it'll help you spot a lot of things you might otherwise have not noticed. Hype rating: 10/10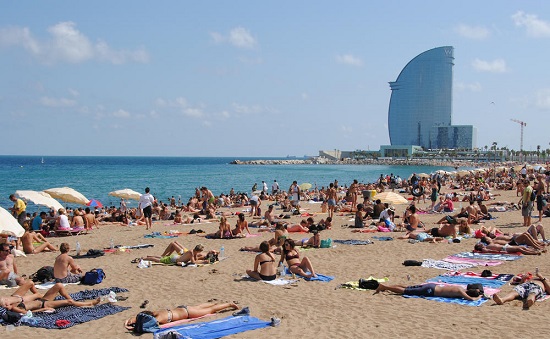 2. Barceloneta
Barcelona's beach has become something of an icon, despite only being built during the 90s for the Olympic games. Every year hundreds of tourists flock to the sands to soak up some of that mediterranean sun with the convenience of not having to leave the city. It has great views along the city's shoreline and is almost always sunny. But honestly, if you're prepared to travel even just a tiny bit, you can have a much better experience somewhere else. In peak season, Barceloneta is crowded, noisy, dirty and full of people constantly trying to sell you beer or blankets or massages or whatever else they can fit in a cooler box. Our advice? Head one stop further down on the metro to Ciutadella/Vila Olimpica for a more peaceful experience without travelling too far. Its still busy but more than bearable for a couple of hours of topping up your tan. If you're looking for total tranquility though its best to get out of the city and head to one of the other
amazing beaches nearby
. Hype rating: 3/10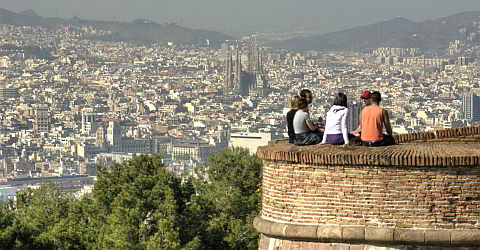 3. Montjuic
The mountain overlooking Barcelona is one of its most popular tourist attractions. With a castle, the botanical gardens, the olympic park and a cable car to the port its definitely got something going for it but the best thing about
Montjuic
are the amazing views right across the city. As its so close its definitely worth a visit but be prepared for a bit of a trek to get up there! Hype rating: 6/10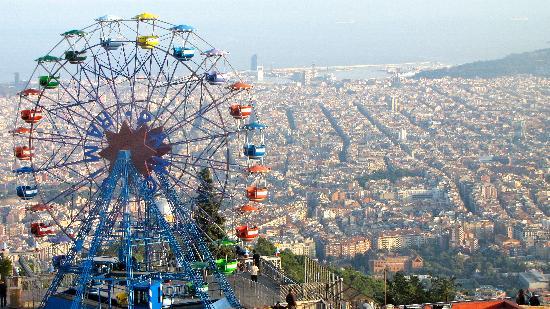 4. Tibidabo
This is the other mountain overlooking Barcelona. There is a little
amusement
park up there, incredible views across the city and an enormous cathedral. If you've got kids this is brilliant as there is loads for them to do, but beware of the queues during summer. Otherwise, its maybe one to give a miss. It's a bit of a hassle to get to by public transport and if you're looking for views there are better ones out there Hype rating: 4/10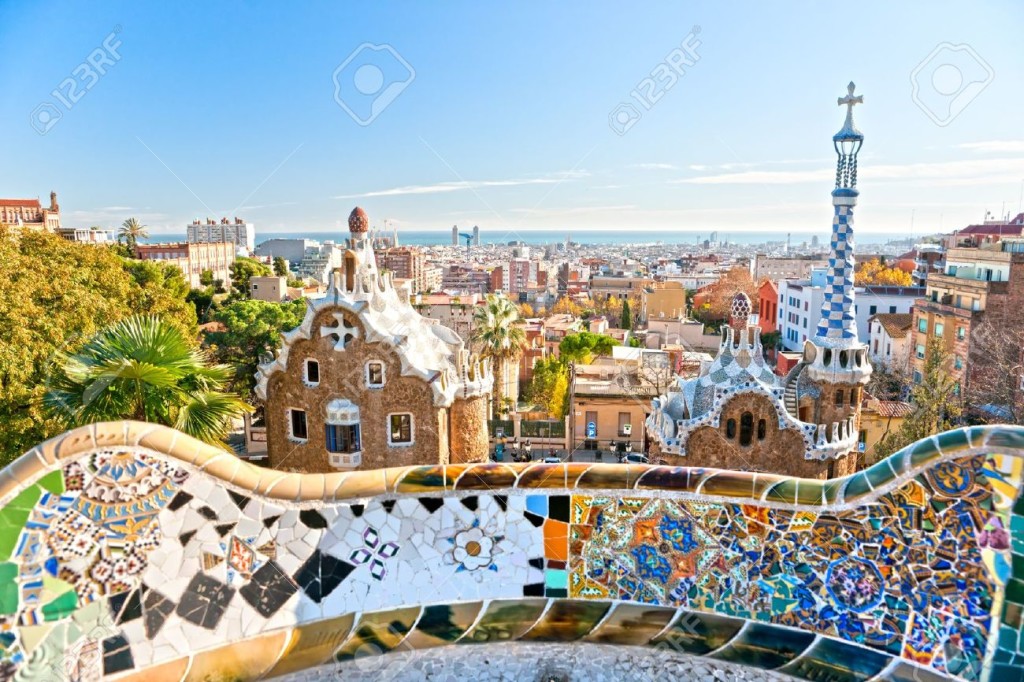 5. Park Guell
Originally intended to be an exclusive neighourhood of 60 houses, Gaudi's landscaped masterpiece is absolutely incredible. Around every corner there is something beautiful to catch your eye and you could spend hours, days even, wandering around this place, discovering hidden corners and glimpses of Gaudi's genius. The houses never got built but there is more than enough here to enjoy. The views f are brilliant too; straight down towards the sea and across the whole city. You can even stand inside Gaudi's house and see the Sagrada Familia, still being built all these years later! Its crazy to think he would've stood right there, watching his masterwork take shape. It can get very very VERY busy in summer so its probably better to head there during the off season if you're looking for a more relaxed experience. Hype rating: 10/10
6. Picasso Museum
This is one of the most popular attractions in Barcelona...and for good reason! If you're an art lover or interested in history/Picasso's life in general then this is the place for you. The work displayed covers everything, right from his unbelievably accomplished school work from when he was 13 to his revolutionary modern paintings in later life. The museum is really well laid out with loads of information available to soak up. And its in a gorgeous old palace which helps. Its open every day except Monday and is often free if you time your visit right/are a student. Definitely worth a visit for everyone, even if you aren't big into faces with all their features in the wrong places. Hype rating: 8/10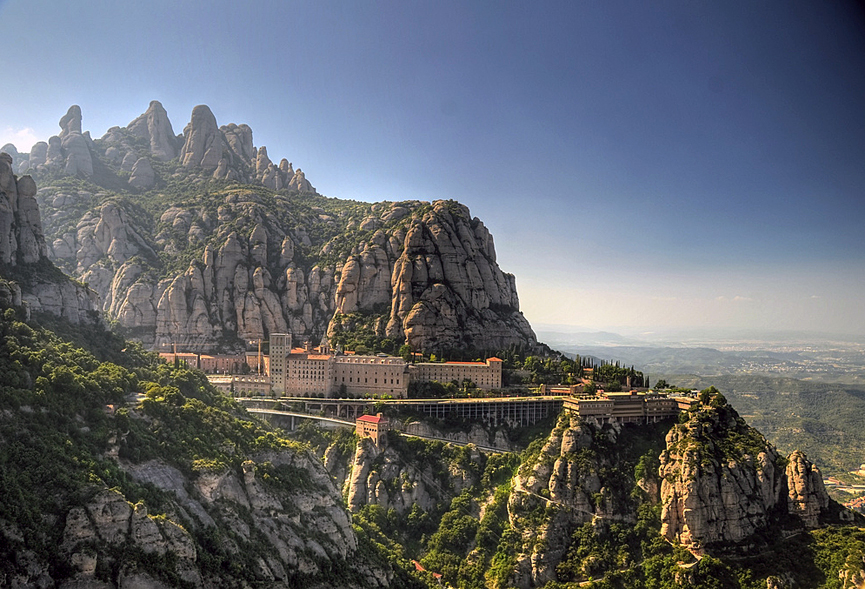 7. Montserrat
This is one of Barcelona's hidden gems. Just an hour outside the city is this beautiful
mountain monastery
, nestled up in the Catalan hills. Since its one of the hidden gems, I guess its not exactly 'overhyped' as such given that, well, no one knows about it. But this is definitely one for the bucket list.  The views across the mountains are absolutely stunning and the monastery is a treasure trove. Pro-tip: its worth visiting the museum. Hardly anyone goes down there and there is some incredible stuff. We're talking Dalí, Monet, Picasso.... Hype rating: 12/10 (points added due to being under-hyped)
8. Las Ramblas
If you've heard of Barcelona, you've probably heard of
Las Rambla
s. This famous street stretches from the port all the way up to Plaza Catalunya in the centre of the city. It's tree lined street is symbolic of the city with tourists from all around the world descending on it to enjoy the market stalls and street performers. Fun fact: Its actually made up of five separate streets which have all joined together over the years. In summer it is exceptionally busy but if you get there in the off season, or early in the morning, its a great place to take a stroll and the perfect way to get from one end of the city to the other on foot without ever getting bored. The only thing that can get a little annoying are the guys constantly asking if you're looking for a coffee shop (hint: they're not selling you coffee. Think Amsterdam.) Overall though its a bit like La Sagrada Familia; one of those things you've just got to do. Hype rating: 7/10 That's just a handful of some of the major attractions in Barcelona but there's so much more to discover...and even more
hidden gems
throughout the city which only the locals know about. So get your itinerary out and get planning because there's always tons to do in Barcelona! Let us know in the comments below where you're headed. - Erin