99 Things to Do in Barcelona - Experience the Real Barcelona
We could easily make you a list with much more than
99
things to do in Barcelona
but we will focus on the really good ones here. As Barcelona is a very touristic city it has lots and lots of things to offer. Then again that does not mean you won't get bored due to lack of idea's. That is why we thought it would be good to provide you with this list. Here you will find activities that range from the touristic hot spots to insider restaurants, outdoor activities and much more. There is something for everybody here no matter if you live in Barcelona, visit frequently or if it's your first time in the city.
Watersports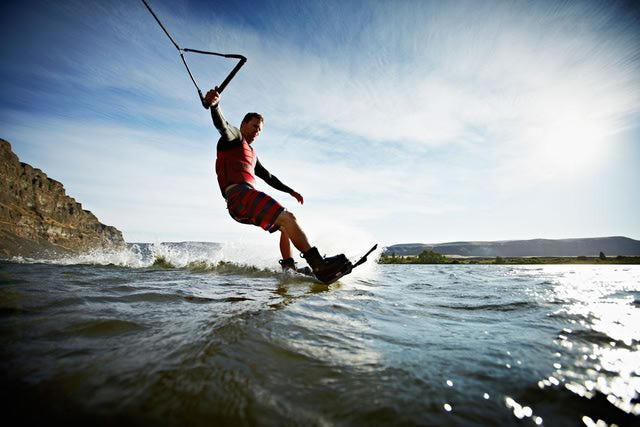 If you want an adrenaline rush and love speed this is the right choice for you even if you are a beginner. At the
Cable Wake Park Barcelona
you can not only improve your skills in wakeboarding but also practice waterskating and paddle surf.
2. Rent a boat
Rent a boat
in the harbour and enjoy the sea for some hours! Just don't forget your sunscreen so you don't burn alive on the water.
3. Jetski
This is a really fun activity you should try once in your life so why not here in Barcelona. At the Port Olímpic for example you can easily rent a jetski for half an hour and enjoy the speed.
4. Stand-up Paddling
Pick up that Paddle and let's go surfing without waves! It's really fun and also a really good way to get your tan on, but keeping the balance is not as easy as it seems.
5. Kite-surfing
Accept the challenge because it's time to learn something new! It might not be an easy sport to learn but when you actually are able to do it you'll never stop thinking about it.
6. Kayaking
When you don't trust your balance that much, kayaking is a good alternative to Paddle Surf. There are not many better ways to discover the Mediterranean sea in a gentle and relaxing manner.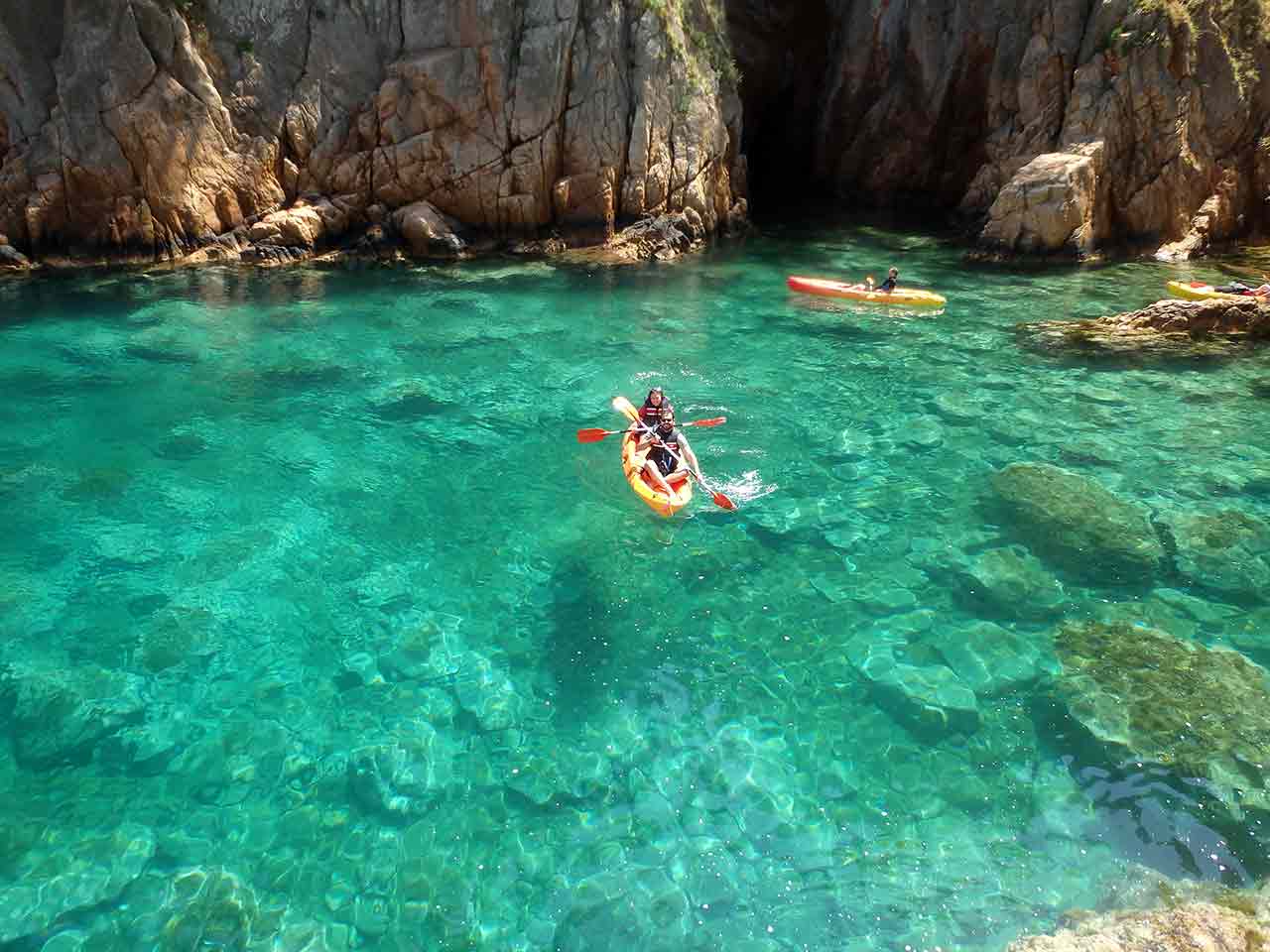 This is the perfect thing to do with your friends or your partner: book a sunset sailing trip and enjoy the wind and the waves with a glass of wine.
8. White Water Rafting
Experience a real thrill while going downstream with a group of friends or join a group and meet some new people. But prepare to get wet on this
fast-paced river race adventure
.
9. Swim in an Olympic pool
The pool in top of Montjuic remained from the Olympic Games of 1992 and is now open for the public to enjoy a good swim and an amazing view of the city.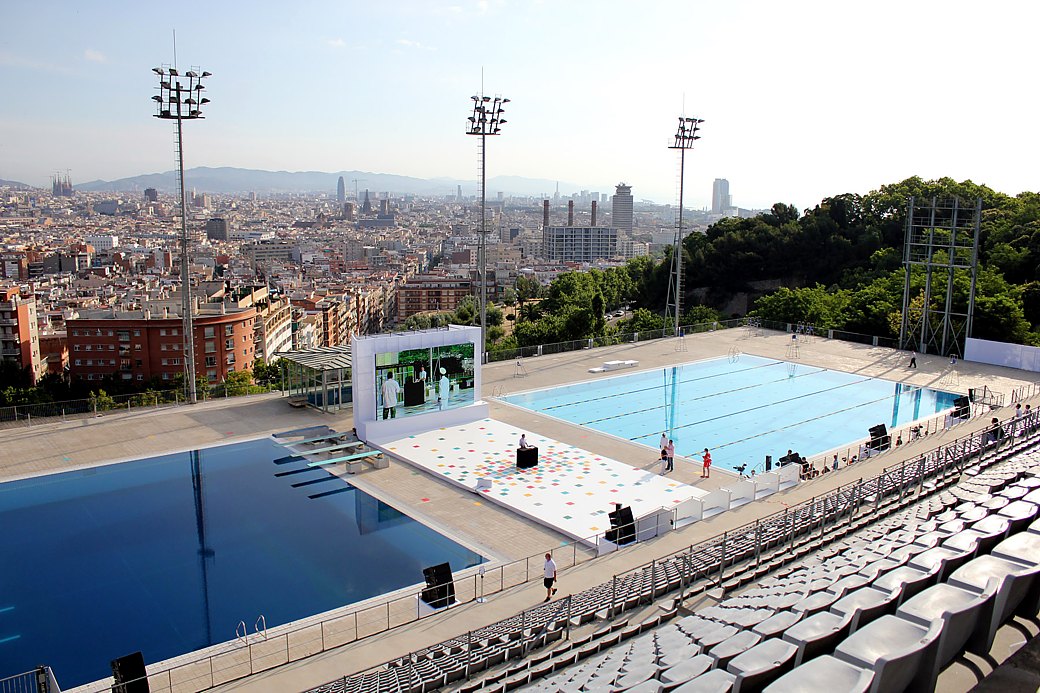 Active
It's time to battle! Take your best friends with you and take it up against the other teams in a good game of Paintball. This experience requires teamwork, stealth, agility and most important a desire to have fun.
Get those walking boots out of your closet! It's time for some sports, climb that mountain and enjoy the beautiful views this place has to offer! And don't forget to snap a picture while you are there.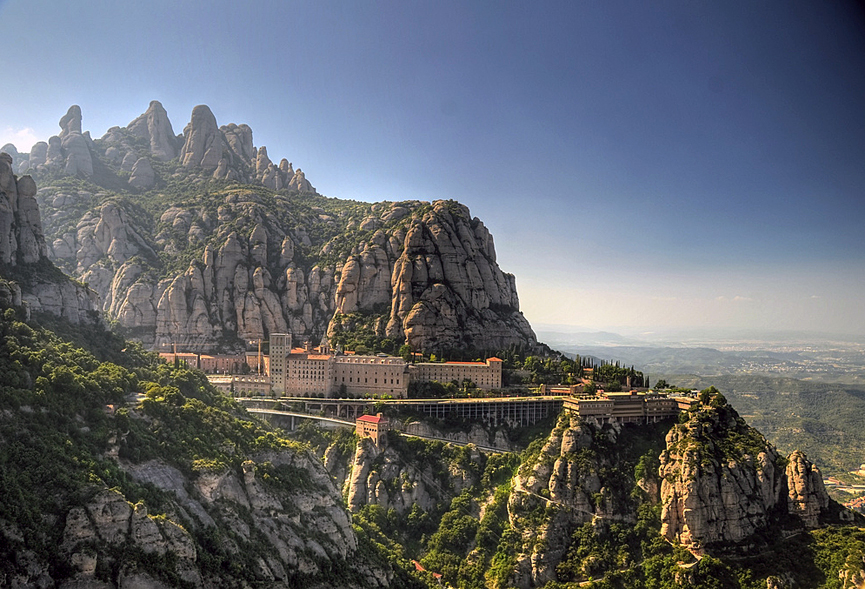 12. Go rollerskating or longboarding
If you enjoy longboarding or rollerskating the
Barceloneta
boardwalk is a great place to do so. You can enjoy a ride along the beach and maybe dive into the water real quick afterwards. It is also possible to rent longboards and rollerskates if you are just here for a visit or don't have your own gear.
13. Go Bungee Jumping
Enjoy the adrenaline rush and the intensive feeling of the free fall when you jump off the bridge with a bungee cord. Are you tough enough for this experience?
14. Tennis
Get out of the city and up on the mountains where the tennis fields are located, away from the busyness of Barcelona. Rent your equipment there or take your own gear and enjoy a nice match of tennis.
15. Beach Volley
Along all the beaches in Barcelona you will find multiple fields where you can spend your time playing volley with your friends or strangers who might become friends. A perfect activity if you don't just want zu lie lazily on the beach.
Relax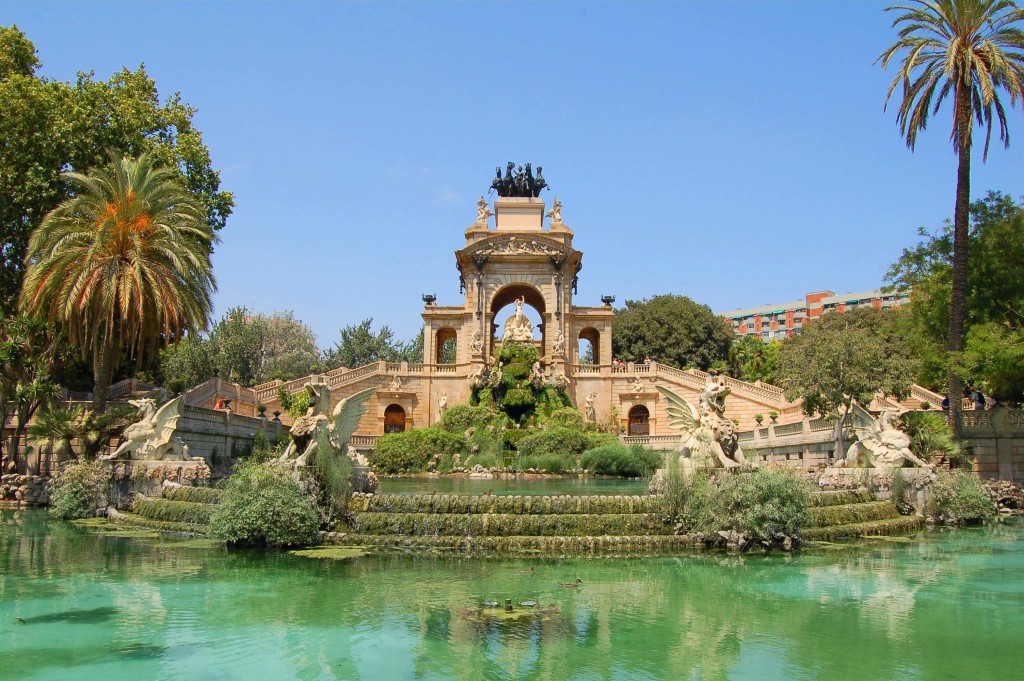 16. Go on a jazz boat tour
This is definitely one of the most relaxing things to do during the golden hour in Barcelona. Get out of the crowd and relax on a boat while listening to some
amazing jazz tunes
and watching the sunset.
17. Relax on the beach
It sounds plain but sometimes it is really nice to just lie in the soft sand for a while enjoying the sun on your skin and now and then cool down in the water. Barcelona offers more than enough beaches like Barceloneta, Cuitadella or Bogatell. If that isn't enough for you you can easily take the train to Castelldefels.
18. Take a stroll through Parc Cuitadella
The
Parc Cuitadella
is also called Barcelona's urban "green lung" and it is not an ordinary park. For the universal exhibition in 1888 the architect Josep Fontseré designed various buildings and a beautiful fountain that make the park really worth a visit.
19. Watch a movie under the stars
In Barcelona there are various places that show movies in the open air during the summer months. Just make sure to bring your own seat as they most often do not provide it. To make the evening perfect you can also take something nice to eat and drink with you.
20. Visit the botanical gardens
The Jardín Botànic is located between the Castell de Montjuic and the Olympic stadium and offers 14 hectares of typical vegetation of six different climate zones like Australia, California and Chile.
21. Hike an bike through Collserola park
When you want to escape the hustle of the city for a little while the Parc Collserola is the perfect place to go to. In the 80-sq-km park you can do some hiking or biking and also learn something about the environment in the 15th century farmhouse Can Coll.
22. Arabic style bath at "Aire de Barcelona"
This place is perfect to forget all your worries while enjoying amazing baths and massages. The "
Aire de Barcelona
" is a hammam with a great reputation as it has locations in New York, Chicago, Almeria and is soon opening another one in Paris.
23. Try out a cooking class
Here's something for your taste buds: Cook some delicious catalan dish with the help of a professional cook. It's the perfect way to impress your friends and family at home with your newly learned cooking skills.
24. Go to the Opera
Listening to impressive classical music is always a good way to shut out the world around you and just be in the moment. The Gran Teatre del Liceu is the catalan city's biggest opera house which hosts popular operas like for example 'The Magic Flute'.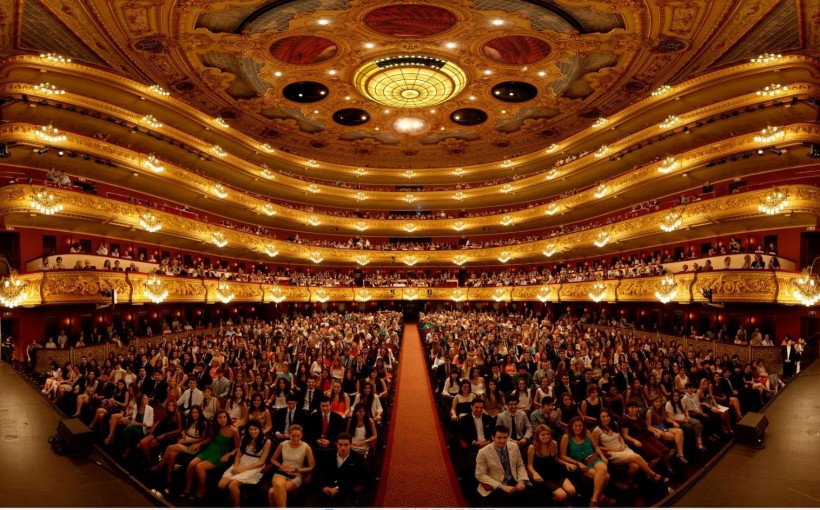 25. Watch a movie in the Cinema
Going to the cinema is never a bad idea as soon as you start to feel bored or just lazy or the weather just isn't good. There is nothing better than sitting down in a comfortable cinema chair and let the screen entertain you for a good two hours. A lot of cinemas in Barcelona also show movies in English like for example the Renoir Floridablanca.
26. Visit 'Bunkers del Carmel'
If you enjoy a good view this is a must-see on your list of
things to do in Barcelona.
The '
Bunkers del Carmel
' offer an amazing 360 degree view over the city. The best time to visit is during the sunset as people sit on top of the bunkers and watch the sun go down with some drinks and snacks brought from home. Be sure to check how to get there and also how to get back as in the evening there are less buses.
27. Relax on Ocata beach
If you are done with going to the crowded beaches of Barcelona and want to go to a more relaxed one then the Ocata beach is a good option for you. It also offers sand, sun and sea but in a more peaceful atmosphere, also the water tends to be cleaner here.
Markets

Barcelona has many pretty squares which during some days of the week are taken over by
markets
where people sell goods from books over flowers to furniture and many more things. Here are  some of the markets we think are worth visiting.
28. Art Market Mercadillo de la Plaça de Sant Josep
A few Catalan artists and their easels gathered in the shadow of a church compose the Mercadillo de la Plaça de Sant Josep. Even though there aren't more than 15 artists, together they cover every style from watercolors to oils and much more.
29. Flea market Fira de Nautumismo
The Fira de Nautumismo is a collector's paradise with for example coins and stamps en masse and takes place on the Plaça Reial every Sunday. Fun-fact: When in the afternoon the official market closes and the police is off doing their siesta, some of the elderly locals haul out their own stuff to sell.
30. The odd flea market Encants Barcelona
At this place you will find everything and by everything we mean literally everything. You can buy antiques, cosmetics, power tools, furniture and much much more. However if you are looking for real bargains you will have to arrive early as antique auctions for example take place at 7 o'clock in the morning.
31. Flower market Mercat de la Concepcio
This is a lovely sweet-smelling and colourful market close to Passeig de Gràcia where it's nice to just pop by and have a look around. If you are a little bit of a gardener you might come across some interesting plants that you have never seen before.
32. La Boqueria market
It is probably the most popular
market
of the catalan city and might already be on your list of things to do in Barcelona. Located on La Rambla you can fill your stomach with tons of delicious and fresh food that is piled up all around you.
Craft beers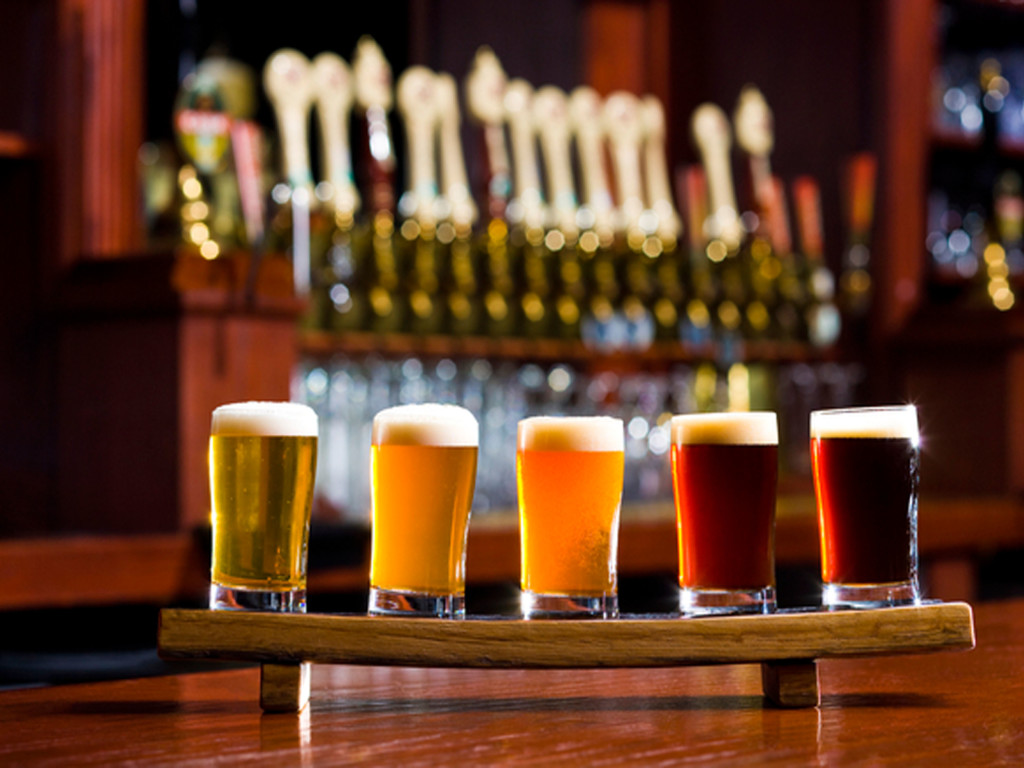 The
craft beer
scene in Barcelona is growing faster and faster! That's why all over the city you can find places which offer some delicious craft beers. Many of them make their own ones but also offer beers from other breweries. Here are our favorites:
33. BierCaB
BierCaB
is definitely our favorite of them all for two reasons. First of all they offer a really wide range of beers as there are always 30 sorts available on tap and even more bottled beers. And second: in addition to that BierCaB has a great food menu which is reasonably priced.
34. Brewdog
At the
Brewdog
you can enjoy your beer in an amazing atmosphere choosing from 20 taps. But don't worry if you aren't that familiar with beer brands the staff will help you to find the right one for your taste.
35. Kaelderkold
The Kaelderkold is not only a good craft beer bar for men but also for women because they offer the perfect bait to attract females: beer cocktails.
Restaurants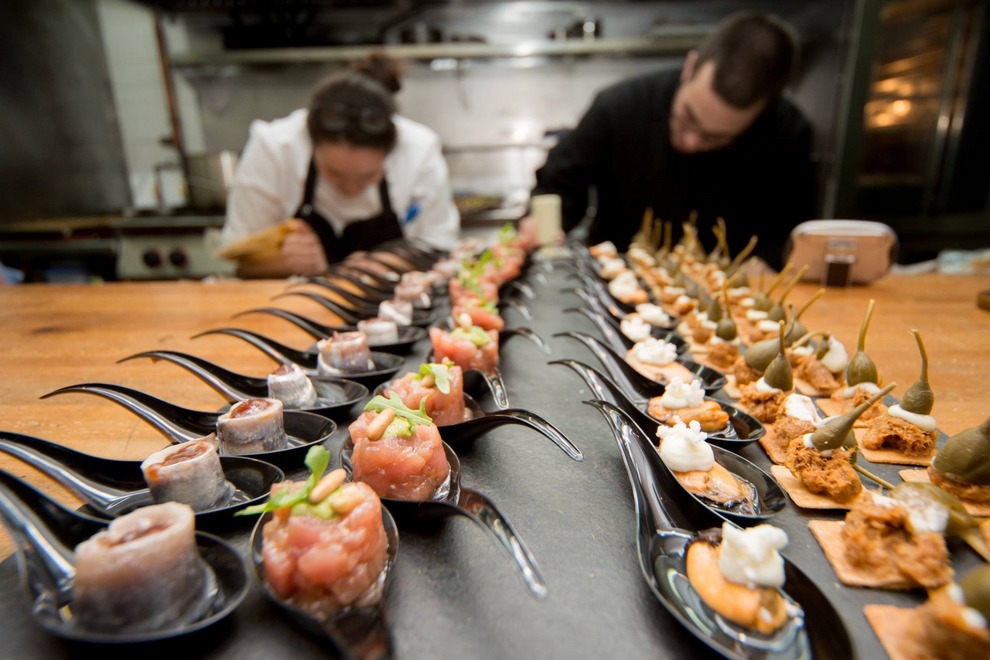 36. Spoonik
When you want to experience something extraordinary
Spoonik
is absolutely the right choice for you. During a 15 course menu you get to use all your senses because they create a show around the food with sound effects, video animation on your table and the perfect wine for each course.
37. Boca Grande
If you are looking to have a really nice evening with good food in a sterling atmosphere then this is the restaurant you should go to! It is beautifully decorated inside with little details all over the walls and ceiling.
Boca Grande
has a Restaurant on its ground floor, a roof terrace for cocktails and an unusual bathroom downstairs where many people tend to spend their time taking pictures.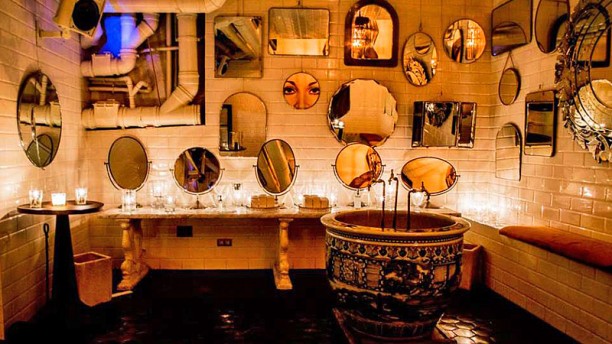 38. LLamber
Are you ready for an explosion of your taste buds? At the
Llamber
you will get something not only for your stomach but also for your eye as the tapas here are served beautifully and additionally taste really delicious.
39. Uma
Like the Spoonik the
Uma
offers a menu with various courses that will make you feel like the food is not from this world. It is a very small place and because of its delicious creations really popular so make sure to make a reservation early enough.
40. Have a budget sushi lunch at Kamiya
Any sushi lovers here? For a quick sushi lunch you should add the Kamiya to your list of
things to do in Barcelona
. Here you can get a really tasty menu of 4 plates including a drink and coffee for just 10 euros.
41. Dans le Noir
How does it feel to not be able to use all your senses anymore? At the
Dans le Noir
you can experience the sensation of not being able to see while eating in a pitch-dark environment. That way the flavour of the dishes is at the forefront.
42. Kokun Restaurant
'Life is too short to waste it eating and drinking badly' that's the daring slogan of chef Xavi Moreno who is responsible for the dishes at
Kokun
using only the most natural ingredients possible in his creations.
43. Sol Soler
The tapas bar Sol Soler is located in the heart of Gracia at the lovely Plaça del Sol. Here you can choose from a wide range of delicious tapas and enjoy them with your friends in a casual and trendy atmosphere.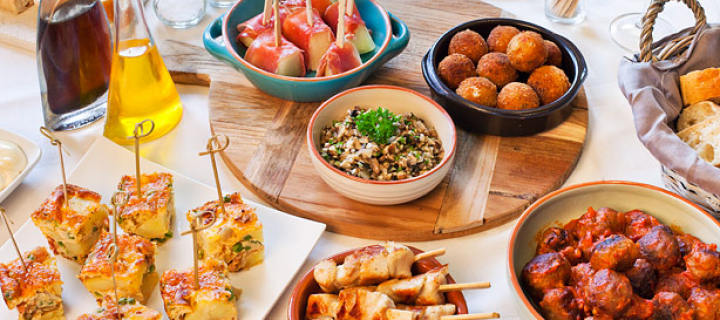 Brunch & Treats
Brunch
has to be one of our favorite lazy morning activities: sleep in, don't hurry and then make your way to some place to eat for an hour or two. The Brunch scene in Barcelona is still young and growing which means new premises are opening everywhere. Here are the best ones:
44. Cosmo
Located just behind the University of Barcelona is our favorite brunch place. Cosmo offers a good and well priced menu with amazing food and drinks. We would suggest ordering "The Munch" as it's filling and offers more than just one flavor. Cosmo is not the only venue of its kind as they have more locations under different names like "Cafe Cometa" and "Orïon".
45. Brunch & Cake
Famous for its delicious cakes and cupcakes Brunch & Cake usually has a long queue in front if you don't arrive early enough. The cakes at this place are simply amazing and we can't say anything different about the rest of the food, it is definitely worth a visit.
46. Meatpacking Bistro
Do you want to feel as if you traveled all around the world to New York City? Then this is the perfect place for you. The
Meatpacking Bistro
convinces with a casual living room atmosphere, with book shelves, couches and of course delicious food.
47. Petit Pot Bistro
In a rustic-style environment the
Petit Pot Bistro
serves a really good fairly priced brunch with for example eggs benedict and french toast. It's a place with a nice cozy atmosphere and attentive staff.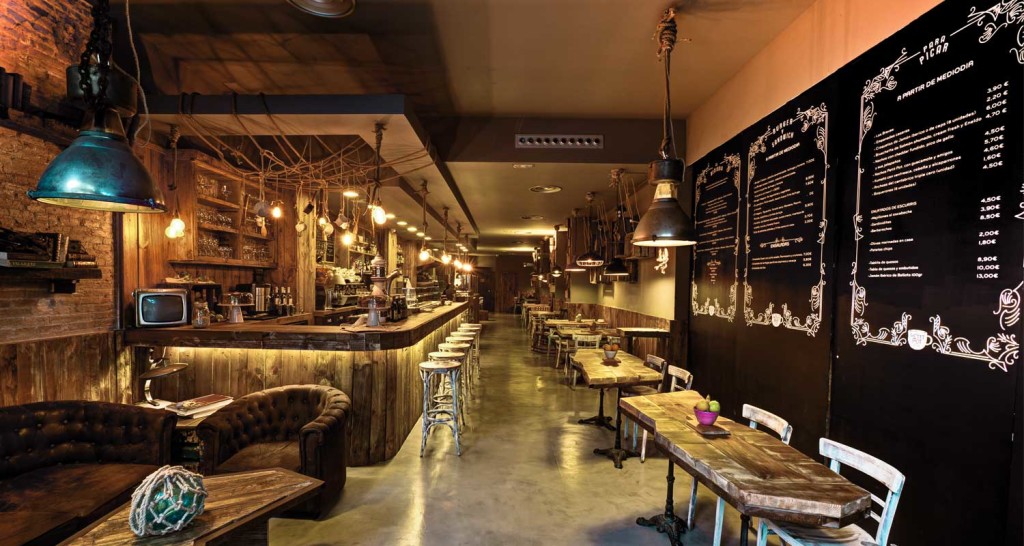 48. Ugot
Ugot got our attention because of the amazing decoration they have inside. All the walls in this place are decorated with items worth looking at like shiny old antiques and great wall papers. Actually everything in this place makes you feel as if you traveled back in time. And of course Ugot also offers amazing food and drinks on their menu, especially the burgers are really good.
49. Caravelle
The
Caravelle
is THE location for young people and students as it is a really hip and chill place. Here you can get one of the best smashed avocado toasts in town as well as for example delicious banana bread and homemade lemonade.
50. Chök the chocolate kitchen
Chök
- the name says it all! At this place you can get everything in some way related to chocolate: from donuts to cronuts to other pastry -  basically everything that qualifys to be coated with chocolate.  And it's so delicious!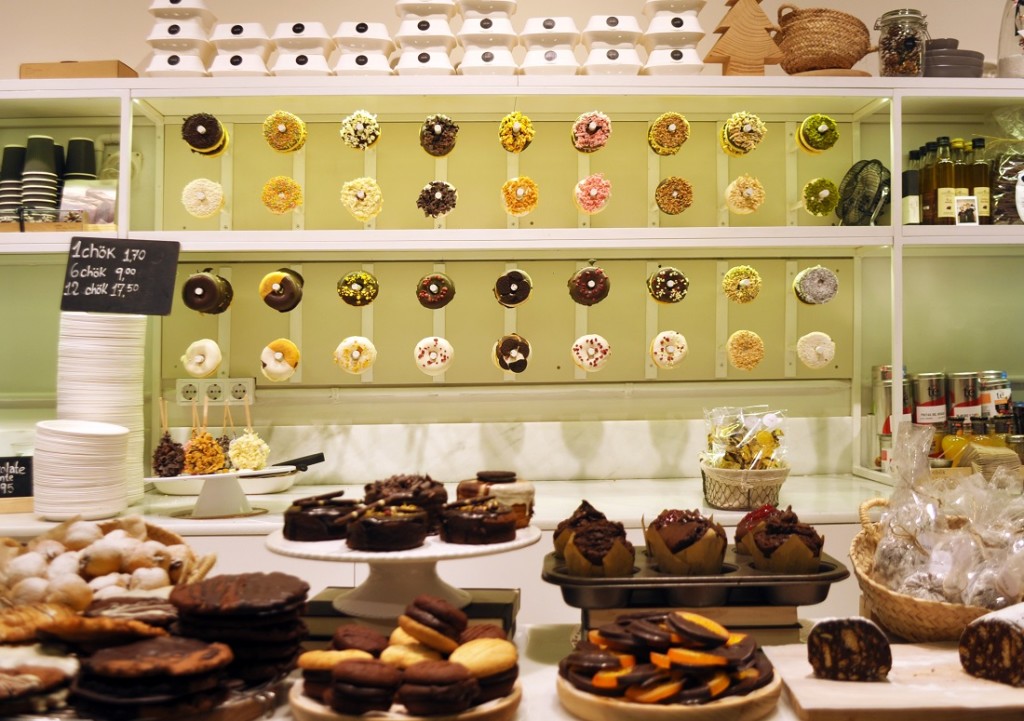 Family & Friends
51. PortAventura World
Visiting this
theme park
might be the best thing to do if you want to spend a good time with your
kids in Barcelona
, as you won't have to drag them through the streets while every 10 minutes they ask when it's time to go to the beach. The park is divided in various themed zones like China, Mexico or the Far West and offers a whole lot of fun with many exciting rollercoasters.
Here you can't be afraid of getting wet because you definitely will. If you like action you can try out all kinds of slides and if you just want to relax while your kids romp around there are a lot of quiet zones as well.
53. Watch the magic fountain show
In the evening the fountain at the root of Montjuïc comes to life to compose a magical show of water, lights and music. Many people compare it to the fountain show at the Bellagio in Las Vegas and rate it even better!
54. Tibidabo amusement park
At 500 meters high the
Tibidabo amusement park
is the highest point of again the highest mountain of Barcelona. This obviously makes this site also called the magic mountain one of the most amazing look out points for a view over the city.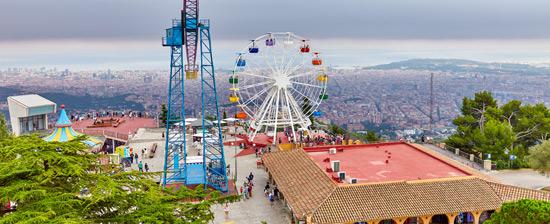 55. L'Aquàrium Barcelona
If you are a fan of the life under the sea
L'Aquàrium
is the perfect place to visit as here you can see more than 11.000 different marine creatures and an underwater tunnel going through the shark tank.
56. Escape room
Can you
escape
? During this adventure game you have to use all the brain cells you have left to get out of a room using the elements inside to solve a series of puzzles.
57. Barcelona Bosc Urba
Looking for some adventure within the city limits? Then you definitely have to try the 50 plus attractions of the
Urban Jungle Barcelona
 with zip lines, bungee jumping, log rolls and much more.
58. CosmoCaixa Museum
Wear your nerd glasses because here you will learn a whole lot about everything concerning science at various exhibitions. One highlight is the Planetarium which takes you on an incredible journey through space and time, past the planets and stars of the universe.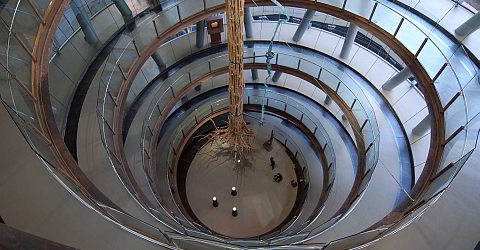 Party
The
club scene
in Barcelona is big and booming, you can easily make the night your day! This makes it a great place for partying and at least one night out should be on your list of
things to do in Barcelona
. Here are some of the best and most well known night venues from which you can choose.
59. Swing your hips at Sala Razzmatazz
The huge club
Sala Razzmatazz
offers 3700 m2 of dancefloor split up in five different spaces with another music genre in everyone of them like indie pop, alternative rock or electro. Also from time to time the club hosts amazing concerts, just check out the event calender on their website.
60. Chupitos Esprit
With the price of two euros per shot of alcohol
Chupitos
is the perfect place to go for pre-drinking before moving on to one of the bigger clubs of the city. In their multiple locations all over the city they offer more than 200 different kinds of shots which are served in a witty way.
61. Old Fashioned - Gin Tonic & Cocktail Bar
When you like really good cocktails and a casual but fancy atmosphere the
Old Fashioned Bar
is definitely the right adress for you. The barkeepers here sure know how to prepare a tasty Gin Tonic.
62. Sala Apolo
Located inside an old theater the
club
is the perfect choice for you if you like techno or rock. Additionally to various DJ's the club also regularly hosts concerts of several genres. So let's get this party started!
63. El Bosc de les Fades
Once you take a step over the threshold of this bar you will feel like you have been transported to an enchanted forest. Decorated with trees, leaves and little lanterns it radiates a special charm while you enjoy your well-priced food and drinks.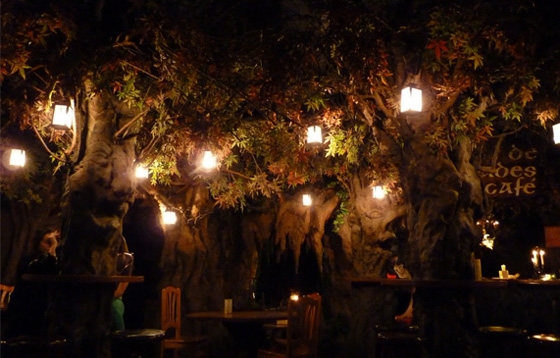 64. Touch Music Karaoke
You love to sing under the shower? So why not take your voice to a stage? At the Touch Music Karaoke you can choose from thousands of songs to present to the audience which is so much fun, you will see!
65. Otto Zutz
At this
club
the crowd is very young and ready to party all night long on the three dancefloors. If you can keep up this is the perfect location for a looong party night with good drinks and hip hop music.
This outdoor event is a must go to during the summer months if you are a fan of techno music. It takes place every sunday on the Montjuic mountain and you can have a good time with your friends in the sun, dancing and having drinks. It's the perfect place to spend a sunny sunday while you are in Barcelona.
67. Let's go salsa dancing at Club Mojito
One venue you should really check out is the Club Mojito a salsa bar in the district of Eixample. Here you can dance to the latest latin songs and even learn how to dance salsa in the clubs own school. Additionally every sunday a 100% cuban band is playing live music for all the salsa fans.
68. Drink Absinthe in a really old bar
The Bar Marsella is the oldest bar of Barcelona where people like Gaudi, Picasso and Dali used to go for a drink. As Absinthe is the specialty of the house just light the sugar, let it melt and try one of the strongest alcohols you'll ever taste.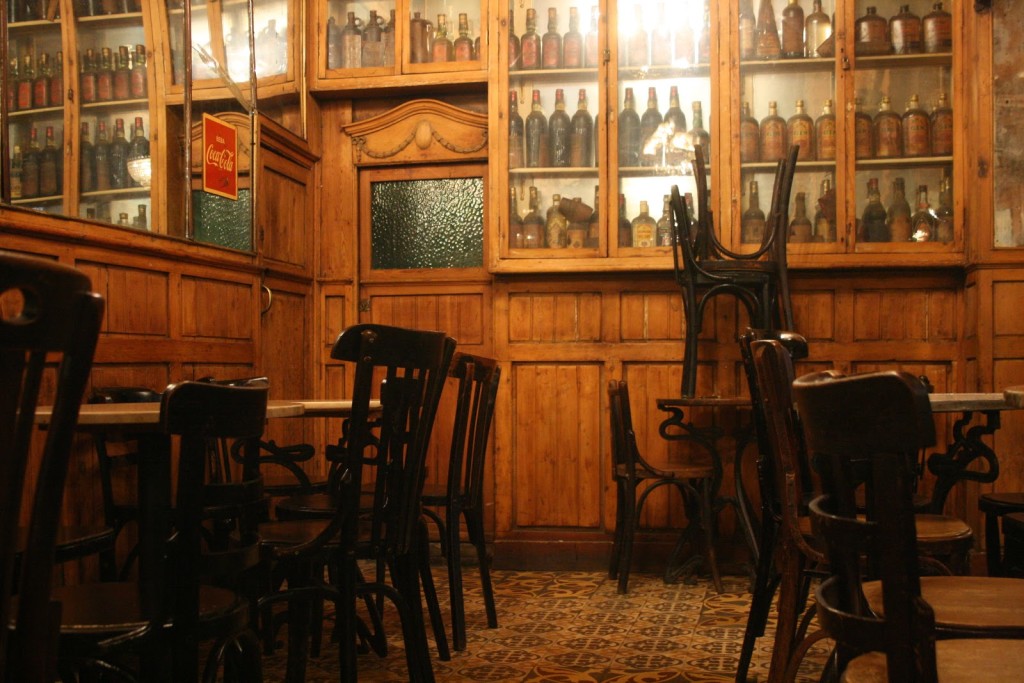 Tours
69. Vesping through the city
Getting around by foot and metro can get boring and time consuming, therefore 
renting a scooter
to get around the city is the best option as you can meander your way through the traffic and park almost everywhere.
What happens when you combine three elements like a passion for photography, a beautiful city and a clean, modern form of transport? You get the perfect way to discover the prettiest corners of Barcelona in a fun and comfortable way using an e-bike.
This should be on your bucket-list already and why not realize this dream over such a beautiful city as Barcelona. Discover the impressive Sagrada Familia, the port and much more from the bird's-eye view. An experience you will never forget!
72. Hot air balloon tour over Catalunya
When you want to leave the hustle and bustle of Barcelona behind for one day, an early-morning
hot-air baloon flight
is the perfect way to do so. Experience outstanding views over Catalunya from heights of up to 900 meters feeling the sense of freedom and tranquility while floating through the air.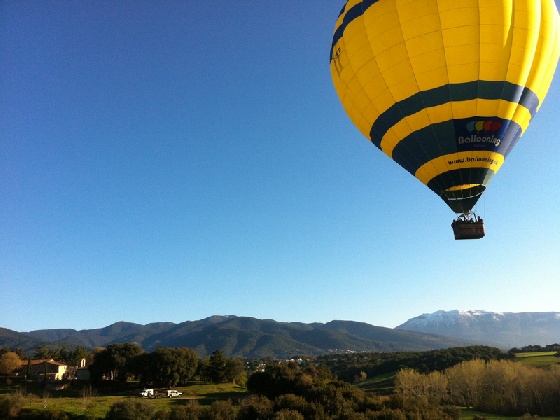 73. Tapas and wine walking tour through Barcelona
You like delicious food and drinks? Then a tapas and wine walking
tour
is a good way for you to taste the best Barcelona has to offer. Here you will learn how to order tapas and discover some of the most unique bars and cafes of the catalan city.
74. Photoshoot tour
At this
tour
you will not be taking photos yourself, instead a professional photographer will take stunning pictures of you in front of the most spectacular spots in Barcelona. This way you get to discover the city and have amazing photos to remember it by.
75. Street art and bike tour
Barcelona offers a lot of amazing
street art
everywhere you look so why not jump on a bike and take a morning ride through the world of art on Barcelonas streets. If you want to challenge your inner artist you can also try out a workshop yourself.
Museums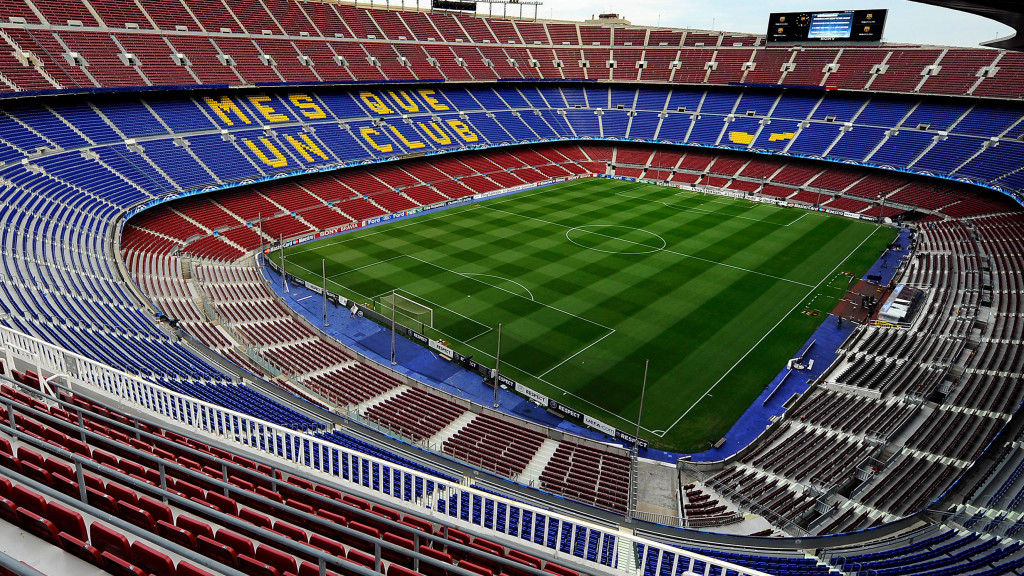 76. Camp NOU
The FC Barcelona is one of the most successful soccer clubs of the world and the
Camp Nou
is its home stadion. In the stadiums own museum you can learn all about the clubs history and have a look behind the scenes.
77. Walk on Picasso's traces
The
Picasso Museum
offers more than 4000 pieces of art from Picasso's youth which equals the most extensive collection of his works. It is being exhibited in five medieval palaces in Barcelona's Ribera and of course a Mekka for a lot of artlovers.
78. Poble Espanyol
It's time to learn something about the spanish culture and
Poble Espanyo
l is the place for you to do so. The open-air museum built in 1929 on the Montjuic recreates a spanish village with characteristical houses from different regions like Andalusia and Basque country.
79. Sagrada Familia
This obviously has to be on our list of
things to do in Barcelona
as it is the most famous sight of the city and really worth seeing. It stands out because of its stunning and exceptional architecture designed by Antoni Gaudi and is not finished until now. Be sure to book your ticket beforehand because otherwise you will have to wait for a long time to get inside.
80. Park Güell
Another Gaudi masterpiece is the
Park Güell
which resembles a phantasy-like landscape with modernism buildings and a lot of colours.
81. Museu Nacional d'Art de Catalunya
The
MNAC
is located on the Montjuic mountain and housed inside the Palau Nacional, a huge italian-style building from 1929. It hosts Catalan art and design from the late 19th and early 20th century as well as a collection of romanesque church paintings.
82. Museu de la Xocolata
This is definitely something for sweet tooths who love chocolate! At the museum they show the history of chocolate in Europe, with several artworks and sculptures made out of it. In the Sala Barcelona you can even find buildings like the Sagrada Familia made of chocolate.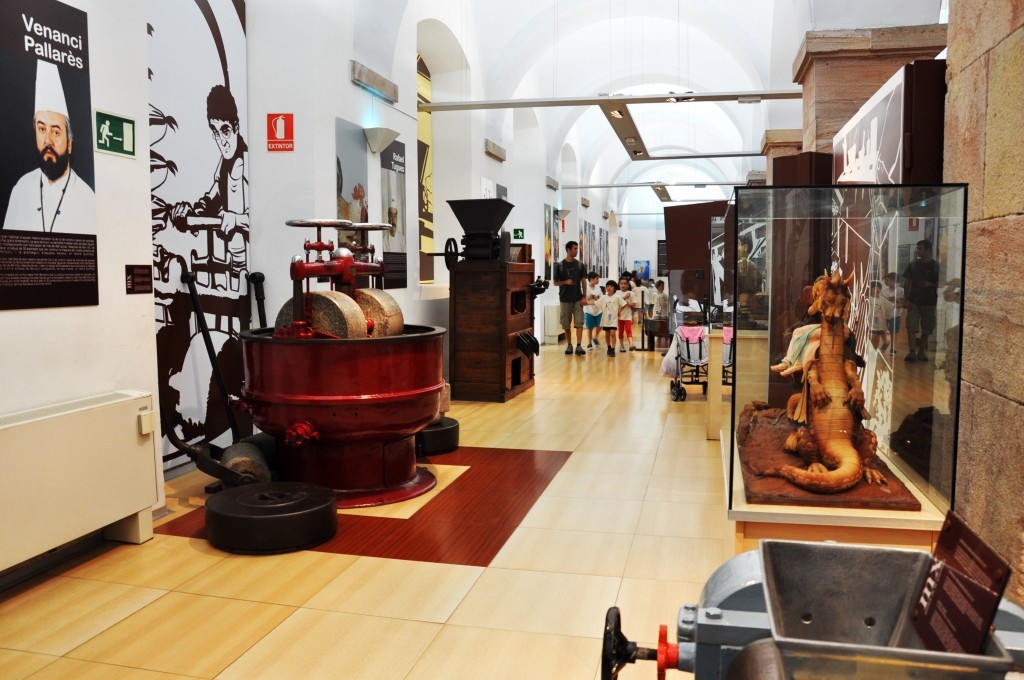 83. Casa Milà
In Barcelona there is just no way around the modernism architect Gaudi as he influenced and designed a lot of buildings such as for example Casa Milà. The house was constructed for the Milà-family in 1906 and because of its unusual design is an absolute must-see.
84. Museu d'Art Contemporani
This
museum
is located in the neighbourhood of Raval, on the website you can see what kind of exhibition is being presented at the moment. Also if you like skateboarding this museum is a great location as there are always some skateboarders practicing their skills.
Rooftops

85. W-Hotel
The
W-Hotel
rooftop bar is a perfect place to grab a cocktail while enjoying the beautiful city of Barcelona on one side and the gorgeous Mediterranean sea on your other side. It is one of the rooftop bars in Barcelona where people like to see and be seen.
86. Majestic Hotel
This
rooftop bar
is one of the most luxurious and glamorous ones in Barcelona where people chill on sofas, drink delicious cool cocktails and relax at the pool with wonderful views of the Sagrada Familia and the Montjuic.
87. Grand Hotel Central
This one is considered as one of the best
rooftop bars
in Barcelona with possibly the most spectacular deck in the city centre, with its infinity pool and close-up views of Barcelona's rooftops.
88. Grand Hotel La Florida
Located on the mountain of Tibidabo this is one of the
rooftop bars
in Barcelona that completely trumps the rest of them as it is impossible to find a bar with a better view over the city than this one. Getting there however isn't that easy so you should plan your way there timely.
This is one of the rooftop bars in Barcelona that is quiet new, located on famous Passeig de Gracia. It offers amazing views over Gaudi's Casa Milà and Sagrada Familia, low, moody lighting and occasional live music performances.
Events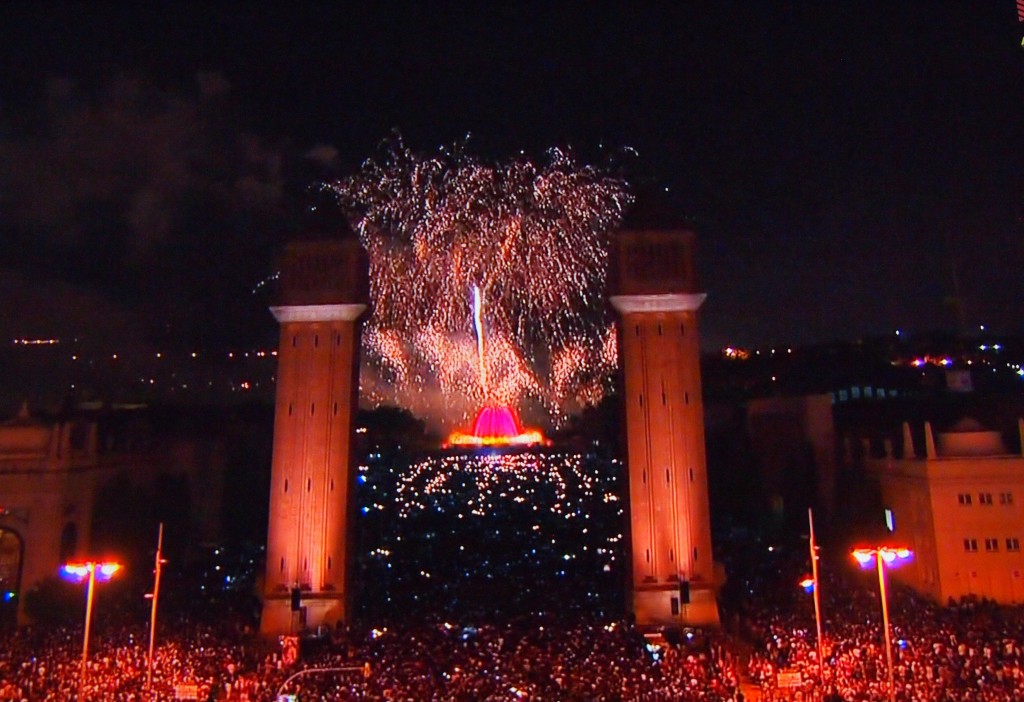 90. Fiestas de los Barrios
These are events you cannot miss when you are in Barcelona in August and September. The various districts of the city arrange their own street festivals with imaginative decoration, music, food and drinks. Most of the people say they like the Festa Major de Gràcia the most so be sure to check it out.
91. La Mercè
The Festes de la Mercè is a huge city festival in honor of the patroness of Barcelona La Mercè. It takes place around the 24th of September and offers almost 500 events all over the city like the human towers called Castellers, Correfoc - the fire spitting dragons - and the Gigantes.
92. Sónar Festival
It is one of the most prestigious festivals for electronical music and multimedia art and the biggest one of its kind in Europe. It takes place on the third weekend of june every year and is visited by 120 000 people. Even if you are not the biggest electro fan it is absolutely worth your time.
93. Fira de Santa Llúcia
When you are in Barcelona during the time before christmas you should have a look at the christmas market Fira de Santa Llúcia which is set up around the Barcelona Cathedral every year. It is the oldest christmas market of the city and offers around 300 stalls selling among other things a lot of handmade items.
94. La Diada
The National Day of Catalunya also just called La Diada is a very important day-long festival in the catalan city and all over Catalunya which takes place on the 11th of September. During this day there are demonstrations all over  Barcelona and many museums like the MNAC offer free entrances.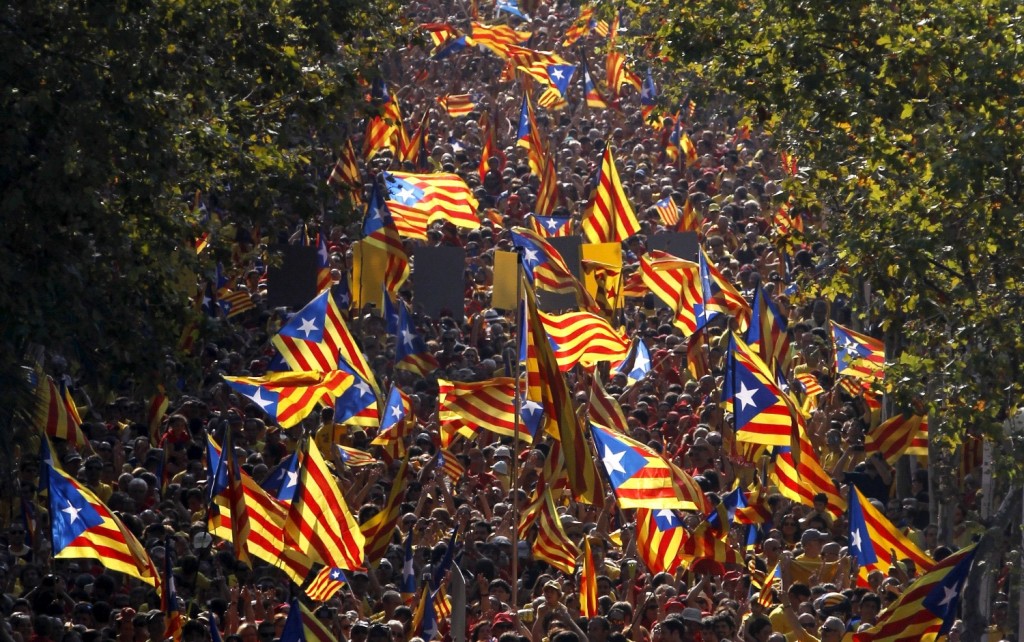 Shopping
95. L'illa Diagonal
Shop till you drop - if that's your motto of the day then
L'illa Diagonal mall
is the perfect place for you. Here you can choose between a multitude of shops and food stalls in a elegant atmosphere.
96. La Cereria Subirà
Travel through time by visiting the oldest shop of Barcelona La Cereria Subirà. Surrounded by the original baroque décor you can find candles in every size and form, made out of high-quality beeswax and paraffin.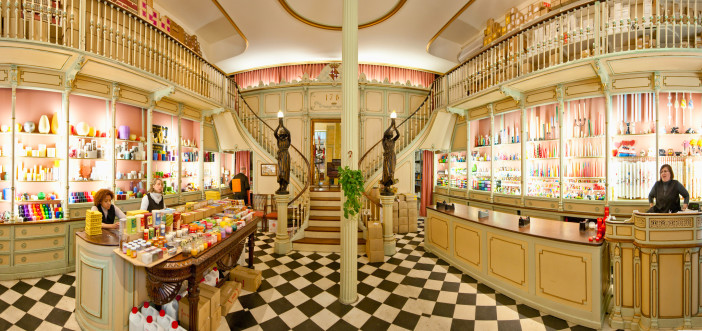 When you like everything that has to do with photography you should definitely visit this
stylish store
as it offers a wide range of cameras like the Sardina Camera or the FishEye Camera as well as books, t-shirts and much more.
98. Soap Paradise
In the center of the Gothic Quarter, a little bit hidden the soap factory
Sabater Hermanos
is one of those unusual little stores that you can stumble across here in Barcelona. Here you can find every shape and aroma of soap you can ever imagine.
99. Buy souvenirs at Wawas Barcelona
Are you tired of the run-of-the-mill souvenirs you can buy in every little shop on the Rambla? Here is something worth your time: TheWawa is a refreshing alternative for people who want to take home a little bit of the 'real Barcelona' as it offers great souvenirs made in the catalan city but not the usual stuff.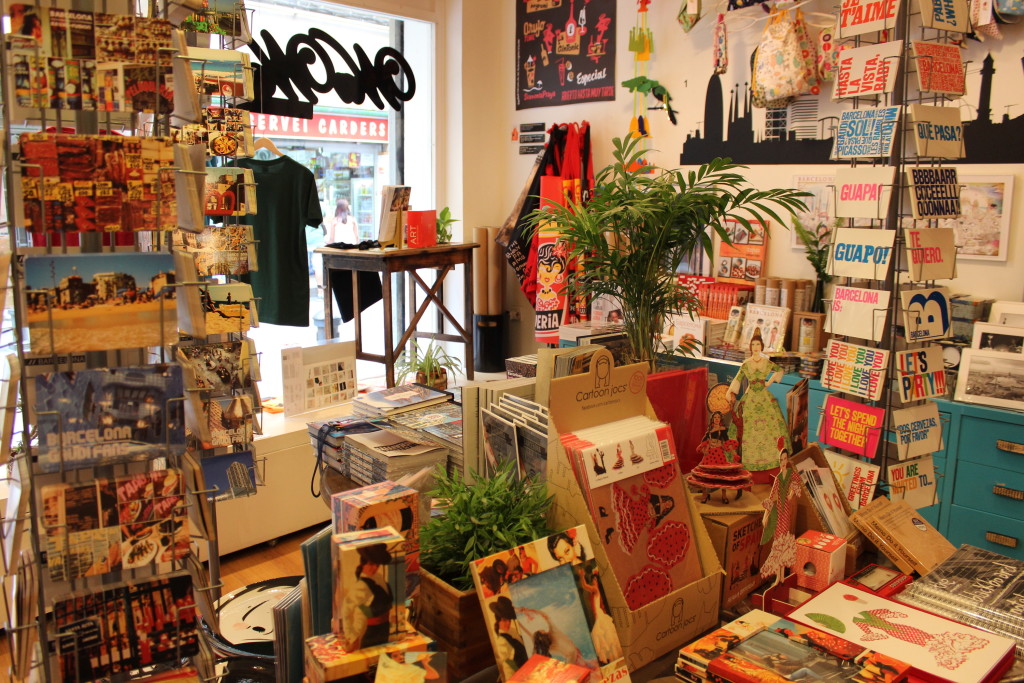 Wow that's a looong list but with it you will get a whole lot out of the city, we promise! We hope you enjoyed reading through it, do you know something that absolutely has to be on the list as well? - Samuel & Annika