Best Of AirBnb - Some Of The Most Luxurious Rentals Seen In Barcelona!
AirBnb has become one of the most popular platforms to share and rent apartments. Whether you're looking for a long term contract or just a holiday visit, AirBnb most definitly have what you're looking for! But AirBnb also have some pretty luxurious rentals! We have collected a list of some of the most luxurious rentals seen in Barcelona! These places may not be for everyone, but if you just won the lottery (or are ready to give up your first born child) this is for you! - We give you, the
best of AirBnb
!
1# Welcome Aboard, Sir!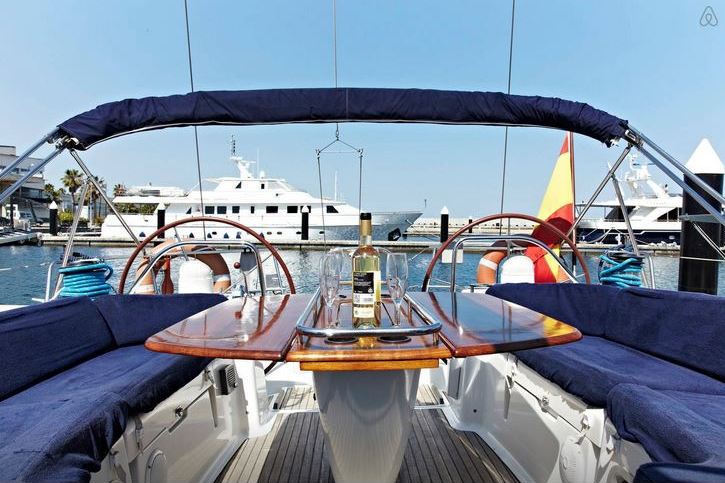 Wanna go for a boat ride? This beauty of a yacht contains 4 double cabins with own bathroom and a complete kitchen. You can even rent a Skipper for a day (or two) if you want to go on a day trip! Pretty cool huh? Well I'm ready to go! Are you?
Luxurious sail yacht in Barcelona
€475 Pr. Night
2#  1001 Arabian Nights'ish!
Count me in! This Bohemic/Aladdin'ish old Fortress is surrounded by vineyards, has a great sea view and only a 2 min walk from the beach. During your stay you can request a "detox" health program provided by professional therapists, they can help you eat right and regain strength and energy! Getting skinny while you're on vacation?! How awesome is that!?
ANCIENT 1770 FORTRESS - MASIA
€500 Pr. Night
3# Who Said Penthouse?
A two level apartment in best "fifty shades of grey" style! Not only does this apartment come with a stunning view, it also has a Terrace, Jacuzzi, swimming pool and sauna, you can even order breakfast if you feel like it! If they can guarantee a visit from Mr. Grey I'm moving in!
Over the top apartment
€500 Pr. Night
4# Panorama View!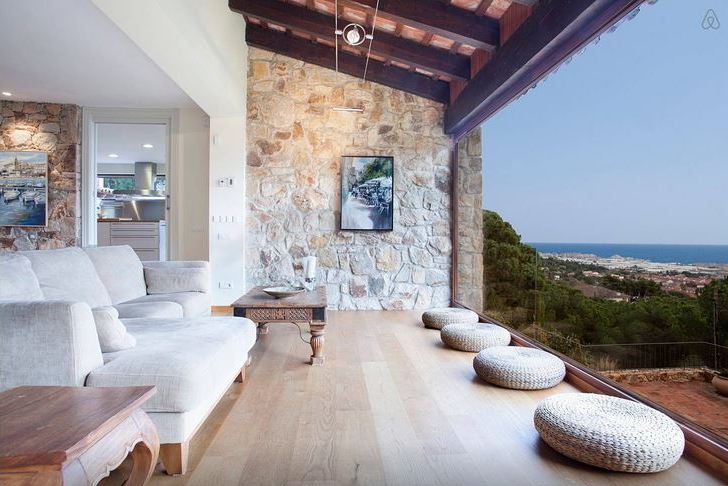 No worries, I'll just spend the rest of my days on the couch, who needs a T.V. anyway with this view?! This gorgeous Villa has a full panorama view over the beach, an exclusive private pool, lounge area with a pool table and if you're up for it a huge piano! If you want pure luxury and relaxation this is the spot!
LUXURY HOUSE WITH SWIMMING POOL
€1100 Pr. Night
5# Heaven In The Middle Of Barcelona!?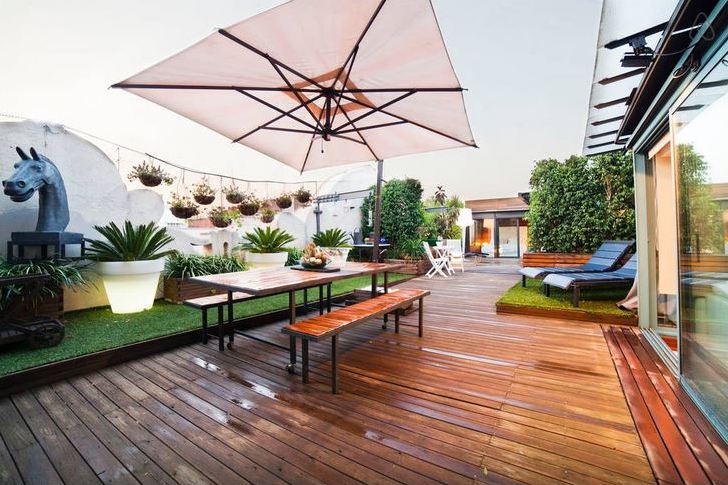 Did we just discover heaven on earth? OMG YES! This chic and trendy designer looking castle is centered in the Golden neighborhood in Barcelona! 5-10 walk from the beach, killer terrace (by that I mean like humongous terrace!) and there's room for 7 people (so you can bring your friends!). Old-world style meets modern life in this completely renovated apartment, with perfectly preserved 18th century façade of the building. City vacation on a whole new level!
The Modernist
€600 Pr. Night
6# Feeling Adventures?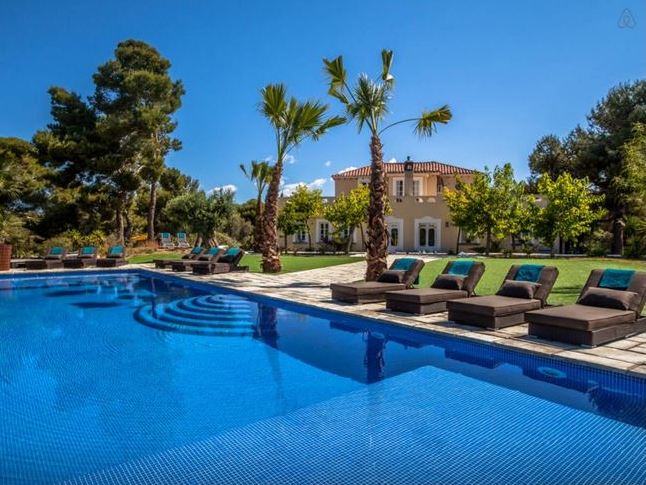 600 acres of absolute privacy! This Mansion offers 360 degrees of breathtaking views, enormous heated pool and huge terrace. With 400 square meters of living space and perfect location you should be able to sit down and enjoy the sweet life of Barcelona (or worry that you might get lost!). Whether you're the active or "relaxing" type of person, this place gives you the opportunity to do both, the mansion is right up the Garraf National Park where you can go hiking/Biking, maybe visit the Buddhist Monastery or you can just stay home and drink some of the local wine! I'm ready to go! Are you?
Casa Nova Estate, Sitges
€2000 Pr. Night
7# Pool Party Anyone?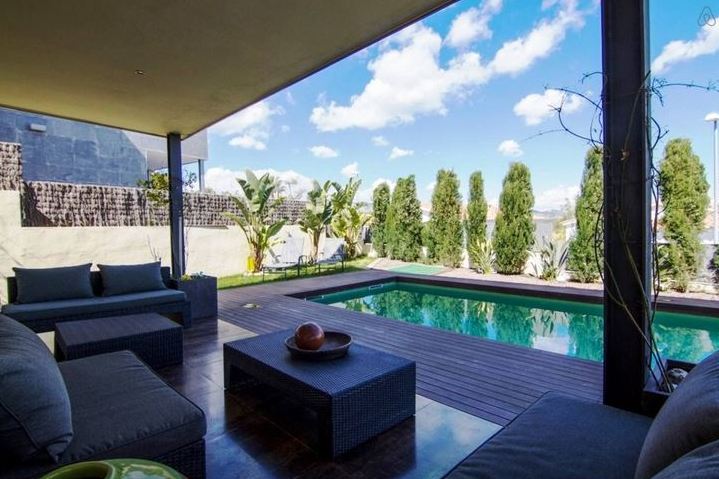 Perfect spot to work on your tan, maybe invite some friends over for Tapas? Oh Yes. 270 m2 of pure luxury in 2 floors, humongous bathroom (with Whirlpool tub!!!), awesome kitchen, great pool and terrace with your own BBQ Grill. Here you're guaranteed a vacation in best Hollywood style! I want to live here! Don't you??
Private villa at 3' of Sitges
€500 Pr. Night
8# Casa Del Spain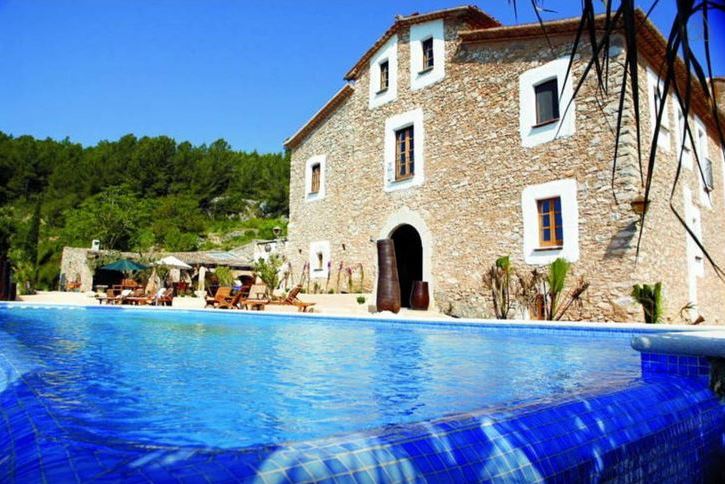 Did you ever wonder how it would be like to be a real Spanish Señorita or Señor? Well here's your chance, this enormous castle has no less than 300 acres of private ground with 14 kilometers of private tracks where you will find pear, olive, cherry, walnut and almond trees even Xarello grapes which is used for its own brut nature and white wine! I'm feeling the Spanish charm! Don't you??
Spanish villa like no other
€1500 Pr. Night Did you enjoy
the best of AirBnb
? I know we did! Now we just have to win the lottery to get one of these beauties. Let us know which is your favourite in the comments below!