The best and most friendly Barcelona tour guide companies.
Figuring out your way around Barcelona can be quite a hassle for newcomers to the city. Finding out which places to go and also which places not to go can be difficult and also time consuming. That is why we have made a list for you with companies we know so you can find your way. This list offers free, group and private tours for all places throughout the city.
Runner Bean Tours Barcelona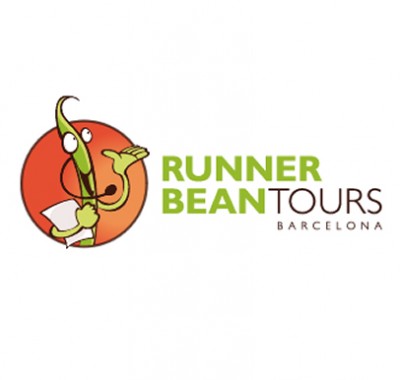 Whether you're looking for free walking tours of the
Gaudi neighborhood
and Old City, tours with the kids, historical, or private tours, Runner Bean Tours has you covered! Runner Bean Tours offers six different tour options. You can get a free tour through the Gaudi neighborhood to enjoy the marvelous buildings Gaudi has to offer as well as viewing the unfinished Sagrada Familia(Barcelona's signature architecture). The other free tour option from Runner Bean's is a tour of the Gothic Quarter where you can enjoy a walking tour around one of Europe's most charming medieval districts as well as learn the secrets behind the stones in the
Gothic Quarter
of Barcelona.
If you want a more historical tour you can either enjoy Runner Bean's 'City of Contrast' tour which is a tour of Pre-Spanish Civil War Barcelona(1835-1936). You can also enjoy the 'Dark Past' walking night tour which is a walking tour around El Born in the moonlight hours chronicling the punishments during medieval times in Barcelona and the infamous Spanish inquisition. Price per private group for both of these tours is 170 euros. The price per person for a scheduled tour of the 'Dark Past' tour is 15 euros a person while it costs 20 euros a person for the 'City of Contrast' tour. 
You can also enjoy a kid-friendly tour for 155 euros for a private group or 15 euros per adult or child in a non-private group. Children up to three years old can tour for free with their parents/siblings.
Sandeman's NEW Barcelona Tours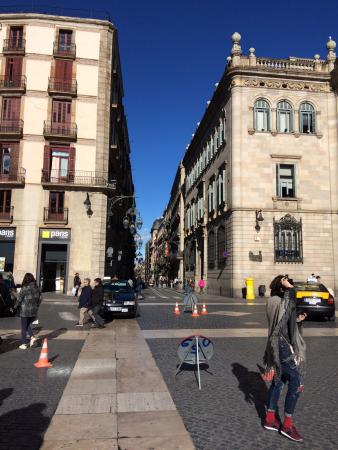 Whether you want a free tour, a bike tour, a modern architecture tour, or a tour that specializes on showing you the multitude of tapas that Barcelona has to offer, Sandeman's is the right tourism group for you! Enjoy free walking tours of Barcelona that start at 10 am, 11 am, and 2 pm daily or enjoy a bike tour that starts at 10:30 am daily. Regular prices for Sandeman's bike tours are 18 euros while it costs 16 euros for a bike tour if you are a current student. Prices for Gaudi/modern architecture tours are at a regular price of 12 euros with 10 euros being the price for students. Gaudi/modern architecture tours leave at 2:30 pm daily. Lastly if you want to learn more about Barcelona's famous and most popular tapas, enjoy a 'Tapas Experience Tour' for a regular price of 20 euros and 18 euros for students. Tapas Experience tours start at 7 pm daily. 
Barcelona Day Tours

Not in the mood for a walking tour but want to enjoy a tour comfortably? Barcelona Day Tours offers tours in and around Barcelona in air-conditioned vehicles that can fit any sized groups and can pick up from any location including the cruise line port and airport. Barcelona Day Tours offers a number of tour options that can take you anywhere in Barcelona. Prices range from 59-99 euros per person depending on the tour. 
Brightside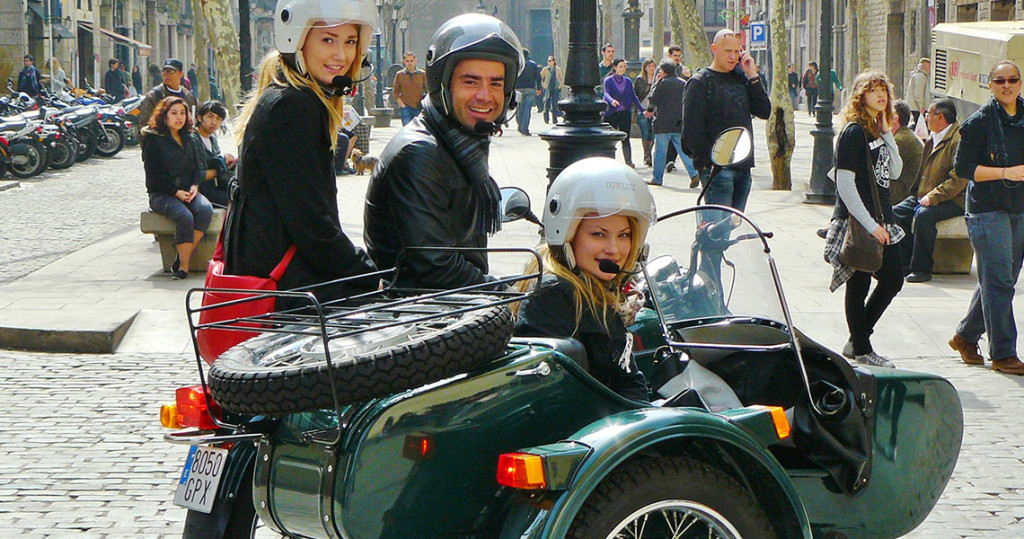 Want to enjoy a tour in a van or in a European style sidecar? Brightside offers both options to fully enjoy your tour of your new hometown of Barcelona. The Brightside sidecar tours offer a number of different tour options to choose from. All sidecar tours are slow paced and safe. Sidecar tours can last anywhere from 3 hours to 8 hours(if you want to enjoy a full day tour in Barcelona). Prices usually range anywhere from 100-500 euros. Brightside also offers a number of options for van tours ranging from 45-105 euros. 
Vesping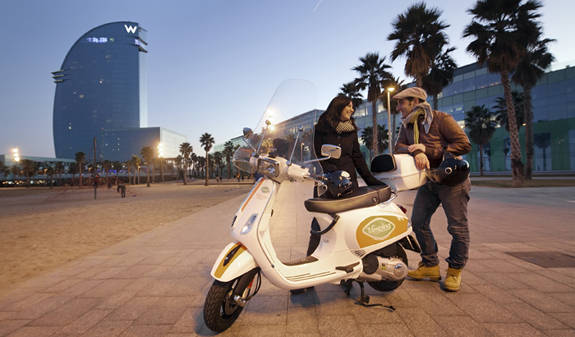 Looking for a tour of Barcelona riding on scooters? You've found the right place! 'Vesping' offers comprehensive city tours of Barcelona on 'vespas' for either 80 euros for single drivers or 100 euros for driver + passenger tours. Afterwards you can keep your vespas and get a 20% discount on the GPS rental fee! 
If you're in a group with more than 4 people, Vesping recommends you reserve a private tour that provides an extensive, comprehensive tour of Barcelona. Prices for private tours usually range anywhere from 125-250 euros depending on the size of the group and the type of tour you choose to go on(plenty of options to choose from). 
Excursions Barcelona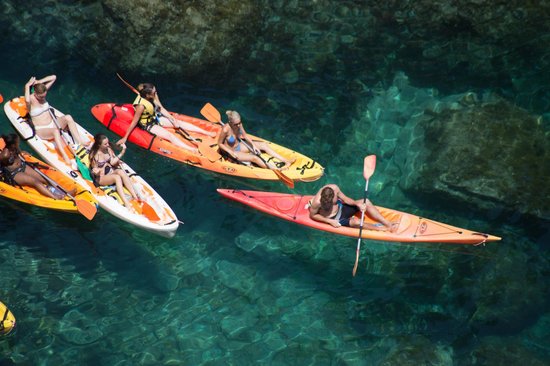 Looking for something other than your average walking tour of Barcelona? 'Excursions Barcelona' does happen to offer free walking tours but also provides other options for Barcelona tours. 'Excursions' offers unique tours like biking tours(city, night, Montjuic E-Bike) and sailing tours. You also have the option of discovering the beautiful, clear waters of the Costa Brava on a 'Kayaking and Snorkeling' tour if you are in the mood to enjoy a weekend day trip to Girona! Excursions Barcelona also offers guided private and custom tours to get the most out of discovering Barcelona and the Costa Brava.
ForeverBarcelona

Want to enjoy a fully customized private tour of Barcelona? 'ForeverBarcelona' offers city tours of Barcelona, food tours, and specialty tours customized to your liking. Specialty Barcelona tour options include an endless amount to choose from including architecture, shopping, history etc. ForeverBarcelona also offers options for out of town day trips (half or full day options) to places like Girona, Dali, Montserrat, or Tarragona among other options.
Free Walking Tours Barcelona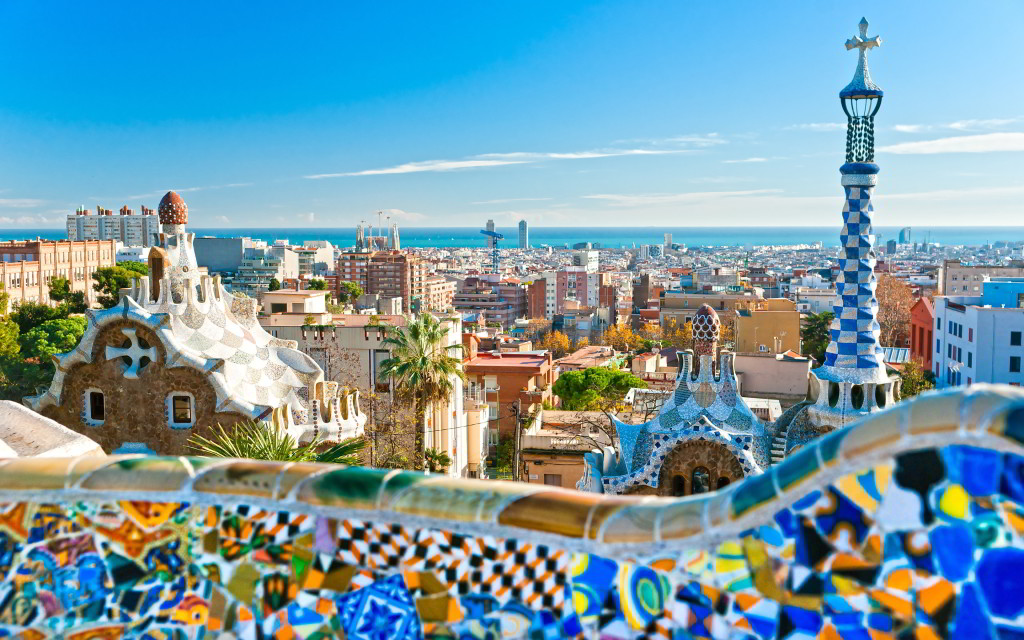 The name says it all! Enjoy a free walking tour around either the Gothic Quarter, Gaudi, or the Raval. You will also have the option of taking a bike tour around the Barcelona beach area. You can either bring your own bike or rent a bike for 4 euros!
Native Walks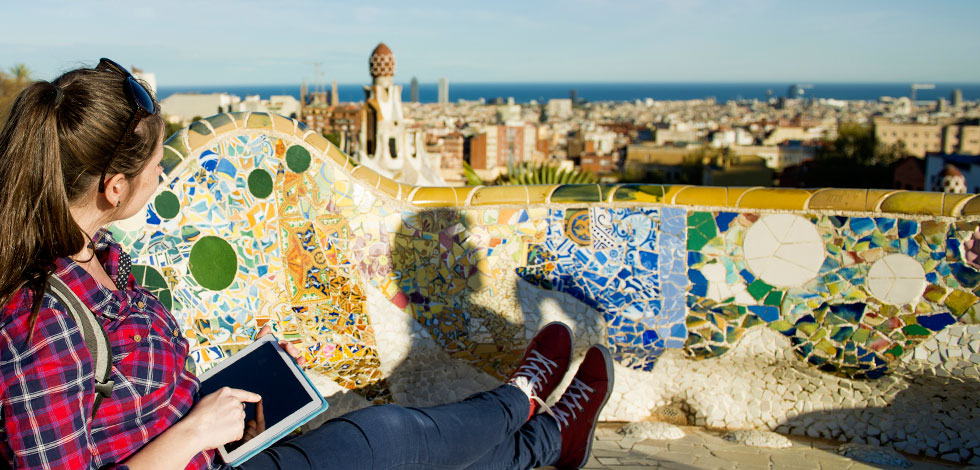 Looking for a tour that customizes and caters to the needs and interests of their customers? 'Native Walks' prides itself on satisfying their customers in making sure they see what they want to see on their tours of Barcelona and making sure new residents of Barcelona get the most out of their new hometown! Types of tours that Native Walks provides include…
Walking Tours
- Want just a casual walking tour? Enjoy a walking tour with Native Walks where you can learn about the history of Barcelona along with hearing interesting local stories!
Art of Shopping
- Want to find the best places to shop? Native Walks offers a tour exclusively catered to those who love to shop or want to find the right places to shop. Native Walks will show you the right places to shop for clothes among other things!
Nightlife
- Enjoy partying and dancing? Known as the city that 'never sleeps' Barcelona has an endless amount of bars and nightclubs to choose from. Enjoy a night out in Barcelona with Native Walks and enjoy discounts along with skipping the line at non-touristy clubs in Barcelona!
Unique Local Experience
- If you want to adjust to living in Barcelona as quickly as possible, enjoy a ULE tour with Native Walks where their tour guides will be your 'colleague' during this experience. ULE offers a number of different options including beach trips, wine tasting, along with backstreet
Barcelona
tours
among a number of different options to choose from to truly make this tour your own 'unique local experience.'
Art and Culture
- Are you a lover of art and want to see the many different kinds of artwork that Barcelona has to offer? Native Walks will take you on a tour to see the different
art galleries
, art museums, and painting workshops! If you're looking for a specific type of art to see like paintings,
sculptures
, or
architecture
, Native Walks will adjust your tour accordingly.
Cooking and Gastronomy
- Food lover? Native Walks will show you the best places to eat/drink. Whether you are looking for an upscale restaurant,
cheap tapas bars
, or the best wineries in Barcelona, Native Walks has you covered! If you love to cook and want to learn how to cook popular Barcelona dishes along with other mediterranean-style dishes, you will have the opportunity to attend cooking workshops taught by local chefs!
You could not have made a better decision to move/travel to Barcelona! Barcelona is as great as it gets when it comes to places to live/enjoy in Spain and in Europe as a whole. To fully be aware and experience the gem of a new hometown you are living in, one of these groups will give you the best Barcelona tours to get you fully accustomed to this wonderful place and help make you very knowledgeable about the history and current state of Barcelona. You'll love living here but it would be a great idea on starting to get to know your new hometown rather quickly. All of these Barcelona tour groups will help you with that and you'll be an expert on your new hometown in no time!
-Ryan