Take Spanish Courses in Barcelona : A Range of Different Ways !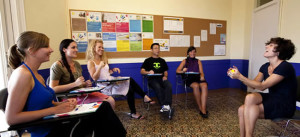 Are you looking for some
Spanish courses in Barcelona
during the evenings ?  Are you working (or studying so hard) or just have too much to do in Barcelona that you can't study Spanish during the day? What about evening classes? SuiteLife has done some research for you! If you want to study during the evenings there are plenty of options for
Spanish courses in Barcelona
!
#1 Language School
There are a lot of language schools to choose from for
Spanish courses in Barcelona
, but be prepared with your wallet.
The price is usually something around € 110/month for 4 hours a week. So, let's say, it can be something around 6€ per 1 hour of course.
Please be aware of so called "sign-up" fees. They can be around € 30 - 60. Nevertheless, some schools don't charge for this fee, it depends - you'll have to check.
You should also count on some costs for books to study with. Other options are to simply copy materials or some schools offer to lend you the books from their library.
The schools also vary in their time schedule. The classes are between 18:00 to 22:00.
Maximum students in classes are usually around 10. Thus, you will not have attention just for you, but it can be fun and you can meet other cool people ;).
Some schools with evening courses in BCN:
# 2 Private Teacher
To have a private teacher is probably the most expensive option. The price is usually around 20€ –  50€ + per hour. You can use one of the language schools listed above or any other in Barcelona.
Check the
Couchsurfing
website -
Couchsurfing
is not just about providing free accommodation to travellers, but also about getting to know what's going on in the city and for sure you can find a teacher there! Just ask for it ;) I am pretty sure, you can find even cheaper lessons than € 20/hour. You can also use other portals to find a teacher, e.g. at
Loquo
which is like a Spanish Craiglist (you can probably find anything there).
# 3 Language exchanges
The third option is to exchange languages! There is no doubt that nowadays a lot of Spanish people want to (better to say "have to") learn English or even other languages! Do you know
www.meetup.com
?
Meet Up
connects people with same interests in doing or sharing something. I am going to definitely try a group called
Barcelona Languages and Friends
. There is a language exchange meeting next Monday! So let's go for a cerveza and talk! :) If you don´t like to sit in a bar, you can find other groups on Meet Up, e. g. If you prefer  sport, you can find your language-sport buddies. Awesome idea, isn´t it? :)
Again -
Couchsurfing
. There is a bunch of information on language exchanges and meetings for this purpose! You can improve your Spanish by talking face to face or on skype or if you want to improve your writing skills you can choose chatting online. Find your buddy for example at
Conversation exchange
.
# 4 ONLINE
Do you want to learn more by yourself? Oh, yes! You can study online at home and for free. Check our blog 
Have fun and learn Spanish for free!
There is plenty of advice on which portals to use! Online on the phone? Why not play a game while you wait for your Spanish friends at Plaza Catalunya?
Mind Snacks
created an app to learn languages. A Perfect opportunity for beginners! Or try the popular
Babbel
. SuiteLife tried it and we love it!
Sure, you can find tons of other apps to learn Spanish. Which is your favourite one? Let us know in the comments below, we will be happy to try a new app! ;) If you prefer all the attention just for you, the good choice can be a private teacher on skype. You can use some websites like 
Nu Lengua
- the price is around € 7+ per hour.
# 5 The best SuiteLife Choice
Find a Spanish boyfriend or girlfriend!   :)
My personal experience?
I knew I would be very busy in Barcelona and the option to learn online wasn't the best one for me (I need somebody who forces me to study :-) ). I chose
International House Barcelona
, because of my schedule and location. They didn't ask me for a sign-up fee, so I went there to do level test and to see how it was there. I was surprised! If you've already been to Barcelona you know the service is not always very good. But after my test at IHES I knew this was where I wanted to study Spanish. It's close to work and the people and professors I spoke with were very nice and helpful. I have been studying there 2 weeks and I am satisfied so far! The price was actually pretty high (probably the sign up fee :D), it´s € 310 for 4 hours/week and 10 weeks in row. But I like it :)
Give us some feedback guys! What´s your experience with schools in Barcelona? Have you tried a language exchange? How do you study Spanish during the evenings in Barcelona? Good Luck! / ¡Que sea enhorabuena! ~Ivet