Learning Spanish in a vibrant city like Barcelona is an exciting opportunity, whether you're coming specifically to practice your Spanish or moving here. However, it can sometimes be tricky to sort through the sea of great language schools to find the one that suits you best- Let's be honest, there's so many and they all seem to offer similar things at first glance. But don't panic! We've put together a list of our Top 9 Best Language schools to help you figure out your favourite. We've even included this handy chart below to help you out if you're in a hurry or looking for something specific.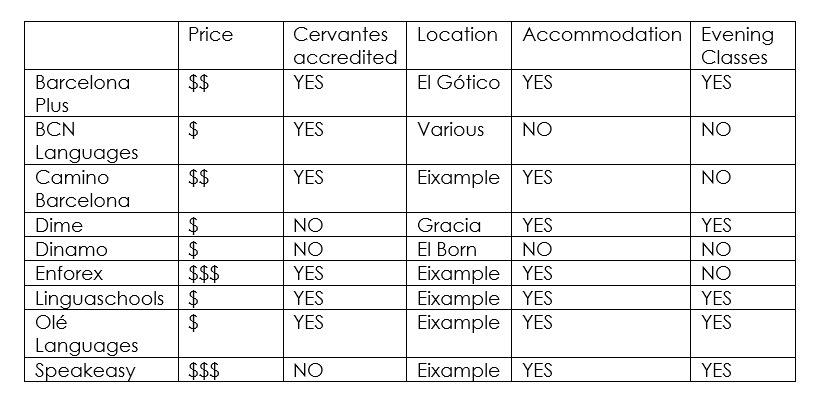 Barcelona Plus
The first is Barcelona Plus Academy that has a wide range of courses including part-time, standard and intense. It also has a range of optional activities on offer during evenings and weekends. The great thing about Barcelona plus is, unlike many other language schools, it has evening classes for people who work during the day but still want to improve their Spanish. As well as all the other schools we will be mentioning in the article, the class size is small – 10 students or less expect for the U2 class at Barcelona Plus which can have up to 15 students. It also has a special section of classes for teenagers learning Spanish!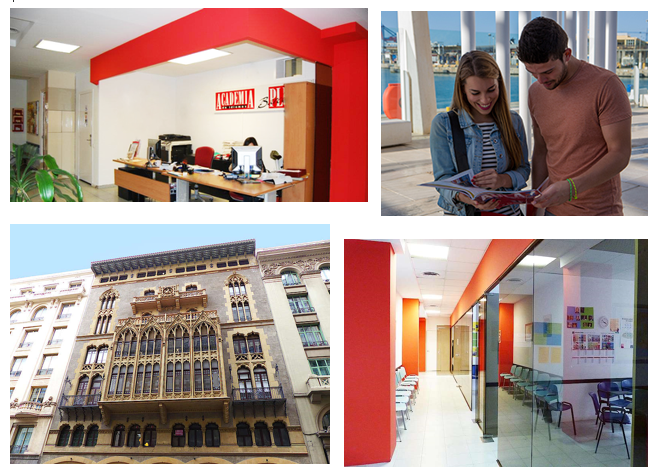 BCN Langauges
Our second recommendation is the BCN Languages School; it stands out because of its very reasonable prices and the fact that it has centres at various locations within the city so you can access its courses no matter where you are staying. This school also has an ELE25 course that teaches both language and culture inside the classroom and out, including a range of activities and trips to sites around Barcelona. Although this school does not offer weekend or evening group classes, it does offer online learning, a practical alternative that will fit almost any hectic regime.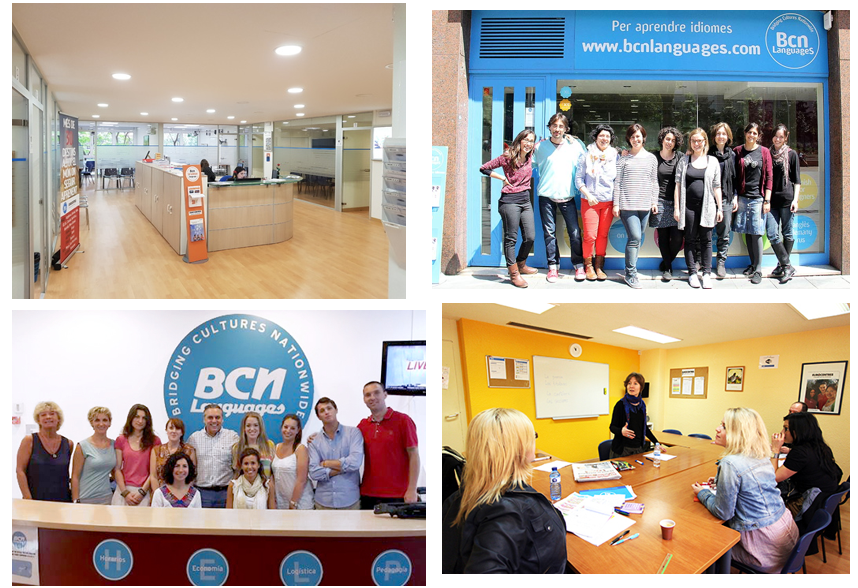 Camino Barcelona
The next school Camino Barcelona which not only stands out for its central location, 10 mins from Plaza Catalunya, but also because it is the ONLY one of these schools with onsite accommodation, making it even easier to take full advantage of the experience. The school also prides itself on having exceptional premises with relaxation areas that include large terraces. As well as this, the school provides a range of daily and weekend activities, including an after school club to help improve your Spanish further.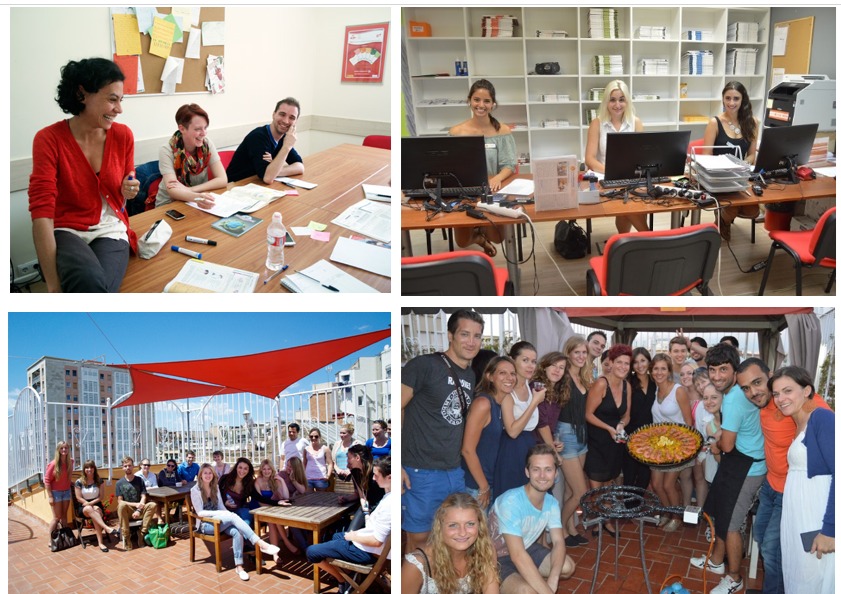 Dime
Dime language school is not Cervantes accredited but has become well respected in its own right as an excellent language academy. If you're looking for a smaller school this would be perfect for you. Located in between Gracia and Sant Gervasi, it is also slightly further removed from the touristy side of Barcelona. They pride themselves on teaching Spanish in a real-life context, using the communicative method where everything is taught in Spanish so that students learn quickly are able to fully integrate themselves into the city and culture. It offers a wide range of courses from those directed at babies and parents to in company teaching. It even has classes  for pronunciation, distance classes via Skype and Saturday classes. The school also organises its own monthly activates from visiting open-air cinema events to city walks.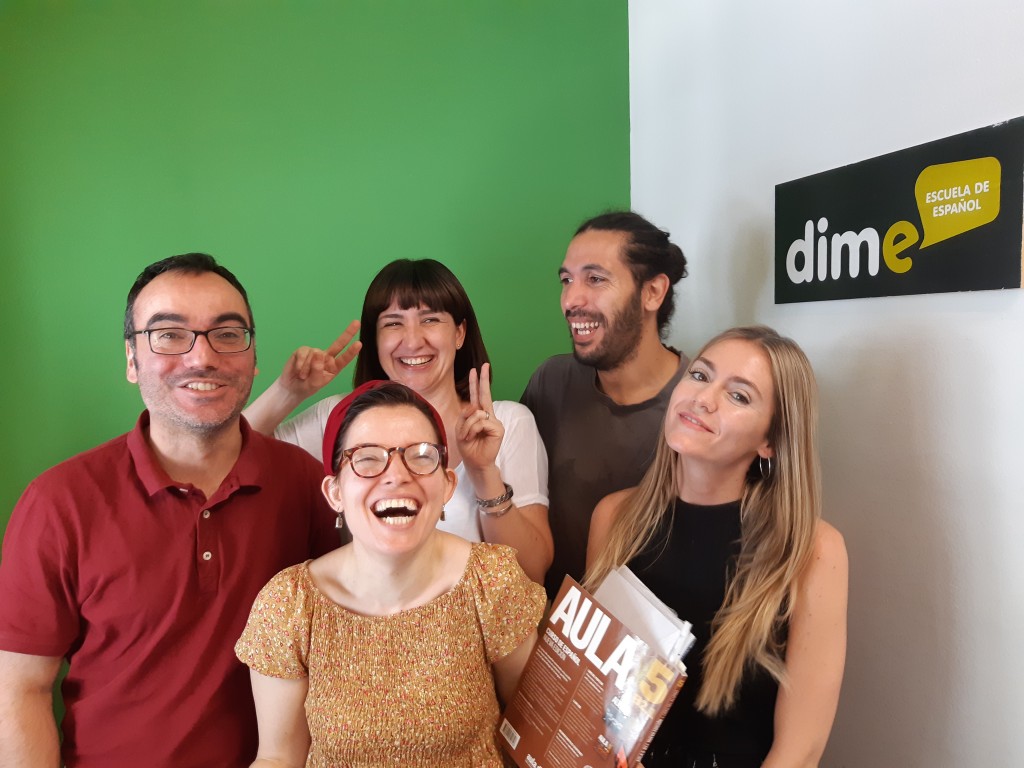 Dinamo
If you're looking for something unique and trendy Dinamo bcn is for you. Although Dinamo, like Dime, is not Cervantes accredited, it is also a very well renowned school. It has an old-school vibe, using black boards for teaching in classrooms with beautiful interiors. It has a great location next to El Borne in the heart of Cuitat Vella, also close by to the famous Parque de la Citadella. Even though it is one of the smaller language schools, Dinamo has a number of cultural partners through which they organise events and activities. The school also has a partner that offers help with NIE's, incredibly useful if you're moving to Barcelona.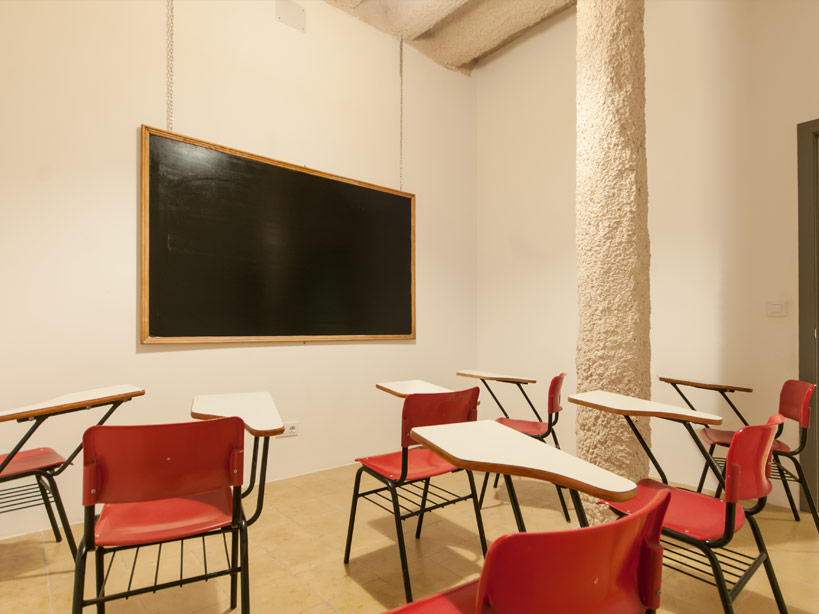 Enforex
Enforex is one of the largest language schools in Barcelona- modern with great facilities and a wide range of courses including standard courses as well as a Gap year programme and a volunteering programme. It is Cervantes accredited and prides itself on its learning environment with 50 light and bright classrooms, computer lab (free of charge), large terraces and library. However, this comes at a price being one of the most expensive schools in Barcelona. This aside, you get what you pay for in terms of facilities, range of courses and teaching quality. The school has a good location in the Eixample area, close to Rocafort metro station. There is a wide range of accommodation offered by the school, from host families to shared apartments.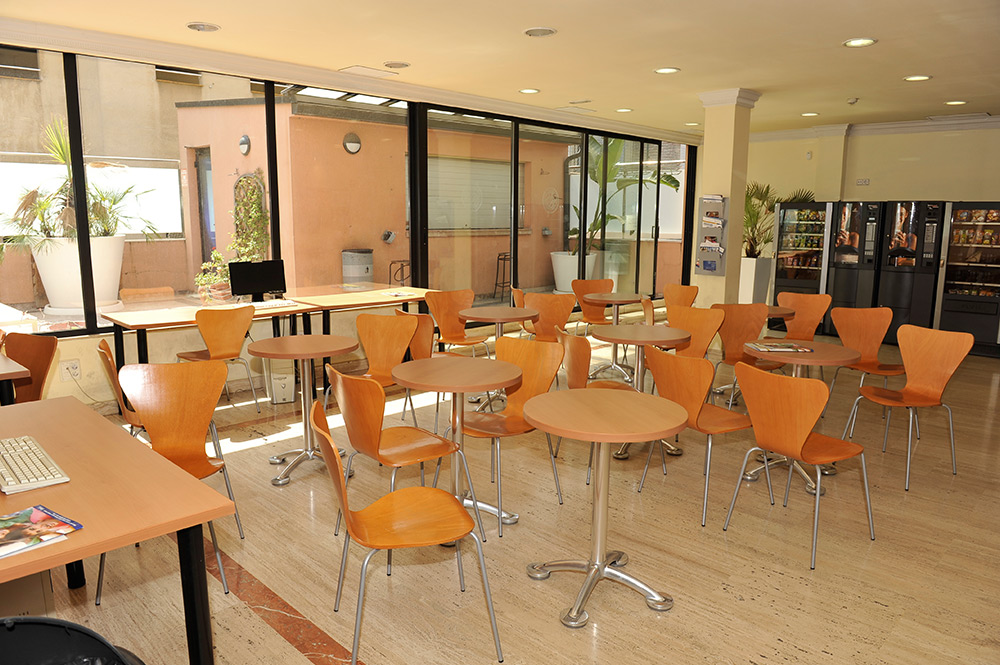 Lingua Language School
Lingua Language School has a wonderful location, just ten minutes walking distance from Plaza Catalunya. The school itself is based in a beautiful 19th century colonial building with a garden for relaxing in between classes. It offers a range of courses as well as activities, which encourage students to socialise and practice Spanish. There are activities organised on a weekly basis, many of which are free of charge, including tapas tours and picnics in Parque de la Citudella. The school even offers weekend activities with a small charge. The school is very reasonably priced and offers off-site accommodation.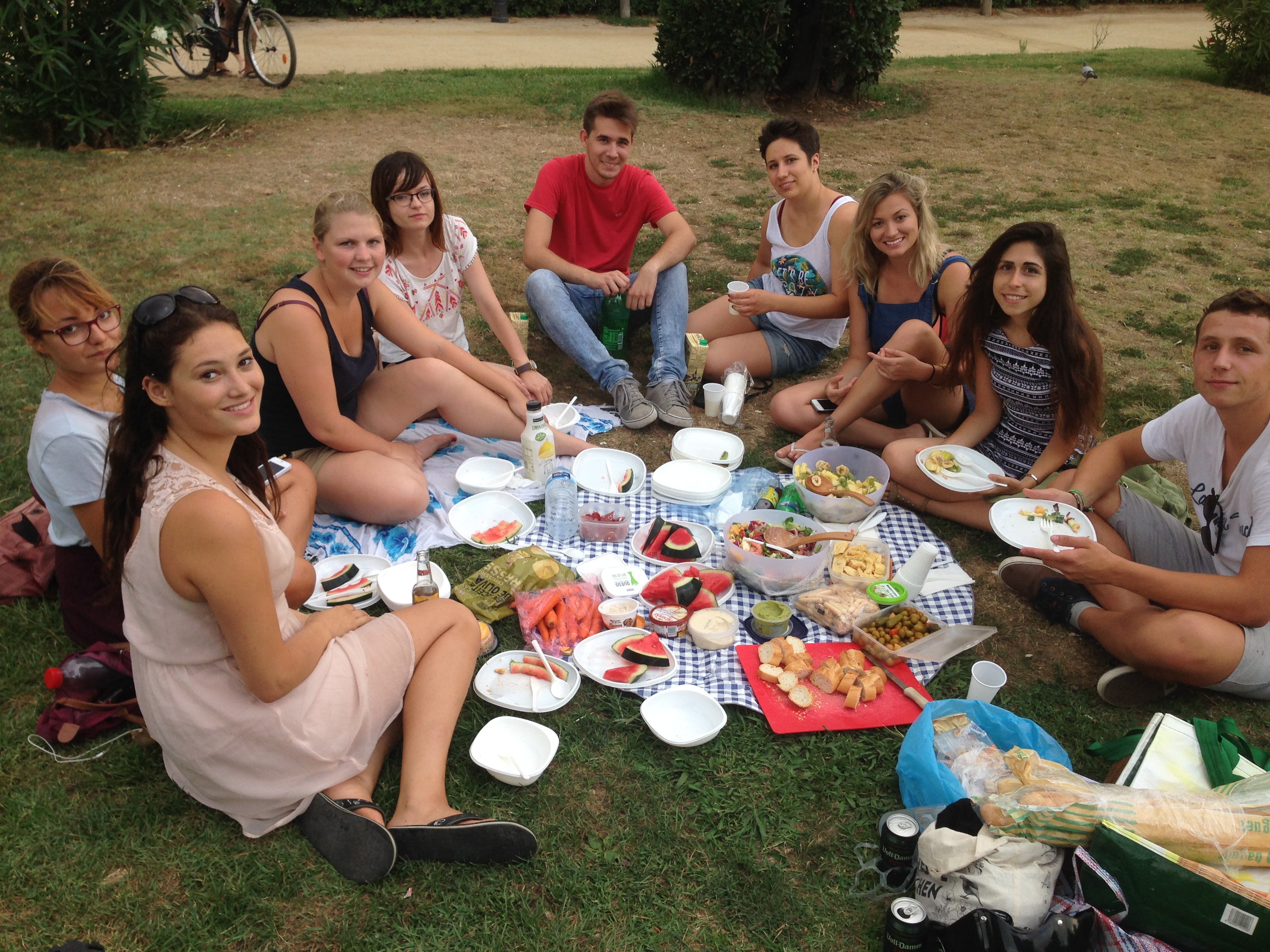 Olé Language School
Olé school prides itself on being one of the smaller language schools in Barcelona, which the staff believe creates a more personal atmosphere and learning environment. Olé is one of the only schools to have a specific evening course, perfect if you can't make day time classes. Like Lingua language school, Olé is very reasonably priced, 99 percent of their students voted it very good value for money in relation to price and quality of their learning experience. They host a weekly meet up in the city centre for students to meet one and other and provide other paid weekend activities.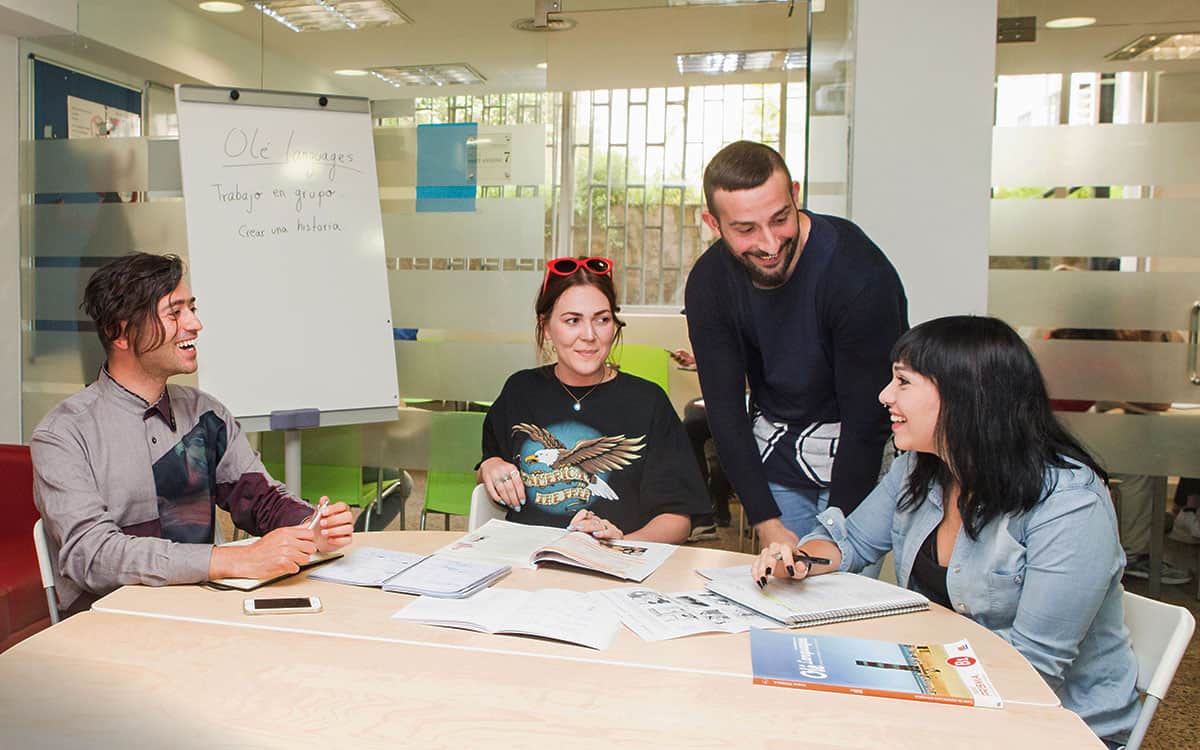 Speakeasy
Speakeasy language school has over 15 different courses to choose from- including an evening course! It is a modern school based near Plaza Catalunya, with great facilities including its own multimedia room. Speakeasy also offers a range of other services form help with visas to optional health insurance and a student card with discounts. The school believes it has an exciting atmosphere both inside and outside of the classroom and offers weekly activities to enhance students' cultural experience. As well as offering standard DELE programmes, the school has also developed their own learning programme called CASA which they believe enables students to achieve their language goals most quickly.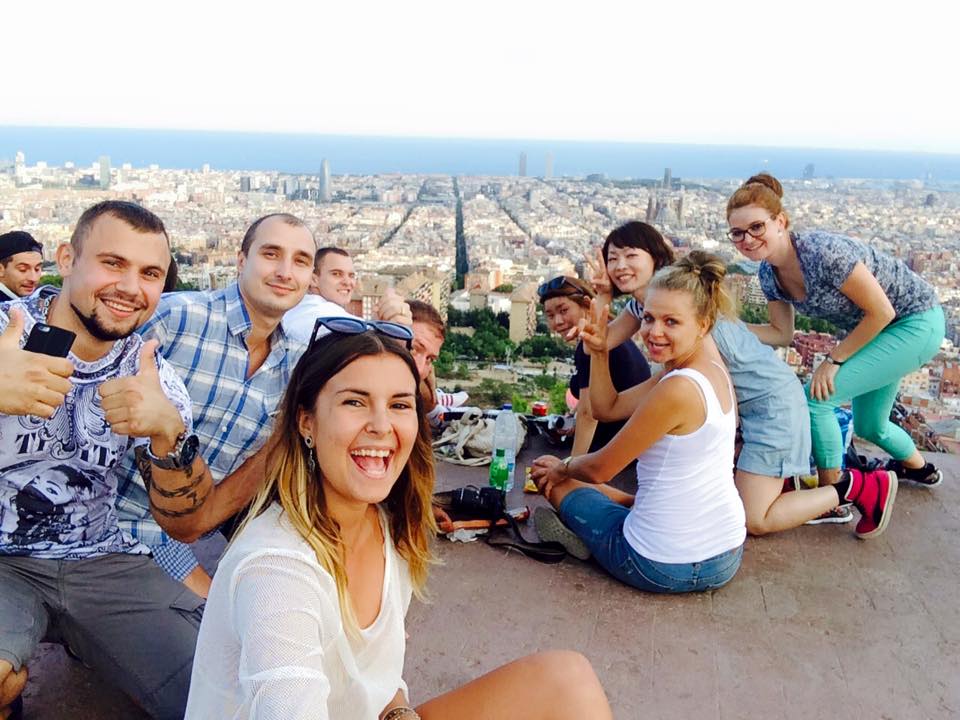 So, we hope you've managed to pick your favourite school, let us know what you think in the comments below! Make sure you check out our other blog posts for more activities and lifestyle ideas in Barcelona. ~Phoebe