3 of the Best Free Walking Tours in Barcelona
If you've never been to Barcelona before, a great way to explore the possibilities of the city is to go on a free walking tour. Whether you're interested in history or the best cafès and shopping places, the best free walking tours in Barcelona will provide you with the information that you'll need.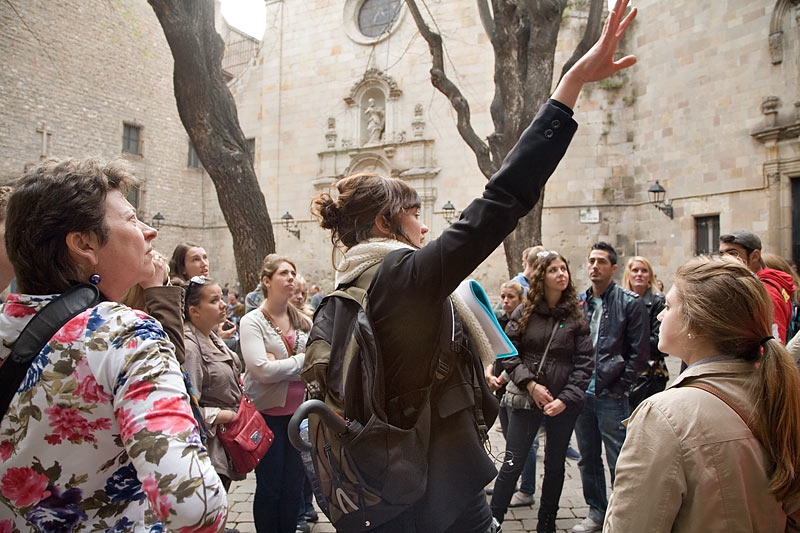 - Every Day at 11:00, 13:00, & 15:00 from Travel Bar
If you're looking for a more interactive history lesson, then this
free walking tour
is for you! I was actually a tour guide's assistant for a year and a half while living in Rome, our tours covered St. Peters and the Sistine Chapel. So I feelt I knew what a good tour should look and feel like. The guide of the
free walking tour
In Barcelona
I had was Irish guy called Duncan. He came to Barcelona for a week of vacation and now 8 years later, he's married, residing in the city and after my opinion living the dream!! The
walking tour
normally lasts for about 2.5 hours. However, we all had a blast and asked a lot of questions so before we knew it 3.5 hours just flew away! totally worth it! The free walking tour takes you to some of the highlights in Barcelona, including the Gotico barrio, Esglesio de Santa Maria del Pi, Cathedral of the Holy Cross and Santa Eulalia (also known as Barcelona Cathedral).
- Every day at 11:00 & 15:00 from Plaza Catalunya
These enthusiastic tour guides are sure to give you a great experience... and all for free! These guys are incredibly knowledgeable and always make sure you don't just learn but are also entertained. The tour of the Gothic Quarter is free (though the guides do ask you to tip what you think the tour was worth to you at the end - not an unreasonable request!) though there are other paid tours on offer such as the Barcelona Bike Tour. With a 5* review on
TripAdvisor
and also Number 1 on their list of open air activities, this walking tour isn't one to miss!
- Every day at 11:00 and 16:30 in summer and at 11:00 and 15:00 in winter
This company offers free tours of the Gothic Quarter and of the various examples of Gaudí architecture that pepper the city. The tours are approximately 2.5 hours in length and start at Plaza Reial. These tours are also wheelchair friendly so accessibility is not a problem. Tours must be booked online ahead of time to assure you get a place. The weather is nearly always good in Barcelona so there's no time like the present - get out there and see the city for free! Leave us comment about how your tour went, we'd love to hear your recommendations. -Erin