Do the Barcelona Gaudi Tour and discover everything about his art!
There is no way around it, when in
Barcelona
one must see 
Gaudi buildings
! The
Sagrada Familia
and
The Pedrera
are on every tourist's list, but what about
Gaudi
's other creations? For those of you with little time and a keen interest in architecture we present the all-inclusive,
one day Barcelona Gaudi tour
! This tour features all designs by
Gaudi in Barcelona
. Each is accompanied by some information, and/or a link to one of our previous blogposts. To make matters completely easy, we've even included a map and metro information. If you're more the active type, we can also recommend 
renting a bike
or to use 
bicing
. That way you can also fully enjoy the sunny Barcelona weather. We start our tour in the northwest of the city and work our way down from there, as you can see on the map below. Let's get moving!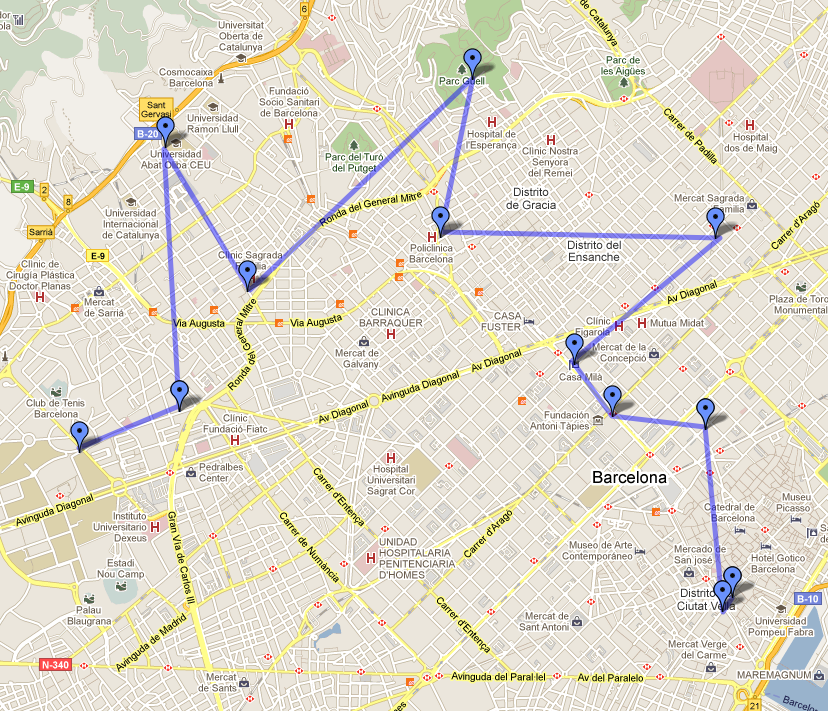 1. Barcelona Gaudi Tour : Güell Estate Pavilions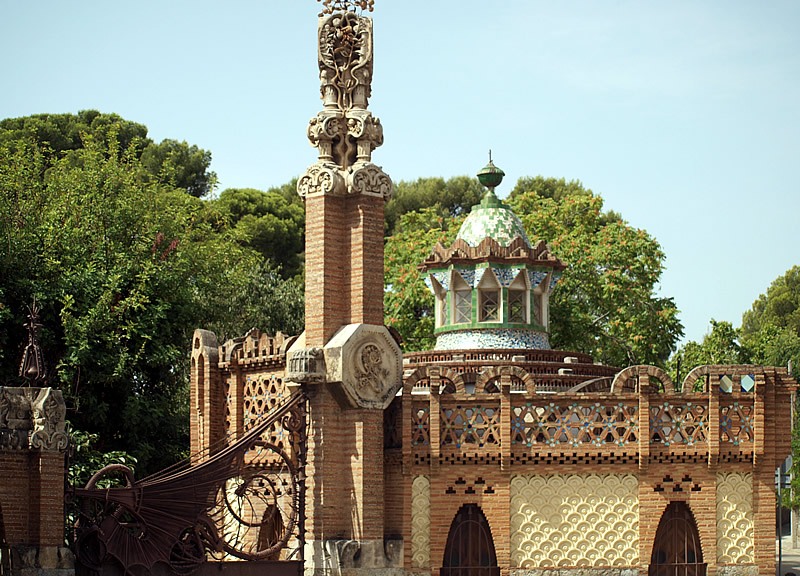 Address: Avinguda de Pedralbes, 7 Metro: L3, stop 'Maria Cristina' Property of one of
Gaudi
's biggest clients, Eusebi
Güell
i Bacigalupi. He commissioned Gaudi to construct a building, close to his estate, where he could keep his horses. Because, in those days, wealthy people moved around in horse carriages. As this way of transportation tends to take up a lot of space (stables, horse rings, parking space…), special pavilions were installed. So, basically, it's a giant garage. Gaudi built two pavilions with strong Muslim features in the façades. One pavilion was destined for the horses, the other for the porter. The buildings themselves are not that interesting, but the spectacular iron gate that unites them is. The gate is adorned with vegetal fantasies and a medallion with the letter "G" (of Güell), and it represents a dragon, which is supposed to protect the estate.
2. Barcelona Gaudi Tour: Gate of the Miralles Estate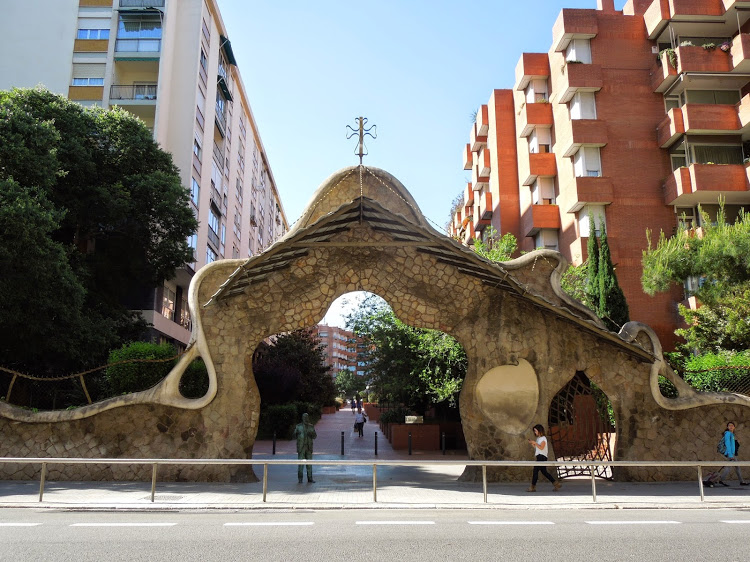 Address: Passeig de Manuel Girona, 55-61 Metro: L3, stop 'Maria Cristina' Between 1900 and 1902 Gaudi worked on the
Casa Miralles
, commissioned by his friend Hermenegild Miralles i Anglès. Gaudí only designed the wall and the gate. The rest was designed by Domènec Sugrañes, his associate.
3. Barcelona Gaudi Tour: Torre Bellesguard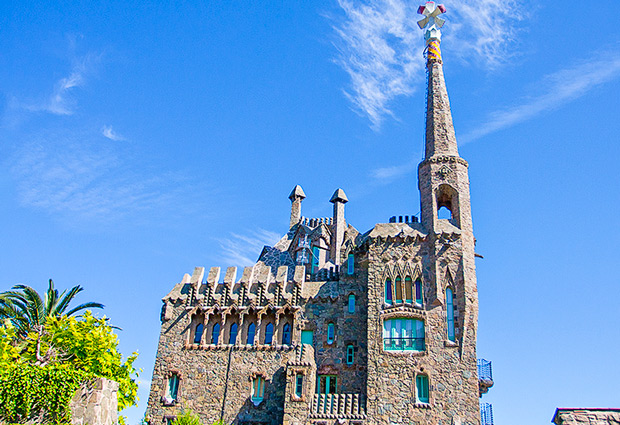 Address: Carrer de Bellesguard, 16-20 Metro: L7, stop 'Av. Tibidabo'
Bellesguard
, also known as
Casa Figueras
, is a house/small castle constructed between 1900 and 1909. The name Bellesguard comes from the Catalan 'bell' (beautiful) and 'esguard' (view). This because the Bellesguard lies at halfway up the Collserola mountain, providing wide views over Barcelona. The name originates from King Martin I (the last king of Catalonia) who had a summer residence on the site in the 15th century and supposedly coined the name Bellesguard. More information in this article about famous architect Gaudi and his buildings.
4. Barcelona Gaudi Tour : Colegio de las Teresianas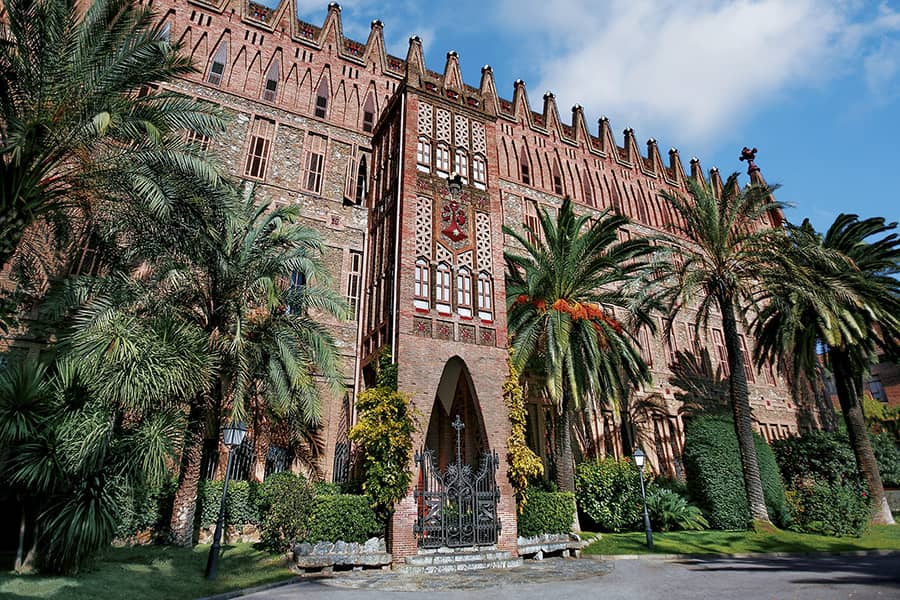 Address: Carrer de Ganduxer, 85 Metro: L6, L7, S1, S2, stop 'La Bonavona' This boarding school/convent was commissioned by the "Order of the Holy Theresia de Avila." In contrast to his other works, this building looks rather sober and even looks a bit like an impregnable fortress. However, it was the wish of the order that the building's design was austere, in keeping with their vows of poverty. So Gaudi designed a simple building, using bricks for the exterior and some brick elements for the interior. On the corners are pinnacles culminating in a four-armed cross, which can be found in a lot of
Gaudi works
. Gaudi must have done a proper job, because it is still used as a school centre.
5. Barcelona Gaudi Tour: Park Güell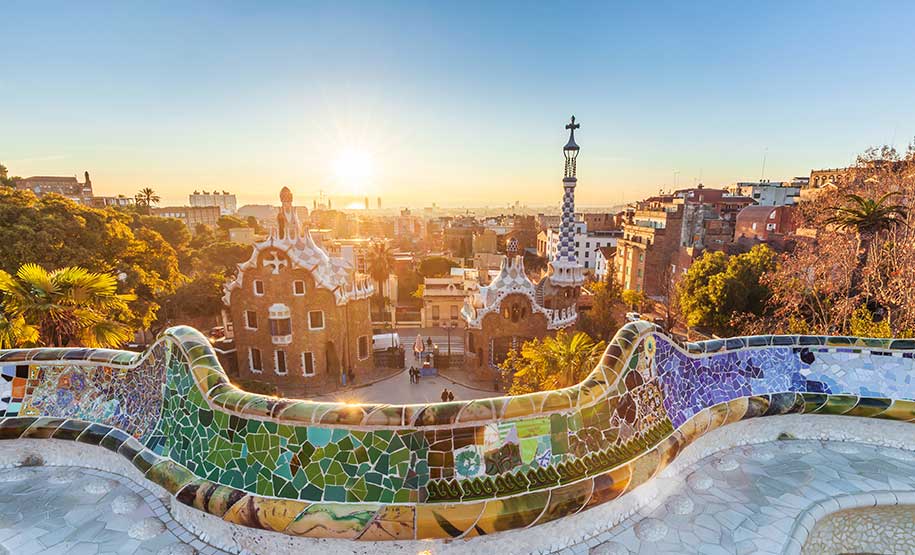 Address: Carrer d'Olot Metro: L3, stop 'Lesseps'
Park Güell
is a world-famous, must-see garden complex built between 1900 and 1914, and now part of the UNESCO World Heritage. Most buildings here have the "
trencadis
" (surfaces covered with irregular ceramic pieces) that is characteristic of Gaudi and
Catalan Modernism
. The focal points of the park are the colonnade hall and the terrace, which is surrounded by a long bench in the form of a sea serpent. 
Park Güell
is the perfect place to walk quietly while enjoying nature and looking at
Gaudi artwork
.
6. Barcelona Gaudi Tour: Casa Vicens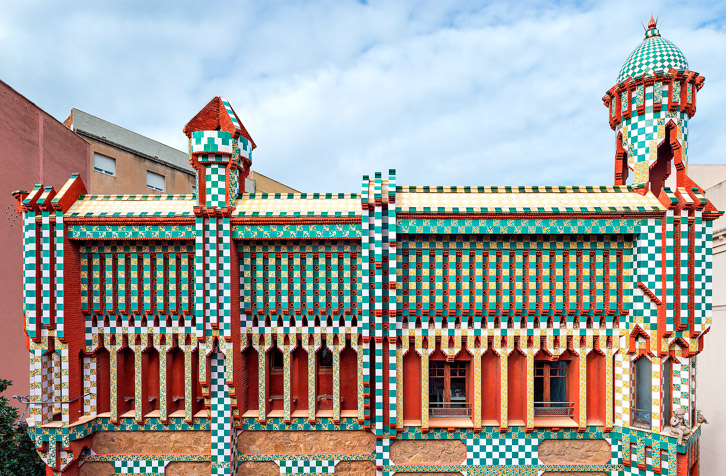 Address: Carrer de les Carolines, 18 Metro: L3, stop 'Fontana'
This summer villa, built between 1883 and 1889 was Gaudi's first important assignment. It was commissioned by the tile manufacturer Manual Vicens, and is now a UNESCO World Heritage Site. The work shows several influences, most notably Arabian influence.
Read more in this article about Barcelona architecture and Catalan Modernism
.
7.  Barcelona Gaudi Tour: Sagrada Familia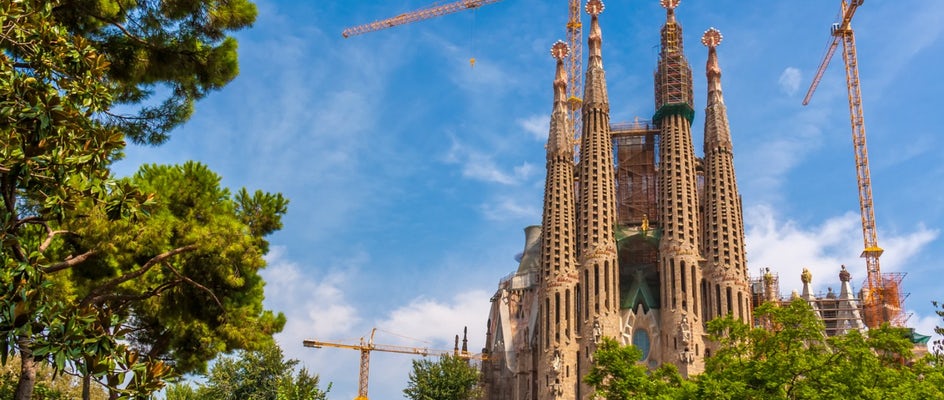 Address: Placa de la Sagrada Familia
Metro: L2, stop 'Sagrada Familia'
Undoubtedly
Gaudi's most famous work
, and generally seen as his magnus opus. Read all about
La Sagrada Familia
.
8. Schools of the Sagrada Familia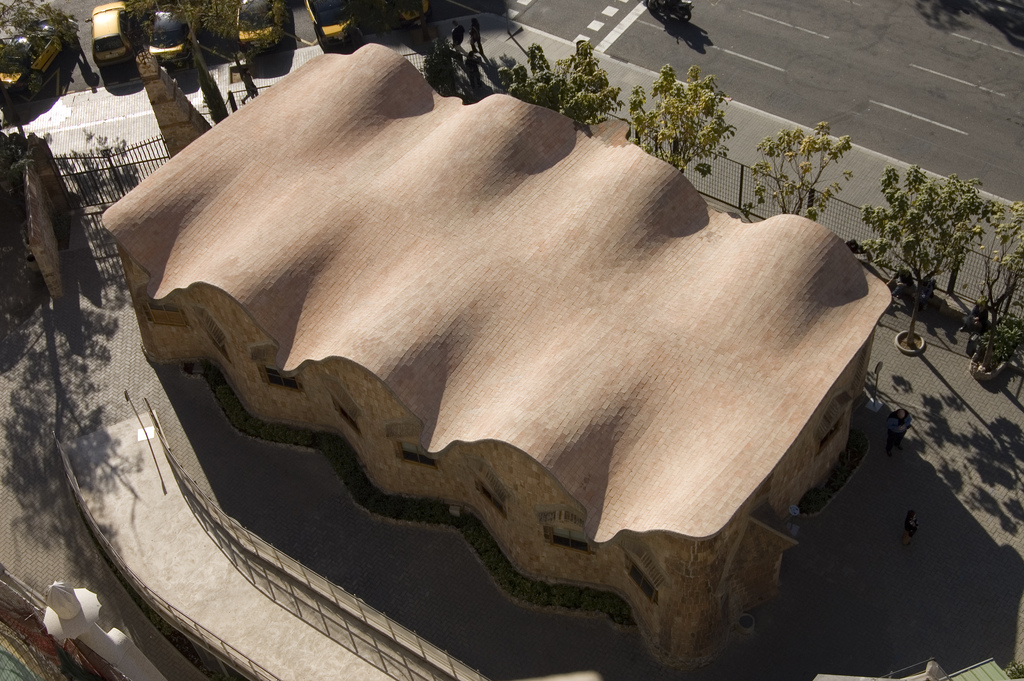 Address: Placa de la Sagrada Familia, s/n
Metro: L2, stop 'Sagrada Familia'
This small building (200 m2) is one of Gaudi's most radical and modern works and, unfortunately, one of the least known. The architect designed it as a provisional school, annex to the temple of the
Sagrada Familia
. So while you're there, have a look.
9. Barcelona Gaudi Tour: Casa Milà (La Pedrera)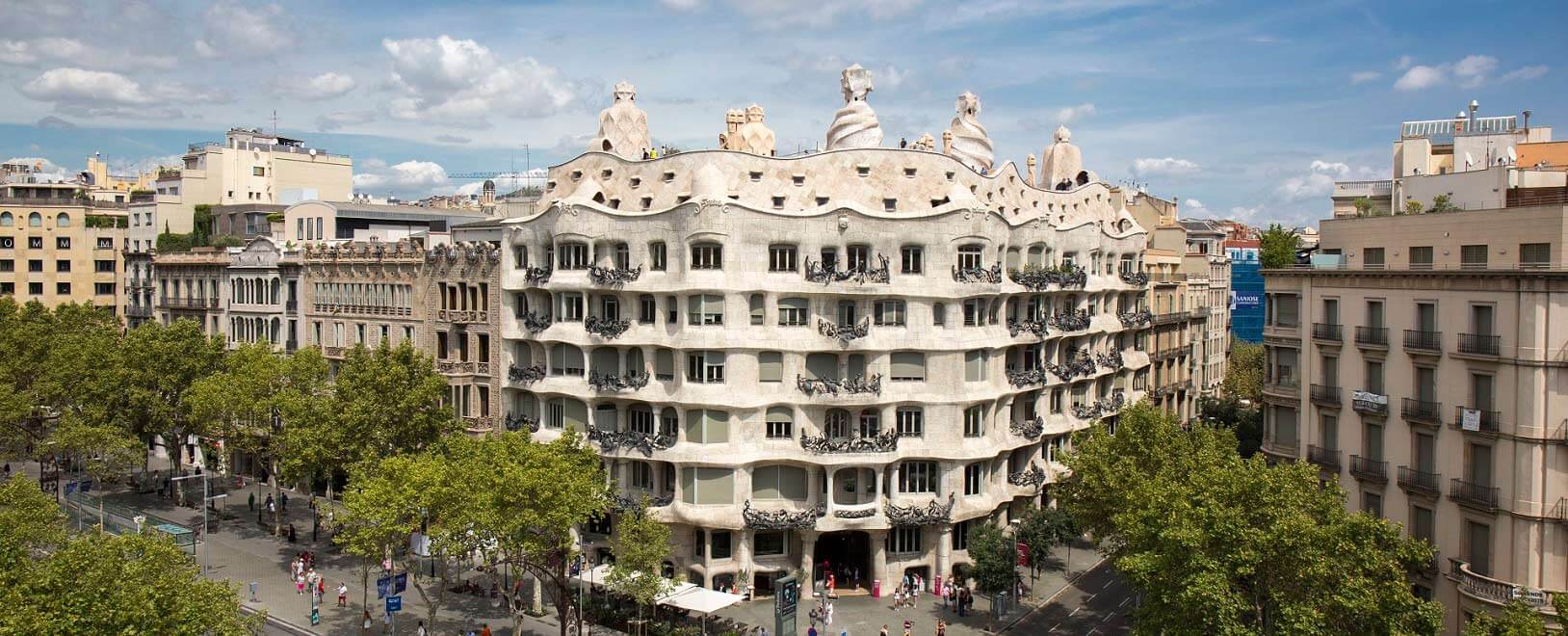 Address: Passeig de Gràcia, 92
Metro: L3, stop 'Diagonal' This building with its wave-like walls and huge chimneys is featured in every guidebook, so you've probably seen it before. It was commissioned by Pere Milà, who married the rich widow Roser Segimon. The flamboyant Mr. Mila wanted to live in a spectacular house in the most cosmopolitan avenue of Barcelona at that time; the Passeig de Gracia. Gaudi was chosen as the architect, mainly because he had just worked on Batlló House (our next stop), which was then considered the very latest example of the local architecture. Nowadays it is a UNESCO World Heritage Site, visited by thousands of tourists every year (expect a long queue to get in…) Open for visits are the first floor (where exhibitions are usually held), La Pedrera Apartment, which recreates the ambience of a middle class home of the early 20th century, and the roof, which gives a superb view.
---
Read more about la Pedrera
---
10. Barcelona Gaudi Tour: Casa Batlló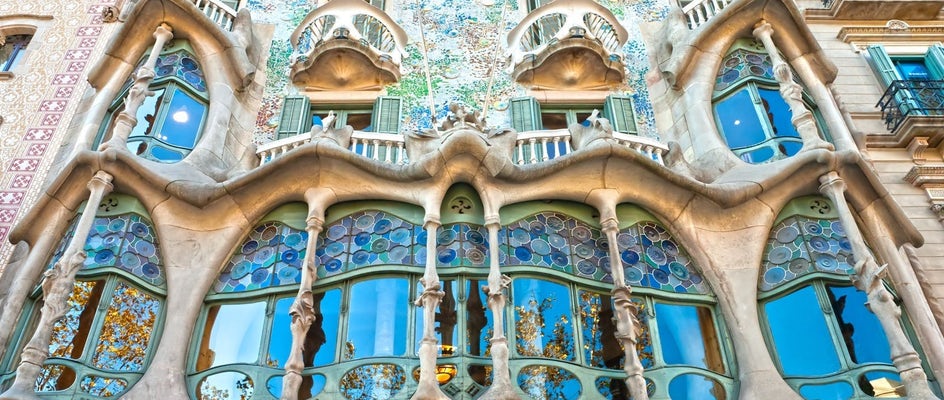 Address: Passeig de Gràcia, 43
Metro: L3, stop 'Passeig de Gracia'
A bit further along Passeig de Gracia we find this weird little building. Casa Batllo has a very particular design (like most of Gaudi's works), a bit skeletal even, which is why it is sometimes called
Casa dels ossos
(House of Bones). Interesting, though, is that Gaudi didn't build this from scratch. He was commissioned by the Batllo family to merely restore its façade.
11. Barcelona Gaudi Tour: Casa Calvet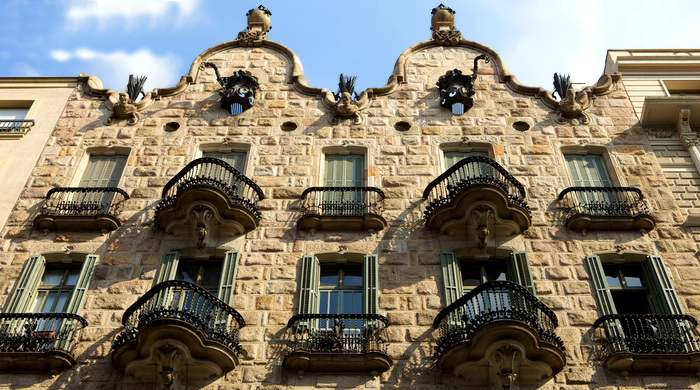 Address: Carrer de Casp, 48 Metro: L1, stop 'Urquinaona'
Probably the least Gaudiesque (what a word) building of our tour. It is indeed quite conventional, as Gaudi was bound to follow some restrictions. More about Casa Calvet in our article on Gaudi and his buildings.
12. Barcelona Gaudi tour: Palau Güell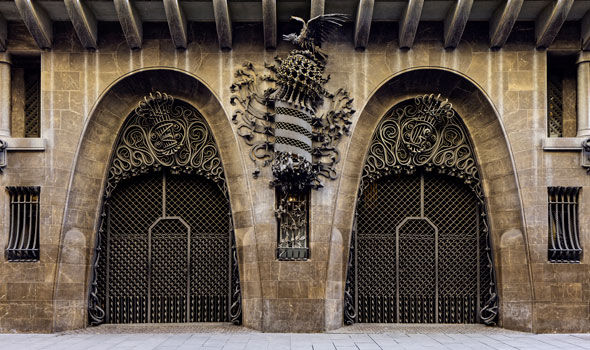 Address: Carrer Nou de la Rambla, 3-5
Metro: L3, stop 'Liceu'
At the end of the 19th century, Gaudi designed one of the most luxurious buildings in Barcelona. Namely the palace residence of the Güell family - yes, those of the horses' garage and the park. The palace was the family's residence up until 1910, when they moved to Park Güell. It has a monumental, parabolic-arched entrance with iron gates, which was rather unseen at that time. Because its design broke so radically with the classical characterization, it always earned the admiration of its visitors (and that's always a good thing when you have a palace). In 1986 it was declared a UNESCO World Heritage Site. Unfortunately, it has been closed for restoration, but luckily for us, it has been reopened in April 2011!
---
Read more about Palau Guell
---
13. Barcelona Gaudi Tour: Plaça Reial Street Lights
Address: Plaça Reial
Metro: L3, stop 'Liceu'
On Plaça Reial you can find the street lamps Gaudi designed for the Barcelona Town Council. It was his first official commission, so one of his earliest works. They have been restored so they continue illuminating the plaça as they did 125 years ago. They are not the focal point of the square, though, check this article to see
what you can do and see on Plaça Reial
. That's all, folks, you've completed the
Gaudi tour
! Now do like I did and have a sangria in the sun and enjoy the lively atmosphere of Plaça Reial. You deserved it! - by Machteld De Groef