Barcelona Photo Blog – Barcelona neighbourhoods in photos!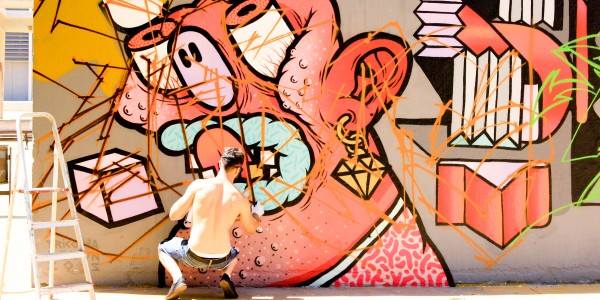 After many blogs about eating, shopping, traveling… the Suitelife team have come up with the idea of 
Barcelona photo blog
in which we show you the beauty of all Barcelona neighbourhoods with some aspects of artistic expression such as Barcelona sculpture, Barcelona architecture, Barcelona street art and daily life of residents there. Let's travel to Barcelona and explore art, architecture, people and tradition through our interns's lens!
1. Barri Gòtic
Street performer in Plaça Reial, popular meeting place
Located in the old city, Gothic area with many attractions is always crowded by tourists, but in the evening you will find out that locals are attracted to many restaurants and bars.  Old, narrow, but beautiful streets, interesting bars, nice coffee shops and restaurants or clothing stores, you can find them all and do anything you want in this famous neighbourhood.
2. Raval 
MACBA, housing the city's main collection of modern art and popular skate spot
El Raval is part of the second development stage of historic Barcelona. Even it was an unsafe and  no-go area for tourists in the past, the Raval is being transformed into a lively and multi-cultural neighbourhood with a variety of attractive cafes, restaurants and bars.
3. El Born
One of El Born's characteristic narrow streets
One of my favourite neighbourhoods with the best pizza in town - only 1.50 euro a slice :) ! Here you can find nice restaurants, bars, trendy but pricey boutiques, shoe shops and one of the most amazing modernist buildings: the Palau de la Musica.  
Ciutadella Park
(also home to
Barcelona Zoo
) is such a perfect place for picnic weekend!
4. Barceloneta
Passeig Don Joan Borbó Comte Barcelona where you'll find some of the city's best seafood restaurants.
Of course Barceloneta is one of the city's most visited and popular districts with its perfect location near Barcelona's Port Vell and sandy beaches
.
What should I say about this neighbourhood? In my mind, Barceloneta's images are: rows of restaurants and bars, sound of guitar from street performers on the sand, locals sitting in their chairs in the street and narrow balconies displaying clothes drying in the sun!
5. L'Eixample
Beautiful park near Sagrada Família
Central and quiet from the chaos of Plaza Catalunya or Espanya, L'Eixample is a nice place to stay in terms of safety and convenience. The area is packed with buildings in art-nouveau style, some of the best and most expensive restaurants in town and most of Barcelona's international designer shops! Rambla de Catalunya is my favourite place to sit and people-watching from one of the many beautiful terrace cafes!
6. Gràcia
One of the nicest streets in Gràcia
Gràcia is one of the most popular and vibrant district in the city! You can't think of Gràcia without imagining the modernist Casa Fuster and Gaudi's Cava Vicens! Plaza del Sol is the most renowned area of this neighbourhood (with terrace cafes), being a place for people to convene to drink and be merry at night!
7. Diagonal Mar
The yellow flowering trees in a park in Diagonal Mar, Barcelona
With the broadest and most important avenues, modernist architectures, international schools and many large and modern shopping malls with supermarkets,  restaurants, cinemas and various services such as massage spas or hair salons, Diagonal  Mar is the deifnitely a city hotspot!
8. Poble Nou
In Poble Nou, you can sit and enjoy the old part of district with elegant buildings and pavement cafes, see the locals and the kids playing in the park, Barcelonians going about in their business. There is a local Rambla street there and I love it more than the famous one! Furthermore, just a few minutes walking and you can see the beach which is quieter and non-touristy. Its the perfect place to escape to once you're tired of Barceloneta beach.
9. Poble Sec
Street art and graffiti wall in Poble Sec.
Between the city centre and Montjuic, Poble Sec is sufficiently away from the main tourist areas. Therefore, it is fairly quiet except when your place is near the Camp Nou stadium or in Carrer de Blai - the ideal location for  many local bars and restaurants with authentic Catalan cuisine with very reasonable price!
10. Villa Olimpica
Student gathering in a park near thePompeu Fabra University campus
In this area, Bogatell is an ideal place to sit and relax after a long day at the beach! With old looks of small cafes and narrow streets, the Olympic village also has many clubs, bars and restaurants where you will meet all of your entertainment needs! There are many famous architectures in this area such as The
Port Olímpic de Barcelona
, Golden fish and
Torre Mapfre
! This is a photo collection taken by people who fall in love with Barcelona, the town you never want to leave! Hope you enjoyed our very own Barcelona photo blog and now let's discover more information about all neighbourhoods in Barcelona through more of our blogs below!
Top 5 Barcelona neighbourhood
s
EL Born
Raval
Gracia
Eixample
Gothic
Villa Olympica
Diagonal
Poble Sec
Poble Nou