HAVE SOME ENJOYMENTS FOR FREE IN BARCELONA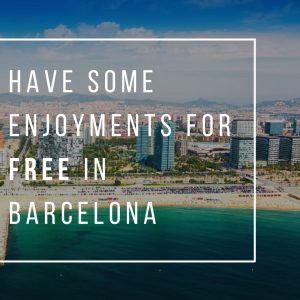 TOP FREE THINGS IN BARCELONA !
There are lots of 
FREE things to do in Barcelona
 - you will be surprised at the number of things that are 
FREE in Barcelona 
but here are our Top 3!
Top 3 things to do that are FREE IN BARCELONA
No 1: BEACHES are FREE IN BARCELONA
All of 
Barcelona Best Beaches
 are FREE!
Why not go for a run along Barcelona Beaches?!
No 2: MUSEUMS are FREE IN BARCELONA *
*Many Museums have FREE entry on certain days!
Save muchos €uros by visiting Museums for FREE in Barcelona
FREE on First Sunday of the Month:
Museu Picasso, Museu Nacional d'Art de Catalunya, Meseu Maritim de Barcelona
FREE on Thursdays after 20:00:
Centre de Cultura Contemporània de Barcelona  (CCCB)
You could go and see the World Press Photo Exhibition at CCCB this Thursday!
No 3: ROMANTIC SUNSETS are FREE IN BARCELONA
The sunsets here in Barcelona never ever cease to amaze me!
Every evening there is a free light show and the best thing - its totally FREE!
Why not head to a scenic spot in the city with your special someone and watch the sunset together!
Check out our FREE ebook on "TOP 25 Places To Take a First Date"!
Do you know any other cool FREE things to do in Barcelona ?! 
Then let us know on the comments below.