[caption id="attachment_2703" align="aligncenter" width="600"]
PortAventura: Family Amusement Park in Barcelona[/caption]
PortAventura Barcelona: What A Great Park!
Last Saturday, I went to the biggest theme park in Barcelona; PortAventura.
PortAventura Barcelona
is a major family amusement park that covers around 34.000m2 and 33 attractions. Though it's not very close to Barcelona, people refer to it as the amusement park of Barcelona. The train from Sants Estació will take you there in 1 hour and 15 minutes for about 9 € roundtrip. My roommate was smart enough to buy our entrance tickets online, so we could sneak past the immense queue and enter the park immediately. Just to give you a tip: if you plan on going for a one-day trip or a weekend away and want to skip the queue for buying your entrance ticket, check the Spanish version of the website (.es) since there are no one-day or two-day tickets available on the English website (.com). So, there we were; 10 a.m. on a Saturday, with I don't know how many other kids, teenagers, adolescents, parents and even grandparents, all standing at the very beginning of the park and not knowing which way was the best to go and avoid long queues for the roller coasters. We just made peace with the fact that we were going to be in long lines for certain roller coasters and we'd just enjoy
PortAventura Barcelona
including the queues. The map, which you can get right at the entrance, showed four intense roller coasters, marked with a black diamond behind the name of the ride. Now, two things you need to know about me: 1) I get carsick very easily and 2) I always try to push my boundaries. That being said, it might not be a surprise that of course I had to try all the four intense roller coasters, no matter the consequences.
"Furius Baco": A Fully Deserved Name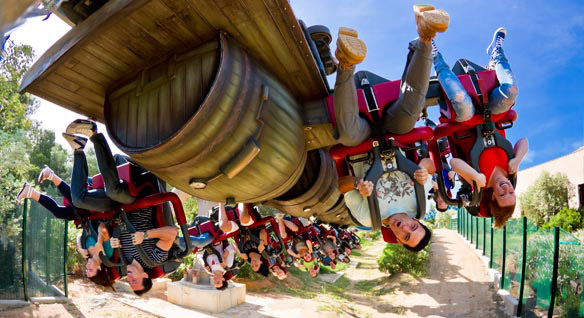 The first ride we did was called "Furius Baco". I now know why it's called that. It's the fastest rollercoaster in Europe at 135 km/h or 83.9 mph, which the ride reaches in a brisk 3.5 seconds. As you might think, my stomach was left behind as we took off. Nothing is farther from the truth, though! This roller coaster actually went too fast for me to even get sick. Think about it, only 55 seconds later from when we took off, we were back at the start again. You barely have time to even blink!
"The Stampida": A Wooden Madness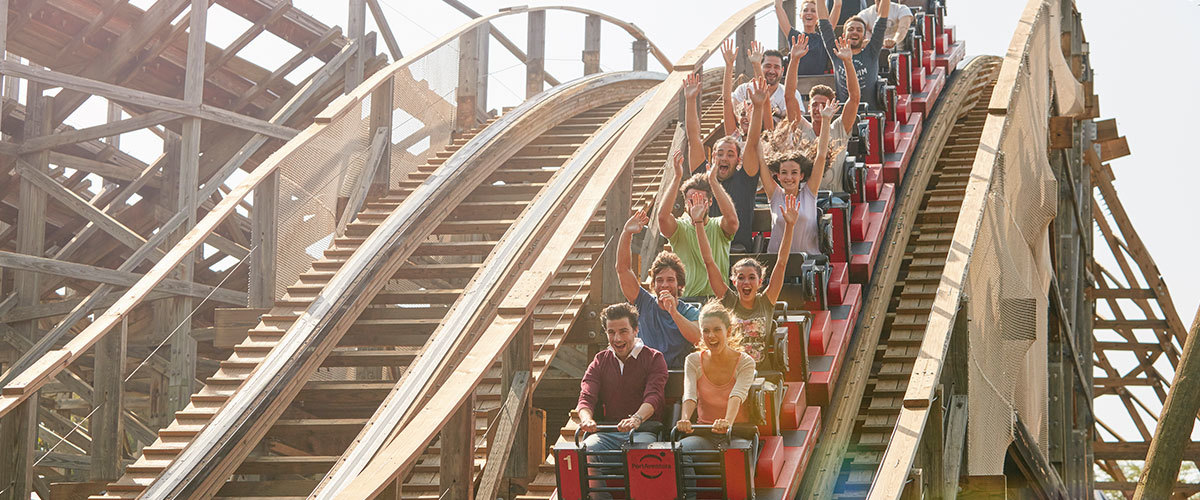 We then gradually walked through the park to the second rollercoaster on our list, which was the "Stampida". This is a dueling wooden rollercoaster and makes a lot of noise. Excited as we were, we walked across the park to get to the ride, only to find out that the waiting line began just a few metres after the entrance. This meant waiting in line for at least 2 hours, so we skipped this attraction and decided to come back later when it hopefully wasn't as busy.
"Hurakan Condor": On Top of The World!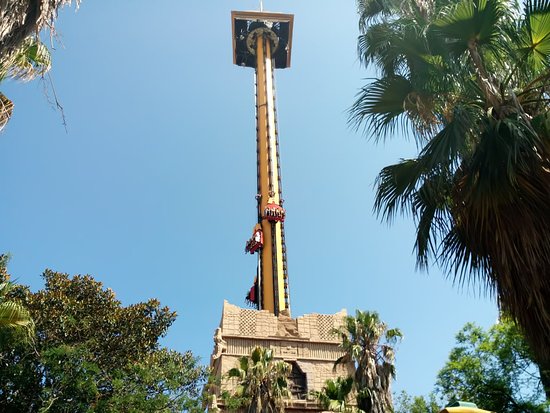 The third roller coaster we did was called "Hurakan Condor". What a name and what a ride! The ride consists of four cars that are all able to fit four people around a giant central tower. A giant magnet pulls the riders up to the top of the tower, where a picture is taken just before it releases the car. Then, there's a freefall of 86 meters (282 feet) at a speed of 115 km/h (71.46 mph). Again, I had to wait a couple of seconds for my stomach to catch up with me. But even this roller coaster didn't do the trick of making me nauseous.
"Dragon Khan": Am I Drunk?!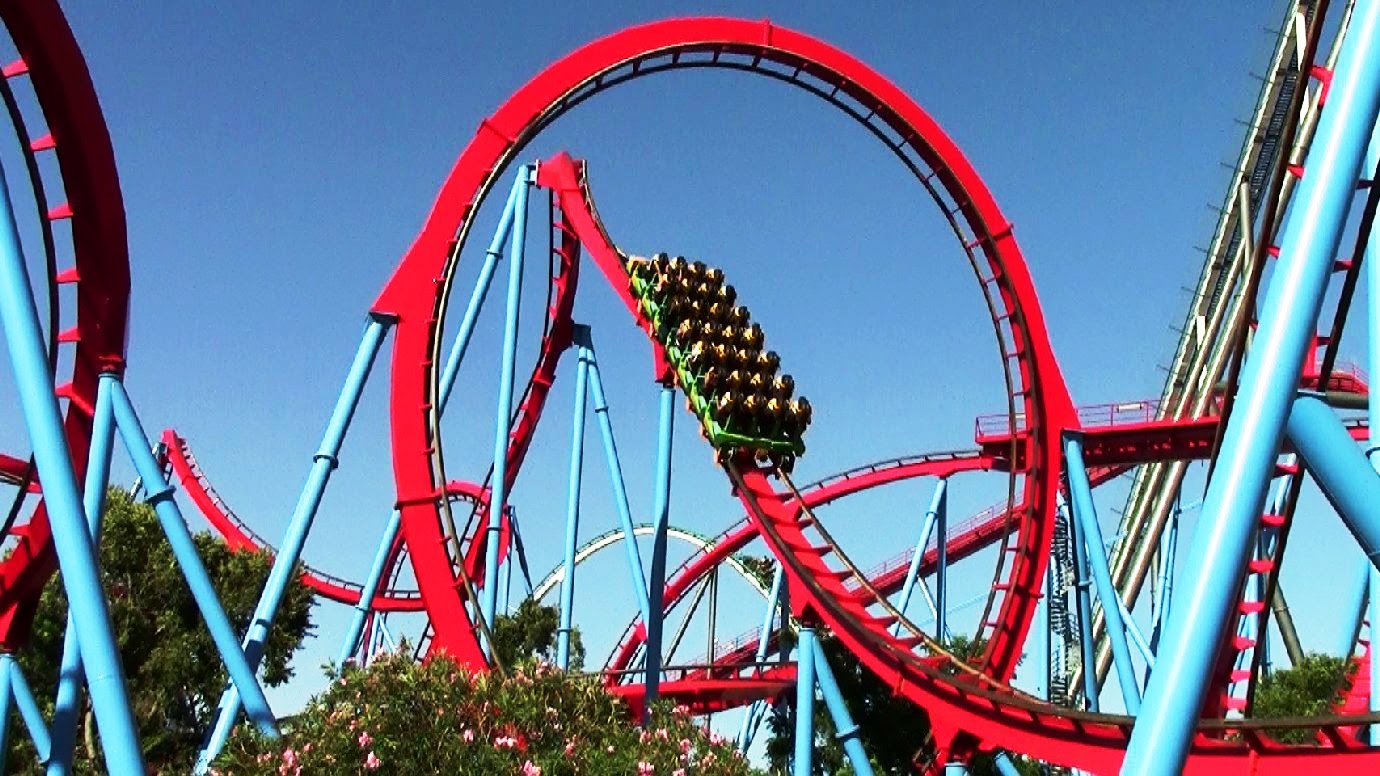 After having a drink, we walked over to the fourth and last intense ride of our list: "Dragon Khan". As we approached the rollercoaster, I had to stop and think for a second. This rollercoaster has eight inversions. EIGHT! Just one is enough to turn my stomach, imagine the damage that eight could do. But, as you may know by now, I would regret it if I didn't take my chances. So, there we went. After having waited in line for about an hour and a thousand doubts later, it was our turn to go. Apparently there are these "Express" tickets that you can buy so you can skip the queue, but when we found out, it was already too late for us. I was quite confident when I got into the car, but when the safety bars came down I started to wish I hadn't gone through with it. I became less and less excited and more and more frightened as we started climbing the lift hill. The first loop was fine, the second as well as were numbers three, four, and five. But at inversion number six I started to feel a little light-headed and by the time we got off, I could barely walk a straight line. But still, no sign of nausea! When we stepped out of the car, we had to sit down for a couple of minutes, waiting for the light-headed feeling to pass. After a while, we decided that Dragon Khan was the last of the roller coasters and that we would just walk around the park and go see some of the shows instead.
PortAventura Barcelona
is more than just roller coasters and wild attractions.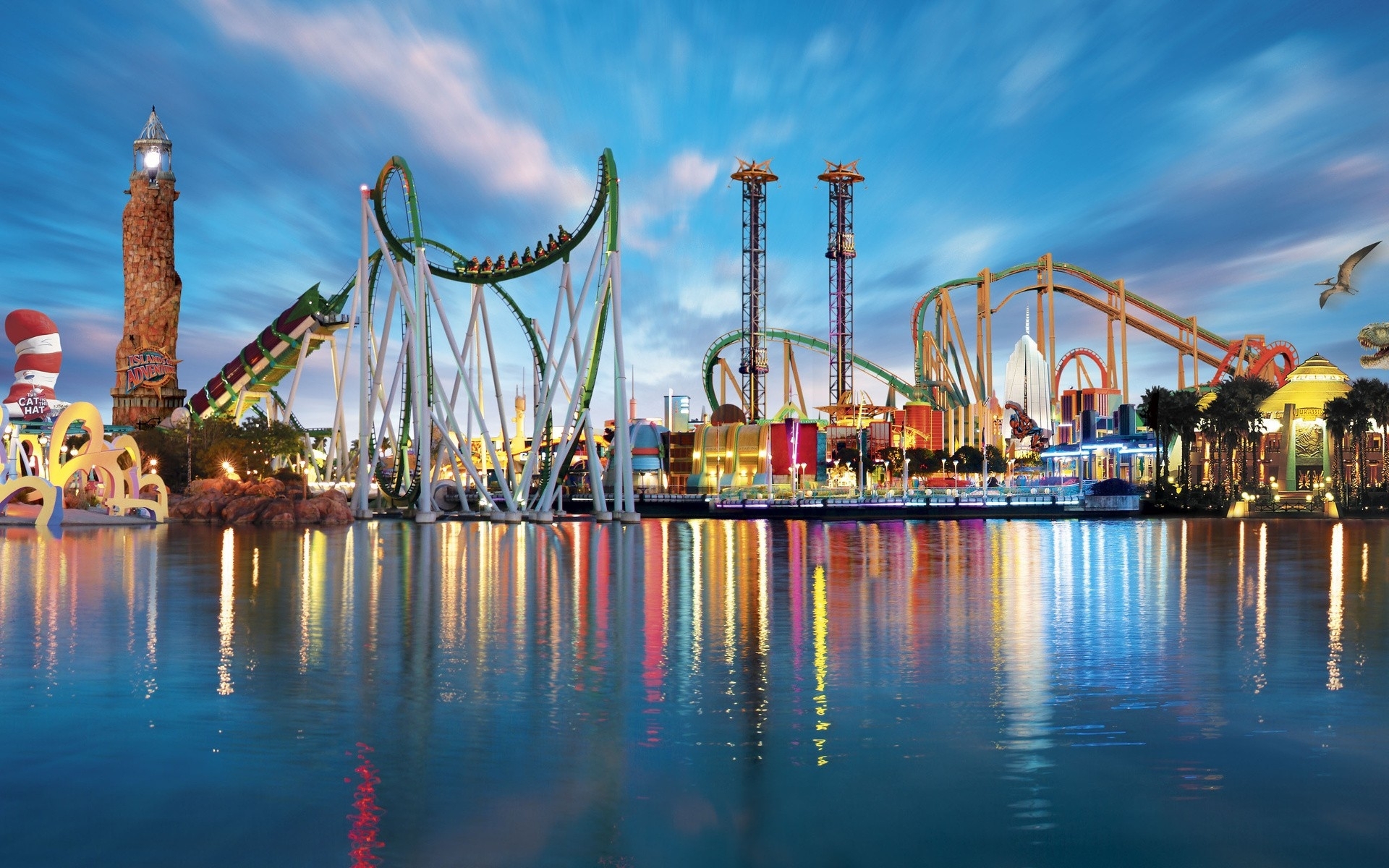 Besides the wild attractions,
PortAventura Barcelona
also has many roller coasters and other rides for children and families. There's a whole children's area built in the middle of the park and there are attractions like those found at a fair as well. In addition, if you prefer shows instead of roller coasters, then you're at the right place.
PortAventura Barcelona
truly is very appropriate for a nice one-day trip or weekend away from Barcelona and provides activities for the whole family! --- If you're looking for
medium and long-term apartment rentals in Barcelona, Spain
, SuiteLife Barcelona has you covered! Please check out our site,
www.SuiteLife.es
, for great Barcelona Apartments, Insider City Info, and Tons of Great Services! Cheers ! - Lindsay