What to do in Barcelona - holiday ideas!
Hello SuiteLifers! Today I'm gonna tell you
what to do in Barcelona
and what not to miss to have a great trip to our beautiful city! These are the very best insider tips - I'm not gonna talk to you about Sagrada Familia ( but speaking about this, check out our blog:
how to beat the queue at Sagrada Familia
), Park Guell, La Pedrera and all those other tourist traps. Here's some tips from someone in the know that will take you off the beaten path a bit and  really give you something to write home about...
Chill at Carpe Diem Lounge Club
If you don't know
what to do in Barcelona
after a day at the beach La Barceloneta don't hesitate to check out this place! This amazing lounge on the beach (metro Ciutadella Vila Olimpica) is one of the best for having a drink and chilling on the sofas in the warm Barcelona sun. It is the perfect place to relax after a long hard day of lying about on the beach! It's also a restaurant and a club at night so you can be there until the wee hours. The beautiful decoration is inspired by India and in true Indian fashion you can ask for a massage while enjoying your drink (I recommend the gin and tonic). It's one of my favorite places here in Barcelona! Check their
website
if you need more convincing!
The Magic Fountains of Montjuic !
If you're coming to Barcelona you've GOT to go to Montjuic. Every Friday, Saturday and Sunday there is beautiful light show at the fountain. Times vary throughout the year so make sure you check the
official website
for the timetable, but the lights tend to be on between 21:00 and 22:00. You're not forced to stay 2 hours of course but you should stay at least half an hour to enjoy the lights and everything! You won't regret it, it's just as magical as the name suggests. The fountain is just between Plaza Espanya (L3 metro line) and the Museu Nacional d'Art de Catalunya. If you really want to make a trip of it maybe head to the museum (free after 3pm on Saturdays and on every first Sunday of the month) and enjoy the beautiful art on display, then head to the Arena shopping mall for a bite to eat, then back to the Plaza for the light show. Have fun!
Eating the best tapas of Barcelona : El Xampanyet
Now to answer the all important question: where to go and
what to do in Barcelona
for lunch? El Xampanyet of course! This restaurant makes the absolute BEST tapas I've eaten in my entire life. It's located right next to the Picasso museum, perfect for grabbing a bite to eat after marvelling at some of the best art in the world. It's a very typically Spanish restaurant with most of the people eating at the bar but you can ask for a table and they're sure to find you one quickly enough. It looks crowded all the time but don't be intimidated, because with everyone standing up, you can eat without any problem. Don't forget to order the asparagus and tortilla - they're just heavenly! Address? Carrer Montcada, 22. Go, go, go ! Want more tapas restaurants to explore? Check out our blog about
The top Tapas restaurants of Barcelona
.
Play a beach volleyball game with locals on the beach !
You'll see once you're arrived in Barcelona that the beach is full of volleyball courts. It's a really popular game here in Barcelona, (just like in Copacabana). You can always ask the players if you can play with them they will happily welcome you into the game! It's a fun and sporty way to meet local people who can give you a lot of tips about the city. And besides, you've got to burn off all that tapas you ate at El Xampanyet  And if you need more info about Barcelona beaches, just check out our guide to the
best beaches in Barcelona.


Have an after-dinner drink at The Eclipse
Wondering
what to do in Barcelona
after dinner ? Searching for a unique place to have a drink ? The Eclipse is the club of the luxury W hotel, located on the beach front. All the way up on the 26th floor of the hotel you can enjoy an amazing view of Barcelona whilst sipping the cocktail of your choice! The bartenders are all very well trained and make absolutely delicious drinks (By the way, if you're a cocktail lover check out our free e-book :
top 10 cocktail bars of Barcelona
). Be careful though, those under 21 cannot enter the club, and as it's a fancy hotel the dress code is... well, fancy! But the view is well worth the stilettos! Check out more info on the
Eclipse website.
Enjoy the breath taking view from Barcelo Raval
The most amazing view of Barcelona I've ever seen is from the Barcelo Raval hotel, in Raval neighborood. Up on the 11th floor you'll find the beautiful terrace and  you can enjoy a 360 degree view of Barcelona. It's really amazing and you absolutely can't miss it. I bring all my friends there so they can have an idea of the structure of Barcelona and how big it is ! You can see pretty much everything from this rooftop. Don't miss this one! More info on
Barcelo Raval Barcelona website
.
To roller skate down Barceloneta
Time for some fun in the sun at the beach! You'll see that Barceloneta is just what you need to get your skates on. It's really a really popular sport here and don't forget that roller skating is the sport that burns fat the most easily and quickly! There are a lot of shops that rent roller skates all along the beach. Head down there now - the kids will love it!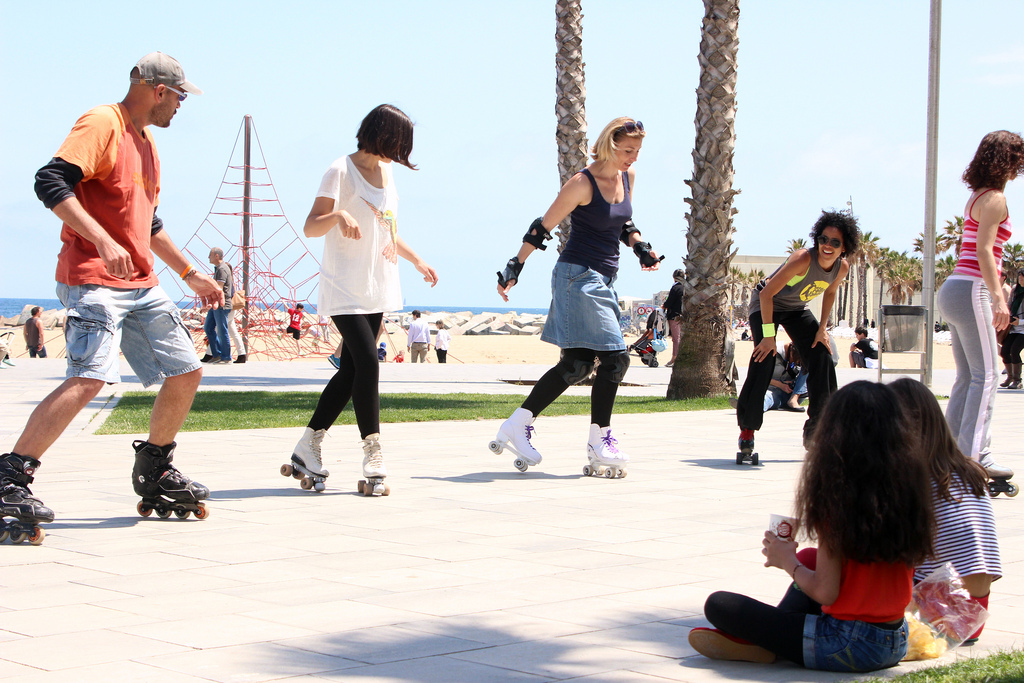 Brunch at Federal Café
Lazy sunday morning and you don't know
what to do in Barcelona
? Federal is a little and hidden café next to the metro station "Paralel". It's one of the best brunch spots in Barcelona. There is a great menu to order from and everything is delicious! The service is really good and you won't have to wait hours to be served. There is everything you need to have energy for a whole day of sightseeing, and it's not expensive. Where can you find it? Carrer del Parlament, 39. If you're fond of brunches check out our blog about
the best brunches in Barcelona.
Enjoy the pool at the Ohla Hotel
You can't deny that the beaches in Barcelona can get a little crowded, especially in summer. If you're looking for something else, a fancy pool for a fancy afternoon, you might fall in love with the Ohla Hotel. Located on Via Laetana, this 5 star hotel opens its pool to the public during the summer. You'll have to have a drinks or something to eat of course, but the place is amazing, a peaceful and quiet location in the very heart of Barcelona. It is located on Via Laetana, 49.
If you, like me, absolutely LOVE rooftops bars and pools take a look at our blog posts for some recommendations :
Top 10 rooftop bars in Barcelona
and
Top 7 rooftop pools in Barcelona
. Alright guys, that's it for today! I hope my blog was helpful and if you have any other ideas of what to do in Barcelona, please leave us a comment, we'll be glad to hear from you !
Mathilde