Cheap Bars in Barcelona: More Drunkenness for Your Euro
There are some great 
cheap bars in Barcelona,
in a sea of mostly expensive ones.  At SuiteLife, we like to drink on the cheap, and so we have curated for you some of the
Barcelona's best cheap bars
.
Ambar
As far as
cheap bars in Barcelona
goes, this is a lively little dive bar in the Raval, which perfectly personifies the area.  It has a very retro and relaxing feel and is a very popular place to hang out or drink a few beers before a night out.  The bar is very Catalan and attracts a good mix of locals and expats who are in the know.  You can get Beer/wine for €2.50; Cocktails for €6; Mixed Drinks €5 and Shots €2
Map


Blondie
Filled with neon lights and retro 80's decor, this place is for the young and hipsters.  It's a cool 80's punk bar that plays music ranging from 50's to modern electro and serves up some of the best original cocktails in the city.  One of the more hip
cheap bars in Barcelona
for sure!
Website
Map
Ryans
Ryans is the
cheapest Irish pub in Barcelona
and is always very popular.  The drinks are especially cheap if you get a Ryans loyalty card. Drinks: Bottled Beer (with card) €1, Shots (with Card) €1.
Read more about it
on our blog dedicated for the Irish Pubs in Barcelona.
Website
Map
El Nus
This is one of Barcelona's oldest bars and it is certainly obvious when you walk in.  They have great stonewalls, dusty chandeliers and rustic wood furniture.  If you're looking for an old-fashioned place to relax and a few
cheap drinks in Barcelona
then El Nus is the place for you, perfect for escaping from the crowd and enjoying some calming jazz music.
Map
Maumau Underground
This Bar is a little off the beaten track in Poble Sec but it is a very cool and slightly clandestine joint and quite cheap too!  You will find a group of hip well-dressed artists, students and young professionals here sipping on one of the 25 different gins or a vintage cocktail.  The bar certainly looks the part, with low white sofas surrounded by pop art and bamboo sticks.  At first Glance this may not appear to be cheap but once you invest in their loyalty card for €12 annually you get great discounts and it is definitely worth it.
Website
Map
Yakuta Bar
This is a fun international bar at the bottom of Las Ramblas that attracts a diverse crowd that enjoy good music and interesting art.  If you buy a cocktail here you get a free shot (chupito) just to give you an extra kick.  You can also watch the biggest sports matches here and take advantage of their free wi-fi.
Map
Dow Jones
At SuiteLife we love this bar, its great fun, has great food and if you don't mind what you are drinking, you can get cheap drinks.  The pricing for drinks in Dow Jones is governed by stock market principals, if a drink is in demand then it is expensive and if not then it is cheap.  So if you know anything about economics you would know that once a drink gets cheaper it becomes more popular and the price goes up.  Read more about Dow Jones on our
Dow Jones Bar blog
. Website
Map
Chupitos
If you like shots and choosing from more than 200 different types, then Chupitos is what you are looking for.  There are two Chupitos bars in Barcelona and they are both great fun.  The shots are €2 each. 
Read more about Chupitos Here
.
Website
Map
The Ovella Negra Taverna (The Black Sheep Tavern)
Cheap bars in Barcelona
don't get much better than this. The Ovella Negra is a great place to go with friends and drink lots of cheap beer.    They serve ½ a litre of San Miguel for €3 and they also serve giant chilled pitchers of beer for sharing with your friends.  If you buy the big pitcher it works out to be quite the bargain, and you will have lots of fun guaranteed. 
Read more about The Ovella Negra here
.
Website
Map
Pippermint
This is another great
Barcelona bar
that is cheap when you go with friends.  This is because you can buy huge 13 litre pitchers of mixed drinks to share between your friends.  Pippermint is a pretty famous in Barcelona and usually very popular.  It's a great place for a party.
Website
Map
Nevermind
The first
bar
I went to after arriving in
Barcelona
was "Nevermind". The thing I liked about it is that it's different from American
bars
which I am used to. The majority of the crowd in Nevermind consists of "skaters" and "hipsters". They come here for the Alternative and Hard Rock music which can always be heard in the
bar
. One of the most amazing features of this
bar
is their mini-ramp which is located in the back of the
bar
. I do not fit either of the stereo types which are attracted to this bar but what does attract me is the reasonably priced beer. For about 3,50 you can get yourself two Heineken and look at the skaters showing off their skills.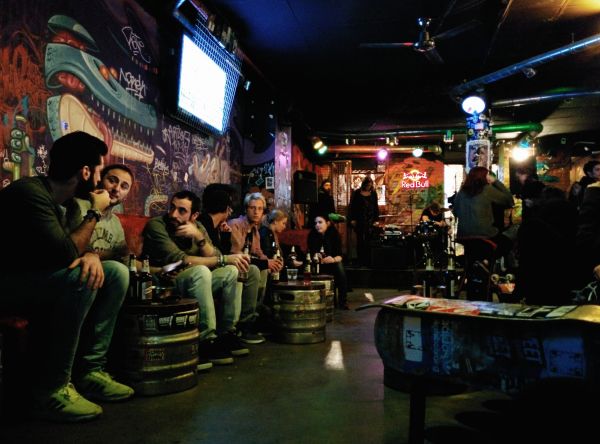 Barcelona
is definitely one of the easiest cities in the world to have a great time but its also really easy to spend tons of money on
alcohol
and fall into one of the many tourist traps. But have no fear! The
bars
I just mentioned and talked about are great places to go to have a great time and not having to spend lots of money on small quantities of
alcohol
. I hope you have a great time at the best
cheap bars in Barcelona
! I hoped you have all enjoyed reading this Blog and have gathered all the information to have an amazing
cheap
night in
Barcelona
. If you know about any other
cheap bars in Barcelona
that should be in this list let us know and we will add it too our list! If you know of any other cool cheap bars in Barcelona we would to love to hear about them. Cheers Matthew and Ryan