La Boqueria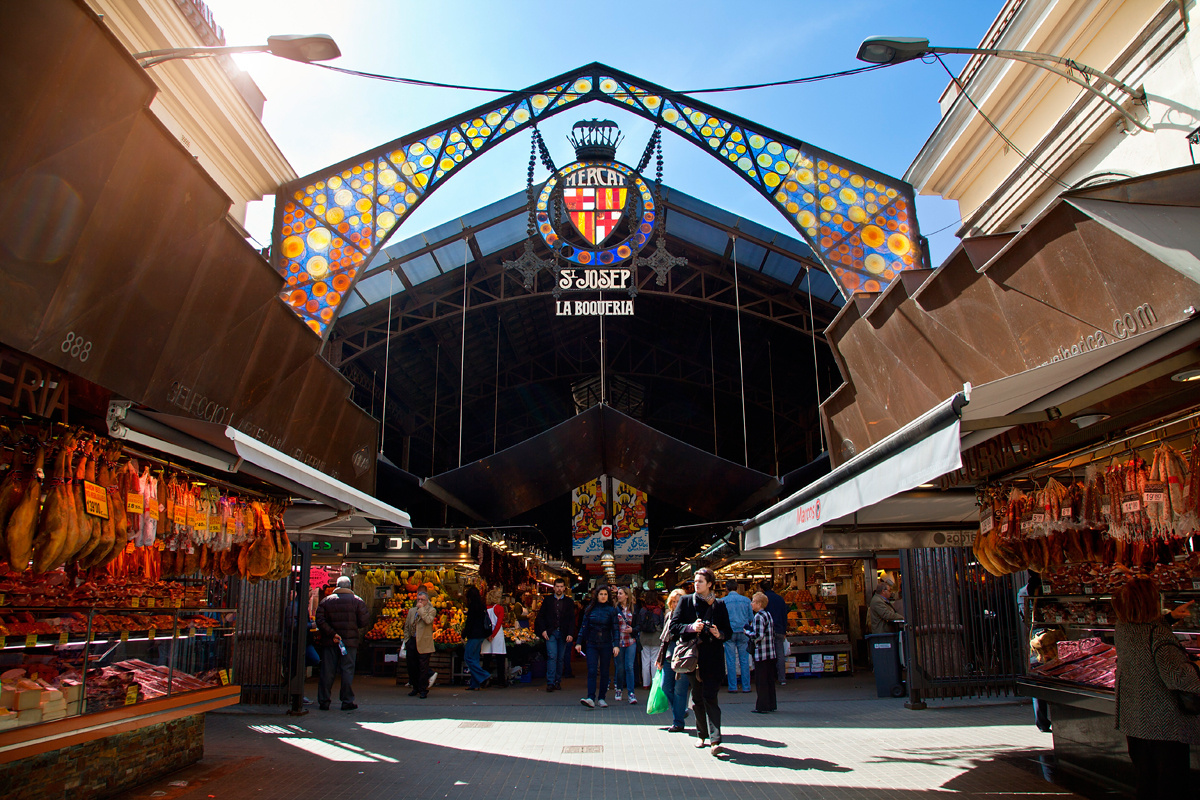 I won't lie to you and pretend that I am a professional chef, I won't even tell you I can cook well but when I walked through
Barcelona ramblas Boqueria Market
I felt as if I was playing the part.
La Boqueria Market
or
Sant Josep
is the place to go for any item you need for a delicious Mediterranean meal, or simply for some extra fruits and treats on the go. The
Boqueria
has everything you could possibly imagine under one tall metal umbrella. 
Sant Josep
market is the largest of Barcelona's 39 food markets, and it is also the largest in Europe. This market assaults your senses with the sounds of the people ordering in close proximity, the numerous smells intoxicating your brain, the riot of colors that cover every stand, the feel of Barcelona's ripest fruits, and of course the taste of heaven on Earth as you delight in the freshest food the city has to offer.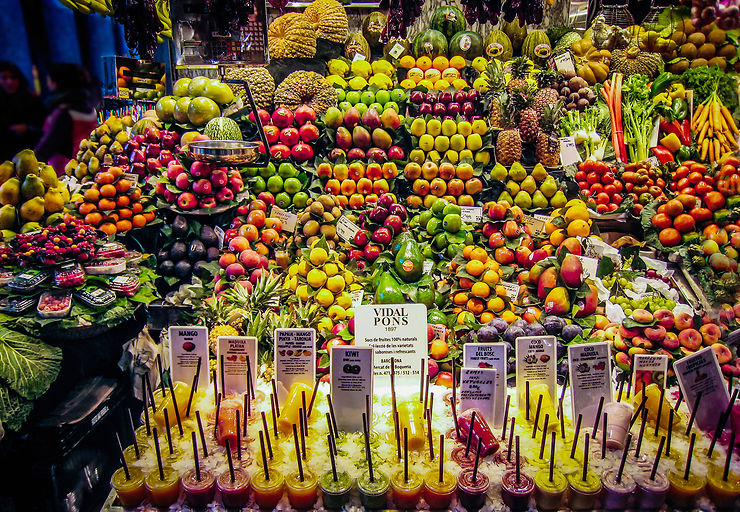 Walking through la
Boqueria
can be like walking through a maze of foods and ingredients. It can take your brain a few minutes to adjust to all of the sites and sounds inside the crowded market. Take a deep breath and decide what you want to see because the market is actually organized quite well for an open bazaar.  The first thing you see when entering
Boqueria Market
from the
Rambla
are the fruit stalls on either side of the main alley. An incredible array of colorful fruits tempt the thirsty visitor, especially as they're so nicely presented and packed for quick consumption. You can take your choice from pre-packed, ready to eat fruit salads, pineapple, mango, kiwi and a seemingly endless range of exotic fruits and fruit juices. Just off this main alley you can buy all the same stuff at a more reasonable price, especially if you can do without the packaging. The market is organized; fruit and vegetables on the outside, then pickles, olives, grains. Next come the stalls selling meats, chicken and innards like brains, whole heads, tongues, eyes, gonads, gizzards, and any organs you could possibly think of, (or want to eat). The inner circle is devoted to fish, seafood, and shellfish.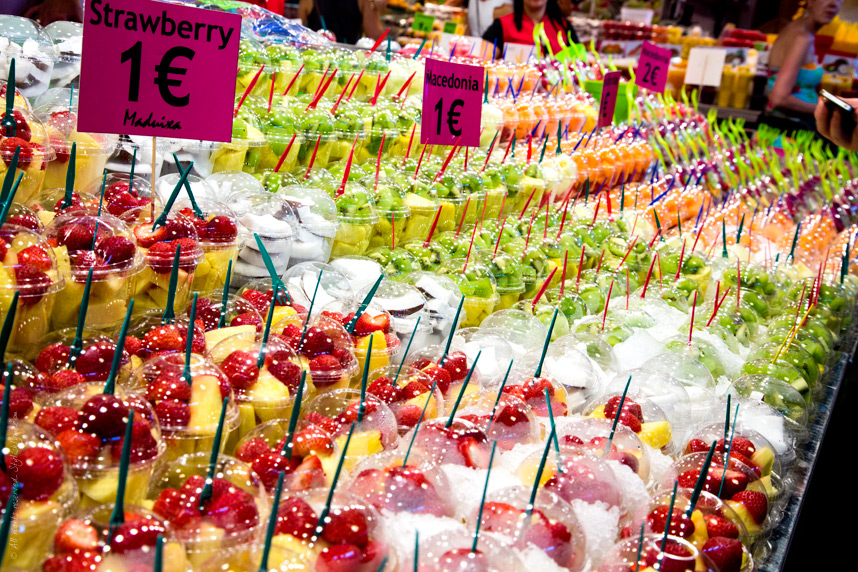 Once you have managed to maneuver yourself through the maze of alluring and attractive foods, it is time to decide what to buy. Whether you are perusing through the market while walking down the
Rambla
or if you are doing some serious shopping for a big dinner with friends make sure to stop for a refreshing fresh fruit drink. The fruit stalls in the entrance aisles have every flavor of fruit under the sun chilled and ready for quench your thirst. If you are planning doing some serious shopping for some special events, then pay attention to the stall prices, as those centralized and close to the entrance tend to have higher asking prices then the stalls further back.
History of La Boqueria ~

For the other historic enthusiasts out there, here is a brief background of our favorite one stop shop for kitchen stock ups. La
Boqueria
holds its inauguration back in 1217 when tables were installed near the harbor as a place to sell fish, pork, and other delicacies. Until 1794, la
Boqueria
was known as the Mercat de la Palla, or Straw Market. Over time, the market grew in popularity and farmers from neighboring cities would travel here to sell their goods. Competition among sellers was fierce as the Mercat de la Palla, even back then, was popular among the crowds. The fish shops and butchers tables soon created a street of their own, making the Mercat an even larger bazaar of eats and treats. The open market was becoming so large that it soon became its own locale, being named
Sant Josep
.
Sant Josep
was inaugurated October 18th, 1827 as an official market. During this time,
Sant Josep
was soon surrounded by flowers, fountains, and porches from the surrounding buildings.
La Rambla
and la
Boqueria
during this time were the central spots for peddlers and sellers of all types of wares.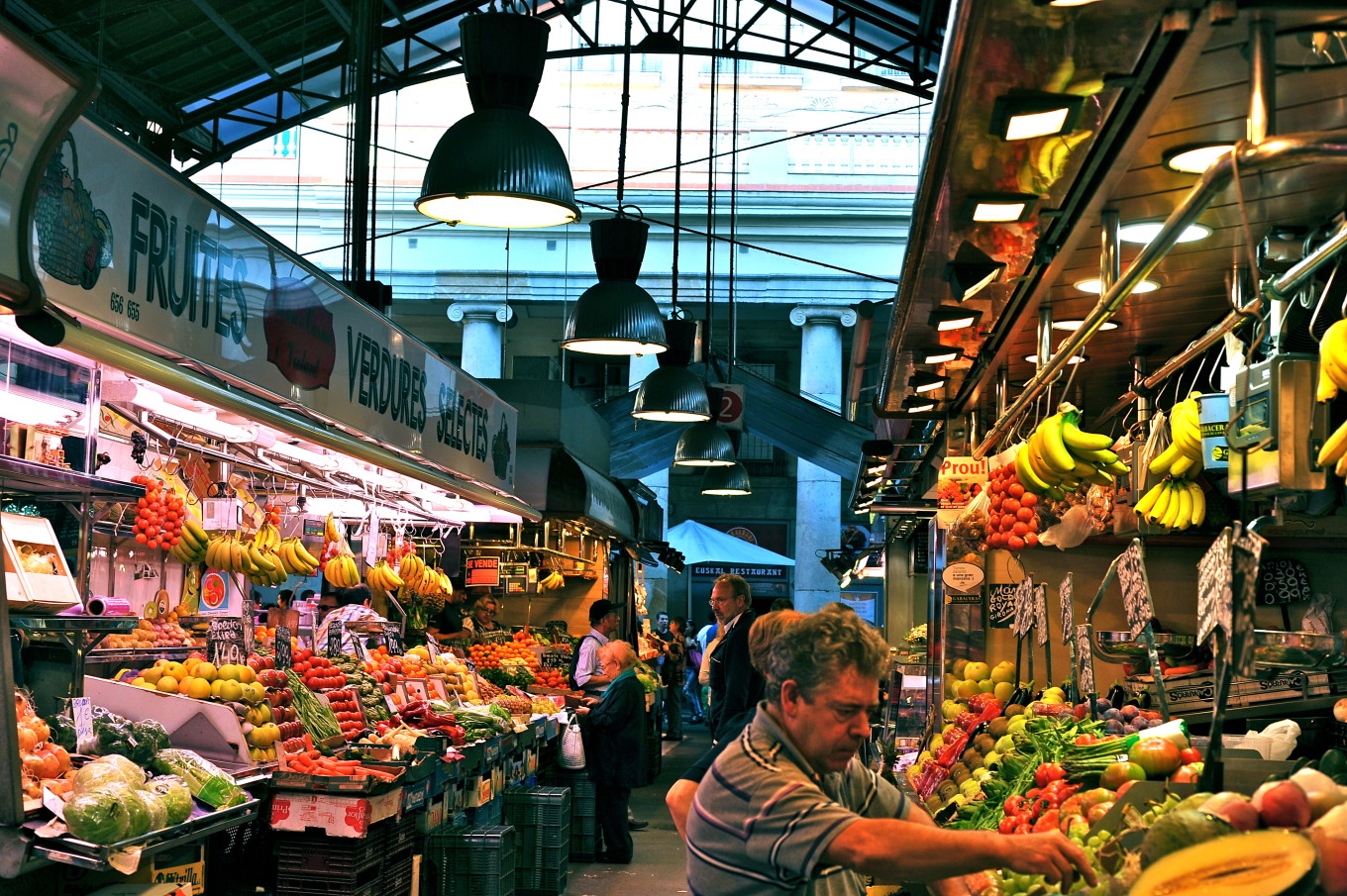 It was in 1914 that the metal roof and enclosure that stands today were built. The current sellers are mostly of the third and fourth generation of salesmen of the market. The market continues to bring the past and present together, through food and culture. It is a place to discover new foods, new flavors, and learn new Spanish dishes. They are the union of the past with the present. In 2005 the Boqueria was given the award for best market in the world by the World Markets Congress of Washington. In 2003, la Boqueria began giving daily cooking classes to adults and children alike. La Boqueria is a destination for locals and tourists alike. It brings out the inner chef for all of us.
Check out our SuiteLife video tour of the greatest market in Europe:
Tell us about some of your favorite Mediterranean dishes made with Boqueria's freshest ingredients. Share any mouth watering recipes or cooking tips you may have. Cheers, Brettsky
Address:
La Rambla, 89 bis - Plaça de la Boqueria
Phone:
933 182 584 / 933 182 017
How to get there:
Metro L3, stop Liceu. | Bus 14, 59 and 91.
Web site:
www.boqueria.info
E-mail:
mercatboqueria@mercatsbcn.cat
Opening time:
Monday to Saturday, from 8am to 8.30pm.