Barcelona to Mallorca: Visit Mallorca on a Beautiful Weekend!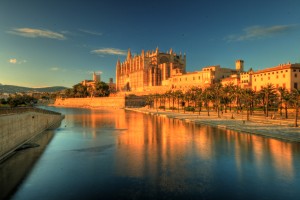 A beautiful weekend from Barcelona to Mallorca is one of the best things to plan while you are in Catalunya. Barcelona is one of the most amazing cities in Europe and, I know, its hard to imagine ever getting bored here or wanting to visit somewhere else... But we all need to escape the city sometimes and visiting Mallorca is a great way to spend a weekend, or even a whole week! For me, as a German, Mallorca is one of my favourite destinations for spending summer holidays. Some German's joke that Mallorca is a German island as it is such a popular tourist destination for them but Mallorca hasn't lost its Spanish charm and is worth a visit for sure!
Basic Information About Mallorca:
Mallorca is one of the Balaric Islands and is located 170 km from Barcelona, in the Mediterranean Sea. The main languages are Spanish and Catalan, though the Majorcans speak a slightly different dialect, called Mallorquí, than the Catalan spoken in Catalonia. The beautiful island is a popular holiday destination for tourists from all over the world. Palma, the capital of Mallorca, has much more to offer than just beaches, restaurants and other leisure activities. Besides all these things, there is a beautiful palace, which is the summer residence of the Spanish King,  and Palma also has a beautiful old town, cathedral, art and shopping.
How to Get There:
Just in case you don't have your own yacht, there are two ways to get there. The first one is to catch a plane, the second is to take the ferry.
Cheap flights from Barcelona to Mallorca:
First of all you should read our blog about
airports in Barcelona
. If you are lucky, you can find flights for 30€ return. You should check
Vueling
and
RyanAir
. Those are the cheapest.
Ferry from Barcelona to Mallorca:
There are two different companies which run from Barcelona to Mallorca. The ride takes 7 hours and prices are rather variable. Usually the flight is way cheaper, but since you can take your car with you, the ferry has advantages too!
Party Places:
Mallorca is full of nice restaurants, beautiful beaches and parties. I have been to two places where everything is about partying.
Palma
The famous beach promenade, located in "El Arenal", is a real party mile. Mostly German people start drinking at the beach, continue in one of the bars and then end up in a club. The level is pretty low, people are wasted and it's all about the alcohol and so. It's not the place to go for everybody, but you can have a great deal of fun there anyways. I went there with my football team and we had an awesome time! However, you should not stay longer than 4-5 days.
Cala Ratjada
Cala Ratjada, located in the north-east of Mallorca, is a small town with a lot of bars, clubs, restaurant but also nice beaches. The level in Cala Ratjada is way higher than in El Arenal. Me and my best friend use to rent a huge apartment every summer and had the time of our lifes. You have everything you need over there. Perfect wheater, nice people, beaches, restaurants and good clubs. It's definetelely a good option for you to check out.
Other Cool Things to Do on Mallorca:
Where do I begin? Mallorca is a paradise for golf players. Even though the island is pretty small, it has tons of golf courses. One of the most spectacular is in Andratx (golf de andratx - camp de mar). Check out their
website
. Once you are on Mallorca, you should go to Cap de Formentor. Drive all the way up to Fumart, which is located 384m above the sea level. Cap de Formentor is in the very north of Mallorca.
I think Mallorca is a beautiful island. Some poeple might say you can have the same in Barcelona but it's different. Mallorca's so varied! You can relax for a couple of days, or really go wild. Mallorca has everything to offer. As you may have already guessed, I'm a big fan of Mallorca. What about you guys? Have you ever been there? Alex