Churros Con Chocolate: The Best Way to Eat Churros!
Spanish food is of course famous all over the world.
Barcelona Tapas
and Paella are served in many
Barcelona restaurants
, but when it comes to local Spanish food in Barcelona, it doesn't get much better than the Barcelona Churros con chocolate, served with thick hot chocolate (known locally as Churros con Chocolate) for dunking your Barcelona Churros into, definitely some of my favourite Spanish food!
"What Are These Churros You're Talking About?!"
Churros con chocolate are a sweet type of Spanish food, which are (
surprise-surprise
) fried, much like donuts. Churros con chocolate are made of  batter, and traditionally sprinkled in hot cinnamon sugar, buenísimo! You know when you have found a good Barcelona Churro stall or "Churrería" as it's known locally, when the Churros are crunchy on the outside, yet soft and yummy in the middle. The surface of a good Barcelona Churro, should also be ridged and shaped like a prism, in a long spirally-twisted length of Churro heavenliness, YES, I really did just say Churro-heavenliness!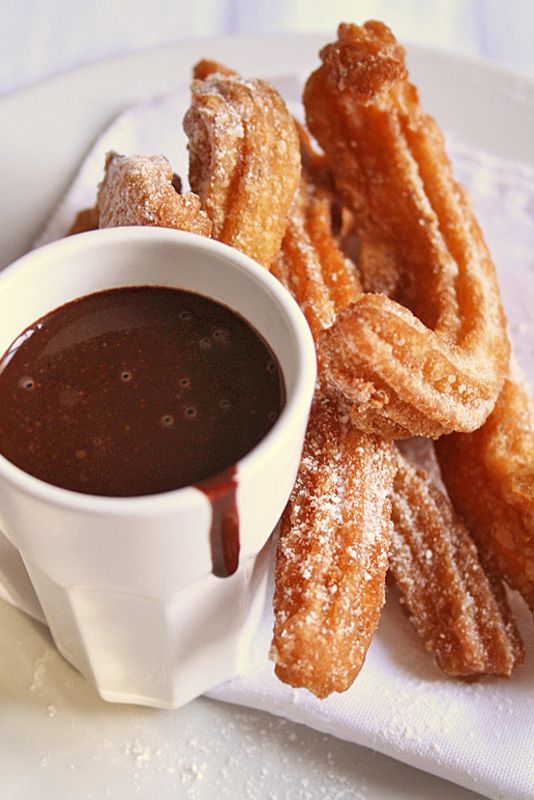 How To Eat Churros?
So, you have followed our advice, and after much deliberation and assessment of your local Churro con chocolate suppliers, you have picked the best of the bunch. You are happy that the quality of their Churros con chocolate is sufficient for you to purchase a bag of those heavenly Churro-tastic Churros with a side order of that silky, chocolistic, hot chocolate. What do you do next? Well my fellow Barcelonian Suitelifers, it's
easy-peasy-lemon-squeezy
. First, find a bench or somewhere comfortable to park your bum. Grab hold of one of the crunchy sticks of Barcelona Churro goodness, and dunk it as deep as you can into your pot of hot chocolate, don't be shy, you need to enjoy this Spanish food to the maximum.
Enjoy Churros in the Morning and All Day Long!
Although typically, Churros con chocolate are considered to be a
breakfast-time-kinda-food
, they are eaten all day, and some of the Churro con chocolate stalls are open all night as well. There's a small Churro stall, near the
Joanic metro stop in Gracia Barcelona
, it's close to a club I go to and is open until
God-knows-what-time
, it sells the best Churros con chocolate in Barcelona and makes for the perfect end of night party food! I also advise you to try  the Xurreria El Trebol,  the Granja La Pallaresa  and La Xocolateria by Oriol Balaguer, which are some of the best places to taste de most delicous churros con chocolate. Remember, if you find a great Churros con chocolate place, you can tell us about it on our
Facebook page!
Yours, Ben Holbrook - Suitelifer and Chocoholic