Coworking in Barcelona has gone viral just as it has all around the world and Ciutat Condal just couldn't avoid this phenomenon. Used by entrepreneurs, work-at-home professionals, or people who travel a lot, coworking promotes a great sense of community and sharing, let's understand this new way of work!
What is coworking ?
Coworking spaces gather people, who are normally self-employed or working for different small businesses, in the same office or work place, designed to provide a productive and collaborative environment. Workers share the whole infrastructure, the equipment and the costs. But coworking is also and mostly about belonging to a community of workers, who have the same values, the same vision of work. It is a place to meet people, to come up with new ideas, the share knowledge and experiences.
Some History

Bernie de Koven, an American game designer and author, was the first one to use the term  "coworking" in 1999 to describe and analyze the new collaborative work methods in Germany. Actually, coworking is not a new concept! It already existed under different forms, the oldest one going back to the Renaissance, when Italian painting workshops used to gather different artists, like Leonardo Da Vinci or Sandro Botticelli, to share new artistic technics and knowledge. The first modern form of coworking space appeared in Berlin in 1995 with the C-Base, a community of computer engineers who set up an informal "hackerspace" for collaborative working. Although this early space contained some of the basic elements of coworking, the idea would not take full shape until 2005, when Brad Neuberg opened the first coworking space in San Francisco. The place proposed a mixture of desk space, shared lunches and events such as bike rides and group meditation. Sillicon Valley took up the idea a few years later, and since then coworking spaces have been popping up all around the world, and our beautiful city seems to have a new one each week. The number of coworking spaces is growing fast. According to DeskMag, in 2017 there were 13 800 spaces worldwide, compared to 11 300 in 2016, and these spaces have gathered more than one million members. In addition, coworking spaces are becoming more profitable, which shows brighter prospects for the future.
Advantages and disadvantages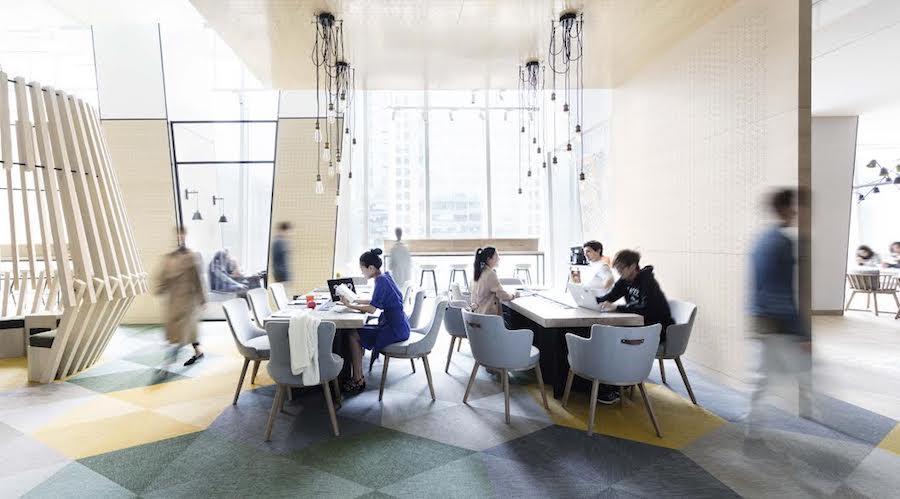 Perhaps the most appealing aspect of coworking is the creative environment and the sense of community from like-minded professionals. The place is thought and designed to improve the efficiency and productivity of workers in a laidback atmosphere. If you work at home and feel isolated or not focused, then coworking places are the best solution. Another huge benefit is the potential for networking. The people that you meet at a coworking space could be looking for your kind of work and/or they could be great resources down the road. Of course one of the downsides is it's not free, but it's still cheaper than renting your own office and you can find more flexibility, paying a month fee.  Another negative point is you might have the same distractions as you would when working at an office: interruptions from others, noise, and less privacy. To choose the best suited coworking place to your way of working you must consider two major aspects. First the accessibility: your coworking space has to match with your work schedule, with your budget and it has to be in a convenient location for you. Second, the community : it has to gather people who share the same values, who feel like sharing their experience and support other worker.
Coliving : when the concept goes further

The concept of coworking has inspired a new one:  the coliving. It means any shared housing designed to support a purpose-driven life, a modern and sustainable urban lifestyle that values openness, sharing and collaboration. To explain you, it is like sharing a house with other people who have a common interest to collaboratively and efficiently manage and share resources, coordinate activities and strengthen social relations. These shared houses are also designed to offer a great and serious place to work. The purpose is to create a home environment that inspires and empowers its residents to be active creators and participants in the world around them. Coliving seduces in general freelancers, self-employed, people who set up their startup, or young workers who are looking for flexibility and networking. Shared houses offer a lot of benefits like coworking spaces, workshops and activities (excursions, sports, etc) to create a real and lively community. Many of them don't require a long term lease, you can chose to stay either a week, or month or more, which doesn't hinder worker mobility. There are more and more companies that work in this new niche market. For instance you have the platforms Welive in New York,  or
Coworkation
and
A Landing Pad
in Barcelona which propose to find your community.  More than an opportunity for the real estate sector, the coliving represents a new vision of private/professional life, which philosophy is  "sharing and communion".
Find your coworking space
La Vaca Coworking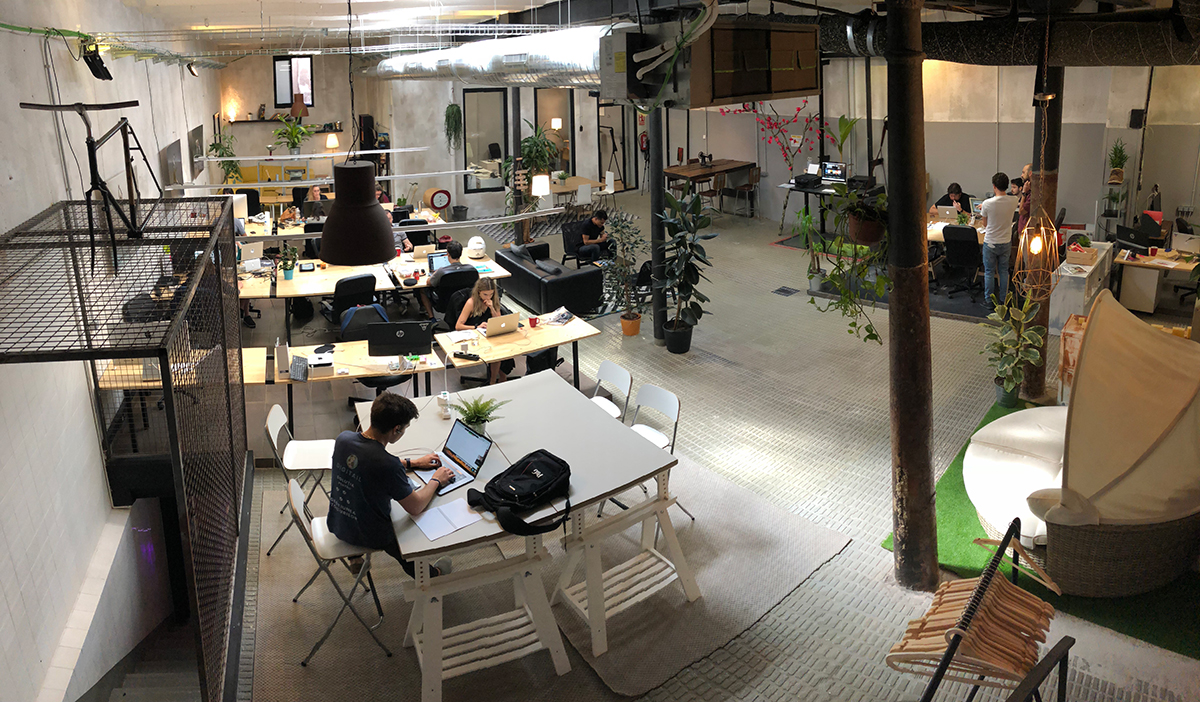 Carrer de la Creu dels Molers, 19, 08004 Barcelona
La Vaca
was a former dairy shop turned into an original coworking space where you can find a café-chill vibes and many different work spots adapted to your way of working. The community  gathers many freelancers, startups and digital nomads and organizes weekly activities like Afterworks, "Paella Day" … etc to strengthen bounds and create the best atmosphere to work!
Cahoot Coworking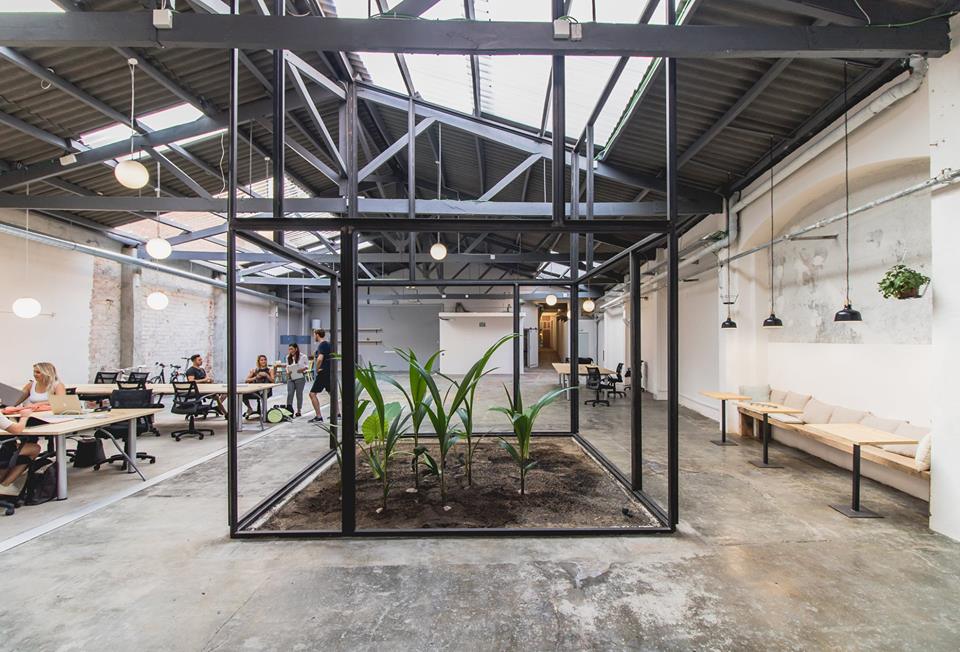 Carrer de Floridablanca, 92, 08003 Barcelona
Cahoot
is located in Sant Antoni in a newly and well redesigned industrial space. They provide you all the equipment and tools to feel comfortable and focus at work while having fun with your co-workers. It is also a strong community of workers that value innovation, empowerment and giving back, organizing many events to cultivate this philosophy. Of course there are many other coworking spaces in Barcelona, and it can be hard to find the suited one. That is why we propose you a list of different places with pictures and description to help you in your research. Just check out
The Best Co-Working Spaces in Barcelona
We hope that this article helped you to better understand this phenomenon and we would be glad to know your opinion on the subject ! If you have any questions or comments we'd love to hear from you in the comments!