The Metro in Barcelona: A method to its madness
Here is some useful information and tips for newcomers to 
Barcelona -
the
metro in Barcelona,
tickets
and operating hours!
Barcelona's modern public transport system
will take you from its beaches both near and far, to all its important sites and neighbourhoods. Having lived and visited several of Europe's major cities, I am familiar with that problem we have all faced before - standing in front of a ticketing machine in bustling station, pressing an unresponsive screen, and wondering which ticket to buy while a queue of impatient locals look over your shoulder.... Hopefully this post can make that daunting situation all the more comfortable.
The Metro System:
The metro in Barcelona
 is composed of
several underground lines
managed by Transports Metropolitans de Barcelona (TMB) and is divided into 
6 zones
. Zone 1 includes Barcelona's city centre. Whether you are coming to Barcelona for travel, study, or work, this should be sufficient. I personally stick to zone 1, and buy a separate ticket when traveling beyond the boundaries of Zone 1.
Frequency and Operating Hours:
The
trains for the
metro in Barcelona
 consistently call at stations every 2/3 minutes on week days, and every 10 minutes on week-ends. The estimated calling times are even posted to the second! From Monday to Thursday, the 
metro in Barcelona
(specifically the L1, L2, L3, L4, L5, L11 lines)
starts at 5am and stops at 12 am (supposedly, its a good way to prevent people from going out during the week). On Fridays,
the
metro in Barcelona
 runs from 5am to 2am, and on Saturdays they run non-stop! Be mindful of public and festive holidays: on New Year's Eve and the eve of June 24th, August 15th, September 9th , the lines run non-stop. On the eve of other holidays, it runs from 5am to 2am. However, on Christmas Eve (December 24th), the 
metro in Barcelona
 stops at 11pm.
Prices and Tickets:
Currently, single tickets for the
metro in
Barcelona
 (TMB system) and for
Barcelona Busses 
cost €1.15 per journey. They're handy if you're just dropping by Barcelona as they are cost effective for up to 3 trips. If you're fortunate enough to be staying longer in Barcelona, then I would urge you to consider the following alternatives:
T-10 Ticket: For all means of public transport. Price ranges from 9.95€ for zone 1 (each journey is valid for 1h15 after validation), to 42.05€ for all 6 zones (each journey is valid for 2h30 after validation)
Multi-Day Travel Cards: Tourism ticket. This ticket gives you an unlimited number of journeys over a certain number of days. This includes metro and bus (TMB), local train (FGC), tram (TRAM) and regional train (Rodalies de Catalunya). You can use it on the Rodalies train to and from the airport too! Prices range from 14€ for the 2-day travel card, to 32€ for the 5 day travel card.
T-Dia Ticket: Unlimited number of journeys on all forms of transportation. The price ranges 7.60€ for 1 Zone, to 21.70€ for 6 Zones.
T-4 Travel Card: If you are moving to Barcelona, obtain residency, and are older than 60 years or have a recognised disability, you may be eligible for this ticket after obtaining a reduced-fare "Targeta rosa metropolitana", or a reduced-fare "Carnet rosa metropolità". This travel card also includes 10 journeys, valid on the TMB bus and metro network (except special services and Barcelona's Bus Turístic), the Barcelona Metropolitan Area (AMB) bus network, Ferrocarrils de la Generalitat de Catalunya (FGC) and Tram (zone 1 only).
T-Mes: An individual travel card valid on all forms of public transport for an unlimited number of journeys in 30 consecutive days from the first validation. The price for 1 Zone is 52.75€. Note that T-Mes cards must be accompanied by a valid ID. The number of the ID document used must be printed on the travel card.
T-Trimestre: Valid on all forms of public transport for an unlimited number of journeys over 90 consecutive days from the first validation. The conditions for this card are the same as those for the T-Mes.
For more information on TMB's wide range of ticketing options, please see the 
Transports Metropolitans de Barcelona
 website.
Where to find tickets:
The easiest way purchase your respective ticket is at one of the automatic vending machines located in each Barcelona metro station. The vending machines have several language settings, and if you require any help there is an assistant in most stations. Additionally, some tickets can be purchased online. Please, check out . For more information on purchasing your ticket, check out:
the TMB website;
or on ServiCaixa website specialized in selling tickets for all kinds of events in different Spanish cities;
go to Barcelona Tourist Information Offices;
FGC railway stations; or
TMB customer service stations.
Additionally, ensure that you take one of the
metro system
maps which you can find near the automatic vending machines. These can also be found online
here
. [caption id="attachment_1959" align="aligncenter" width="438"]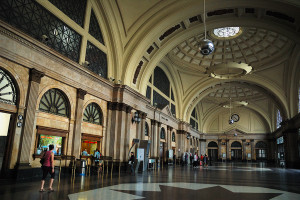 Estació de França - Barcelona's most charming station[/caption]
Tips:
The
metro in Barcelona
has some unsaid rules that newcomers can easily pick-up: First of all, the 
metro in Barcelona 
has several lifts and escalators. During peak hours, they become very crowded and given how narrow they are, expect to be pushed passed during these crowded periods. So, it is best to keep to your right when on the escalator, so as to leave room for those in a hurry. Escalators will only take you to higher floors. To go down to a platform, all stations require you to take the staircase. Not a bad way to justify last night's tapas indulgences... A great thing about
the
metro in Barcelona
 is that you get phone service everywhere (if you have a working phone that is). This is mighty helpful if you get lost and need to find out which station to hop off at. Last but not least, given the number of people using the metro, PAY ATTENTION to who you are surrounded by and what is going on! Like in any public transportation system, the
metro in Barcelona
 has its share of
pickpockets
.
Connections:
Given the number of lines operating, most journeys will require you to change line. This is when your metro map becomes most useful. Here are a few of Barcelona's biggest transfer hubs:
Diagonal (L3, L5 and L6): this station leads to  Plaza Juan Carles I, intersecting with Avingunda Diagonal and Passeig de Gracia, two of the biggest axes crossing Barcelona. Diagonal Station is always crowded by busy people in a hurry.
Passeig de Gracia (L2, L3 and L4): Located right under Passeig de Gracia, at the intersection with Gran Via les Corts Catalanes and is the second biggest hub of the metro in Barcelona with a very long tunnel to go from L2 to L3. Don't walk there alone after 11pm: notwithstanding its all performing video system, it can be quite unsafe at this time. A tip if by any chance you have to haunt Barcelona's Metro alone late at night - walk along the walls and keep your bag on the wall side.
Other stations with great connections include: Drassanes for Las Ramblas, Gloriès, and Espanya. All are very good metro stops to then explore from. The metro in Barcelona is an experience in itself! Hopefully, you now have a method to its madness. If you or a friend is looking for a great
long term flat rental in Barcelona
please check out our website 
www.SuiteLife.es
and get in touch for excellent service. Yours! A.