STAND-UP COMEDY BARCELONA: This City will have you in stitches!
(Updated on February 5th, 2019) Hello SuiteLife gang and welcome to my first blog entry about
stand-up comedy Barcelona
.  Laughing, really laughing out loud, has to be one of the best feelings in the world no? Laughing so hard you start to cry and can barely breath? Even better LOL. If you're an English speaker living in Barccelona you've probably long written off the chance to see standup in your own language but fear not SuiteLifers, there's hope yet for us. There are English speaking standup comedy shows in Barcelona and we're going to tell you about them!
BARCELONA COMEDY CLUB
First off we have Barcelona Comedy Club. Stand-up is what this venue is all about. BCC is known to be more UK orientated than anything else, having mainly English and Irish guest comedians. Nevertheless Spanish and other foreign comedians are always welcome to try out their material in English. The shows are held in a cozy little pub called
Gaelic BCN
. Really old-timey and warm atmosphere providing a perfect setting to the hilarious stand-up you can enjoy for only 5€ (including a free drink! Woo!). Once you step inside and the comedians take you away with their tasteful humor, the feeling you experience is nothing short of the one you would have as if you were hanging out in old-time London.
As is common practice in the field of
stand-up comedy Barcelona
, this comedy venue organises shows only once every month. Not the most exhaustive schedule, I know, but I suppose this just throws emphasis on how special the shows actually are (wink). Although their website is updated regularly, BCC has a big online presence on Facebook. If you ever need to find out when their next show is going to be or who will be performing, it would be a safe bet to hop on
Barcelona Comedy Club's Facebook page
and read away.
Guiriness Barcelona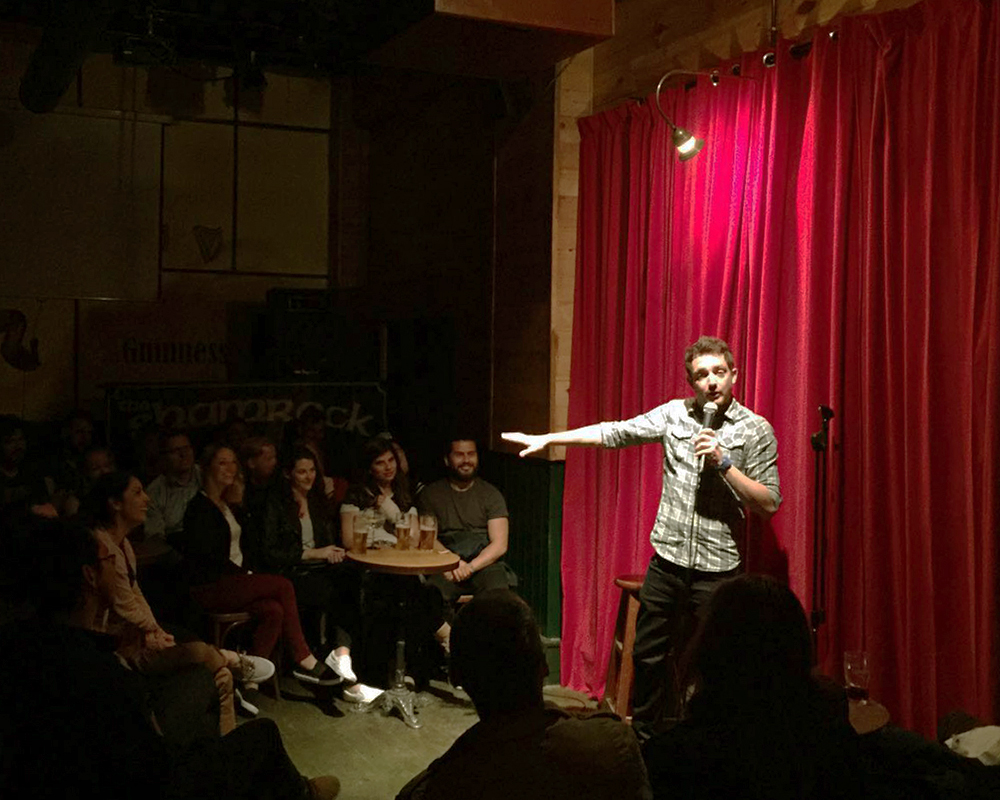 Next up, springing up from one of the first English speaking comedy nights to appear in Barcelona, Guiriness Comedy is the modern classic form of stand-up night. This means a one hour show of professional comedy, one comedian a month flown in from the UK and Ireland and a two-night run. Comedy fans are treated to a Friday night performance at the Shamrock bar in Raval, Barcelona, followed by a Saturday night show at Wylie Brewery in Sitges. This is our favourite standup in Barcelona, by the way. Big names and rising stars on the UK and Irish comedy scenes such as Phil Kay, Joe Rooney, Sean McLoughlin and Niamh Marron have graced the Shamrock stage over the years at Guiriness Comedy. In 2017, growing popularity took the show to Sitges, where it has since gained a regular following of local expats who miss one of the finer things in life: stand-up comedy in English!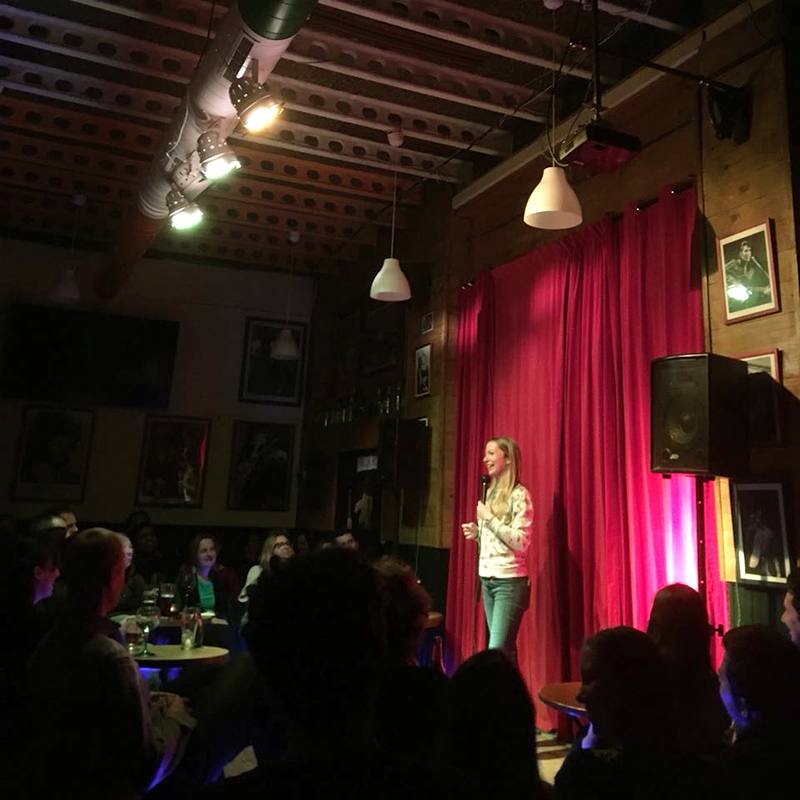 Guiriness Comedy regularly scouts for comedy acts in the UK and Ireland, however the line-up also includes names from across the bigger ponds, with one common denominator: that it's comedy in English! This is definitely the place to go for top shelf comedy, and it's the only regular pro comedy night in Barcelona. The audience is typically a mix of expats, some tourists but mainly English speaking regulars. As the show is once a month, tickets are in-demand. Get yours on
guirinesscomedy.com
and check out their 
Facebook page
for news about future shows.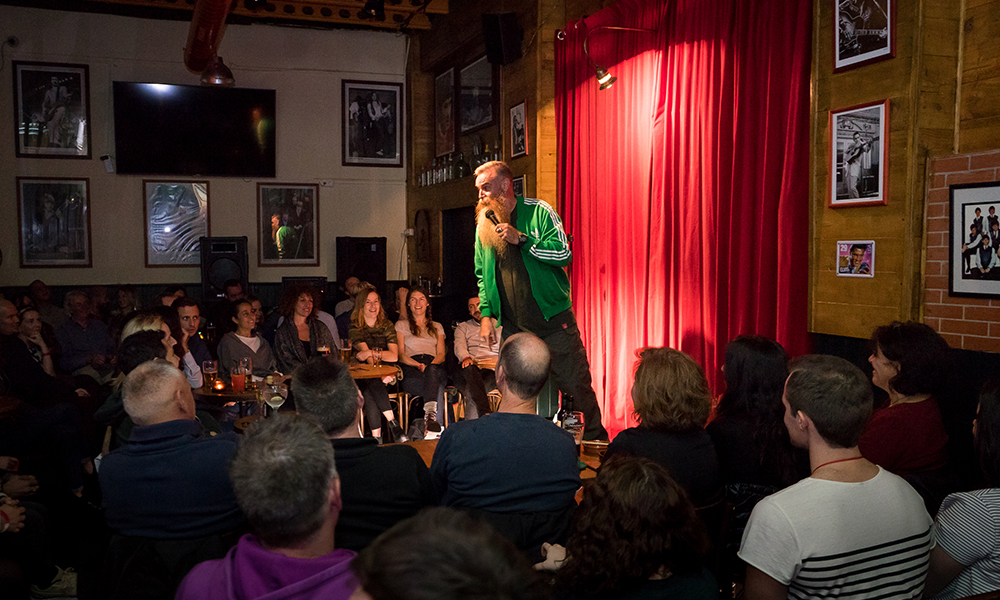 BARCELONA IMPROV GROUP (B.I.G.)
Another great form of comedy is Improv. Let me tell you all about it.
B.I.G. or
Barcelona Improv Group
organize some of the biggest Improv comedy venues in the city. They have been performing in English since 2011 and have quickly built up a solid reputation for being brilliant comedians. Their performances are always powered by their beloved audience's suggestions and energy, which fuel up the shows to the MAX. Once you step inside the theater leave your expectations outside and when the show starts, brace yourselves because the 'funny' is coming.
Here's the sad part of this venue. B.I.G. organize shows at
Teatre de l'Enjólit
only once a month (every second Friday of the month to be exact). And while we cannot have enough of them and wish they did a show every day we seek consolation and comfort in their monthly 'Jams' and weekly workshops they set up. The Improv group values us as their audience and always love to get us involved in their activities and share the comedy experience first-hand. And that my dear friends is what Jams are for. Very casual and very fun, no instructions and no need for taking notes, their Jams are just like a night out with the lads. The only thing you have to do is hop on the stage and Improv away. If you're one of the shy ones that's fine, just sit back and observe what your fellow amateurs are doing and build up some inspiration for next time. If you feel like you need a break from partying hard after a hard week of work (I actually can't believe I said that too), gather your friends and head to B.I.G's monthly Improv Jams on Fridays. Or better yet, don't call anyone and head out to make some funny new friends (common practice at Jam sessions).
For the more "eager to learn" comedy fans, B.I.G. offers weekly workshops in which you will be tutored and slowly mended into a professional Improv artist. However, guys, you might need to bring a pen and some paper for this one. So there you have it guys. Take your pick, put on your good mood hat and head out to the hottest places you can enjoy stomach-paining, hilarious
stand-up comedy Barcelona
. Have an amazing weekend and don't forget – always look at the funny side of things. Now here's a joke for you guys:  So a guy walks into a bar, looking really moody and orders immediately a double-whiskey. Then he starts rambling on about how lousy a wife he's got, until the bartender finally says: "You know, I don't understand what you're complaining about. All the other guys in here only have compliments about your wife." Yeah, I'll try again next time. Sincerely, Chris