Breakfast in Barcelona is the best thing before starting your sightseeing or after finishing your party. We bring you the top restaurants and cafes to have a real breakfast in Barcelona. Let's a have a look, where to eat in Barcelona, when the sun is still above the sea !
and in Spain in general, usually consists of coffee with milk. You can add in a croissant and you will survive on it. But what about letting your imagination float on and find some delicious bagels, sandwiches and frilly pastries? Whether you're an early bird or a late party animal, a nice breakfast or brunch in a calm friendly place may be the thing you need to start your day. Even though breakfast is not the most important Spanish meal, there are still some great places where us breakfast lovers can rejoice in Barcelona.
If you decide for the coffee with croissant, we have a place that claims to have: The
. We have tried it out and it´s de- wait for it- licious! The place is called
and it´s on the street carrer d´Aribau, between c/ Mallorca and c/ Provenca. La Parodia is a small and friendly place just a few minutes from the Plaza Universitat. They have an amazing lunch menu as well, which you can read about 
If you come from the US and you are thinking about breakfast in Barcelona you probably miss the famous little bread with a hole in the middle. Yes, we are talking about bagels. Don´t worry, you can get them in Be My Bagel. Try not to get addicted to Be My Bagels, it's that good! Found on Carrer del Planeta, 37 you will find a vast array of flavors and variety. It is just out of the Plaza del Sol in Gracia, now known as Plaza Vila de Gracia.
Magnolia
If you fancy a coffee with baguette, a nice place to have a
breakfast in Barcelona
is 
Magnolia
at the Calle Ciutat, 5.
Olivia
"The love of a good home-made carrot cake knows no international boundaries" so try one in Olivia on Carrer Pintor Fortuny, 22.
Buenas Migas
Another friendly place to start your day is one of the
Buenas Migas
cafes. Decide on one of the 10 locations dotted all over Barcelona and be sure to try their home made marmalade with toast, yoghurt with wild berries and a spot of tea.
Breakfast in Raval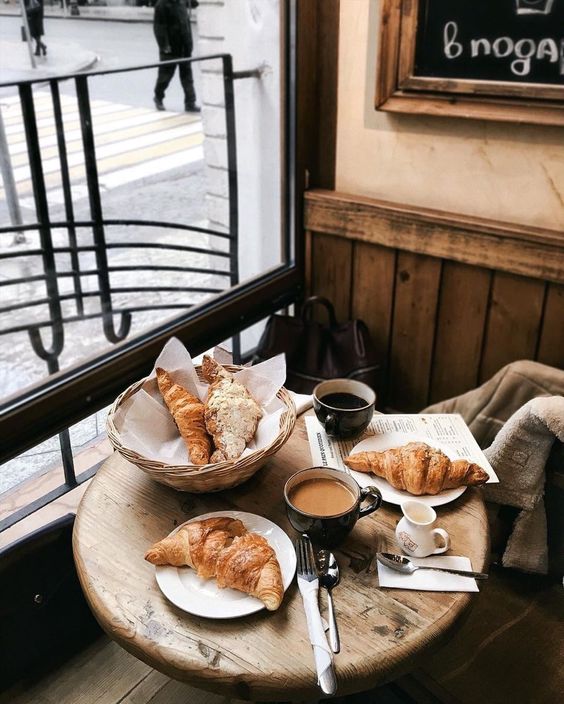 A place that you will love for breakfast if you are around the Raval is
Caffe de les Delicies
on Rambla del Raval 47. You can go there alone and just help yourself to the rows of books and daily newspapers lying about and enjoy the welcoming environment with an original 1970s jukebox. Or what about having a
breakfast in Barcelona
on a terrace? Sit and enjoy your breakfast in the sun at
Bar Lobo
on carrer Pintor Fortuny, 3. In Barcelona you will quickly learn that everything here happens later than you might be used to: eating lunch, dinner, going out, and partying.  It's as if the whole day were shifted back 3 hours.  If you're out on the town (most locals don't even leave their flat until around midnight) and having a good time, it's completely normal to party until 5, 6, 7 in the morning the next day.  On your morning walk-of-shame back to your flat wouldn't it be nice to grab some warm sweet chocolate napolitana and eat it on the way to your bed? There are plenty of bakeries around the centre and you can be sure to find some behind every second corner, but one you will love is the
Mauri Barcelona
just on Rambla de Catalunya, 102 or
Baluard
at carrer Baluard 38.  Be prepared to find a line out the door on the weekends, because their buns, muffins, cupcakes and empanadas are said to be just fabulous. Is there a special place for
breakfast in Barcelona
that you love? Let us know and we may meet you there! Have a nice morning! Sharka "like the animal" You could be interested in
another food you should try in Barcelona
A sweet start of your day can be
churros con chocolate