June 15, 2017. This is a milestone in the history of mobile communication, as roaming fees in the EU will finally come to an end. Everybody knows that annoying task when traveling of asking for the Wifi password at every cafe and restaurant just to stay connected. Yes, it seems too good to be true that European customers don't need to pay these extra fees anymore, but is there a catch?  Here are all the questions you may have and answers you need to know about the '
Roam Like at Home
' legislation.
1. What does the end of roaming agreement of the European Union mean?
Thanks to the agreement realized by the European Commission, consumers will be able to call, send SMS, and surf on the internet within the 28 countries of the EU without paying more than at home. Starting Thursday, June 15, the roaming charges will disappear and when you travel throughout Europe you won't have to worry about extra costs for calls and data anymore.
2. Which countries does this rule apply to?
The agreement includes every country of the Europan Union: Austria, Belgium, Bulgaria, Croatia, Cyprus, Czech Republic, Denmark, Estonia, Finland, France, Germany, Greece, Hungary, Ireland, Italy, Latvia, Lithuania, Luxembourg, Malta, Netherlands, Poland, Portugal, Romania, Slovakia, Slovenia, Spain, Sweden and the United Kingdom.


3. Will the "Brexit" affect the end of roaming for the UK?
The UK will leave the EU in a few years, but until then there will no roaming fees. Depending on the negotiations of the United Kingdom and the authorities of the EU, there will also probably no extra costs after.
4. How much will I pay in other countries?
This agreement only affects the 28 countries of the European Union. However, some operators that provide service in other countries have expanded their lists to better compete with the roaming offers in the EU. Examples include providers in countries such as the United States, Iceland, Norway, Liechtenstein, Switzerland, Albania, and Turkey. You can find detailed information on the website of your provider for your own country.

5. Couldn't I just look for the cheapest rate in Europe and use it in my home country?
No. The no-charge roaming rule is intended for occasional travel, not for long term roaming. The requirement for the customer is to reside (or maintain some kind of link) in the country where the mobile line is contracted. If you use your mobile abroad permanently, your operator will end up apply charges for roaming within the limits of the European Commission after a certain period of time. You will eventually receive an SMS when traveling to another country to remind you of the limits of this reasonable use policy. For example, if you are
moving to Barcelona
 long term, you must use a Spanish provider.
6. And what are those limits of use?
According to the new regulations, there are no volume restrictions for voice calls or SMS abroad, but for the use of data. In order to prevent the permanent use of data abroad, phone companies will charge extra fees for customers who have used their mobile more abroad than at home for a period of four months. If it is your case, your operator will contact you and ask you to clarify the situation, and you will have 14 days to do so. If you continue to spend more time abroad than in your home country, and roaming continues to exceed your national consumption, then your operator could start applying a surcharge according to the limits of the agreement.


7. How much will I pay if I exceed the limits of the agreement?
The new regulations state that the additional charges when roaming will not exceed the wholesale prices charged by operators:
• 3.2 cents per minute for voice calls • 1 cent per SMS • EUR 7.7 per GB until June 15, 2017 • EUR 6 per GB as from January 1, 2018 • EUR 4,5 per GB as from January 1, 2019 • EUR 3,5 per GB from January 1, 2020 • EUR 3 per GB from January 1, 2021 • EUR 2.5 per GB from January 1, 2022 (These prices do not include VAT)
8. What if I live in one country and work in another?
If you are a cross-border worker, you will only need to connect once a day to the national network. This will count as a day of home country presence even if you go to the other country that same day. Therefore, you can choose a mobile plan in either of the two countries and benefit from roaming without surcharge as if you were an occasional traveler.

9. Is this for contract plans only or does it also apply to prepaid plans?
Customers who use prepaid plans also benefit from the new regulations: now the prepaid roaming rates are the same as the national ones. However, operators may apply a data limit. That limit will be, at minimum, the equivalent of dividing 7.70 € by the remaining credit amount of your prepaid card. That is, if you have a remaining credit of € 12 at the time you arrive abroad, you can spend 12 / 7.70 = 1.5 GB of 
roaming
 data
.
10. Why have they taken so long to approve this? 
For the European Commission, this agreement lays the foundation for an ambitious Single Market for Telecommunications. As for consumers, the end of 
roaming
provides endless benefits. However, this new regulation can be a huge headache for operators, especially for those operating in touristic countries such as Spain, as the new regulations will cause an increase in traffic by foreign users. This has forced several companies to improve their technologic infrastructures to avoid saturation of the networks.
11. Are national prices going to rise?
European operators have warned this could increase domestic prices to compensate for their reduced income from the eradication of roaming charges. In the past year, large Spanish operators increased their tariffs between 2 and 6 EUR on average.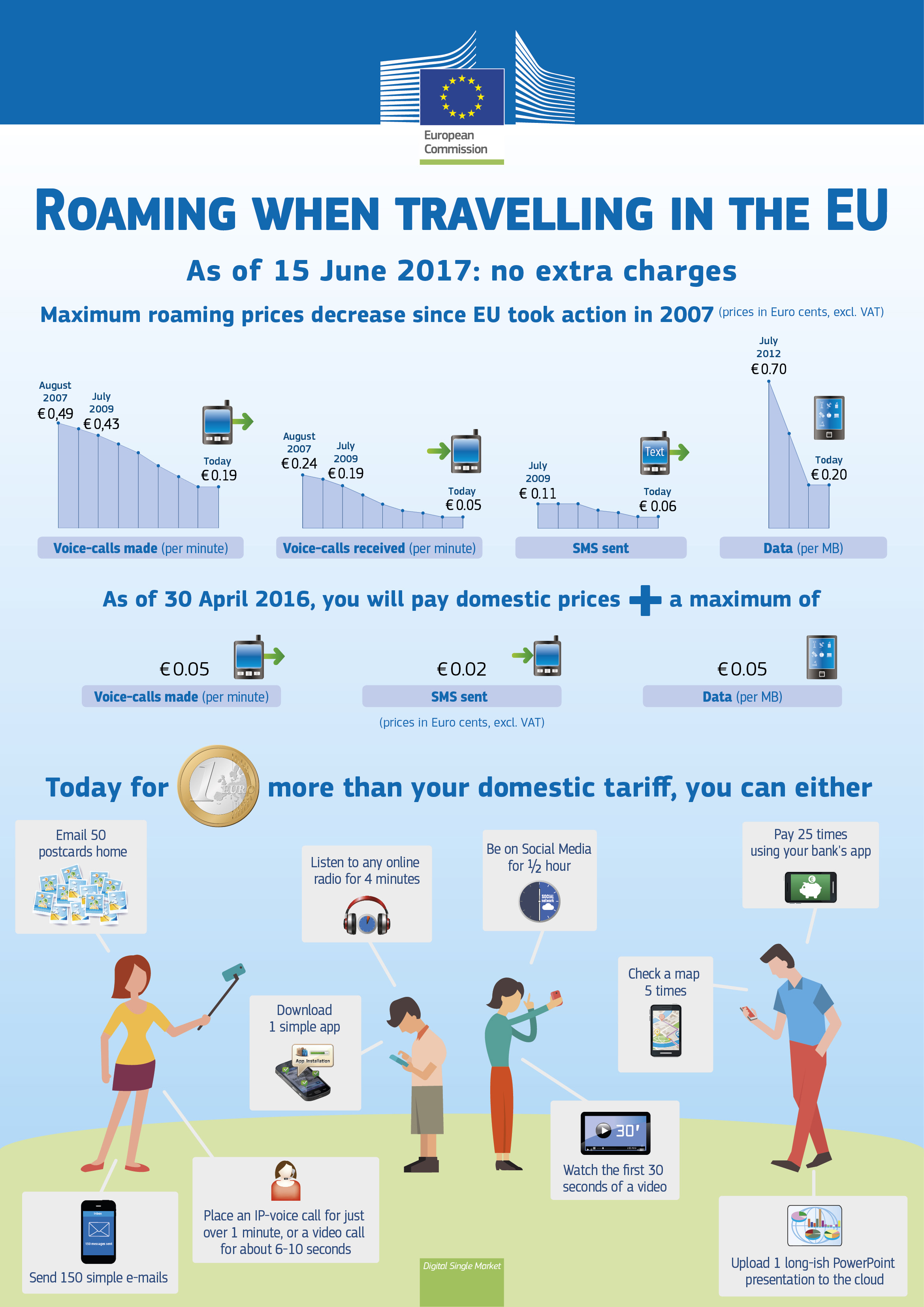 What do you think about this new legislation? Do you think it's a good change for Europe? Let us know in the comments below!
Moving to Spain? We can help you set up your new phone plan and more in Barcelona for your move to be entirely stress-free. Check out our relocation services for more info.